Family Budget
"In America, a large family is typically defined as a family with four or more kids. Whether you are a biological or blended family, it is expensive to raise a family! That is why a family budget is essential. As children get older, the expenses increase. It's estimated that expenses triple from age 2 to ages 15-17.  Just when you thought diapers and formulas were expensive, along came the teen years with sports, extra food, clothing for spontaneous growth spurts and so much more!
According to the USDA's latest report ( March 2017), it is estimated that parents will spend $233,610 to raise a child. That is the amount per child! That's a lot of money to consider when budgeting for your family. Granted, some of us will spend much less (or perhaps much more) than that estimated amount. I'm all about being on the side of spending less money. My motto has always been to "invest more in experiences than things" with my children.
I have a blended family of six, with four children between the ages of 10 and 16. As you can imagine, expenses can be high. Even if you have a blended family, children not at home all the time, etc. you still have to figure in paying or receiving child support as your income or expenses.
I've always been thrifty, but with a larger family on a modest income I've had to become even more budget-conscience. Over the years I've come up with a few tips that have helped us save, become closer to being debt-free, and contributed to being able to do things above what our income would normally allow.
1. Budget your grocery shopping.
This is a big one. In just a family of three (with two younger children) I remember thinking that if I spent over $80 a week on groceries, that was a lot of money! Ha! Now with six in the family and teenagers, I'm staying within budget if I spend under $200 a week. It's easier to budget even less than that, but we rarely eat out, there are six of us in the home for all three meals of the day, and we have some dietary restrictions. When considering all those factors, $200 a week is affordable. You'll want to consider all the factors for your family when considering a budget.
2. Plan and save for vacations in advance.
If you are living paycheck to paycheck, it might be difficult or impossible to even think about funding a vacation. I totally understand this! But I encourage you to think about things that are possible, even if that means a vacation that involves staying home. And planning in advance! Here are some ideas I've used in the past to help fund vacations or staycations.
3. Create an emergency fund.
You can thank Dave Ramsey for this one, he is an advocate of having one of these. Emergency funds are critical for families, especially larger ones who have more expenses. You never know when an appliance is going to go out, a car needs to be repaired, or medical expenses come up.
4. Barter with your community.
When it comes to needing services, such as babysitting, mowing, cleaning, tax preparation, or even getting local produce and eggs – your family, friends, and neighbors are the best resources! What skills do you have? Use those skills to barter with the people in your community. When my children were younger, I would cook homemade meals in exchange for babysitting. Think about what you have to offer, what those around you have to offer, and make those exchanges happen!
5. Shop secondhand.
If you don't already like thrifting, this may be intimidating for you. However, buying certain items secondhand can save you a lot of money! We've found some of the best deals through Facebook Marketplace, Habitat for Humanity Restores, and Goodwill. I've got teens who want name brand clothing, I can afford that when I shop secondhand for them!
6. Explore extra ways to make money.
There are so many ways to earn extra money, most without even leaving your home!
---
Did you enjoy this article? Do you have additional budgeting tips! I'd love to hear them in the comments below!
---
Pin It!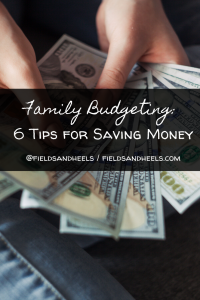 ---
Other articles you might enjoy:
20 Affordable Family Activities To Do at Home {free printable}
Teaching Kids the Art of Appreciation