FREE PRINTABLE COUPONS FOR KIDS
Have you ever implemented family coupons as a reward for kids? Or maybe made coupon book as a gift for Christmas stockings, Easter baskets, or birthdays? I love the idea of using "family coupons" as a reward incentive, a gift for holidays, or as prizes for family game nights.
I've created a free printable of popular coupons for kids, you can use all of them or pick the ones you prefer based on your child's age.
PRINT COUPONS
Using family coupons is easy: you simply print, cut, and hand out to children (or make a coupon book). Kids can then "redeem" their coupons in exchange for whatever incentive is redeemable per the coupon being used. This printable includes 3 pages.
Here are a few ideas on how to use the family coupons:
Use for holiday gifts, such as Easter baskets, Christmas stockings, birthday cards, etc.
As rewards for things such as good behavior, finishing tasks, helping others, etc.
For family game nights (these make great winner prizes)
Good grades
Helping someone
Anything that works for YOUR family!
MORE IDEAS
For more family-friendly ideas, check out my 20 Affordable Family Activities To Do at Home. I've included another free printable in this list that can be used for a family bucket list. Activities on this list are to encourage fun and affordable ideas to do together without leaving the house!
---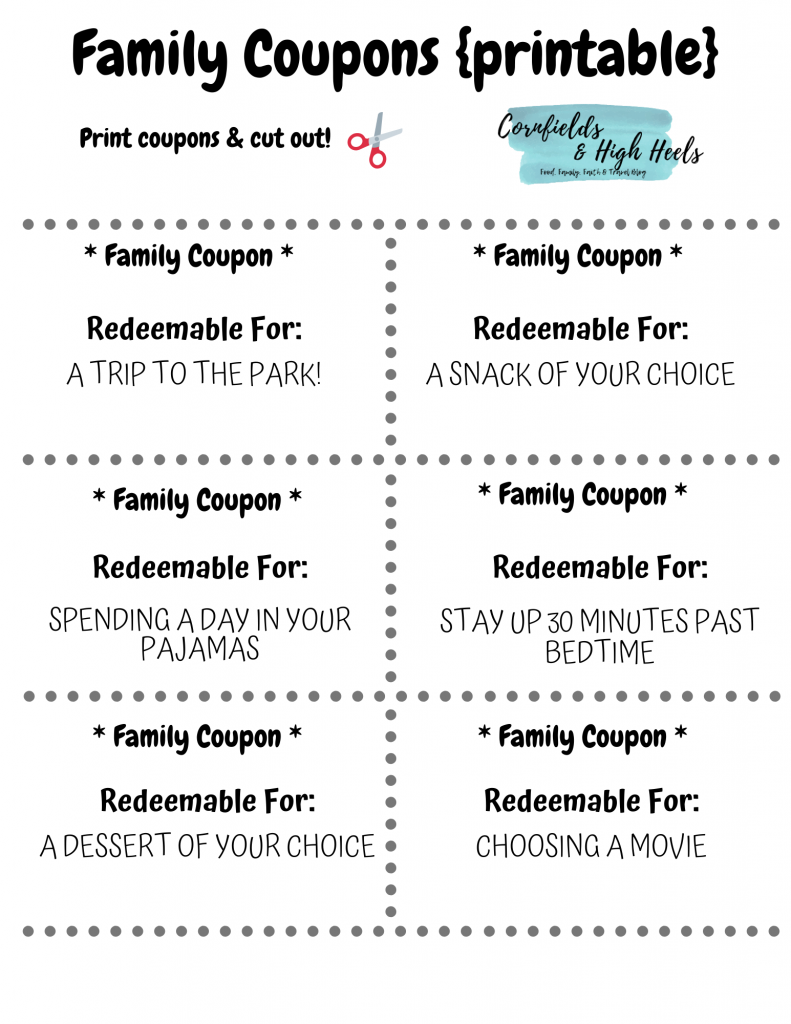 ---
Pin It!
---
Other posts you might enjoy:
20 Affordable Family Activities To Do at Home {free printable}
Spend a Day in Madison, Indiana