LIST OF FREE ONLINE ENTERTAINMENT
The COVID-19 has us all going a bit stir-crazy and chomping at the bit to get out. If you are reading this article within the time it's written (around March 2020), you are likely under quarantine with the rest of the world. Food, entertainment venues, schools, and everything but essential travel has been stopped in an effort to enforce social-distancing. Fortunately, there are MANY resources that have been made available for free online entertainment to the public during this time!
---
Blog posts contain affiliate links. When you click on these links I earn a small commission that helps keep this blog running and support my family. If you have any questions, feel free to read my disclaimer and privacy policy. Thank you!
---
From virtual museum tours to the opera, and educational lessons and programs – there is so much available! To help get through the days of quarantine, businesses and organizations are offering their services for free. I've compiled a list of these services and will update them as periodically as I can.
I've also attached a free printable list to the bottom of this article. Please share, pin, and enjoy!
TAKE A DANCE CLASS
Famous Grey's Anatomy star, Debbie Allen, is also a choreographer and is offering free dance classes online via Instagram Live.
SEE A LIVE CONCERT
Several well-known musicians are posting free, live shows via social media. Check your favorite musician's Facebook or Instagram page for live or recorded videos (some are doing this from home). Musicians who have already done this or are planning to include Keith Urban, Coldplay, and John Legend.
GO TO THE OPERA!
The Metropolitan Opera will bring you the opera for free, from the comfort of your home! Starting 3/16/20 performances start at 7:30 pm EST and will be available to stream for 24 hours. You can access performances through their website, but they recommend you stream the Opera through Demand apps for Apple, Amazon, and Roku devices and Samsung Smart TV due to high demand. Seoul Philharmonic Orchestra will also be live-streaming their concerts, you can check their YouTube page for future online concerts.
FREE VIRTUAL LIBRARY
You can virtually access tens of thousands of books at the Open Library without having to go to the library! Simply create an account, verify your email address, and then you will have access to "borrow" books. You can borrow up to five books, create lists, and listen to audiobooks as well!
LEARN TO DRAW CARTOONS
Joe Wos will be teaching live, online cartoon drawing classes Tuesday-Thursday at 1 pm. Live classes will be held on his YouTube channel.
VIRTUAL MUSEUM TOURS
Many museums around the world are offering virtual tours! See the list below for museums making this available:
READ SOME COMICS
Free Comics is posting daily free comics for your reading pleasure! We all need a little bit of laugher added to our lives.
WATCH BASEBALL!
Even though the MLB season is being delayed, you can still get your baseball feels in with a free screening of Baseball on PBS. Baseball is a film series by Ken Burns, a story of how baseball in America started. It includes 9 innings (episodes) with Inning 1 featuring the beginnings of baseball in the 1940s, and Inning 9 looks at baseball from the 1970s to present.
DO A DAILY CROSSWORD PUZZLE
Newsday Crosswords is posting a free digital crossword puzzle every day. If you want to do more than just one, you can visit the achieves for even more!
VISIT HOUSTON'S NASA SPACE CENTER
NASA's Houston Space Center is offering a free tour including audio and VR experiences in their app.
TRY SOME NEW GAMES
Epic Games is offering free game downloads right now (some valued up to $20).
TAKE A YOGA CLASS
Free online yoga classes are being offered by Power Buffalo Yoga, Down Dog (free until 4/1/20) and Yoga with Adriene (always free).
GO TO THE AQUARIUM!
The Monterey Bay Aquarium in California is offering 10 free live streams of their animals. It's cute, entertaining, and mesmerizing!
VISIT DISNEY WORLD & DISNEYLAND
Both of these parks may be currently closed, but you can roam the parks through a digital lens! You can visit Disney World's parks and resorts with 360 panoramic views, and Disneyland Park as well!
LISTEN TO THE SYMPHONY
The Seattle Symphony will be live streaming free concerts! You can sign-up to receive notification of their next live stream. The Music Chamber Society at Lincoln Center has live streams and will allow users to stream past concerts for free.
LEARN A NEW LANGUAGE
Duolingo is an awesome free app that helps you learn new languages. Free language lessons!
---
Free printable!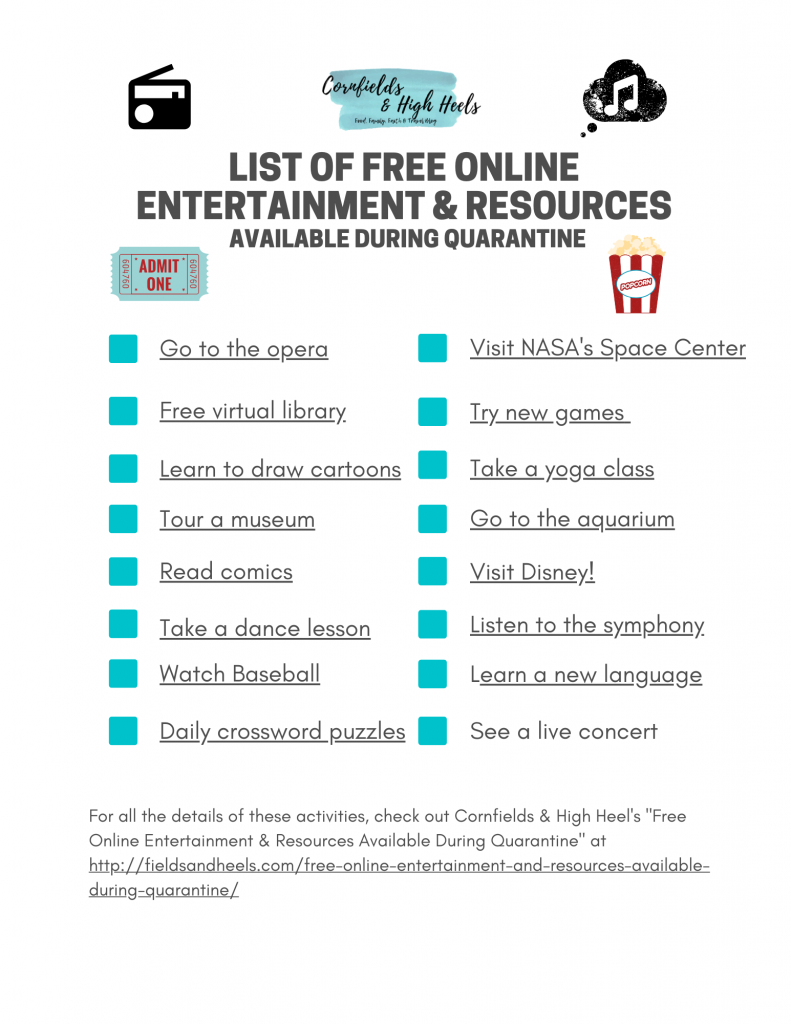 ---
Pin It!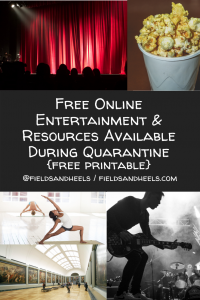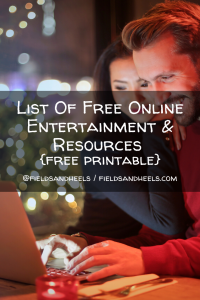 ---
Other posts you might enjoy:
20 Affordable Family Activities To Do at Home {free printable} Grocery Delivery Service Tips and Options Releasing the burdens and resting my soul