Ice Cream Hot Spots in Michiana
Updated August 2021
Did you know that January 15th is National Strawberry Ice Cream Day?  It's pretty crazy that one of the coldest months was chosen to celebrate ice cream.  I don't know about you but in northern Indiana, January is literally my least favorite month because it gets so cold!  And strawberries?  January has got to be the most out-of-season for that flavor. I say SUMMER is the time to bring on ice cream! Maybe the people who come up with these days thought it would bring us joy and help brighten up the dull, dreary winter months to celebrate National Strawberry Ice Cream Day in January.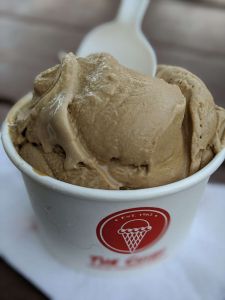 ---
Disclaimer: Blog posts may contain affiliate links and/or ads. When you click on these links I may earn a small commission that helps keep this blog running and support my family. This is at no cost to you. If you have any questions, feel free to read my disclaimer and privacy policy. Thank you!
---
Ice cream is my weakness.  I fall for that smooth, silky, creamy sweetness like a kid in the candy store.  Regardless of diet or not that stuff always seems to sneak into my life somehow.  It's the foodie way.  Of course, I have my favorite ice cream locations. If you're looking to fulfill your strawberry ice cream cravings, you might have to wait until Memorial Day weekend since the best of the best tend to close up shop between Labor Day and Memorial Day. Keep this in mind.
Here are my favorite Michiana ice cream venues to get you motivated and excited about creating that summer bucket list, and you should totally add an ice cream tour to that!
---
Ready…set…check them out:
502 W Lincoln Ave, Goshen, IN
Modest, family-owned, homemade ice cream shop. Yelp lists them as #1 for Ice Cream in Goshen. Hands down the most popular stop in Elkhart County (and a new location in St. Joseph, Indiana!) but you'll have to wait until the summer because their seasonal hours are April through September. Dairy-free and sugar-free options are available.
If you're lucky, you can catch them open on various weekends selling pints – particularly during the city's First Friday events. They now have a second location at 12479 Adams Rd, Granger, Indiana (with indoor seating & a drive-thru).
---
401 E Market St, Nappanee, IN
Located in the Coppes Commons building in sweet, small-town Nappanee is a tiny ice cream shop that makes ice cream out of liquid nitrogen. Whoa! A definite must-see, you order your ice cream (SO many flavors to choose from) and then watch them whip it up from cream to ice with a quick blow of some nitro. It's a favorite for kids as well.  How does it taste?  Delicious. We tend to lean towards the Orea ice cream treats. Bonus for you java lovers:  they now serve coffee and specialty coffee drinks.
---
Icy Bar – Mishawaka, Indiana
6501 University Commons, Mishawaka, IN
A small set-up inside the University Park Mall featuring Vietnamese rolled ice cream (and amazing bubble tea, might I add).  Again, another fun spot because you not only get to order your ice cream but you watch it be created in front of you.  They literally pour the cream onto frozen plates that begin the freezing process, it is as fresh as you can get it! The end result is a beautiful display of rolled ice cream and delicately placed toppings.
It's artwork, really.  Slightly pricey in comparison to other mom 'n pop locations and you might want to be prepared for a wait, but worth it for the end results!
---
1065 N 1150 W, Middlebury, IN
You may be wondering why I'm suggesting an Amish-town bakery as one of my top ice cream stops.  Well, they have the best donuts in American (in my humble option) and they make, brace yourselves – ICE CREAM DONUTS!  Oh my heavens, they are to die for!  And RICH, super-rich.  They are definitely an indulgent treat and can be easily shared.  They have several donut flavors to choose from and after choosing one they fill it with a soft-serve vanilla ice cream.
---
The Dairy Barn – Goshen, Indiana  
Elkhart County 4H Fair Goshen, IN 46528
You can only get them for 1 week out of the year.  I repeat, only ONE week. So be sure to remember this prime-time opportunity!  At the end of July in Goshen, Indiana, the Elkhart County 4-H Fair has several Dairy Barn at different locations within the fairgrounds.  I wish I could get this delicious soft-serve ice cream year-round but I'll take what I can get and appreciate it, even more, when I do!  You can not beat $1 cones or small bowls.  You'll only pay $1-3 for a generous serving of ice cream.
Flavors are limited to vanilla, chocolate, strawberry, and swirl but they feature additional flavors every day the week of the fair.  You can upgrade to a sundae or indulge in their fair special for $2, this includes a grilled cheese sandwich, ice cream cone, and bottled water.  Who can beat that?
---
236 W Edison Rd Mishawaka, IN
What does a Venezuela restaurant have to do with my favorite ice cream spots?  Oh, let me tell you!  They have fantastic milkshakes (with ice cream on top of them, might I add)! I can't even explain the complicity of these milkshakes, they are like gigantic pieces of food graffiti.  Just let the picture explain itself. These shakes can be shared with several people and are gut-filling good.
There are plenty more ice cream spots in Michiana but these are my personal favorite.  For more foodie reviews and photos, please feel free to follow me on Yelp and Instagram. Enjoy and eat happy!
---
Nearby places to visit:
The Ultimate Indiana State Fair Guide
Lake Michigan – List of Top Beach Sites to Visit!
10 Unique Hiking Trails in Indiana
45+ Religious Sites to visit in Indiana