Blog posts contain affiliate links. When you click on these links I earn a small commission that helps keep this blog running and support my family. If you have any questions, feel free to read my disclaimer and privacy policy. Thank you!
I'm going into my 3rd year as a blogger and to celebrate this I recently attended my first blogger event.  Bloggy Con in Sandusky, Ohio will be the highlight of my year as a writer, I learned so much at this conference!  From the speakers to the other bloggers, the entire weekend was a blast and I'm already excited about next year.
Since returning home it's taken me a few weeks to get back into the swing of reality and start implementing some of the things I've learned.  Being a blogger, writer, and running a household of kids is no easy feat and sometimes I feel a bit overwhelmed trying to conquer it all but I'm slowly gaining more confidence in the work I do.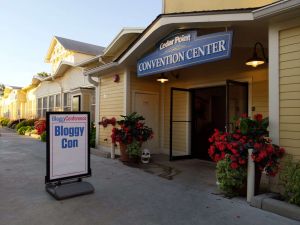 Who is Cornfields & High Heels?
Cornfields & High Heels is my baby.  I started this blog over two years ago as an avenue to post recipes and share my food experiences.  It has since slowly evolved into something much bigger, now covering more travel, family, and faith-based topics (along with food).  To supplement my income, I'm also a part-time Social Media Manager and content writer for others.  Additionally, I homeschool two of our four children and manage our house here in small-town Indiana.  I'm also the wife of a pastor and public speaker, stepmom, an active Yelp Elite in the Indianapolis area (also a part of their Welcoming Wagon committee), and a member and writer for theCityMoms of Greater Indianapolis.  I wear a lot of hats and I do a lot of things.
Writing, blogging, and doing social media are daily tasks for me.  I'm pushing myself to do more and be more, but that's often exhausting.  Which is why I was so glad to come back from Bloggy Con refreshed and ready to take on new challenges.
My Top Takeaways from Bloggy Con
Never rely on Instagram to be your only social outlet. At any moment Instagram could shut down, whether for a day or forever.  You don't own your Instagram profile or anything on it, and if or when it goes you lose all of that work (same goes for any media site). Having a website is critical for any influencer, everything you put on social media should be backed up to your website. The photos and content on your website will not disappear if a social media outlet goes away.
Canva is amazing.  If you aren't familiar with this program, there is a free and paid version where you can create designs, media content, logos, presentations, etc. Those designs can then be downloaded as photos, pdfs, or directly published to social media sites.
Speaking of directly publishing, I also learned that it's best not to use 3rd party sites (such as schedulers) to publish on the Instagram feed.  Instagram favors those who use their app directly, more frequently and engage often.  They will reward those profiles with more exposure and opportunities to be on the explore board.
Joining the Amazon Affiliate and Influencer program, and Share-A-Sale program

is

super beneficial if you are any type of influencer who promotes products.  Being a part of these program result in earning an additional income of everyday products you may use and promote as a blogger/influencer.
Find a sponsor for your web site. Get paid for your great content. shareasale.com.
Develop an elevator pitch.  Especially for a blogger like myself who has several nitches, I frequently get asked: "So what is it you do?"  I'm working on my elevator pitch, something simple yet enticing that tells others who I am, what I do, and why they want to check out my blog.  On an added note, always carry business cards that direct people to your sites.
Prioritize what is important to you and get rid of the rest.  If you are spending hours promoting a product or a topic that causes you more stress than joy then why are you doing it?  And "for the money" should never be the answer.  Present your genuine self to your audience, that is what they want to see.
Clean up your social media accounts.  Often times what you are doing now isn't the same as what you were doing 3 years ago.  If it no longer applies, delete it from your feed.  If it's a poor quality photo posted years before you had a good camera, and obtained no engagement on, it's okay to delete that from your feed.
Test, test, test.  Constantly test your content and your audience.  Engage them with questions, surveys, polls – truly invest in wanting to know what your audience wants from you.  If it's unpopular with your audience and not something you are passionate about posting anyways, disregard it.
Do not overuse filters, buy followers, get mad, be exclusive, or take things personality.  It's social media, be authentic and genuine.  There is enough of the opposite going around on social media, stay true to who you are and don't let negative comments bring you down or slow your progress.
Be consistent.  Your audience relies on you to show up the same as a boss expects you to show up to work every day.  If you are consistently doing stories on Instagram daily, you need to keep up this consistency.  Just like an employer, your audience wants to see your work, how it benefits them, and what you have to offer.  If you don't show up for a day,  they are going to question it.  So make sure you have a day or two that you have "off" on a consistent basis so that your audience knows when to expect you.

---
These are just a few of the MANY tips that I picked up on.  There were hundreds but these stood out the most!  I'll be spending months trying to adhere to most of them.  Blogging takes time, patience, and a lot of motivation.
If you have any tips you'd like to share, please comment with them below!
---
Pin It!