Surviving Quarantine
We are almost at 50 days into a quarantine here in our humble home. The entire world has been affected by the Coronavirus outbreak (COVID-19), hitting the United States as a threat in March of this year (2020) and causing us to go into a state stay-at-home order. Two months ago the threat seemed intense and staying home felt hard, this intensity feels to be lessening as families get more acquainted with staying home. It's becoming the new norm.
Blog posts contain affiliate links. When you click on these links I earn a small commission that helps keep this blog running and support my family. If you have any questions, feel free to read my disclaimer and privacy policy. Thank you!
The new norm has somewhat always been my norm, as I homeschool and work from home a great deal. However, this staying-at-home business has created a "trapped" feeling for even the most introverted people. Some feel ready to escape, others are afraid that they will have a hard time leaving their house after bans are lifted. And everyone is anxiously awaiting word from our governors on when this will happen.
Life After Quarantine
When we get back to "normal" things will still be different from what they used to be. Personally I'll be washing my hands more frequently, sanitizing, and shopping online more often! I've already picked up these habits and more. I'm sharing a few tips for surviving a quarantine, coming out of one, and our new way of living!
Tips for Surviving a Quarantine and Life After:
If you are working from home it's essential to have comfortable and supportive home equipment and supplies. Such as a good chair, blue light blocking glasses, and a workspace. Shelter In Place Tips has a great website (https://shelterinplacetips.com/) with articles and links for topics like The Best Desk Chairs on Amazon and Home Office Clothes you can purchase online. All net proceeds go to help those affected by COVID-19!
Stay healthy. It's easy to get stuck in bad habits while at home all the time (ex, eating more snacks, being less active, having more screen time, etc.). Getting in exercise, eating healthy, drinking plenty of water, and limiting screen times will help you not only physically but mentally as well.
Check-in on your friends and family. Especially those who may be more prone to depression and anxiety. Check-in on your people, even if it's just a quick video or phone call.
Know what is going on in your state. You can find updated stats, announcements, and local coverage here. Stay informed!
Stay active in your community. You don't have to attend events in-person to stay active in your community. Many towns are having their meetings online, have social media groups you can join and are posting details of what you can do in your own city during this time.
Be considerate to others.  While everyone has a different opinion of what quarantine and life after it should look like, it is essential that we remember to respect each other's opinions. I especially like this post that is floating around social media:
Support small businesses. Don't forget about the mom-and-pop shops who are struggling to keep themselves open during and after this pandemic. Many are offering online shopping and curbside pickups.
What are some things you are doing to survive quarantine and prepare for life after? Leave a comment below! 
---
Pin It!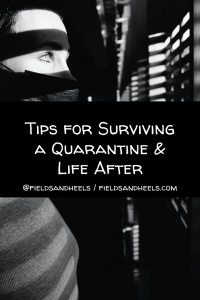 ---
Other posts you might enjoy:
12 Tips for Teaching Kids to Cook + Resources 
Free Online Entertainment & Resources Available During Quarantine {free printable} 
20 Affordable Family Activities To Do at Home {free printable}