Put-in-Bay, Ohio
Originally written 9/18/2019, edited: 8/12/2020
Put-in-Bay is Open for Fun! Learn more about what's open and Island activities here: https://www.visitputinbay.com/put-in-bay-is-open-for-fun/
Ohio is one of those lucky states that gets a cool lake.  Lake Erie, that is!  I wish Indiana had more access to the Great Lakes, but at least we bump up close enough to Ohio that we can visit frequently.  And that's just what we did this past weekend.  I was going to be in town for the BloggyCon 2019 conference in Sandusky and we had an entire day to spend in Put-in-Bay, Ohio beforehand.
Miller Ferry so graciously provided us with ferry transportation and a golf cart rental from E's Golf Carts for the day.  But, as always, opinions are purely my own.
Blog posts contain affiliate links. When you click on these links I earn a small commission that helps keep this blog running and support my family. If you have any questions, feel free to read my disclaimer and privacy policy. Thank you!
I recommend checking out Ohio's Lake Erie Shores and Islands ahead of time to plan your itinerary for the day. While day trips are very do-able, extended trips are possible with the many things there are to do on the island!   While I'm highlighting the fun things that WE did within our day, it certainly doesn't cover everything!
When traveling and visiting businesses, as always, please check state and business guidelines before arriving and be safe for yourself and others! 
Put-in-Bay is a small island just north of Port Clinton, Ohio, you'll have to take a ferry to access the island.  Miller Ferry provides passenger and vehicle services to Put-in-Bay and Middle Bass Island from their Port Clinton location every day (hours vary per season, so always check their schedule in advance)!  Visitors have the option of ferrying over in their vehicles or purchasing individual fare tickets.
Put-in-Bay is a smaller island so I would recommend purchasing individual fare tickers and renting a golf cart when you get to the island.  Check out the Miller Ferry & E's Golf Cart Combo, it is available for a discounted rate (reservations should be made at least a day in advance).  Lodging and ferry packages are coming soon!
Once you arrive on the island the options for getting around are numerous!  If you didn't bring your own car, you can rent a golf cart, bicycles, take a bus around, or even walk!
Our first stop on the island was to the Perry's Victory & International Peace Memorial, at over 350 feet high it isn't hard to miss.  Park Rangers will teach you about the Battle of Lake Erie & War of 1812.  The memorial grounds and Visitor Center are open (the observation deck is closed for 2020).
State Parks
Put-in-Bay has two Ohio State Parks on its island, South Bass Island State Park and Oak Point State Park.  We stopped by both while golf-carting through the island.  Oak Point is a very small park with public dockage for boats, picnic areas, a shelter, fishing, and scenic views.
South Bass Island State Park was my favorite, it had stunning views, a playground and picnic area, restrooms and a season rental station for watercraft.  It's a 33-acre park with camping available. Some campers had tents set up on the small cliffs overlooking Lake Erie (a few cabins are also available).
Natural Preserves
Along with the state parks are several nature preserves and beautiful viewing areas on the island.  We visited Scheeff East Point Natural Preserve and Massie Cliffside Preserve, each just a short hiking distance to the views. Scheeff East Point is on the very tip of the island and, in fact, our cell phone service welcomed us into Canada (ha!).  The teens got some enjoyment out of that, claiming they've "kinda" been to Canada now (via cell phone tower signal only).  There are signs that warn of the Lake Erie water snakes, to be on the lookout for them, and not harm them.  They are non-venomous and we did indeed spot one swimming in the water (don't be alarmed)!
The shorelines of both preserves offer great fishing spots and bird watching.  At Massie Cliffside, there is a small butterfly garden and benches overlooking the cliffside for a relaxing view.  A staircase leads down to an older dock and small shoreline where you can see Middle Bass Island.  Just be careful on the dock, it's a bit slippery!
The most amazing views on the island can be found here!  The grounds are open year-round, however, tours of the lighthouse are only available once a month, June through October.   The lighthouse was build in 1852 and is now owned by the Ohio State University for research and educational programs.  It is even rumored that the lighthouse is haunted!
The Boardwalk & Downtown Put-in-Bay
Downtown offers several dining options including wineries and several breweries, an ice cream shop, the park, and the marina.  It's a cute little area to wander through and where all of the hustle and bustle takes place.  Public restrooms are also available in Derivera Park, and many of the resorts and inns can be found here!
More photos from Put-in-Bay: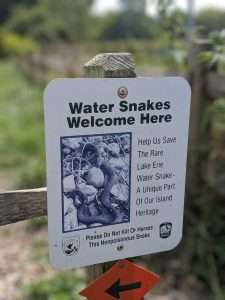 See more on COVID guidelines and safety here:
---
Watch our YouTube video here!
---
Pin it!
---
Other posts you might enjoy:
The World's Largest Aviation Museum in Dayton, Ohio
Cedar Point's Halloweekend Tips 
Cincinnati Weekend Getaway – Airbnb, Art, Coffee Roasting, Sotto & More!