An Ohio island & Lake Erie getaway in the Midwest – Sandusky & Kelleys Island
Did you know there are islands in Ohio? We have islands in the Midwest, and they are gorgeous! I had the privilege of visiting Sandusky and Kelleys Island, Ohio, and it was a fabulous trip. On my way home from Ohio, I had stopped at a cafe to grab dinner and was chatting about my trip with a family waiting for a table at the restaurant. It turned out that they were in town from L.A. for a movie premiere their father had produced. Even though they had traveled all over the world for movie productions, even they didn't know Ohio had islands!
We have so many wonderful places here in the Midwest, and this is why I do what I do! I'll never run out of travel stories to tell and today I'll be telling you about Sandusky and Kelleys Island, Ohio.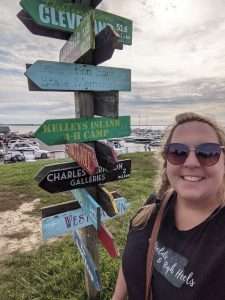 In my humble opinion, the Great Lake shorelines are just as mesmerizing as the ocean. Plus, you don't have to worry about saltwater or keeping an eye out for sharks! So I headed over to Sandusky, Ohio to join a group of travel friends for 24 hours of exploring Ohio's Shores and Islands. We had a great time riding Segways, ferries, and golf carts around Sandusky and Kelleys Island. All while exploring marine fossils, sculptures, and enjoying good food.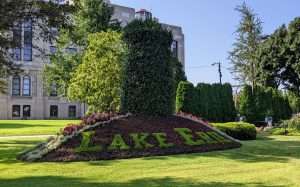 ---
A special thanks to Ohio's Lake Erie Shores & Islands Visitor's Bureau for hosting this trip. All opinions in this article are my own.
Disclaimer: Blog posts may contain affiliate links and/or ads. If you click on these links I may earn a small commission. This helps keep the blog running and supports my family – at no cost to you. If you have any questions, feel free to read my disclaimer and privacy policy. Thank you!
---
Breakfast at Wake Up and Waffle
My stay with breakfast at Wake Up and Waffle in downtown Sandusky. Wake Up and Waffle's menu has several menu options that immediately caught my eye, specifically the classic liege waffles, and their fresh-squeezed orange juice. I enjoyed both! This brunchery was started by two sisters and is unique in that they use Belgian sugar pearls in their waffles.  Wake Up and Waffle, 122 E Water St, Sandusky, OH
---
Tour of Downtown Sandusky with Sandusky Segwave
After filling our bellies with waffles, we headed to Sandusky Segwave for the ultimate Sandusky tour. It was my first time on a Segway! I was a bit nervous, but our guide, Jim, was great at teaching us how to use easily and safely use the Segways. This is the best (and most fun!) way to tour downtown Sandusky and the shorelines of Sandusky Bay. We were each given an earpiece that allowed us to hear Jim tell stories of the landmarks along the tour. This is a great activity for families, couples, and friends. Sandusky Segwave, 107 Columbus Ave, Sandusky, OH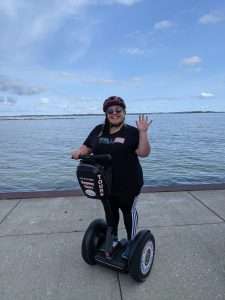 A few things to keep in mind:
* Must be aged 14 and up.
* Weight must be between 100 and 260 lbs.
* Be comfortable walking upstairs unassisted, or using a handrail.
* Wear closed-toed shoes.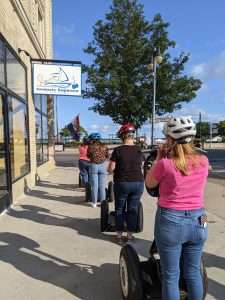 You can also stop by Ohio's Lake Erie Shores & Islands Visitor's Center at 125 E Water St, Sandusky, OH for more ideas and information on Sandusky and the surrounding areas.
---
Hang out at the Jackson Street Pier 
The Jackson Street Pier is a frequent hangout spot in Sandusky, offering panoramic views of Sandusky Bay, spots to picnic, a stage for concerts and outdoor movies, trellis swing benches, and a boardwalk. In the evening you may find food trucks and you'll be guaranteed the perfect sunset photo opportunity. The night we were visiting, we saw Who's Bad: The Ultimate Michael Jackson Experience for the "Party at the Pier" concert series!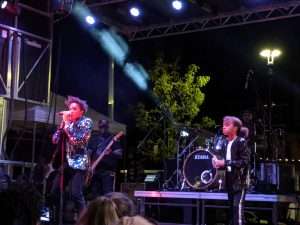 ---
Dinner with a view of Sandusky Bay
We wanted to grab dinner at a local spot unique to Sandusky, that was within walking distance of downtown. We landed at the Dockside Cafe for their open-air dining, fish tacos, and seating overlooking the Sandusky Bay. I opted for a salad, which is another recommended menu option. Open seasonally May through September.
---
Off to Kelleys Island with Jet Express!
Kelleys Island is a simple ferry ride away from Sandusky. In fact, our departing ferry with Jet Express was just a block from Sandusky Segwave! Jet Express offers free parking in their Sandusky parking garage to passengers boarding the ferry to Kelleys Island. With departures and arrivals throughout the day and late into the evening, it's easy to plan a full day (or weekend) at Kelleys Island. Jet Express is the fastest way to get to Kelleys Island, it was under a 15-minute one-way ride.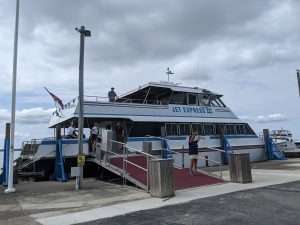 A few things to keep in mind:
* Pets ride for free.
* You can take a bike for a nominal fee.
* Bathrooms are available on the ferry and at the docks.
Once you arrive at Kelleys Island, golf carts and bicycles are available to rent right beside the dock. The island is 4.5 square miles. Check out the Kelleys Island Chamber of Commerce for more ideas and information on Kelleys Island rentals, activities, and places to stay.
---
Grab lunch at Dockers Waterfront Bar and Restaurant
Dockers Waterfront Bar and Restaurant is located within a few steps from the Jet Express dock at the Portside Marina. We stepped off of the ferry and grabbed a patio table in their outdoor "dining room," right on Lake Erie. Talk about lunch with the perfect view! The Dockers menu features a variety of seafood options, and they are known for their homemade Crab Cake and Lobster Bisque. But they have a good variety of non-seafood options as well, I really enjoyed their Chicken Cordon Bleu (served on a pretzel bun with chips and french dip). Dockers Waterfront Bar and Restaurant, 114 W Lakeshore Dr, Kelleys Island, OH
---
Discover 350-400 million-year-old Glacial Grooves
You may not have asked for it, but you are always guaranteed to get it in every travel article I write, my inner travel nerd is about to come out. That's right, Kelleys Island brought out my nerdy side (it's easy to do)! The Glacial Grooves State Memorial is a National Natural Landmark (say that fixes times fast) containing marine fossils that are 350 to 400 million years old. At 400 feet long, they are the largest, easily accessible grooves in the world. Free to visit, open year-round, dawn-to-dusk. Glacial Grooves State Memorial, 739 Division St., Kelleys Island, OH
---
Explore more of Ohio's great outdoors
We dove deeper into nature with a stop at the North Shore Alvar Nature Preserve. This undisturbed area of the island is full of unique plant species growing among the limestone bedrock, a biological environment called Alvar. The nature preserve is accessible via the North Shore Loop Trail and you can also catch a glimpse of the remains of the 1800s Old Stone Crusher ruins along it as well.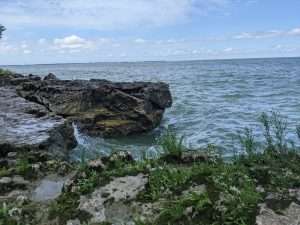 If you are looking for a place to camp and swim, Kelleys Island State Park is a great option! In addition to camping spots, two furnished Yurts and two Camper Cabins are available for rental. But you'll want to book these in advance as spots do fill up fast! The swim beach is located just across the street from the Glacier Grooves State Memorial. Kayaks and paddleboard rentals are available at the beach (cash only for these rentals). Hiking trails, a boat launch ramp, five picnic areas, and fishing is all available within the state park.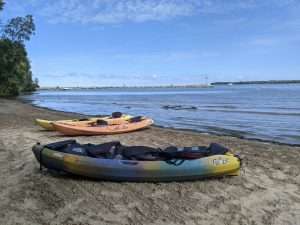 ---
A museum + historic church + resale shop stop
Our next stop at the Kelleys Island History Museum gave us a little bit more information about the island's history! Here you can find Kelleys Island artifacts and talk to members of the Kelleys Island Historical Association, who are available to answer questions. The museum is open May-October and admission is only $3.00 or $5.00 for a family, children are free (discount for seniors and groups). Kelleys Island History Museum, 224 Division St, Kelleys Island, OH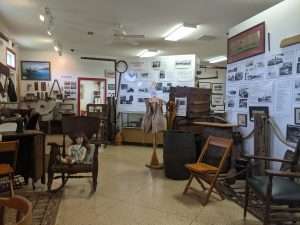 Next to the museum are the Old Stone Church and Parsonage Resale Shop. The historic Old Stone Church, formally the German Evangelical Reform Church (organized in 1865), is open for visitors to take a peek inside when it's not being used for rentals. The church contains the original wooden pews and potbelly stove. The parsonage, next door, was built in 1888, and consists of seven rooms and true to its original state, has no indoor plumbing. Today the parsonage is used as a resale shop where all proceeds go toward continuing repairs and restorations of the parsonage and church. You can find unique home goods, items, and antiques to purchase here. Old Stone Church and Parsonage Resale Shop, 224 Division St, Kelleys Island, OH
---
Wander through a sculpture garden and art gallery
The Charles Herndon Galleries and Herndon Sculpture Garden is a Kelleys Island gem. Charles "Chuck" Herdon is an accomplished artist with two studios, two galleries, and a ten-acre sculpture garden. The sculpture garden is filled with sculptures Herdon created by using glacial erratics, limestone, and marble from around the island! In the galleries, you'll find paintings, photography, and additional sculptures. The gallery and sculpture garden is open to the public and free to visit. Charles Herdon Galleries and Herndon Sculpture Garden, 110 Laylin Lane, Kelleys Island, OH
---
Explore downtown Kelleys Island
Before departing the island we explored downtown Kelleys Island, which includes cute boutique shops, a general store, restaurants, mini-golf, a day spa, and wineries. We grabbed an ice cream treat at Dipper Dan's, serving Tofts Ice Cream. I highly suggest getting Toft's when you are in Ohio, especially in Sandusky – it's Ohio's oldest dairy producer!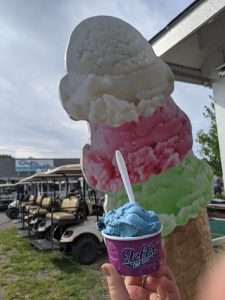 ---
Where to stay?
Sleep at a boutique hotel overlooking Sandusky Bay
Hotel Kilbourne offers an amazing boutique experience in downtown Sandusky, overlooking Sandusky Bay. The name Kilbourne is birthed from Hector Kilbourne, the surveyor who created the original plat of Sandusky in the early 1800s. The original brick 4-story building has been restored into a beautiful hotel offering guests a unique stay. There are nine rooms available with either city or bay views, all with king beds. All rooms include a large bathroom with a walk-in shower, Molton Brown soaps and body wash, mini-fridges, and a Nespresso machine. Hotel Kilbourne, 223 W Water St, Sandusky, OH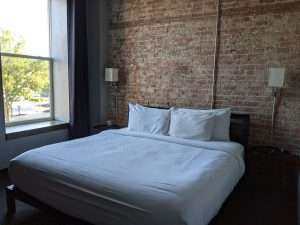 Additionally, Hotel Kilbourne has the only rooftop bar in Sandusky! Moseley's Rooftop Bar overlooks the Jackson Street Pier and Sandusky Bay. Located in the lower level, OH-Taco is a Northcoast taco shop serving up authentic street tacos and quesadillas.
---
Interested in itinerary suggestions? Contact me at jamie@fieldsandheels.com for a customized itinerary!
---
Nearby things to do:
---
Watch my Sandusky & Kelleys Island YouTube Video!
Go directly to the video here: https://youtu.be/VuTrTraMj-k
---
Download a FREE Kelleys Island Bucket List printable here:
Kelleys Island Bucket List
---
Pin It For Later!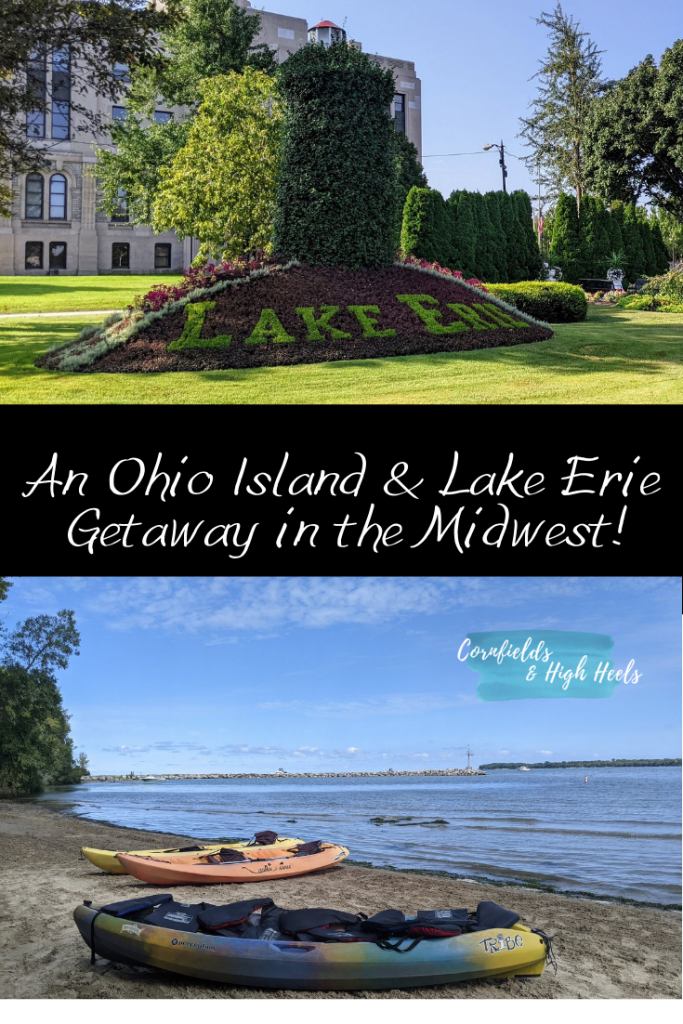 ---
Other articles you might enjoy: