Indianapolis Date Ideas
Indianapolis is FULL of opportunities for the best date nights – or days! After moving to central Indiana over two years ago, I've spent plenty of time scouring Indianapolis for the best date ideas. Food is always a good idea, and as you can imagine, Indianapolis is full of great eateries that make a great addition to your date. There are also museums, parks, galleries, arcades, and much more to be found in the city.
I'm always looking for unique ideas and adventures to enjoy with my husband, on a budget. I've come up with a list of unique date ideas for Indianapolis and the surrounding areas. These are some of my favorites and best of all – they are affordable. You won't find fancy-schmancy restaurants on this list, but you will find fun ideas with unique twists and made for all budgets (especially thrifty ones!). If this interests you, read along for your new date night bucket list!
---
Disclaimer: Blog posts contain affiliate links. When you click on these links I earn a small commission that helps keep this blog running and support my family. If you have any questions, feel free to read my disclaimer and privacy policy. Thank you!
COVID disclaimer: When traveling and visiting businesses, as always, please check state and business guidelines and hours before arriving. As always, be safe for yourself and others!
---
There is something about this casual brewery, overlooking downtown Indianapolis, that makes date night fun. On warmer nights, the patio seating offers sunset views of Indianapolis at dusk. For the cold months, they have igloo rentals available for $40 that seat up to six people and offer dining and beverages services (great for multiple couples to share and split the cost). Try a Wednesday for trivia night, or Monday for $0.50 wing night – there are lots of options and specials throughout the week!  2 drinks + Monday night wings = $20.00-30.00 (go on wing night or Devour Indy for more savings!)
Sunking is a family-friendly distillery with four restaurants! You can get pizza, Mexican, deli items, burgers, sandwiches, and fancy hot dogs to name a few of the offerings. This would make a great progressive dinner date, selecting an appetizer, entree, and dessert from three different places without having to go anywhere. There is a huge outdoor seating area with swings, fire pits, and several terraces. 1 pizza + 2 drinks = around $30.00
Located in the Alexander Hotel, Plat 99 is one of the coolest spots in Indianapolis. Besides having great drinks, coffee, small plates, and dessert, the atmosphere is mesmerizing. The hanging lanterns, artsy decor, cozy seating, and floor-to-ceiling windows offer a very romantic atmosphere. (Please note, during COVID hours are limited and the coffee bar is not available). 2 drinks = around $15.00
The Gallery Pastry Shop is an open-air kitchen where you can watch the chefs work their magic while you nibble on delicious treats, croissants, and drink lattes. They have a lunch and dinner menu also available. The outdoor seating area offers a game of gigantic chess, picnic tables, and twinkle lights. 2 coffees + 2 pastries = around $25
Doughnuts and board games. I mean, can a date night really get any better than that? Along with a large beer menu, they serve coffee, gourmet doughnuts, and have a huge selection of board games available to customers. Their doughnuts are all made in house with homemade fillings and unique flavors. After you grab a table, you can order your drinks, doughnuts and select a game from their game menu. (please note that during COVID, games may not be available to customers). 2 drinks + 2 doughnuts + hours of board game fun = around $20
Interested in some after-dinner coffee and dessert?  The Carmel Cafe offers both, featuring South Bend Chocolates, ice cream, the "world's best" hot chocolate, desserts, and popcorns. Additionally, they have a coffee bar where they serve their own freshly roasted beans and offer dining options with soups, salads, and sandwiches. Carmel Cafe has the coziest outside seating, situated for a perfect view of Main Street, featuring a firepit and occasionally an outdoor movie screen. 2 mochas = around $10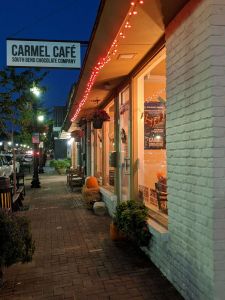 Provider is my favorite downtown Indianapolis coffee shop, serving up Tinker coffee and late nights. In fact, one of my favorite date nights was catching a show at the Indiana Repertory Theatre and then dropping in to Provider for some late-night, fancy coffee. They have the best Butterscotch Latte and specialty drinks. Please check hours in advance, due to COVID Provider has shorter hours and limited indoor seating. 2 drinks = around $15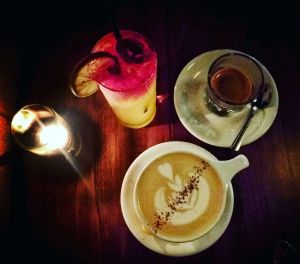 Formerly just Mammamias, but now they are preparing for a grand re-opening of the newly renovated Stacco House by Mammamia. Not only can you find espresso and gelato, but they are introducing even more delightful Italian options like cakes, Italian food, and wine. We really enjoy grabbing a Cafe Latte here and playing a game from their game shelf. Additionally they have a "take one and leave one" book library. A cute and cozy date night! 2 drinks + 2 gelatos = around $15.00
Enjoy coffee? Taking a cupping class can be fun and a great way to socialize with others and try a variety of different coffees at the same time. It's a unique and fun Saturday afternoon idea and an affordable date adventure. Be prepared to drink a LOT of coffee! Cupping class for 2 = $30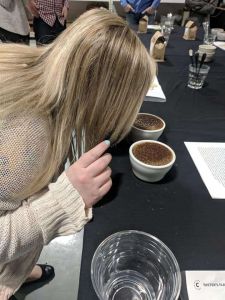 Garfield Park's sunken gardens are a beautiful place to visit in the spring and summer. The fountains, blooming flowers, landscape, and seating area offer a romantic place to picnic, take a stroll, or simply just sit and chat. The conservatory is open all year and is only $2.00 a person to visit. Take a self-tour of the conservatory together and then a stroll through the sunken gardens. Free to $4.00
The Coxhall Gardens is my favorite park in Hamilton County, Indiana. It's a beautiful 125-acre park with an amphitheater, lake, Bell Towers, tiki huts, and beautiful gardens. It's the perfect picnic spot. Free
Going to the arcade is a fun way to feel like a kid again. Near Mass Avenue, 16-Bit is a 90s arcade for adults. Admission and games are free! All they ask is that you at least purchase some drinks while you are there, non-alcoholic drinks are available as well as classics like the Slush Puppie. With over fifty games available you'll stay busy challenging each other to a variety of options like Duck Hunt, Pac Man, and TMNT. 2 drinks + unlimited games = around $15
Quirky Queries is a fun, interactive, night out at the Indiana State Museum for adults only. Once a month a new Quirky Queries theme is selected on various topics, you'll grab a drink, listen to expert speakers, mingle, and enjoy a few themed games or explorations at the museum. All afterhours and for adults only. We went to one an Quirky Queries on the Ice Age and even got to take home a real mammoth fossil. Fun! (during COVID they are offering virtual quiky queries) 2 drinks + event = around $10-30
---
A friendly reminder to always tip your baristas and beverage servers!
---
Pin It!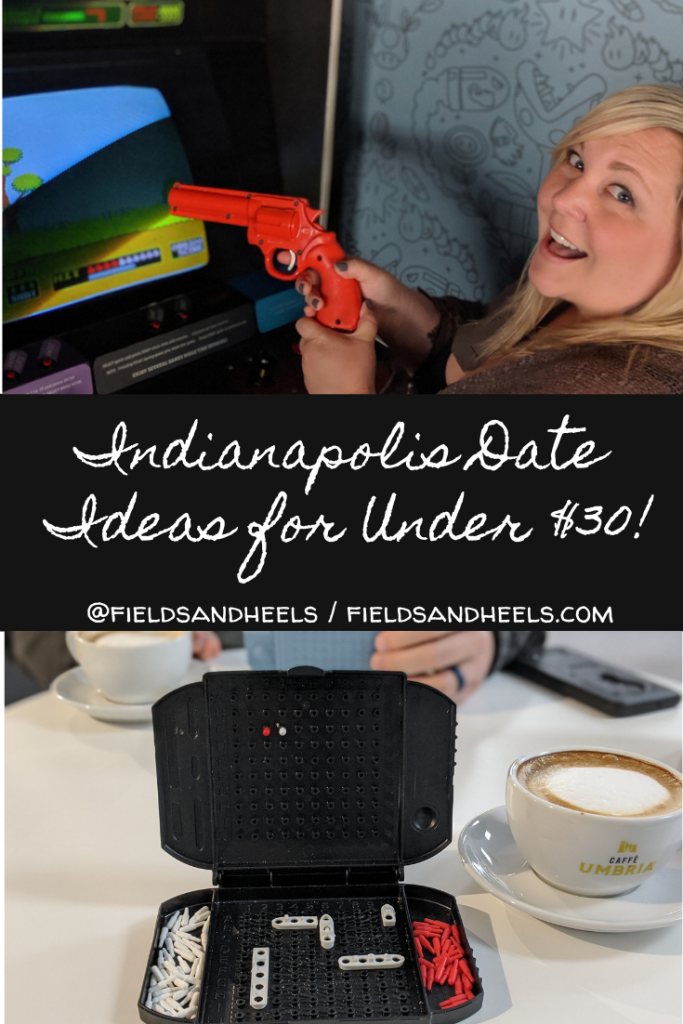 ---
Other articles you might enjoy:
Garfield Park's Sunken Gardens in Indianapolis
Sleep in a Train Car in Downtown Indianapolis