Things To Do in Henry County, Indiana
Updated 9/26/2022
I live in Henry County, Indiana, just on the very border of it. And although I've only lived here for a few years,  I've gotten to know the area pretty well. In Henry County you'll find a little bit of everything here, especially if it involves basketball, the Wright Brothers, and nature (oh, and some delicious pizza too). I've narrowed down a list of some of my favorite places to visit, explore, and dine!
Disclaimer: Blog posts may contain affiliate links and/or ads. If you click on these links I may earn a small commission. This helps keep the blog running and supports my family – at no cost to you. If you have any questions, feel free to read my disclaimer and privacy policy. Thank you!
Basketball is a big deal in Indiana, especially in Henry County. Here is why…
New Castle Fieldhouse – New Castle, IN
The fieldhouse was built in 1959 for New Castle High School, and it's the largest fieldhouse in the world holding up to almost 10,000 spectators! The famous Steve Alford, Kent Benson, and Marvin Huffman (and many more) went to high school and started their basketball careers, here. Interested in seeing the fieldhouse? Purchase a ticket to a high school basketball (or volleyball, wrestling, etc.) to get a first-hand glimpse of a game in action.
Indiana Basketball Hall of Fame – New Castle, IN
New Castle is proud of its basketball heritage, so it makes sense that the 14,000-square-foot Indiana Basketball Hall of Fame can be found (in this city of less than 18,000 in population). It's full of memorabilia and interactive displays. The museum also rotates many of the displays throughout the year so you can visit more than once and still see new things! Open Monday-Saturday 10 am – 5 pm and Sunday 1 – 5 pm, $5 for ages 13+, $3 for ages 5-12, and ages 4 and under are free.
Hoosier Gym – Knightstown, IN
Home of the Hickory Huskers and to the annual high school, all-star basketball game. The movie Hoosiers was filmed at this location. Now you can visit the historic gym, learn about Indiana basketball heritage, and possibly shoot some hoops in the famous gym. Monday – Friday 12 – 5pm,  Saturday 9 am – 5 pm. Admission is free, and donations are accepted.
Museums and history – it's all here, from planes to octagon homes.
Wilbur Wright Birthplace Museum – Hagerstown, IN
The Wright Brothers (Orville and Wilbur) invented the world's first successful motor-operated plane. Their parents bought a home on 5 acres just outside of Hagerstown for $700, this is home to where Wilbur was born and the Wilbur Wright Birthplace Museum can be found. Here you tour the home, and museum, and see a full-size replica of the 1903 Wright Flyer. The museum is open from Apr 1st – Nov 1st and for special events throughout the year. Admission is $10 for adults, $5 for children – there is a discount for seniors, Veterans, and 
Jane Ross Reeves Octagon House – Shirley, IN
Have you ever seen an octagon house? Jane Reeves built this one in 1879 for around $2300, after the death of her husband. The design was inspired by plans she had seen in a magazine. The Reeves Octagon House in Shirley (on the Henry County border) is only one of five octagon homes in Indiana and is deemed one of the most important ones since the structure has never been altered. Open Sundays between 2-4 pm April – October and for special events throughout the year, admission is free.
Henry County Historical Society Museum – New Castle, IN
The museum was opened in 1901, in the former home of General William Grose. It was one of the three Indiana counties to first create a historical society. Open March through December, Tuesday – Friday from 1-4:30 p.m, Saturdays are by appointment only. Admission is free.
Henry County Veterans Museum – New Castle, IN
The Henry County Veterans Museum is located in Memorial Park in New Castle. It is free to visit and is open Fridays 4 – 8 pm and Saturdays from 1 -4 pm. The 3400-square-foot museum includes a media room and gift shop and is dedicated to honoring veterans of Henry County.
Nature and outdoor exploring
Summit Lake State Park – New Castle, IN
Henry County hosts the Summit Lake State Park, one of Indiana's twenty-six state parks. I really love it here. The sunsets over the lake are spectacular (enjoy lunch or dinner in the Sunset Pavilion overlooking the lake) and the beach is great for families! Camping, canoeing, fishing, and hiking are some of the other enjoyments available in the park. If you are an Indiana resident, I highly recommend purchasing an annual park pass to access all the Indiana state parks all year!
The Arts Park and Pavilion – New Castle, IN
Located behind the Arts Association of Henry County building, the Arts Park is a smaller park packed with beauty and nature. Stroll their trails and enjoy the beautiful landscaping and pond. It features a large LOVE sculpture that was created by the students and teachers at New Castle Community Center's Welding and Metal Arts classes. This sculpture is a replica of the one by Robert Indiana who was born in New Castle in 1928. 
Memorial Park – New Castle, IN
The Henry County Memorial park has a pond for fishing, picnicking, playgrounds, a veteran's memorial, and even a Storybook Trail for the kids. 
Food and drink options are aplenty in Henry County! I'd love to list them all, but then we'd be here awhile. Here are some of my favorites!
1000 Degree Pizza – Mt. Summit, IN
This family-owned and operated pizzeria is a happening place in the evenings! They have a full menu offering wood-fired pizza and barbeque. And one of the best weekly lunch spots in Henry County with their $5.00 personal-sized pizza lunch deal. 
Belgian Horse Winery – Middletown, IN
This beautiful winery is a Middletown favorite. In the summer they have the loveliest outdoor concert area where they host local musicians and food trucks under a canopy of lights. The country views offer a fantastic backdrop. In the colder months, they have live music indoors and offer a variety of drinks and handmade pizzas. Open Wednesday – Sunday (check website for seasonal hours).
Papa Pepperonis – Middletown, IN
Our hometown pizza place (they sometimes deliver locally in golf carts, which makes it even more fun). Known for its giant Papa Pepperoni pizza and meal deals – it's a local favorite. They also have subs, stuffed pepperoni breadsticks, salads, and pasta on the menu. Sign up for their VIP Loyalty program for a free birthday reward and deals.  Open Monday-Thursday 11 am-10 pm, Sat-Friday 11 am – 11 pm, Sunday 11 am – 9 pm.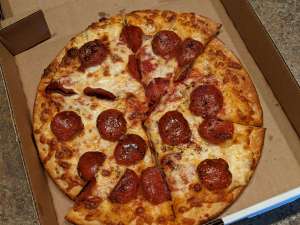 Primo – New Castle, IN
Primo is the Italian cuisine destination of Henry County. They make all of their sauces in-house and specialize in menu features like their tenderloin, pizza, chicken parmesan, soups, and all things Italian. Open Wednesday – Saturday (lunch served during the week). 
Grill't – New Castle, IN
Grill't is a family-owned New Castle barbeque joint known for its perfectly smoked ribs, meats, burgers, and homemade mac and cheese. I dare you to get the Mac & Cheese Overload topped with Brisket. You'll be greeted by the friendliest owners in town, and the best-homecooked comfort foodies on the block. Open Tuesday – Thursday, 3 – 8 pm and Friday – Saturday, 3 – 9 pm. 
Burch Tree Cafe & Bakery – Knightstown, IN
Offering breakfast and lunch options, the Burch Tree Cafe & Bakery in Knightstown is family-owned and operated. They have daily lunch specials and bakery items such as cinnamon rolls, cookies, and cupcakes. They also specialize in custom cakes. Open 7 days a week from 7 am – 8 pm. 
Block & Brew – Knightstown, IN
Block & Brew is a family-friendly pub located off of the National Historic Road (Route 40). The fries here are some of my favorites. But they are really known for great sandwiches, burgers, and dishes made with bison and American Wagyu beef. Open Wednesday – Sunday (see hours on their website). 
Weenee World – New Castle, IN
Yep, that's the name of this ice cream and treat shop located just down the street from Memorial Park. It's a kid's dream come true! There are so many ice cream options and flavors to choose from: cones, sundaes, flurries, shakes, malts, and slushies. You can get your carnival foods all year with their coney dogs, cotton candy, and seasonal fair-food items. Open Sunday – Monday 11 am – 9 pm and Saturday 11 am – 10 pm.
Temptations – New Castle, Indiana
If you are looking for a great lunch special, Temptations is the place to go. They specialize in salads, sandwiches, home-cooked comfort foods, and desserts. They are only open for lunch and stay pretty busy during the week. You can stop in Tuesday through Friday from 11 am – 2 pm to dine in or pick up something from their cooler or dessert shelves.
Other fun places to visit around Henry County
Jacob's Orchard – New Castle, IN
Jacob's is open seasonally and getting apple cider doughnuts here is a must! In addition to their apple orchard, they sell products in their market, fall decorations, and lots of family activities like a kid's play area, wagon rides, and a sunflower trail. Open August-October, Monday-Saturday 8 am – 6 pm, Sunday 12 pm – 6 pm.
Pin It!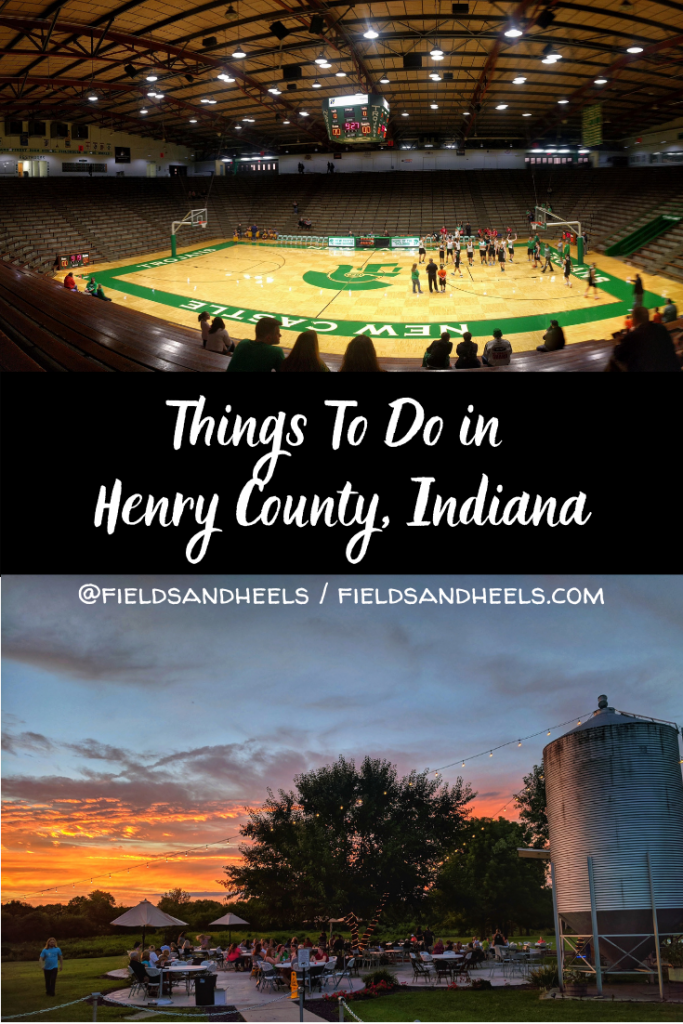 Other articles you may enjoy: