Garden of the Gods in Illinois
Southern Illinois has one of the best-kept secrets in the Midwest: Garden of the Gods Wilderness in the Shawnee National Forest. I had never heard of Garden of the Gods until I saw photos posted on a fellow travel writer's Instagram page. When asking others if they had ever been, not many seemed to know about this amazing Midwest location. I knew we had to visit!
Most people think of Colorado when they hear "Garden of the Gods." Colorado is known for its famous National Natural Landmark, Garden of the Gods Park, which shares the same name as this almost equally breath-taking recreation area in Herod, Illinois.
Garden of the Gods Recreation Area has over 3300 acres of wilderness and is located within the Shawnee National Forest. Unique rock formations and cliffs offer scenic, panoramic views that will leave you wondering if you're still in the Midwest! This area reminds me that the Midwest has WAY more to offer than just flatlands and cornfields (I'm reminded of this countless times!). Hiking, camping, backpacking, and picnicking are all welcome here, but you'll want to be prepared before you go.
---
Garden of the Gods information:
Free to visit, open 6 am – 10 pm
Campsites are $10/night for up to 8 people & 2 vehicles. Camping is first-come, first-serve.
Back-packing overnight parking is allowed.
Food and beverage containers are not allowed on trails. Pack It In, Pack It Out while on trails.
Leashed pets are allowed.
Watch out for poison ivy and venomous snakes.
---
Hiking at Garden of the Gods Recreation Area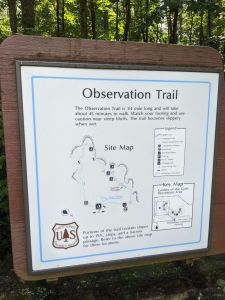 Observation Trail
The Observation Trail is the most popular trail, it offers the most scenic views and is a short 1/4-mile trail. Plan to take at least 1-2 hours, at a minimum, for this trail for the vast amount of scenic views, and to allow social-distancing during busy months (April and October).  The trail is marked with pavers and is easy for all ages, however, please note that there are some narrow spaces, uneven pavers, and stairs/paths along the trail that may be difficult for those with physical limitations.
We caught a glimpse of Camel Rock, Anvil Rock, and Mushroom Rock on the Observation Trail – all beautiful rock formations that can be viewed from the trail and scenic viewpoints offered along the way. Those more daring can climb rocks to get better views, this is allowed at your own risk. If you are afraid of heights, just stay on the observation trail portion. You will want to keep a very close eye on small children, as some areas don't have guardrails near the cliffs and can easily be accessed.
If you are up for more hiking, there are 5.5 miles of interconnecting trails at Garden of the Gods. Trails are marked by color.

Indian Point Trail
The Indian Point Trail is an easy-to-moderate 2-mile trail that descends down the bluff and loops back to the trailhead. For smaller children or those with physical limitations, you can avoid descending to the bluff by staying to the right of the loop (this will shorten your hike to around 1 mile). This trail offers a view of the cliffs and rock formations similar to the Observation Trail. You'll really feel like you are in the middle of the wilderness, without getting lost! Watch out for poison ivy and bugs on this trail.
Garden of the Gods Trail
The Garden of the Gods Trail is a moderate 2-mile non-loop (out and back) trail. This trail is not as scenic as the Indian Point and Observation Trails, but at the end of it, you are rewarded with a pretty valley view. It is also used as a horse trail that goes on farther than the hiking portion, so you'll want to make sure you know where the turn-around spot is.
River To River Trail: Garden of the Gods Wilderness Section
The River To River Trail is most commonly used by backpackers (park in the backpacking parking lot to access). It's a winding, intermediate 5.4-mile trail featuring caves/rock shelters, bluffs, and a couple of deeper creek pools. Suggested for the more advanced hikers.
---
Camping at Garden of the Gods Recreation Area
No reservations are required for camping, sites are available on a first-come, first-serve basis. Campsites are $10 for up to eight people and two vehicles. No electricity or running water is available, these are primitive camping sites.
---

Tips for visiting:
Cell phone coverage is spotty (we had no signal during our visit). Bookmark or print a trail map in advance if you plan to do any hiking.
Vault toilets are available, you'll want to pack that hand sanitizer and water jug/soap!
The best times to visit are during a weekday, except for April and October (the busiest months). Avoid rainy days because the trails get really slick.
Bring bug spray – you'll need it!
Interested in birding? Bring your binoculars because there are over 250 kinds of birds in the area. Other critter sightings include bald eagles, red-tailed hawks, bobcats, armadillos, and red foxes.
Bigfoot sightings are a thing here – you can even get a fun tourist photo with the roadside Bigfoot statue!
---
Other MUST SEE spots in the Shawnee National Forest
 New State Park Rd, Cave-In-Rock, IL
If you don't do anything else, at least visit Cave-In-Rock State Park! It's only 15 or so minutes south-east of Garden of the Gods and is free to visit. It's a spectacular state park along the Ohio River. A 55-foot limestone-carved cave faces the river, formed thousands of years ago. You can walk into the cave and take in its surreal natural beauty (great for photo ops too!).
There are plenty of picnic spots overlooking the Ohio River, or you can dine at the Cave-In-Rock Restaurant and Lodge (which also has accommodations). Hiking trails and playgrounds are also available in the park.
982 IL-146, Golconda, IL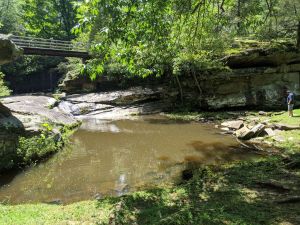 This Illinois state park is built on a gigantic sandstone, making a great site for canyon and waterfall exploring! During the 19th-century, Dixon Springs was a health spa that attracted visitors from all over to their seven mineral-enriched springs. You can still spot some of the springs today. Trails, picnic areas, camping, and a swimming pool with a bathhouse and waterslide are open to visitors (pool open during the summer months).
Check out my YouTube video!
---
Pin It!
---
Nearby places to visit:
8 Reasons You Should Visit Evansville, Indiana
Spend a Weekend in Historical Vincennes, Indiana