Spending a weekend in historical Vincennes
If you're a history buff, you'll love visiting Vincennes, Indiana, in Knox County – Indiana's first city. If not, don't worry because there are plenty of other unique finds in Vincennes that are great for the whole family. Like comedy, war reenactments, architecture, and more. My husband and I had the privilege of visiting Vincennes over a weekend, and we packed in a lot over the two days we were there.
When it comes to museums, there are more in Vincennes than I had ever imagined! We visited several of them, explored some parks, and enjoyed some great food. I'll highlight our visit below! First, let's start with some interesting facts about Vincennes to get you better acquainted with this incredible, historic town.
---
Disclaimer: Blog posts may contain affiliate links and/or ads. When you click on these links I may earn a small commission that helps keep this blog running and support my family. This is no cost to you. If you have any questions, feel free to read my disclaimer and privacy policy. Thank you!
COVID disclaimer: When traveling and visiting businesses, please check state and business guidelines and hours before arriving. As always, be safe for yourself and others!
---
Interesting facts about Vincennes, Indiana
Vincennes was founded in 1732 by Francois Marie Bissot–Sieur de Vincennes, a French military officer. You can find a life-sized statue of him overlooking the Wabash River on Main Street.

Vincennes is

known for its victorious battle during the Revolution War in 1779. Now, an annual battle Revolutionary War reenactment is held here annually (on Memorial Day weekend) called "The Spirit of Vincennes Rendezvous."

Comedian Red Skelton was raised in Vincennes and has a museum dedicated to his accomplishments (we'll learn more about this below).

Vincennes was the first capital of Indiana Territory when William Henry Harrison became the governor in 1800.

Many Indiana "firsts" happened in Vincennes: first county, first bank, first medical society, first sheriff's department, first post office, first Catholic church, first newspaper, first Presbyterian church, and first Masonic Lodge.
---
A special thanks to Visit Vincennes/Knox County for hosting parts of this trip. As always, all opinions are my own!
Ready to spend a weekend in Vincennes? I've got a 2-day itinerary covered for you! You'll want to start with the George Rogers Clark National Historical Park.
401 S. 2nd Street, Vincennes, IN
This National Historical Park is the best place to start your visit, starting with a film called "Long Knives" at the Visitors Center. You'll learn the story of George Rogers Clark, an American patriot military officer during the Revolutionary War, and his win over Fort Sackville – which once stood where the park is. After viewing the film and exhibits at the Visitors Center, head to The Memorial, a 1931 classic-Greek style memorial to Clark's accomplishments. The inside of The Memorial is stunning, it features murals, rotunda walls, and marble floors.
The park is free to visit and is open 7 days a week from 9 am – 5 pm (with the exception of some holidays). Please see a ranger at the Visitors Center for an inside tour of The Memorial.
---
100 S 3rd St, Vincennes, IN
After visiting the George Rogers Clark Historical Park, walk next door to The Old Cathedral Complex. The basilica is Indiana's oldest church, it was once a log church built in the mid-1700s. A second log church was built in 1770 and although neither of the original structures still stand, the Old Cathedral Complex was built on the original land. The present St. Francis Xavier Church dates back to 1826 and features a Crucifixion mural from 1870, a crypt, a bell tower, stained glass windows, and a library and museum. The Old Cathedral Library and Museum is the oldest library in Indiana! The library itself is a work of art and includes displays of prehistoric stone tools, maps, paintings, Abraham Lincoln's campaign banner, and more. A very fascinating stop for those especially interested in religious history. We can't wait to go back this summer.
The library and museum are open after Memorial Day through mid-August Monday through Friday from 1 pm – 4 pm. The cathedral is open all year, daily from 9 am – 5 pm, and welcomes guests for free, self-guided tours when mass is not in session.
---
715 South 6th Street, Vincennes, IN
After visiting the Indiana Military Museum, I'm claiming this as one of the best military museums I have ever visited. Plan to spend at least a few hours here, between the indoor and outdoor exhibits, and the new Annex (opening Spring 2021), there is a lot to experience! Inside you'll find it easy to explore, as the museum exhibits are in chronological order starting with the Civil War. The new Annex will feature 22,000 square feet of WWI through post-Vietnam War exhibits!
The museum has an enormous collection of unique artifacts you won't find elsewhere. Such as Generals Patton and Einsehowers military uniforms, a hand-knitted afghan made by General Custer's wife (Libby Custer), trench art, and Edith Shane's nursing cap (the famous nurse photographed kissing a sailor on VJ Day). Just a name a few of many!
The Indiana Military Museum is also known for its events and battle reenactments. They have several events throughout the year, see a list of their 2021 events below (dates are tentative and are certainly subject to change):
WWI Living History Event on April 10-11, 2021

Salute to Vietnam Veterans on June 19, 2021

WWII Living History Event on September 4-5, 2021
Museum hours are March-December, daily from 10 am – 4 pm, and January-February, Tuesday-Sunday from 11 am – 4 pm. Admission is $8/adults, $5/children 5-17, and free for children under 6, WWII Veterans, and museum members. $7/Veterans and seniors (over 62)
---
20 W Red Skelton Blvd, Vincennes, IN
The Red Skelton Museum is located inside of the Red Skelton Performing Arts Center at Vincennes University. The museum honors the legacy of comedian Red Skelton, who was raised in Vincennes. I was thoroughly impressed by the 3500 square foot "Red Skelton: A Legacy of Laughter" exhibit. From the showcase theatre to interactive displays and memorabilia, you'll easily spend around 2 hours here. I really enjoyed learning more about Red's personal and professional life. I won't spoil your visit too much, but I think you'll really enjoy this colorful, and comical, museum!
Open Tuesday-Sunday from 10 am – 5 pm and Saturdays from 12 pm – 5 pm. In June, July, and August the museum is also open on Mondays from 10 am – 5 pm. Admission is $8/adults,
$7/seniors 60+, $5/students kindergarten through college, and free for children under 5.
---
1 West Harrison St., Vincennes, IN
We had a very informative tour at the Vincennes State Historic Sites – it's another great site(s) in Vincennes! The 2-story "Red House" is the original Indiana territorial Capitol Building, it was used by the legislation from 1813-1905 before the capital moved to Corydon when Indiana became a state in 1816. Therefore, it's one of the most important government buildings in Indiana history! Also on-site are the Jefferson Academy (Indiana's first school of higher learning), and Elihu Stout Print Shop (where Stout started the first newspaper in Indiana).
Other State Historic Sites located in Vincennes include the Old French House, Sugarloaf Mound, The Old State Bank, and Fort Knox II.
---
Where to Stay?
2863 Ford Road, Vincennes, IN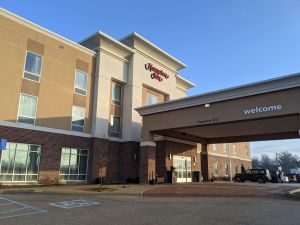 The Hampton Inn in Vincennes offered us safe and relaxing accommodations for our weekend visit. I was thoroughly impressed with all the precautions they are taking to make visitors feel at home and welcomed. Our king room was very spacious and featured a sofa sleeper, mini-fridge, and microwave. Other on-site perks include an indoor swimming pool, continental breakfast, free parking, and a fitness center.
---
Where to eat?
1651 North 6th Street Vincennes, IN
Vincennes locals raved about Bill Bobe's Pizzeria, claiming it is the best in town. We went with the popular Indiana pick, the Farouk pizza (sausage, pepperoni, mushroom, onion, and green pepper) – a Bobe signature special. They've been around since 1954 and are also known for their lunch specials and deep-dish pizzas.
116 Main St, Vincennes, IN
Graze 1885 is a coffee shop and cafe, serving breakfast and lunch. They are located in one of the downtown buildings (believed to have been built in 1885), just across the street from The Old Cathedral and George Rogers Clark Historical Park. We enjoyed the Signature Chicken and Hot Italian Sandwiches. You'll want to grab a coffee drink and something from their bakery case too (we enjoyed their lemon bars)!
---
Other things to do in Vincennes:
Ouabache Trails Park – hiking, camping, and cabins.
Grouseland – the William Henry Harrison Mansion & Museum
Historic Attractions "Dial and Discover" Cell Phone Tour – (812) 703-4004, free tour (pick up a visitors guide at the Visitors Bureau for a list of cell phone tour stops)
Nearby places to visit:
I hope you enjoyed this article! Please leave any questions or comments in the comments box below. Happy travels!
---
Pin It!