Indianapolis rental communities
Recently I've had the opportunity to tour several of the new Indianapolis rental communities, some still under construction. These hot new rental options are popping up everywhere in the city! Having the opportunity to check out a few of them has given me insight into the options available. And boy, are they vast!
---
Disclaimer: Blog posts contain affiliate links. When you click on these links I earn a small commission that helps keep this blog running and support my family. If you have any questions, feel free to read my disclaimer and privacy policy. Thank you!
---
What is a rental community?
These maintenance-free rental communities are like little towns within themselves. Some of them feature theatres, coffee shops, restaurants, shopping, rooftops, etc. Almost all of them offer pools, gyms, walking trails, community rooms, pet parks, and parking garages. These are luxury apartments, suites, and condos available for short and long term rentals. Rentals are newly built with modern designs, floor-to-ceiling windows, granite countertops, and modern layouts. They are designed for those working from home, downtown, or in the suburbs.
Financial pros of rental communities 
Renting isn't for everyone, but this might be a great option for those living and working in a bigger city! Let's talk about some of the financial pros of living in a rental community.
Luxury living – top-notch, high-quality residential living with great views and modern designs. You are paying for convenience and luxury.

Maintain-free living – no mowing, snow removal, or landscaping required. Got a problem with your plumbing or need a cabinet fix? No problem in a rental community; there is maintenance staff on-site available to fix these problems.

Reduced utilities – many of the rental communities include trash, internet, and other utilities in their rent. 

Reduce or eliminate other expenses – such as gym memberships and even car payments. Of all the communities I've toured, they've had gyms and pools available to their renters. Additionally, many of the rental communities are within walking or biking distance of major retail shops and businesses and nearby bus stops – for an easy commute. 

While the idea of owning your own home is practical, keep in mind the cost of rising real estate in bigger cities such as Indianapolis.
Can you afford to rent?
You'll find that many of the bigger city rental communities vary in monthly fees. There is something for all budgets, but first, you'll want to determine what you can afford. 
Keep in mind what expenses you'll be able to eliminate when determining how much you can afford.

Create a budget. 

Use a

rent affordability calculato

r to determine how much rent you can afford. Ideally, you'll only want to spend around 30% of your income on rent.

Estimate the cost of the utilities you'll be paying out-of-pocket. To get an idea of utility costs, contact the utility company for an estimate of the apartment you are considering. 

How much will you need for an application fee, deposit, pet deposit (if applicable), and moving expenses?

Will you need a garage or parking spot for vehicles? Is this an extra expense?

Don't forget about renter's insurance. This averages around $25/month.
To reduce rental expenses as a solo renter, consider renting a 2 or 3 bedroom apartment with a roommate(s) to split rent and utilities.
Indianapolis rental community options
These are just some of the many options in Indianapolis:
CityWay

– Downtown. Studio-3 bedroom options, $1100-$3800/month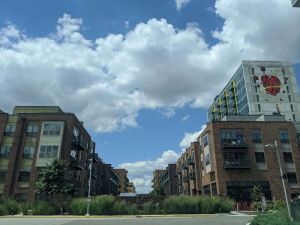 HINGE

– Downtown/Foundation Square. Studio-2 bedroom options, $1300-$1990/month

Penrose On Mass

– Downtown/Mass Avenue. Studio-2 bedroom options, $1000-$4900/month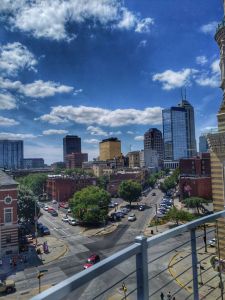 Latitudes Indy – Southside Indy/Greenwood. 1-3 bedroom options, $907-$1242/month

Proscenium

– Carmel. Studio-2 bedroom options, $1239-$2329/month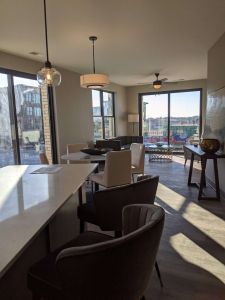 Waverly

– Market East District. Studio-townhouse options, $1095-$2600/month.

747 Living

– Downtown/Mass Avenue. 1-3 bedroom options, $1499-$3425/month.

The Vue – Downton/Market East District. Studio-3 bedroom options, $957-$3945/month
Why Indianapolis?
Indianapolis is the most highly populated city in the state of Indiana, but it is also huge in land size. The city is spread out, allowing residents to live in a big city without feeling like they are in living shoulder-to-shoulder with their neighbors. Indianapolis a great place for families with endless amounts of things to do; museums, parks, shopping, entertainment, theatres, etc. It is also known for its great restaurants, farmer's markets, and children's museum.
---
Pin It!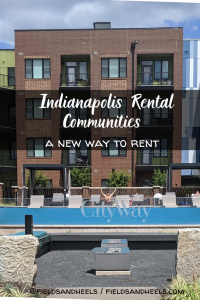 ---
Other articles you may enjoy:
Indianapolis Date Ideas for Under $30!
Why Indianapolis is Great for Families!
The Sports Legends Experience at Indianapolis Children's Museum is great for older kids!