Field of Dreams Movie Site
If you build it, they will come.
And we did. We crossed off a travel bucket list item and visited the Field of Dreams movie site in Dyersville, Iowa. Not only that, but we also visited charming downtown Dyersville, the new If You Build It Exhibit, and the Ghost Player mural as well. Why was this a bucket list item? Let me tell you our story…
When my husband and I met years ago we bonded over a few things, particularly coffee and baseball. Now when I say baseball, I mean we bonded because we both liked the Chicago Cubs. My husband, on the other hand, can also give you an entire history lesson on baseball and watch games endlessly for days and days. We don't share that same love for baseball, however, we've always wanted to visit the Field of Dream movie site together.
Disclaimer: Blog posts may contain affiliate links and/or ads. When you click on these links I may earn a small commission that helps keep this blog running and support my family. This is at no cost to you. If you have any questions, feel free to read my disclaimer and privacy policy. Thank you!
Thank you Travel Dubuque for hosting a portion of our experience to Dyersville, Iowa. As always on Cornfields & High Heels, all opinions are my own.
Visiting Dyersville is an experience like no other – it's a bit like stepping back into time! There are no billboards advertising for the Field of Dreams and it's not a very "touristy" area. It reminded me of when, as a child, I used to visit my great uncle's farm in Ohio – Dyersville is a farming community and small town. Although Dyersville is starting to grow as they adjust to more and more visitors, I have a feeling the small-town charm will always remain. Make sure you visit the downtown area when you visit!
The Field of Dreams movie site is surrounded by cornfields, just as it should be! You'll drive down the gravel road to the ball diamond and immediately see the iconic Field of Dreams farmhouse to the right. It's everything the 1989 classic movie portrays. Bring your baseball glove, a ball, and bat for a photo opp on the field, or stand in front of the cornfield for an iconic ghost player pose. And don't forget to run the bases!
The field is free to visit and open from 9 am – 9 pm. There is a ticket cost to tour the home, but I recommend it! It's a 30-minute live tour given by a Ghost Player, telling stories of the Lansing family farm and movie. You'll have an opportunity to take photos, tour the first level of the home (the upstairs is off-limits to visitors because it is used for overnight guests), and sit on the porch. Tour guests will be asked to remove their shoes or wear shoe protectors before entering the home.
Tips for visiting:
The field is always free to visit but a $20 is suggested donation is upon arrival (not required).
 Tickets for a tour of the home can be purchase online in advance ($20 for adults, $12 for children).
Check the online event schedule in advance. If you want to run the bases or get photos of the field, make sure there is not a game or event going on at the time of your visit. You can also check their Live Field Camera to see how busy the field is.
The least busy times to visit are at the beginning of the day and during the week.
There is no defined parking, you can park in the grass or gravel.
Carry-in food and drinks are not allowed on the field, but they have concessions available at The Stretch near third base.
Port-a-Johns are available for restrooms.
You can bring lawn chairs and blankets to hang out around the field and/or to watch games and events taking place.
The best time to visit, for photos, is before the corn is harvested (in October).
A Baseballism store is onsite with Field of Dreams merchandise available for purchase.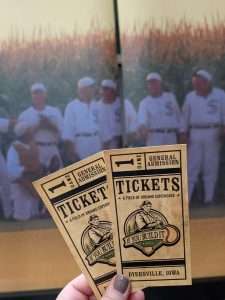 This is a must-see exhibit when visiting Dyersville, Iowa! The If You Build It Exhibit is a great addition to a trip to the Field of Dreams movie site. It's open May through October and is full of history, information, and behind-the-screen movie stories. You can see an original 1919 World Series Ball here or even make your own baseball card in their vintage baseball uniform dress-up booth.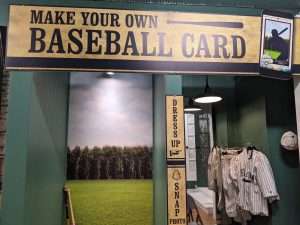 Tips for visiting the If You Build It Exhibit:
Open Thursday – Sunday (May – October)
$5 admission
Get a photo with the Ghost Players mural on the side of the building!
Where to eat in Dyersville
Brew & Brew – This cozy coffee shop opens early for all your coffee needs. They have a large beverage menu that includes hot and cold espresso drinks, cold brews, teas, and frappes. They serve delicious breakfast sandwiches and pastries and are open until mid-afternoon for lunch. Stop by right before or after visiting the If You Built It exhibit, it's just next door!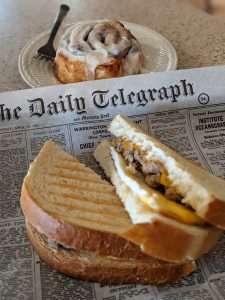 Textile Brewing Company – Located in an early 1900s brick building, a former sewing factory, the Textile Brewing Company is a cool place to hang out! Not only is the building a historical and unique sight, but their massive pretzels are worth the visit too! You can choose from over a dozen flavors or opt for one of their flatbreads.
What's Nearby
Drive south to the Maquoketa Caves State Park – it's got more caves than any park in the US! It's free to visit and offers breathtaking scenic views.
Check out my Dyerville YouTube video!
Pin It For Later!
Other articles you might enjoy:
A Luxury Stay at Historic Hotel Julien Dubuque
Ottumwa, Iowa: All The Experiences In One Place