A day in Fredricksburg, Virginia
Updated September 14, 2021
My husband and I visited Fredricksburg, Virginia for the first time, and I was blown away by the area's rich history.  Located about an hour south of Washington DC, Fredricksburg is most famously known for being the boyhood home of George Washington. It is also full of beautiful civil war-era buildings, museums, battlefields, art galleries, and locally-owned restaurants.
---
A special thanks to the Spotsylvania County Visitor Center for hosting my trip. All opinions in this article are my own.
Disclaimer: Blog posts may contain affiliate links and/or ads. If you click on these links I may earn a small commission. This helps keep the blog running and supports my family – at no cost to you. If you have any questions, feel free to read my disclaimer and privacy policy. Thank you!
---
With only a day to explore, we choose an itinerary that best suited our interests.  We weren't disappointed with our choices!  We packed our day with history, pizza, and good coffee (as always).  If you are having trouble deciding what to do, you can always stop by the Spotsylvania County Visitor Center or Fredericksburg Visitor Center and check out their pre-made itineraries!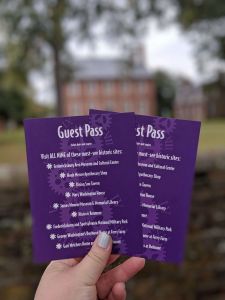 There is plenty to do in Fredricksburg, especially if you have more than one day. You can take advantage of the Timeless Passports available for purchase at the Spotsylvania Vistors Center.  These passports give you admission to several of the must-see historic spots in Fredricksburg (includes a one-time admission into each historic site on the passport).
They are called "Timeless Passports" because they don't expire, and if you don't go to everything on the passport you can always come back and use it again.  This is one of the best deals you will find, and you'll get access to nine historic sites (one passport per person). If you are a resident of the area, take advantage of being a tourist in your own town with these passports!
Our first stop is the beautiful Kenmore Plantation – home to George Washington's sister, Betty, and her husband, Fielding Lewis.  This pre-Revolutionary mansion has been refurbished to show the period furniture, wall coverings, and decorative ceilings of its time.  When arriving, you'll first enter the Plantation through the museum, and from there it leads to a 45-minute tour of the Kenmore mansion. Afterward, you can explore the 3-acres of gardens and property.  Photos are not allowed inside the museum or the mansion but may be taken outside.  *Kenmore is part of the Timeless Passport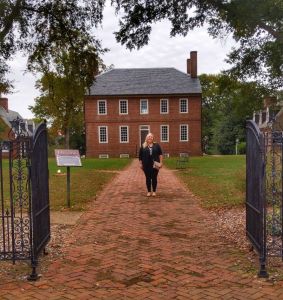 Fredricksburg's Medicine and Pharmacy Museum was built in 1772 and was once owned by Dr. Hugh Mercer. Dr. Mercer practiced in this building for 15 years and one of his patients included Mary Washington.  Dr. Mercer left his practice to join the Army, he never returned home having died in battle.
It's a small building but packed with information on the medicine that was used in the late 1760s, such as cobwebs for wounds, leeches, and herbs.  Tour guides, in costume, will give you a tour of the museum and show you all of the medicines and contraptions Dr. Mercer would have used in his time.  Pictures are not allowed to be taken inside the museum but may be taken outside. *The Hugh Mercer Apothecary Shop is part of the Timeless Passport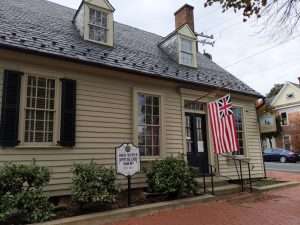 The Rising Sun Tavern was built by George Washington's brother, Charles, in 1760 as a home but became a tavern in 1793 when the Wallaces purchased it.  It features a large front porch, which was restored in the early 1900s, a dining hall, a sewing room, a kitchen, and rooms for travelers. The tavern was in operation for over 35 years.  If you stop by the museum, characters will give you a tour as life portrayed itself in the 1790s.  Pictures are not allowed to be taken inside the museum but may be taken outside.  *Admission was free the day we visited, but Rising Sun Tavern is part of the Timeless Passport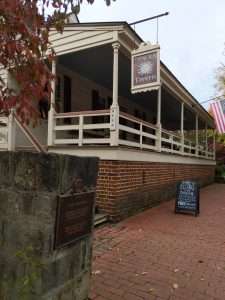 Free guided tours are available at the Visitor's Center at Fredricksburg and Chancellorsville for the battlefields.  While at the Visitors Center, introductory films are available for visitors ($2 to watch), and there is a museum of artifacts and information (admission to the Visitors Center is free).  There are four battlefields and each has both walking and driving trails. The battlefields were all part of the Civil War, more than 100,000 Americans were killed, wounded, or captured in these fields.  This battle was the most gruesome in American military history, it can be a very somber experience. Chancellorsville was the battlefield where General Robert E. Lee, defeated a Union Army double the size of his own.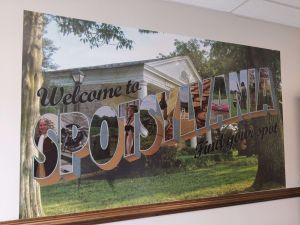 George Washington grew up at the Ferry Farm from age 6 into his pre-teen years.  Although the original structure is no longer here, a replica of his home (overlooking the Rappahannock River) sits on top of the original foundation.  The replica has been built as close to the original as possible and crafted the same way it would have been built in the 1730s.  You can take pictures inside Ferry Farm!
When first arriving, you'll start by entering through the Visitors Center, through the gardens, and then unto the Ferry Farm.  There are over 80 acres of land here, including digs where archaeologists have recovered Civil War artifacts.  *The Ferry Farm is part of the Timeless Passport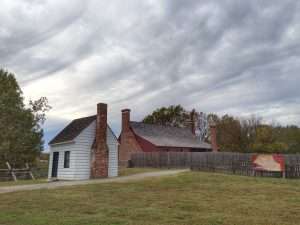 A beautiful spot nestled along the Rappahannock River in Fredricksburg, Virginia.  With a short 0.3 trail, it's easy to access and has some beautiful viewing spots.  This is also a great opportunity to get in some nature!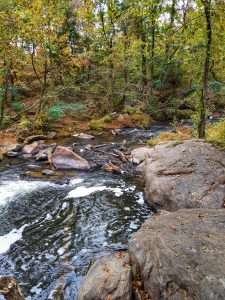 ---
Where to stay?
We enjoyed and recommend the Harbour Bliss Airbnb located in Stafford, VA! It was perfect for the two of us but would also work for a smaller family as well. This guest suite was extremely clean and had its own private entrance and separate quarters, featuring a queen bed + two twin beds, a private (large!) bathroom, and an air mattress is available for additional guests. The home is located in a gated community and the hosts are great!
* This Airbnb has been updated since our visit – it's even better!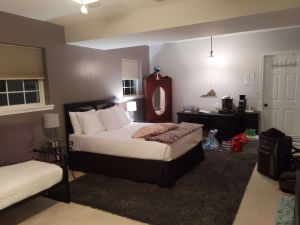 The Hampton Inn & Suites is great for families, offering suites and adjoining room options. All rooms have mini-refrigerators, coffee makers, free wifi, and guests can enjoy a free daily breakfast and outdoor pool.
---
Where to eat?
If you are looking for a great lunch spot, Benny's is the place to go!  Located in downtown Fredricksburg, Benny's is a quick spot to grab a slice of New York-style pizza for lunch or dinner.  Head up to the counter, order a HUGE $5 slice (sausage, pepperoni, or their flavors of the month) and a drink ($1 sodas available in a cooler). Here you'll find yourself an affordable and filling lunch. And trust me, you'll only need one slice!  The question is, will you eat it folded or unfolded?  Seating is limited so I would suggest visiting during non-peak hours.
Goolrick's is another historical landmark, it's an old pharmacy/diner still in operation – it was established in 1867!  If you want a super quick lunch to go and a fountain soda, Goolrick's is a popular spot located right downtown.  They have a simple menu with options like sandwiches, grilled cheese, hot dogs, chips, and milkshakes.  I had a banana milkshake and grilled cheese. It's a great place to bring the kids!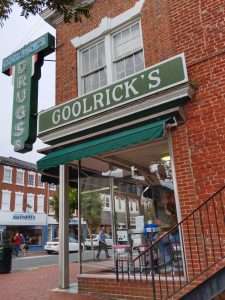 I highly suggest the Mason Dixon Cafe for dinner. This is one of the best restaurants I've visited in quite a while. They have a large, affordable menu and an excellent atmosphere.  Our service was pretty great as well!  There are two Fredricksburg locations and both serve brunch all day, as well as lunch and dinner.  Mason Dixon also features an array of great weeknight specials – don't forget to check them out!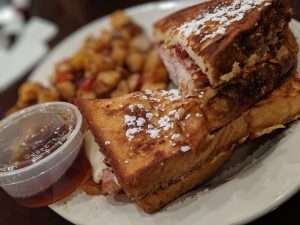 ---
Coffee is important.
The Grounds Coffeehouse was one of my favorite shops in Fredricksburg, Virginia, offering up a clean and crisp shop as well as good coffee!  With Instagramable photo opts and fair-trade coffee, it's definitely the type of place I'd hang out at.  I enjoyed a latte here, my usual drink of choice at a new coffee shop!
Katora is a plant-based coffeeshop.  I didn't know this when we went but had a delightful latte with oat milk, which is all the craze and makes a great latte!  They serve organic coffee by Kuleana Coffee Roasters and loose leaf teas, as well as live music and performances.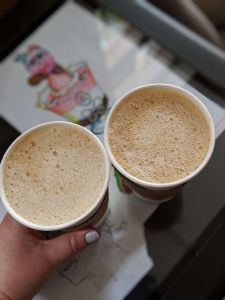 ---
Pin It!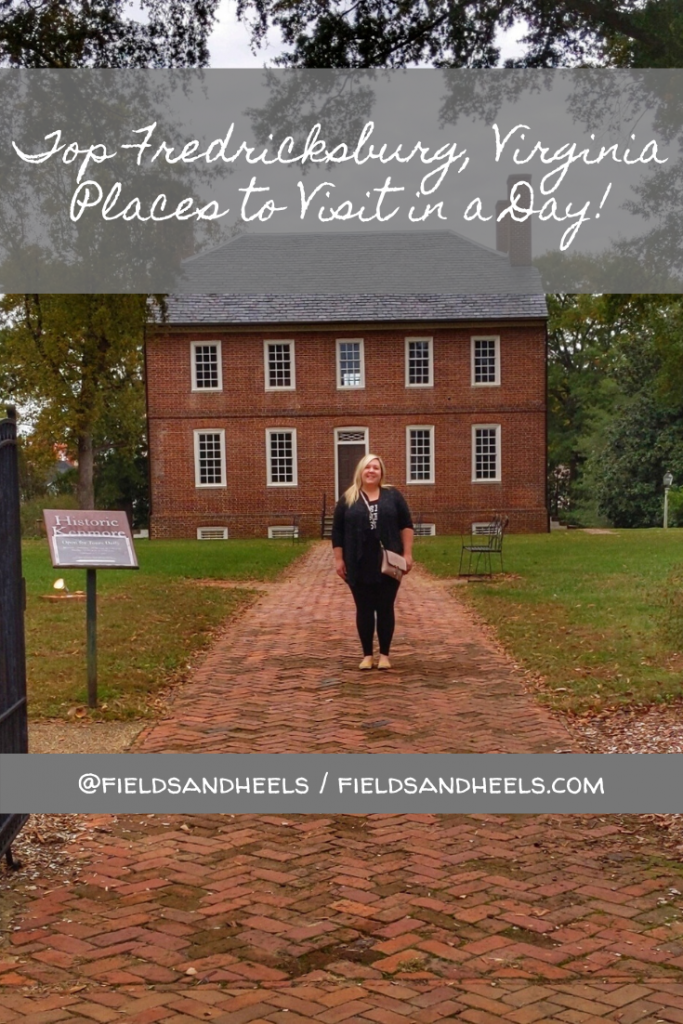 ---
Other posts you might enjoy:
Hotel Grinnell: One of Iowa's BEST hotels!
Money-saving tips for visiting Gulf Shores, Alabama from a seasoned tourist!