Ottumwa, Iowa
Original post was written 11/1/2019 and updated 8/19/2020.
Just south of Cedar Rapids sits the small, Midwest town of Ottumwa, Iowa – a city waiting to surprise you with numerous experiences!  Ottumwa's tagline, "Let Us Surprise You," was announced in 2016 as part of the city's rebranding to maintain it's proud past and cultivate an exciting future.  So what does this mean for you?  Ottumwa has exactly what families (like mine, and yours) are looking for, all the experiences in one place!
This trip was hosted by Greater Ottumwa Convention & Visitors Bureau, but as always all opinions are purely my own.
Blog posts contain affiliate links. When you click on these links I earn a small commission that helps keep this blog running and support my family. If you have any questions, feel free to read my disclaimer and privacy policy. Thank you!
---
COVID disclaimer: When traveling and visiting businesses, as always, please check state and business guidelines before arriving and be safe for yourself and others!
---
Collect experiences, not things.
I was surprised, Ottumwa.  So pleasantly surprised.  Visiting from a bigger city area, the skeptic in me was wondering what I would find here in Ottumwa, Iowa.  Not only did I find a city that reminded me of the small town I grew up in, but it also offered some of the bigger city vibes I crave as well.  Visiting was a whirlwind experience of nostalgia and adventure, as well as anticipation to see even more of what Ottumwa's future looks like.  Ottumwa, Iowa is growing.  I can't wait to bring my family back!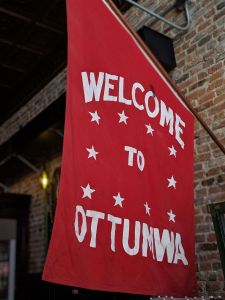 Now when I think of Ottumwa, I think coffee shops, video games, creative street art, independently owned restaurants, entertainment, and sports.  All meshed together with a bit of history and nature!  All things that would suit and excite every member of my family, including the teenagers and us adults!  To find this is a town of barely 25,000 is rare.
Within the few days I was visiting (with a group of fellow bloggers), I was able to do a lot but it didn't nearly cover everything there is to do and see.  Nor all the places there are to eat or drinks to be experienced.  Eat and drinking were certainly some of the pleasantries found in Ottumwa and I left with a full (and happy) belly!
THE COFFEE AND FOODIE SCENE
Four coffee shops.  FOUR. While I didn't get to hit them all up, I did get to have some coffee at both Top Hat Coffeehouse and HUB Coffee.  Both of these coffee shops have a mission to serve and are involved in the community.  Next to perfectly roasted coffee bean, that is always a plus in my book of '"Things I appreciate as a coffee snob" (yet to be released, ha!).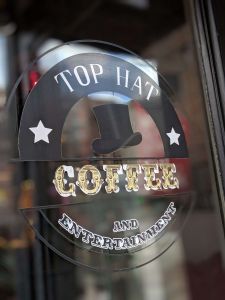 The food scene is grand, again I'm astonished by the amount of diversity this small town has to offer locals and visitors.  While chain restaurants are readily available in Ottumwa, I immediately zeroed in on all the independently owned restaurants.  Within just a few blocks I found a variety of ethnic food offerings, such as Filipino, Ethiopian, Italian, Asian, and Mexican eateries.
Canteen Lunch in the Alley
And, of course, when in Ottumwa you must visit Canteen Lunch In the Alley and have yourself a canteen sandwich (a ground meat cheeseburger, as I would describe it)!  The Canteen is a small dinner, in an alley (hence the name!).  It only seats 18 and stays very busy – 52,000 lbs. of meat a year busy! The Canteen has been serving its loose-meat sandwiches (a canteen) and homemade pies since 1927 and is home to the World Championship Canteen Eating Contest.  While here I enjoyed a canteen, coke, and slice of a lemon meringue pie.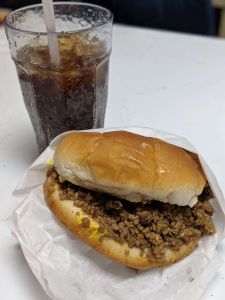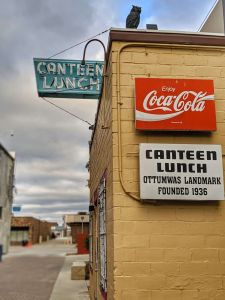 Appanoose Rapids
We had dinner at Appanoose Rapids and this is where I first landed eyes one of the biggest burgers I've ever had, the Rapids Burger.  A burger with layers of delicious meat and cheeses, topped with a hashbrown and fried egg! David and Dennis took over Appanoose Rapids in 2018 and enlisted the help of the pros, their chefs, to reinvent the menu (and keep some local favorites as well).
Breakfast and brunch options are ample in Ottumwa!  A plate-sized cinnamon roll from Second Street Cafe caught my attention right away.  For lunch, I had a burrito the size of my head at Mimi's Taqueria!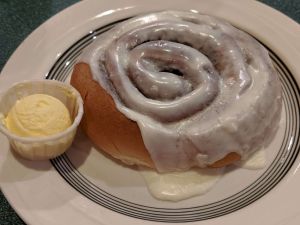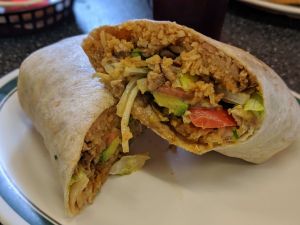 Our first night's dinner was catered to us by Chef Bob at the Bridge View Center and Atrium.  It was a beautiful dinner, set up in the atrium, featuring a 3-course meal made from scratch!  Even the salad was beautiful, and the chicken entree with fresh veggies was tender and delicious.  But the show-stopper for my sweet-tooth-loving-self was the decedent orange cake with homemade orange pudding and raspberry sauce!   Chef Bob is leading a legacy here in Ottumwa and it's starting at the Bridge View Center.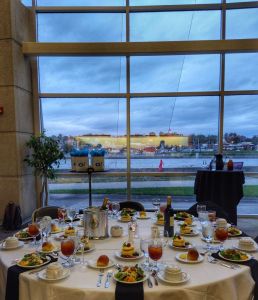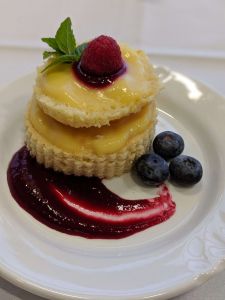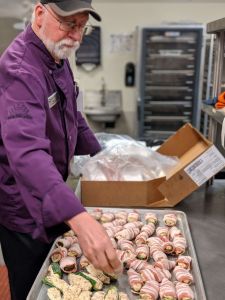 BRIDGE VIEW CENTER AND ATRIUM
The Bridge View Center is an impressive event center along the Des Moines River.  With 92,000 square feet of space for holding conferences, expos, concerts, weddings, conventions, and meetings of all sizes. In fact,  Newsboys was going to be in concert the week I was visiting (that brought back some of my late-90s teen girl memories!).  Inside the center is a 662-seat theatre and 30,000 square foot expo hall, in addition to their conference rooms, studio, lobby, and an outdoor plaza.
Also in the works: an attached 97-room hotel!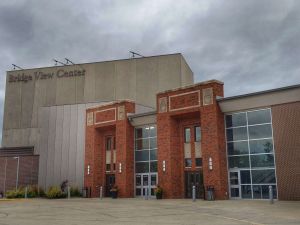 STREETSCAPE AND ARTS
Unique and fascinating artwork and waterways can be found in downtown Ottumwa, adding color and newness to the city's rebirth.  The Alley between Main and Second Street offers great views of this art, as well as an event space for events.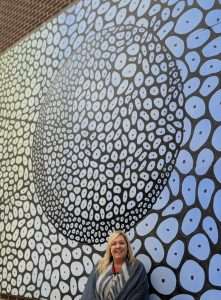 Main Street Streetscape is a downtown Ottumwa project that is currently in the works.  It is a two-year project that started in July 2019 that includes new sidewalks, streets, lighting, benches, artwork, bike racks, and new underground infrastructure.  The downtown is getting a facelift and it's going to be phenomenal (I've seen many of the "before and afters" that have already been completed and it's impressive).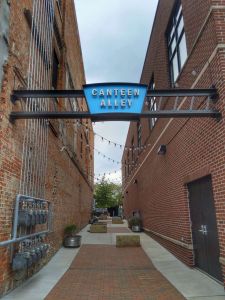 New businesses are coming in, old storefronts are getting revamped, and apartment lofts for individuals and families are being created!
VIDEO GAME CAPITAL OF THE WORLD
When I told my family that I was going to visit Ottumwa, Iowa we did some Googling and they got all geeked-out thinking that I was going to Ottumwa to play video games.  I wasn't, BUT that certainly a reason to come back!  Ottumwa earned its title for being the Video Game Capital of the World when it hosted the first North American Video Olympics in 1982 after Ottumwa's arcade, Twin Galaxies, began keeping official high scores and records for video gaming. The Twin Galaxies arcade is long gone here, but Ottumwa's Old School Pinball and Arcade is a great alternative at only $10.00 to play your favorite classics all day! The video game legacy lives on at the Ottumwa Video Game Capital of the World Interactive Museum. And, most exciting – a Video Game Trail is coming soon to Ottumwa!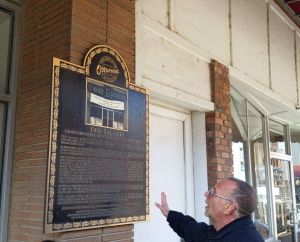 PARKS AND RECREATION
There are over 16 miles of river trails and 26 parks in Ottumwa!   The Greater Ottumwa Park has 340 acres of sports fields, trails, picnic areas, fishing ponds, and playgrounds. During the summer, the renovated Beach Ottumwa offers a 13-acre outdoor water park and an indoor pool open year-round.  The Des Moines River Water Trail is perfect for walking, jogging, biking, and even horse-back riding! Hunting, fishing, and golfing opportunities are also plentiful in Ottumwa!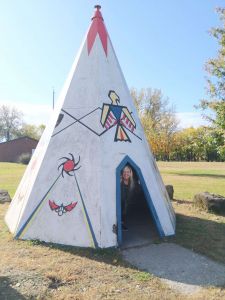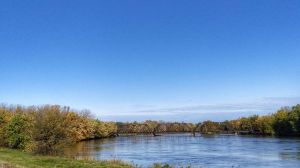 Pioneer Ridge Nature Area has 15 miles of hiking, including a half-mile handicap-accessible trail.  Cabins and campsites are available to rent, at a very reasonable fee.  I got to check out one of the cabins that slept six and it included a kitchen, bathroom, living, and dining room areas for an average of $85 a night (that's a great deal!).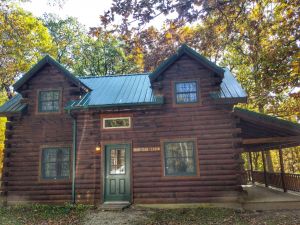 Coming soon – a 60,000 indoor Sports Complex! Within the next year, plans for the building of a Sports Complex will be underway! It will include an indoor baseball diamond, soccer field, basketball & volleyball courts, retractable batting cages, a gymnasium, and a wrestling area.
HISTORY OF OTTUMWA, IOWA
The Wapello County Historical Museum is located upstairs of the Amtrak depot in downtown Ottumwa.  With a collection of over 40,000 objects, this mid-twenty century museum tells the story of Wapello County and is one of the largest county historical societies in the state.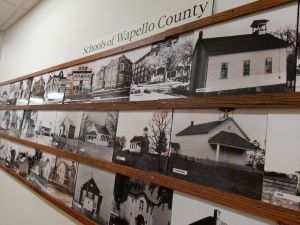 We took a short drive outside of Ottumwa to visit the American Gothic House in Eldon, Iowa!  Now I know that everyone has seen the world-famous portrait of American Gothic, but did you know that you can visit the American Gothic Home?  There are even props available for visitors to pose in front of the historic home.  Of course, we partook in this opportunity!
One of my favorite spots was visiting Ottumwa, Iowa was the Airpower Museum.  It has 20,000 square foot space of aircraft, models, art, engines, propellers, and 30 acres of an antique airfield. I maneuvered my way around the 20 aircraft they have on display for an up-close and personal look.  Nostalgia set in as I was reminded of all the visits to the National Naval Aviation Museum my grandfather took me to in Pensacola, Florida.  Ben was on hand for questions and I was pleasantly surprised to learn that an aircraft from the Airpower Museum is currently hanging in that Pensacola museum!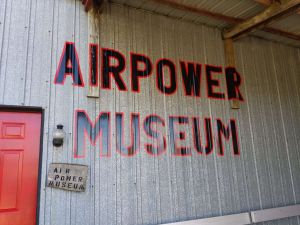 ENTERTAINMENT – MUSIC, SHOWS & MORE! 
Ottumwa has two symphonies, a children's playhouse, a municipal band, and many art venues such as the Indian Hills Art Gallery and Anomaly Gallery.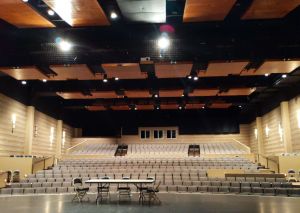 Did you know? Actor and comedian Tom Arnold was raised in Ottumwa.  He is famously known for his role in the television show, Roseanne.  In fact, the Lanford Lunchbox (in the show) was based on Ottumwa's Canteen Lunch in the Alley. 
FASCINATING OTTUMWA TIDBITS:
Ottumwa is hometown to the fictional character "Radar" O'Reilly from M*A*S*H
Hotel Ottumwa opened in 1917 and still provides guests a local experience today with its 50 guest rooms, Grand Ballroom, the Tom-Tom Tap lounge, and Second Street Cafe.
Like bacon?  JBS Pork in Ottumwa has it! JBS is the leader in premium pork and "brings home the bacon" literally. Iowa the largest bacon-making state!
There are seven disc-golf courses in Ottumwa.
Ottumwa Regional Airport is the 8th longest airport in the state.

Hotel Ottumwa
---
Pin It!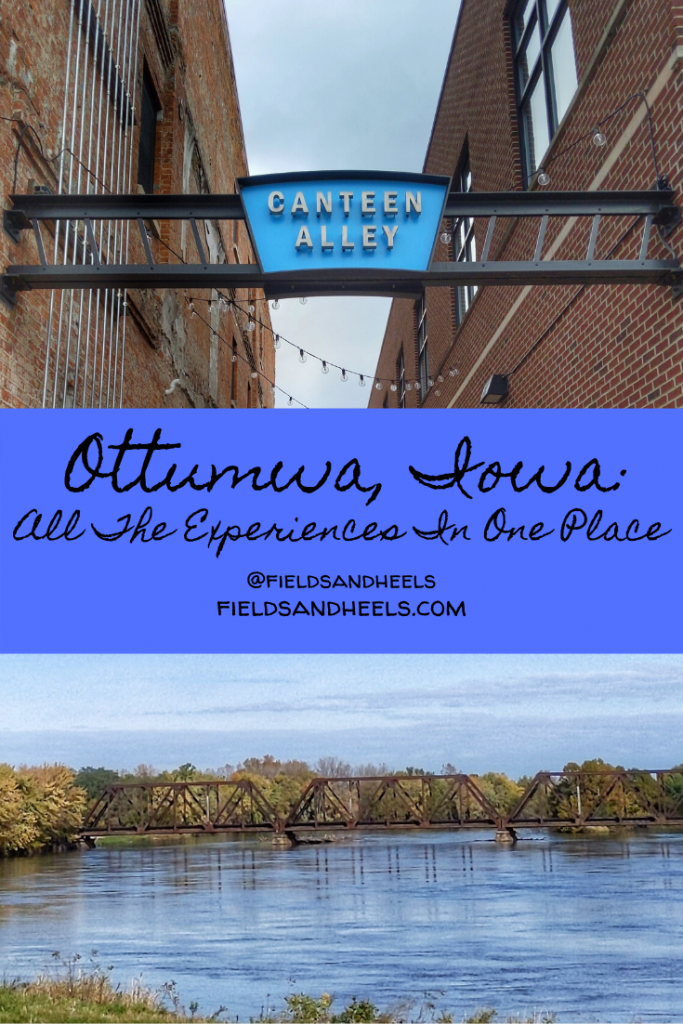 ---
Other posts you might enjoy:
HOTEL GRINNELL: ONE OF IOWA'S BEST HOTELS!
TOUR A FAMOUS BASKETBALL FILMING LOCATION RIGHT IN THE HEART OF HOOSIER COUNTRY!
FAMILY THINGS TO DO IN CHICAGO'S WRIGLEYVILLE AREA
CINCINNATI WEEKEND GETAWAY – AIRBNB, ART, COFFEE ROASTING, SOTTO & MORE!