Located within walking distance of Grinnell College in Grinnell, Iowa is one of the best hotels in the state.
Hotel Grinnell's beautiful building dates back to 1921 when it once served as a school building and has now been repurposed into a hotel and event center. The story of Hotel Grinnell is fascinating and exciting to me, as a bit of a historical building enthusiast. I was oohing and ahhing over all its original features and classic school feels such as the wood plank floors and high ceilings. Before the hotel opened, owner Angela Harrington invested years of planning into preserving the hotel's history, compliment Grinnell's art scene, and offer a unique experience for guests.
*This was a hosted stay, but as always opinions are purely my own.
Blog posts contain affiliate links. When you click on these links I earn a small commission that helps keep this blog running and support my family. If you have any questions, feel free to read my disclaimer and privacy policy. Thank you!
Artwork can be found in every room and throughout Hotel Grinnell.
There are no duplicates, making each room unique! There is a lot of thought and hard work put into reflecting Grinnell's art culture within the hotel. These are touches you won't find at a chain hotel! I also love that there are chalkboards in each room, allowing guests to leave messages or create artwork of their own. It's the simple things like these that add a bit of classic academic touch to this old school building.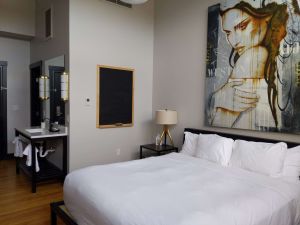 The guest rooms are former classrooms.
Former classrooms have been converted into 43 guest rooms. You will find many room options available with Hotel Grinnell's king/queen lofts, canopy king rooms, double queen rooms, and suites (including a penthouse suite!). Suites offer a larger bathroom space and jacuzzi tub (I'll talk further about the penthouse suite below). The original windows in each room showcase picturesque views of the Fall trees and views of downtown Grinnell. Along with all of the windows, the bedding in each room is white and the walls are lightly painted making each room look spacious and crisp.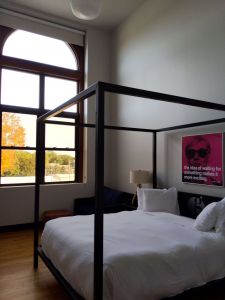 Luxury beds and ample amenities.
And speaking of bedding, there is something to be said about the beds! As a light sleeper, I don't sleep well away from home but I found it easy to sleep within the comfort of the Eva Mattress and fluffy pillows. In fact, feeling at home is exactly what Hotel Grinnell wants. In my room, I found a list of amenities the hotel has available in case I had forgotten something, such as toothbrushes and soaps. If you sleep with a fan or a white noise machine, such as myself, Hotel Grinnell has these items on hand to borrow. You can even borrow a yoga mat! Just send them a quick text message and they'll accommodate! Since all the rooms are phoneless, text messages for guest services and free Wifi are available. All rooms also offer amenities such as a Keurig, refrigerator, desk, side chairs, and an area to hang clothing.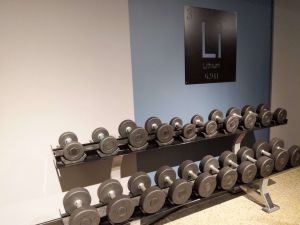 There are so many amenities available here! Want to borrow a bike to ride around town? No problem! The hotel has several bikes available as a free service to guests. Just grab a bike, and check it out at the front desk. Additionally, Hotel Grinnell has a fitness room with equipment and free weights.
The bunk rooms for parties, weddings, and large families.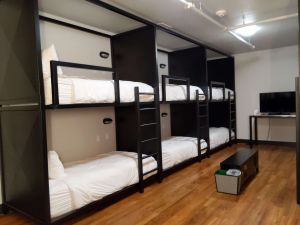 While most of the rooms are double or queen beds, there are two special rooms at the hotel that offer accommodations for large families and groups. These rooms are called the Bunk Rooms and each contains 10 bunk beds. These aren't the type of bunk beds you shared with your sibling as a child, I'm talking about bunks with the same luxury and comfort you'd find in any of the other rooms. Each of the Bunk Rooms includes a private shower and toilet stall and sink area. It's perfect for wedding parties too!
Living my best life in the Hotel Grinnell Penthouse Suite.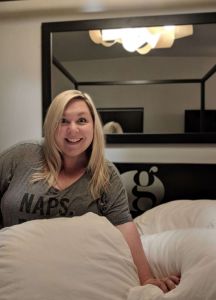 The most luxurious room at Hotel Grinnell is the Penthouse Suite, which I had the privilege of spending a night in. Located on the second floor, next to the theatre, this suite used to be the stage dressing room! It has two levels, upon entering downstairs you'll find a stairwell that leads upstairs to the main level. The suite is an open-concept space with a king bedroom, seating area, dining area that seats 8, and entrance to the bathroom. We are talking about 600 square feet of grandeur; featuring a canopy bed, upscale art, and lighting, locally made furniture, white robes, and a couch that converts to a queen sleeper!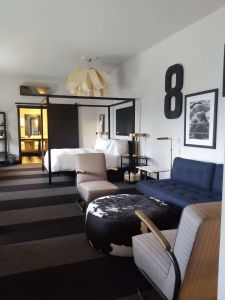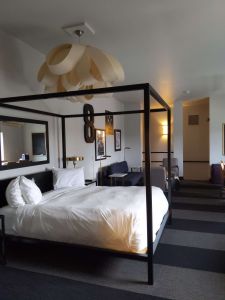 The penthouse bathroom is a majestic room all by itself. I'm pretty sure it's bigger than most of the rooms in my house! With a 2-person walk-in shower and heated tub, it makes for a cozy, romantic getaway for two or even just an indulgent weekend for one like myself. There is also a double vanity with white quartz and fancy fixtures (I definitely am taking the shower design idea home to my husband for a possible master bathroom replica!).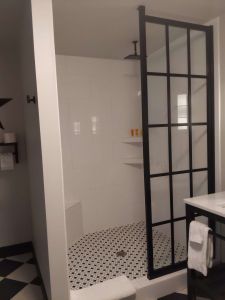 There is another room downstairs at the entrance that I like to call the "dressing room" because it is perfect for a wedding party or a girl's night out. This room could easily be used for multiple purposes (such as a dressing room or mini-salon). There is a large lighted mirror and salon chair set up in the room, along with bench seating for others and multiple wall hooks.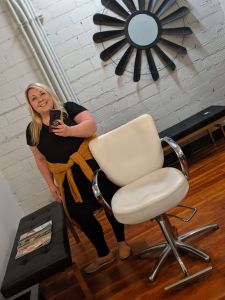 A ballroom and auditorium for events.
The old school gym now serves as a Ballroom. This repurposed space has the original gym flooring and the old scoreboard can now be spotted in the Periodic Table (the hotel's bar and lounge). With seating for up to 300-400 people, the Ballroom is perfect for wedding receptions, luncheons, conferences, and trade shows!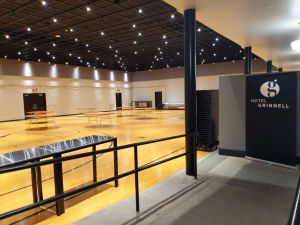 Additionally, the school's original auditorium is an elegant space for wedding ceremonies, performances, lectures, etc. Seating is available up to 300 people at the lower level and 50-100 more in the upper level. It is located on the hotel's second floor with a balcony off of the third floor. The spiral staircases on each side of the stage were a favorite feature of mine!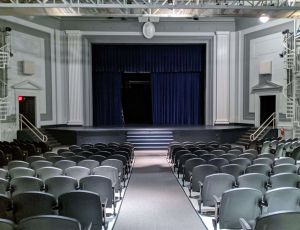 Foodie scene and game room.
The Periodic Table, attached to Hotel Grinnell, is a great space for hanging out and grabbing a drink. They do have a food menu available, and some nights they have special food offerings, such as a food truck. I was staying on a Sunday night and in lieu of a menu, they had a taco truck available with food from Tacos Don Diego! And beginning November 1st, they will be hosting a pop-up Italian eatery, Cilino's Italian Restaurant will be serving lunch and dinner from 11 am-10 pm, seven days a week.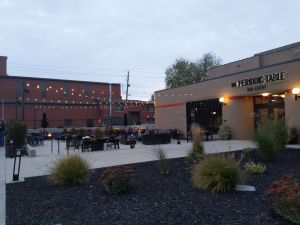 Unique drinks and craft beer are always available at the Periodic Table bar, as well as non-alcoholic beverages and fair-trade coffee. The Periodic Table used to be the locker rooms of the school building and, as I mentioned earlier, has the original scoreboard hanging on the wall. There is an open area for hanging out with games available and even a gigantic magnetic Scrabble board on the wall. They have a large outdoor space with seating, fire pits, cornhole, and live music on the weekends.
During the week they offer a light complimentary breakfast from 6:30 to 9:30 a.m., available to guests of Hotel Grinnell.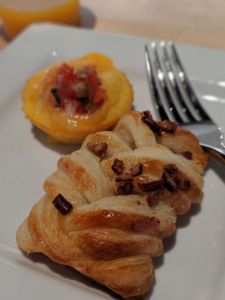 Places to explore and so many things to do.
I thoroughly enjoyed my visit took to Grinnell, Iowa! This small town of 10,000 is known as the "Jewel of the Prairie" and has a lot more going on than towns three times its size. There is a lot to do here, from a growing food scene, and shopping, to activities such as the Community Arts and Architectural Walking tours!
Video Tour:
---
Pin It!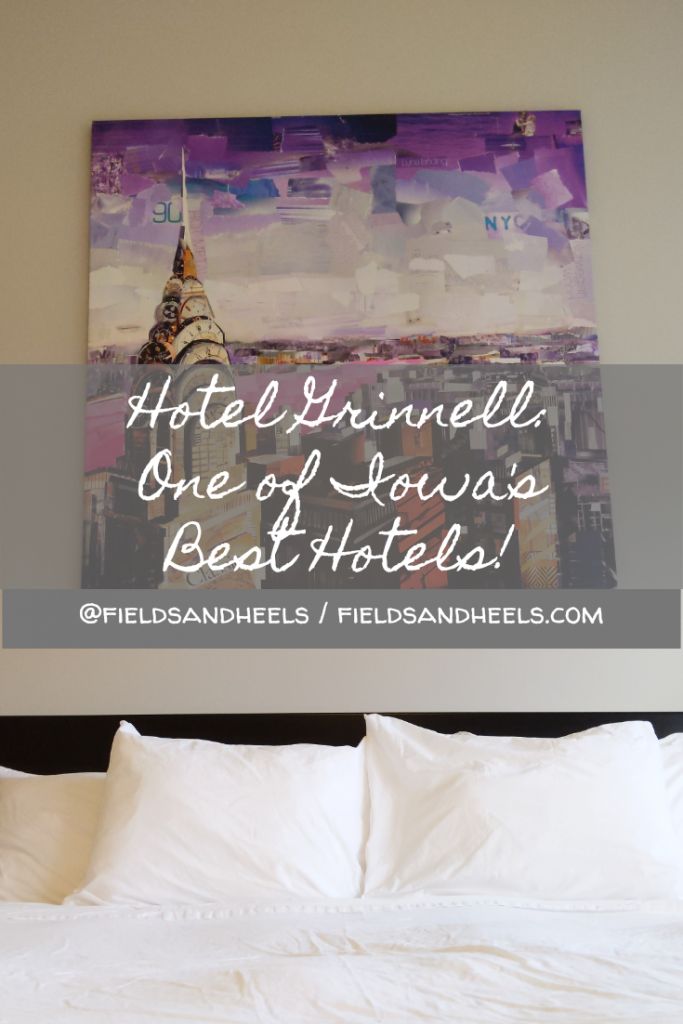 ---
For other fun Midwest travel ideas, check out these posts:
Family Things to Do in Chicago's Wrigleyville Area
Cincinnati Weekend Getaway – Airbnb, Art, Coffee Roasting, Sotto & More!
Tour a famous basketball filming location right in the heart of Hoosier country!
---