Visiting the French Lick Resort
Updated 11/8/2022
I fell in love with the French Lick Resort! It is one of the state's most magical places, tucked away in the rolling hills of Southern Indiana. I was in awe when I read about the resort's history and saw it in person. I didn't know such a place existed here. The French Lick Resort consists of three hotels (the West Baden Springs, French Lick Springs, and Valley Hotel), a casino, and a golf course. It is also a historic Indiana Landmark and is famously known for its mineral springs.
French Lick Resort is listed as a top 100 "Indiana thing to do" in my book, 100 Things To Do In Indiana Before You Die. If you are looking for luxury, this is the place to find it in Indiana. It's as "all-inclusive" as you'll find in the Midwest. Away from the big cities and the stress of life, the resort offered us gorgeous views, quality dining experiences, comfortable beds, and activities that filled our days there. During our 3-day visit, we never left the resort!
Disclaimer: Blog posts may contain affiliate links and/or ads. If you click on these links, I may earn a small commission. This helps keep the blog running and supports my family – at no cost to you. If you have any questions, please read my disclaimer and privacy policy. Thank you! A special thanks to French Lick Resort for hosting my stay. All opinions in this article are my own.
A resort for everyone
While I highly recommend the French Lick Resort for a romantic getaway, it is also family-friendly. You'll find amenities and activities for children and families in the West Baden Springs and French Lick Springs hotels. If visiting with our children, I would choose French Lick Springs Hotel for the Kid's Activity Center, restaurants, pool, bowling, arcade, and overall more casual resort atmosphere. French Lick Springs is a little more active, they also have almost twice as many rooms as the West Baden.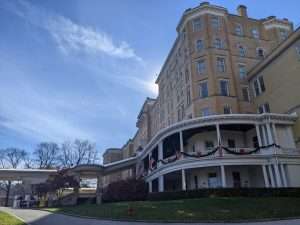 My husband and I stayed at the West Baden Springs Hotel for a romantic getaway. The West Baden Springs hotel is also family-friendly; however, I found it to be a much quieter atmosphere. Besides their live piano music in the evenings, it was so quiet at times I felt like we may have been the only ones in the hotel. It's far from the crowds and near the stables and trails. There is a bit of old-world romance swirling around the West Baden, and it's truly an experience that I'll never forget!
The Valley Hotel is the resort's newest hotel and is located near the Event Center, Exhibition Hall, and French Lick Casino. This is the closest and most accommodating hotel if you visit the casino.
History of French Lick Resort
It's said that in 1778, George Rogers Clark discovered the French Lick area's mineral springs and salt licks. The salt licks and springs drew in visitors for their supposed curing powers. It became such a popular destination that the French Lick Springs Hotel was built in 1845 to accommodate visitors. And in 1855, the neighboring Mile Lick Inn was built, later named the West Baden Springs Hotel.
In 1901 a fire destroyed the West Baden, so owner Lee Sinclair rebuilt the hotel, adding an intense dome and grand spa. The West Baden became known as the "Eighth Wonder of the World" for having the world's largest free-span dome (until the 1960s) and a 200-foot diameter atrium.
That same year, the owner of French Lick Springs (Thomas Taggert) decided to expand his hotel. He added three six-story wings over 20 years. Taggert also bottled and sold "Pluto Water," the hotel's branded mineral spring water. The production of Pluto Water ended in 1971 after it was found to have Lithium in it, a controlled substance. You can still visit the Pluto well today on the French Lick Springs property (be prepared for an "interesting" smell).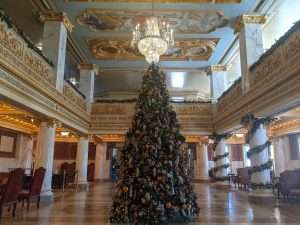 They entertained many famous persons, including gangster Al Capone and elite members like Bing Crosby and Franklin D. Roosevelt. Unfortunately, when the stock market crashed in 1929, West Baden closed and exchanged ownership with different organizations over the next several decades. It then sat empty for nearly 10 years before Indiana Landmarks took over and started restoring the building and offering tours.
In 2006, the Cook Group officially reopened the French Lick Springs as a restored hotel with a casino. They reopened the West Baden Spring Hotel to overnight guests a year later. They fully renovated the hotel, featuring a pool/spa building and the Valley Link Golf Course.
Take a tour of West Baden and French Lick Springs through Indiana Landmarks. There are several tour options to choose from!
Our stay at the West Baden Springs Hotel
The West Baden Springs Hotel is a breathtaking sight to see. Upon arriving, we were greeted by its huge atrium and dome. The concierge is on your way to check in and available to answer any questions. Check-in was a breeze; before I knew it, we were on our way to our room on the third floor.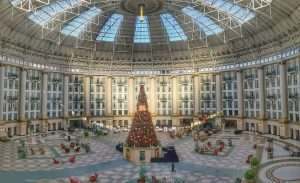 We had a Superior Atrium Balcony Guest Room, these rooms offer the best views at West Baden! The balcony opens up to overlook the atrium. During the Christmas season, it's even more magical. The guest rooms have a mini-fridge and wet bar area, in-room Starbucks coffee and tea, and a massive bathroom, robes, and complimentary bottled water.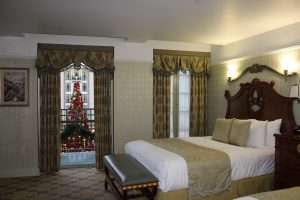 The beds are very comfortable! All mattresses are from the Bowles Mattress Company, handcrafted locally in Jeffersonville, Indiana. The West Baden beds are so amazing they were ranked #2 on MattressAdvisor.com's 'Top 25 hotels for sleep quality in America.' I love that they use local brands in the hotel!
West Baden Springs Things-To-Do:
Nightly live music in the atrium from 5 – 9 pm
Afternoon tea in the atrium (select days, tickets required)
Take a romantic or family horse-drawn carriage ride
Swim in the indoor or outdoor pool, and relax in the hot tub
Fitness center is open 6 am-midnight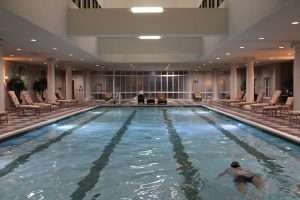 French Lick Springs Things-To-Do:
Friday & Saturday, live music in the lobby from 5 – 10 pm
Concert in the Hoosier Ballroom throughout the year
Bowling and arcades at Pluto's Alley
Visit the Kid's Activity Center daily from 10 am – 6 pm for crafts, movies, and games.
Enjoy outdoor lawn games like badminton, cornhole, ladder golf, soccer, etc. (available free of charge at the bell stand)
Swim in one of the two outdoor pools (one is for adults only), an indoor door, or relax in the hot tub.
24-hour fitness center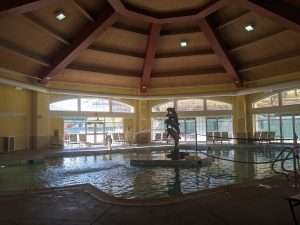 Eat like royalty
The dining options at the French Lick Resort range from fine dining to casual and grab-and-go options. Guests can easily go back and forth between the hotels with free transportation. We took advantage of this option and dined in establishments at both hotels. The quality of the food is worth mentioning – everything we had was delicious, well-presented, and perfectly prepared.
Ballard's in the Atrium – We had dinner here our first night, and it was lovely to dine while hearing the live music playing in the atrium, with a view of the dome. We enjoyed the Chicken Penne Vodka and Classic Wagyu Beef Burger. All the burgers at the resort are made with wagyu beef, a high-quality Japanese beef. For dessert, we savored the West Baden Signature Chocolate Dome – a resort classic and 100% chocolate!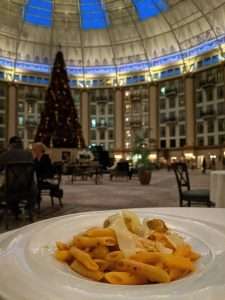 In-Room Dining – For our first morning's breakfast we choose to sleep in and have breakfast delivered to our room. At West Baden, breakfast is from Café Sinclair's. I don't want to brag, but if you aren't sitting in a robe eating Eggs Benedict and sipping a latte while sitting on a balcony overlooking the West Baden atrium, are you living your best life?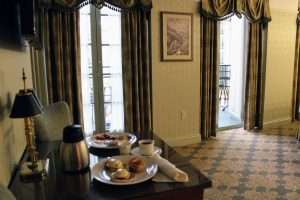 Power Plant Bar & Grill – Since we were shopping at Promenade of Shoppes in the French Lick Springs Hotel, we had a casual lunch at the Power Plant. The original switchboard that powered the hotel is used as a backdrop for the restaurant. The Classic Reuben and Breaded Pork Tenderloin provided us with a hearty lunch.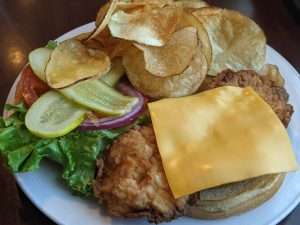 Sinclair's Restaurant – Our second night at the West Baden was the most romantic and special. We got dressed and headed to Sinclair's after a twilight horse-drawn carriage ride. Named after the original owner, Lee Sinclair, it is a fine-dining restaurant in West Baden. It is also one of the restaurants on Indiana's Foodway Alliance's Culinary Trails. I had the best Filet Mignon of my life and experienced the art of preparing Bananas Foster here.
The Grand Colonnade Restaurant – Our last meal at the resort went down with a bang. It was a feast of a breakfast buffet at French Lick Spring's Grand Colonnade Restaurant, located in a former ballroom. In 1931, Franklin D. Roosevelt used this same ballroom to gain support for his presidential nomination. There is a bit of history in every nook and corner of the resort! Nowadays, an all-you-can-eat buffet sits in the middle of the gorgeous room with fancy chandeliers dangling from above you. Fresh breakfast items are aplenty, including a made-to-order omelet and waffle station.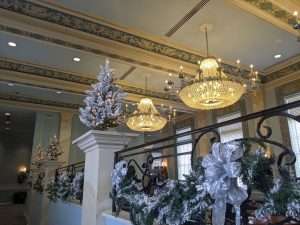 Activities to add to your French Lick Resort itinerary:
Take a tour – You can take an Indiana Landmarks tour of the West Baden, French Lick Springs, or both hotels (tickets required). Or take a self-guided walking tour of the hotels and formal gardens.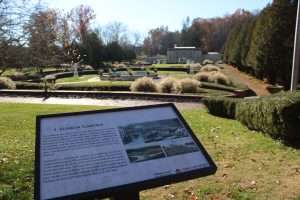 The resort's golf course, Valley Links Golf Course, offers a 9-hole walkable course and foothole course (a game that combines soccer and golf). Kids 12 and under can golf for free.
Visit the Stables – take a tour of the stables, meet the horse, or go for a horseback ride.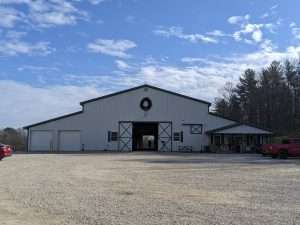 The Spa at French Lick – Book an appointment for a massage or facial, and take a dip in the legendary Pluto Mineral Bath.
Hiking – five trails are available surrounding the resort (pick up a trail map at the Valley Links golf shop or online here).
Biking – bike and surrey cart rentals are available.
Sporting Clay – the resort has a 75-acre shooting range open daily from 9 am – 5 pm for those aged 13 and older. You can bring your gun and ammo, or shotgun rentals and ammo purchases are available on-site. Shooting range options vary from $30-$180 per person.
Shopping – shop the resort's mercantile, gift shops, and boutiques.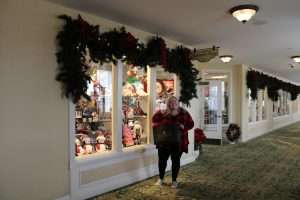 Pet-friendly resort
The French Lick Resort is extremely pet-friendly! The hotels have pet-friendly rooms for dogs up to 60 pounds (no limit on service dogs). There are plenty of walking trails to walk Fido, and the West Baden Hotel even offers In-Room Doggie Dining for the most catered canines. You'll receive a menu, dog bowl, and treats when you check in.
Lucy's Dog Park is located on the resort property. It's a double-gated, fenced-in dog park for dogs staying at the resort. There is a $150 non-refundable pet fee per stay.
Resort Amenities:
Free valet parking and self-parking. We used the valet parking and never needed our car for our visit.
Free transportation. The resort offers free 24/7 shuttle service throughout the resort and the local community. They'll take you anywhere in French Lick except other hotels, the waterpark, or the liquor store. The iconic 1930 rail trolley is free to ride and runs from noon – 8 pm between the hotels. It's "the shortest trolley line in the world."
Free bottled water (at West Baden). You'll find bottled water in the mini coolers in your room and in other public areas throughout the resort, such as the pool and fitness center.
Concierge services. A concierge can assist guests with activities and services and answer questions.
Luggage and golf club storage.
Travel tip: bring cash along to tip your valet attendants, trolley drivers, and service workers for any additional activities or services you plan to partake in, etc.
Holidays at French Lick
The holidays are magical here! At West Baden, a gigantic tree lights up the middle of the atrium. The sight is magnificent, and if you book an Atrium Balcony Guest Room, you'll have the best views in the resort! The "50 Days of Lights" takes place from November through early January and begins with a grand tree lighting ceremony. Over half a million lights brighten the resort.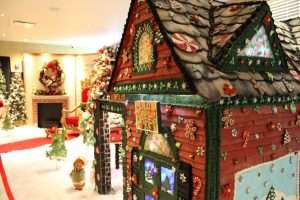 The Christmas Village is set up near the Event Center at the French Lick Springs Hotel. Holiday displays offer a perfect photo background, and a gigantic, real gingerbread house is set up near Santa's booth. Many activities for the kids and families are available at French Lick Springs during the holiday. Such as a holiday scavenger hunt, a toymaker workshop, cookie decorating with Mrs. Claus, Christmas Drive-In Movies, and breakfast with Santa.
YouTube video of our visit:
Direct Link to video: https://youtu.be/ojlmr0mjbac
Things to do nearby:
Pin It For Later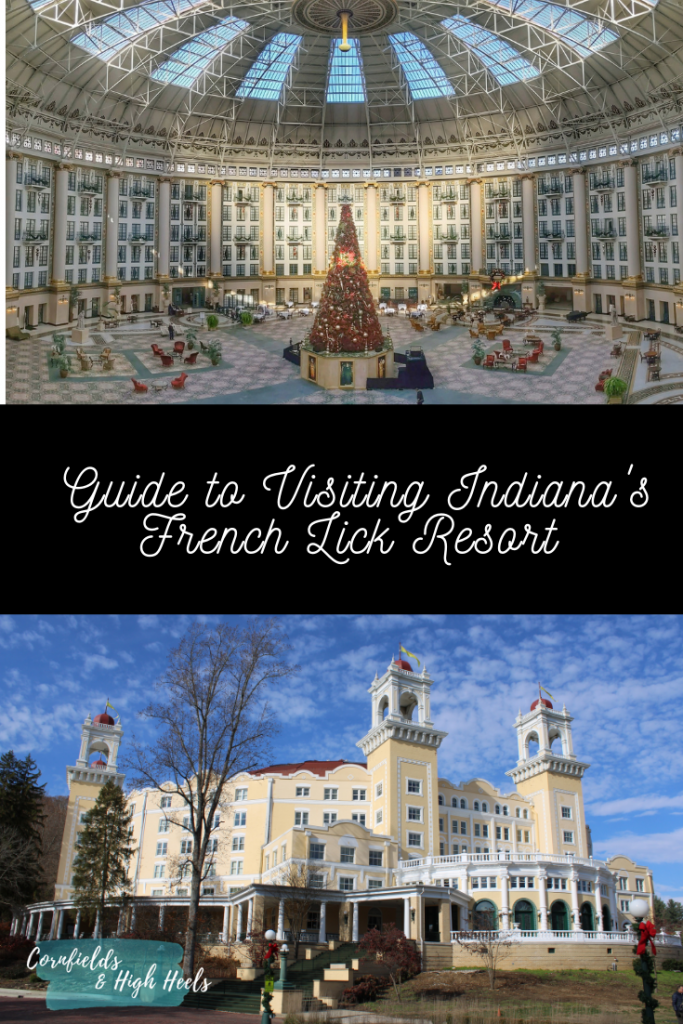 Other articles you might enjoy: