8 Reasons You Should Visit Evansville
Located in the southwestern corner of Indiana, Evansville offers a little bit of something for everyone. And being along the Ohio River has its perks. You can easily take an Ohio River Scenic Byway road trip starting or ending in Evansville. I had the opportunity to visit Evansville a handful of times in the last year, and as a result, each time, I've discovered something new!
Disclaimer: Blog posts may contain affiliate links and/or ads. If you click on these links, I may earn a small commission. This helps keep the blog running and supports my family – at no cost to you. If you have any questions, please read my disclaimer and privacy policy. A special thanks to Visit Evansville for hosting my trip. All opinions in this article are my own.
Join along for a glimpse of a visit to Evansville, Indiana, the city of "Happy faces, Hidden places."
1. Indiana's oldest zoo
Evansville's Mesker Park Zoo and Botanical Gardens have over 45 acres and 700 animals. It was Indiana's first zoo and is the largest zoo in the state! The Botanical Gardens, created by the Master Gardeners Club, offer visitors interactive activities and gardens to admire throughout the park. A lake, 20,000 square foot greenhouse, discovery center, exhibit hall, and children's enchanted forest are a few of the many things available at Merker Park Zoo. The zoo and hotel packages available through Visit Evansville are available for additional admission savings.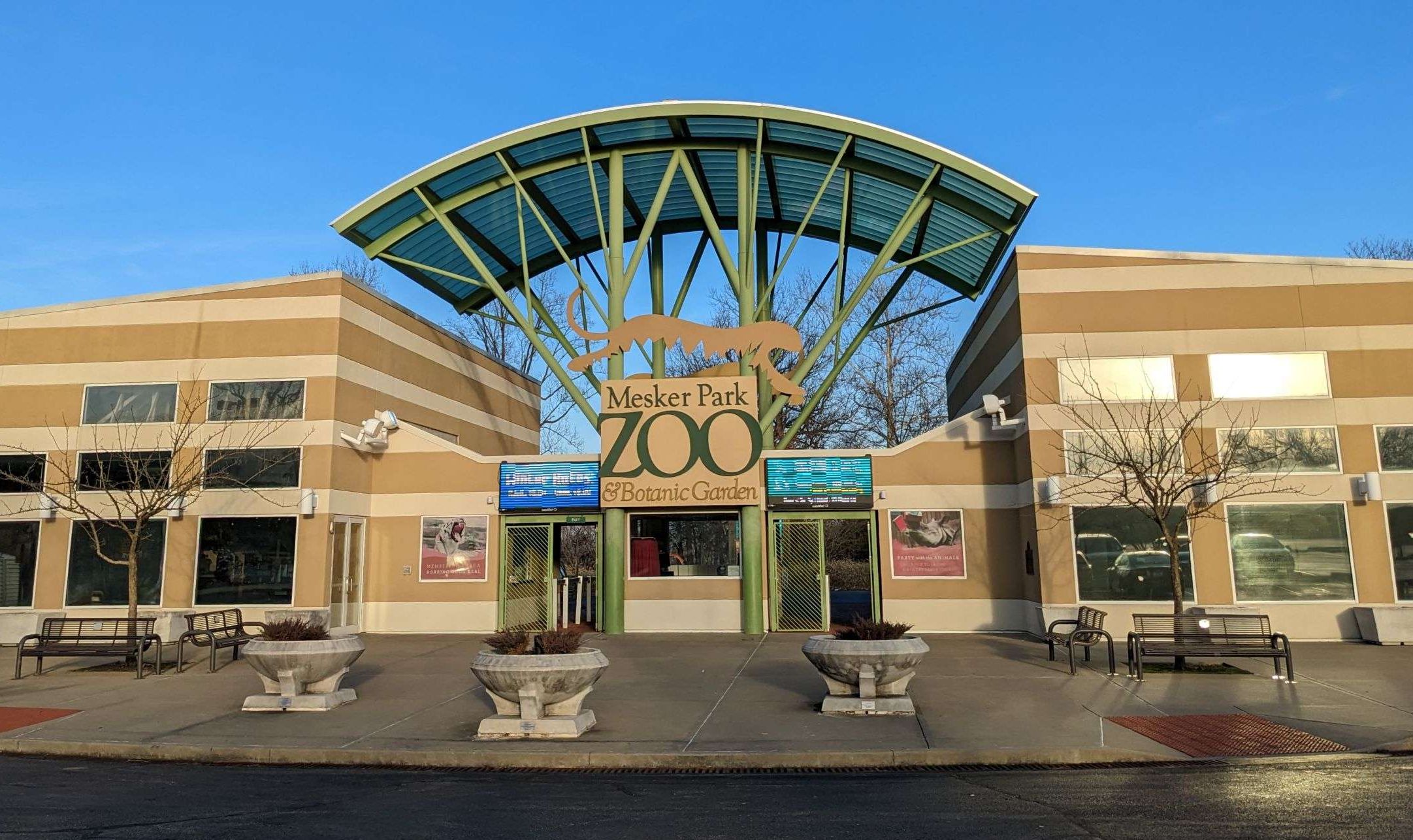 2. Check out the Evansville museums
Koch Family Children's Museum of Evansville – The children's museum opened in 2006 and is located in the former historic Central Library, offering three levels of interactive activities and exhibits. General admission is $12 for 18 months and older, with discounts for active military, low-income families, and educators.
Evansville African American Museum – located in one of the first housing projects in the US and is the last remaining building of the Lincoln Gardens. The museum showcases life as it was in 1938. Additionally, a modern section of the museum is used to promote education and art, and Wonder Lab Study and Lego Community Building area for children. The museum opened in 1999 and shares African Americans' stories, art, and contributions in Evansville. The guided tours are very informational and highly recommended. Admission: Adults (Guided Tour: $7, Self-Guided Tour: $5) and Children Under 12 (Guided Tour: $5, Self-Guided Tour: $3)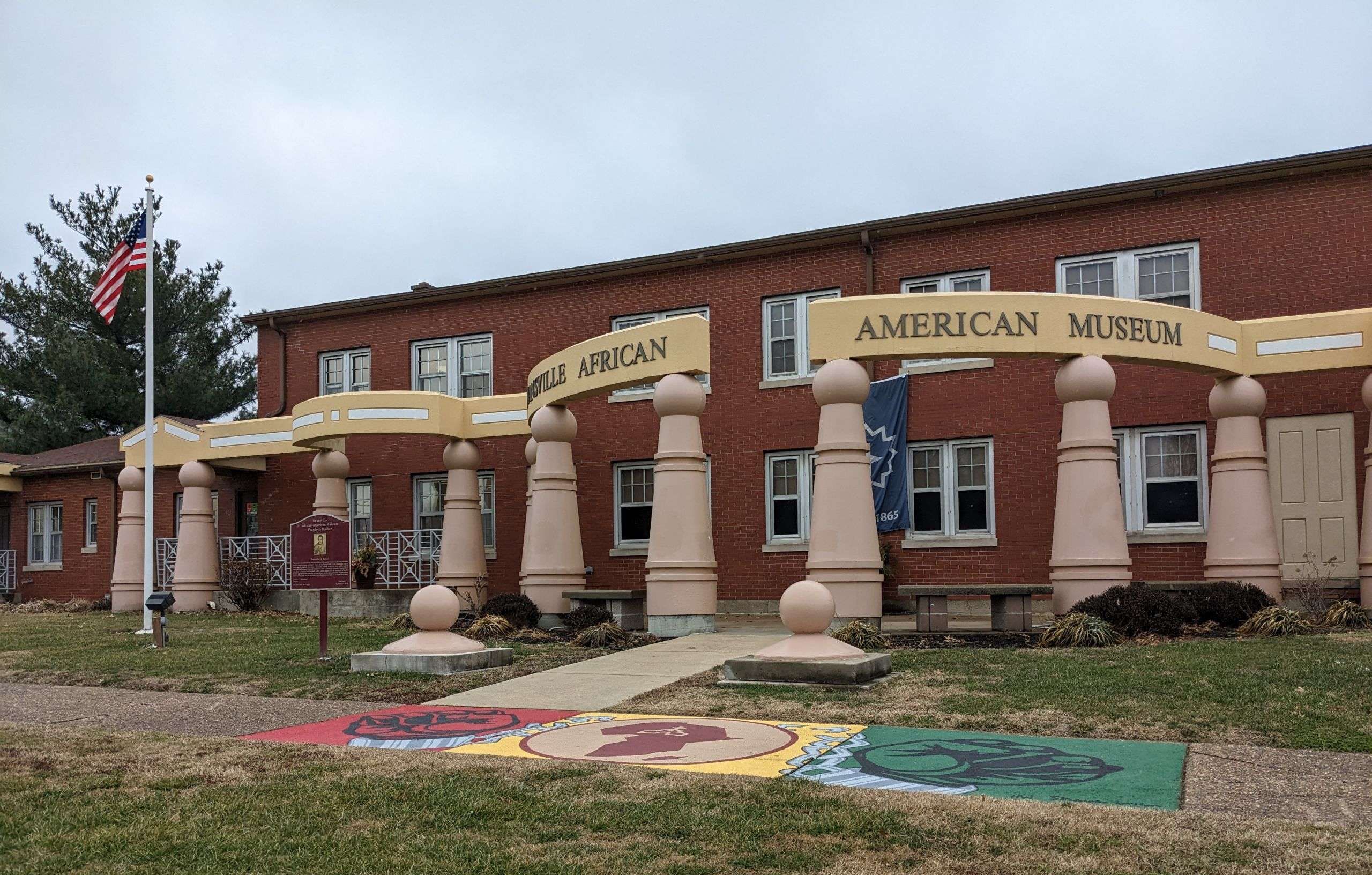 Evansville Museum of Arts, History & Science – this is a cool-looking museum and my favorite in Evansville. The museum's massive collection includes over 30,000 objects and a 360-degree immersive theatre and planetarium. Displays like The Evansville Lost Landmarks and rotating exhibits offer a taste of local history. The hands-on Science exhibits are a kid favorite, and the Arts exhibits are a museum within themselves. You'll also find the Evansville Museum Transportation Center (EMTRAC) here! Admission is $12 for adults and $8 for youth ages 4-17 (theatre tickets are a separate price). The museum also offers free admission on First Fridays.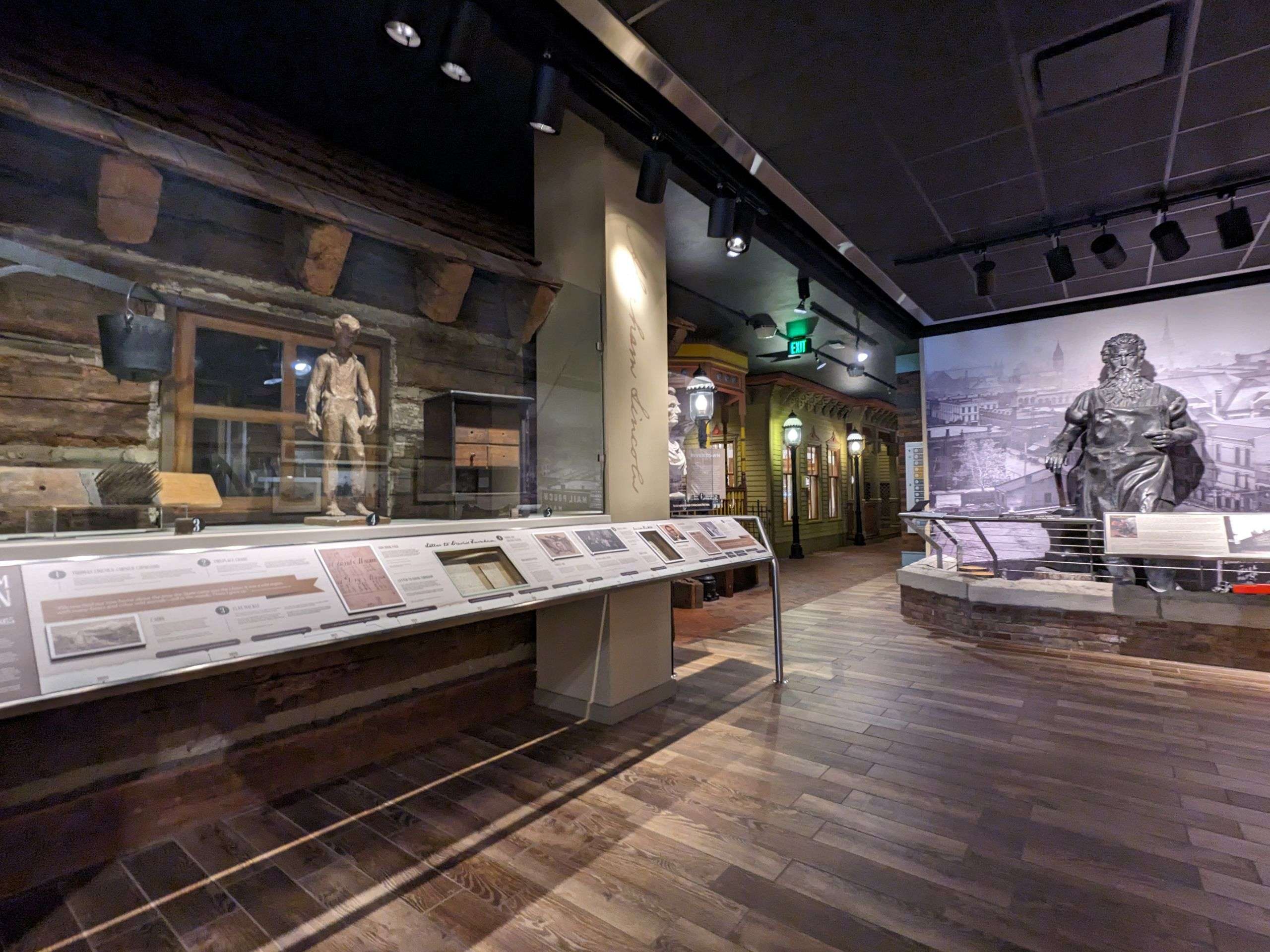 Evansville Wartime Museum – Factories in Evansville, and the surrounding area, made and contributed to over 300 different items used in the war effort (WWII). The museum showcases history and memorabilia specifically as it relates to these efforts and is donated by the community. Hear many stories and see the "Hoosier Spirit II" (a P-47 fighter plane) and the 1943 M4A4 Sherman Tank. Admission is $11.00, Youth (6-17) $8.00, Children (0-5) are free, and Active Duty Military, Veterans, Seniors (65+), and First Responders $8.00.
Reitz Home Museum – located in downtown Evansville, the Reitz Home is said to be the country's finest example of French Second Empire architecture. John Augustus Reitz, a successful sawmill owner and philanthropist, built the Reitz Home in 1871. Today, original period furniture, chandeliers, patterned hand-laid wood floors, and stained-glass windows still occupy the home, taking visitors on tour through a different era. Tours are about an hour in length. Admission is $10 for adults, $5 for students, and $2 for children 12 and under.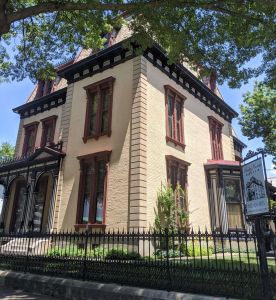 3. Visit the USS LST Ship Memorial
The USS LST-325 is the last operational LST (landing ship tank) ship in the country. It sits on the Ohio River in Evansville and was added to the U.S. National Register of Historic Places in 2019. Guided tours of the ship are provided to guests. The LST is open seasonally throughout the year, Tuesday–Sunday: 10a–4p. Admission is $15 for adults, $7.50 for children ages 6-17), and free for WWII and Korean War Veterans and Active Military Service Members & First Responders.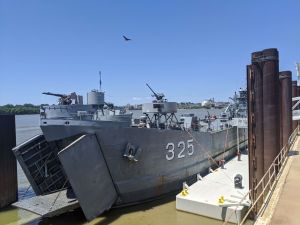 4. Baseball and more
The historic Bosse Field, the nation's third oldest baseball stadium, is in Evansville. Additionally, it was the filming site for the movie A League of Their Own in 1992 and is still in operation! You can catch a glimpse of the original signs used for filming when you visit. During the baseball season, grab tickets to see the Evansville Otters in action and check out Bosse Field's new renovations.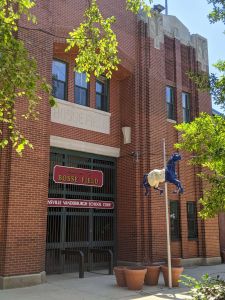 5. One of the best-preserved prehistoric Native American sites in America
Angels Mounds State Historic Site is located along the Ohio River and was built between A.D. 1000 and 1450. And more than 600 acres are part of the historical site, where over 1,000 people of Mississippian culture lived. The non-archaeological portion of the land contains walking and biking trails and a nature preserve. The site includes twelve earthen mounds and an interpretive center. Admission is $5 for adults, $4 for seniors aged 60 and up, and $3 for children aged 3-17.
6. Play at one of the largest Midwest aquatic centers
If you are visiting between the months of May and September, check out the Burdette Park Aquatic Center at Burdette Park. It features an Olympic-sized pool with diving boards, a family pool with slides, a children's pool, and an interactive spray park. You can book a stay at the park in one of their chalets, lodge, campground, or RV park. Admission is $8 for ages 12-61 and $5 for ages 3-11 and 62+.
7. Visit downtown Evansville
Grab a coffee and a selfie in one of the five area Arts Districts throughout Evansville. In Downtown Evansville, you'll find museums, a casino, historic churches, brick-lined streets, views of the Ohio River, restaurants, and nightlife. Don't forget to grab a photo in SELF.E ALLEY!
8. Delicious food to eat
BRU Burger Bar – BRU Burger Bar is located throughout Indiana, but there is something unique about the location in downtown Evansville. It's located inside an old Greyhouse Bus depot! Talk about a cool photo opportunity.
Comfort by the Crosseyed Cricket – the name alone should make you curious about this restaurant! Located in a historic downtown building, you'll be guaranteed the coziest of all comfort foods here.
Cork 'N Cleaver – known for its steak and prime rib (and popular salad bar), Cork 'N Cleaver is an Evansville classic.
Donut Bank Bakery and Coffee Shop – you'll find it all here for donuts, cookies, cakes, and coffee! Three generations have been serving the Evansville community since 1967.
Honey Moon on Weinbach – they serve up some great latte and breakfast sandwiches. Additionally, Honey Moon is known for its delicious bubble waffles and lunch items.
Hornet's Nest Steakhouse – was voted Best Tavern Food and Best Brunch in Evansville!
Parlor Doughnuts – offering HUGE, layered handmade donuts (including keto-friendly and gluten-free donuts) and coffee.
River City Coffee + Goods – a full-service espresso bar plus a local artisan makers' gift shop. Across the street, River Kitty Cat Cafe is another coffee shop serving up coffee drinks and cats (well, not really! But they have adoptable cats from Vanderburgh Humane Society available to visit in a separate part of the cafe).
Nearby attractions
Pin it for later!