Places to See in Richmond, Indiana
Richmond, Indiana is located in east-central Indiana, neighboring the Ohio border. Located within Wayne County, it is full of rich history, adding to my ever-growing list of important Indiana landmarks and interesting places to visit. You'll find murals, museums, antiques, a chocolate trail, 62 miles of the Cardinal Greenway, restaurants, and an important part of the Underground Railroad in Wayne County. Additionally, Richmond is right along the Historic National Road (and featured in Midwest Road Trip Adventures!). I can't wait to share my experiences with you!
Plan an entire weekend in Wayne County! Check out these articles: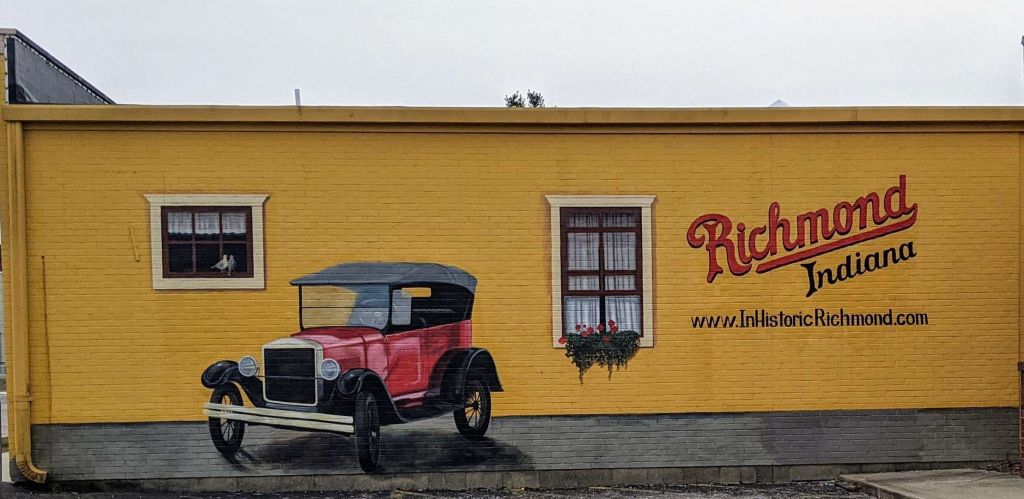 Disclaimer: Blog posts may contain affiliate links and/or ads. When you click on these links I may earn a small commission that helps keep this blog running and support my family. If you have any questions, feel free to read my disclaimer and privacy policy. My trip was hosted by Visit Richmond Wayne Co. Visitors Bureau, but as always, my opinions are my own.
Did you know that you could make an entire vacation out of visiting Wayne County? Before visiting I wouldn't have known this, but now I see why!
I've compiled a 3-article series on places to EXPLORE, EAT, and PLAY in Richmond and surrounding Wayne County towns. Whether you are visiting solo, as a couple, or with family, there is a little bit of something for everyone here. Easily create your own itinerary for a trip; make a day trip, weekend, or week out of your visit! What adventures will you add to your Wayne County itinerary? (let me know in the comments below!)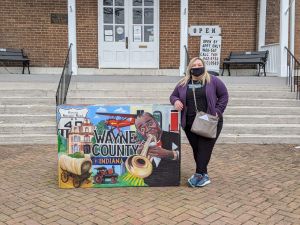 Wayne County Historical Museum
Louis Armstrong is painted on a piano in front of the museum, I was curious to find out why! I found out in the museum – you'll want to visit to figure it out too! The Wayne County Historical Museum is a Richmond gem. It's listed on the National Register of Historic Places and located in the Starr Historic District. It's not the small-town history museum you'd expect to typically find. The museum features two levels of exhibits, as well as an outdoor exhibit depicting Richmond, Indiana in the 1800s. I was so impressed by its size and all of the exhibits, especially the mock Main Street of Richmond's early days (found in the lower level of the museum).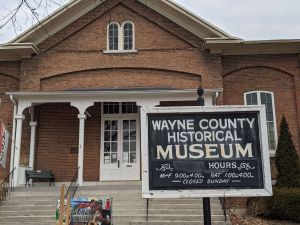 The museum was formally a Quaker meeting house until it was purchased by Julia Gaar and donated to the Indiana Historical Society in 1930. It is filled with collections from Gaar's travels around the world. In addition, you'll find exhibits from Ancient Egypt (including a real mummy), the Automotive Age, and the Log Cabin Days.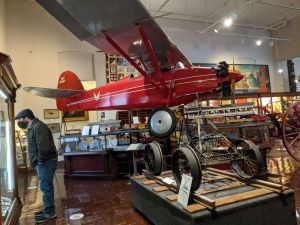 Levi & Catharine Coffin State Historic Site & Interpretive Center
As an Indiana State Museum and historical landmark, the Levi & Catharine Coffin State Historic Site is named the "Grand Central Station of the Underground Railroad." This museum is located in Fountain City, just outside of Richmond. Abolitionist Levi Coffin, along with his wife Catherine, moved to Newport (now called Fountain City), Indiana in 1826. In 1839 the Coffins open their home to over 2000 freedom-seekers making their way to Canada from the south. The stories Levi Coffin tells are both heartbreaking and heartwarming. After visiting the home and interpretive center, it is now it's one of my favorite museums in Indiana.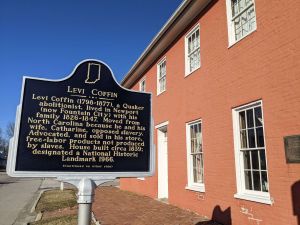 Goal: To read Levi Coffin's 700+ page book (available for purchase in the gift shop)
Three incredible mentions:
History Channel listed the Coffin House as one of the Top 25 Historical Sites in the nation.
In 2016, the Smithsonian named the Interpretive Center one of "twelve new museums around the world to visit" by the Smithsonian.
Voted an Indiana Top Museum by the Indiana Office of Tourism.
---
Reid Memorial Presbyterian Church
Reid Memorial Presbyterian Church was operating as a church until 2017 when they closed its doors due to low attendance, the church has since been used for concerts and events. It was built by Industrialist Daniel Reid (the "Tin Plate King"), who grew up in the United Presbyterian Church congregation. The church costs $300,000 to build in 1906.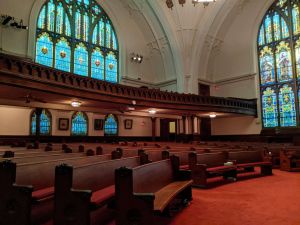 The church is adorned with 62 Louis Comfort Tiffany Stained Glass windows and Tiffany-designed woodwork. While living in New York, Reid was neighbors with Mr. Tiffany and hired him to design all the glass, woodwork, and pews. An original (and functioning) Hook & Hastings House of Boston organ and an original Starr Piano offer beautiful music. The church is a work of art! The future is unknown for this gorgeous, Gothic church – it is in good condition but needs major upgrades and repairs. It is on Indiana Landmarks' Top 10 Most Endangered Places list!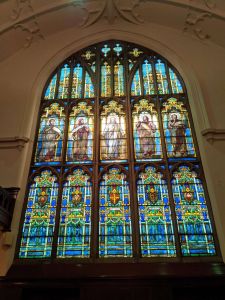 Tours of the church are currently closed to the public. But donations can be made to Reid Memorial Presbyterian Church, C/O Reid Memorial Church Foundation, 33 S. 7th St., Richmond, IN 47374
Richmond offers a Tiffany Stained Glass Trail, there are four sites on the trail within walking distance of each other. In addition to the Reid Memorial Presbyterian Church, the other three sites are the Morrisson-Reeves Library, the First Presbyterian Church, and St. Paul's Episcopal Church. You can pick up a trail brochure at the Visit Wayne County/Richmond Visitor's Center.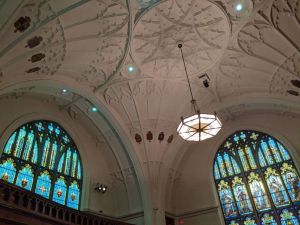 Model T Museum
Richmond, nicknamed "T-Town USA", loves the Model T! And for good reason, it is home to the Model T Ford Club of America and the Model T Museum. The museum is located in the Historic Depot District and contains a museum in their main building with a gift shop, and a vintage Ford agency building with a 1920s Model T garage.
When visiting the museum, we got to see some of the very first Model Ts, including a 1922 snowmobile and plane with a Model T engine. The showroom was pretty cool to see, the Model T garage is full of working tools and artifacts. Some of the exhibit vehicles are still used today!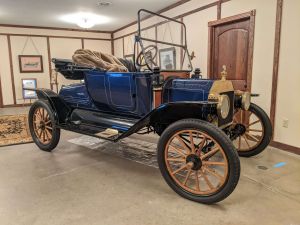 Gennett Records Walk of Fame
In 1872, Starr Piano Company was formed and by the 1880s it became one of the largest piano companies in the world. Starr would later introduce its parent organization, Gennett Records ("the cradle of recorded jazz"), around 1917. Gennett Records became famous for recording musicians not yet in the mainstream and introduce audiences to jazz, blues, country, and gospel (all the good stuff!).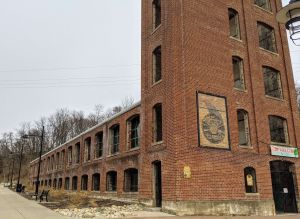 After the Great Depression, records and pianos were not items many could afford and sales declined. Eventually, the buildings were sold to an investor who never redeveloped the factories along the Whitewater River Gorge. The Starr-Gennett Pavilion is the only remaining building and it serves as an all-purpose center (to the Farmer's Market, etc.).
A Gennett Records Walk of Fame honors those who worked with Gennett Records and were an important part of American history. Ceramic and bronze medallions are displayed on the sidewalk across from the Whitewater River Gorge Park history. Two of my favorites include Louis Armstrong and Gene Autry.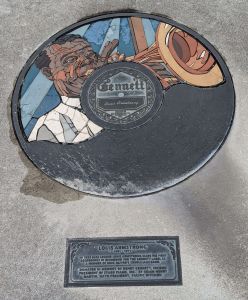 Need a place to stay? Check out the Lofts on Main in Cambridge City, along with murals, antiques, and giant cinnamon rolls! 
Check our video!
Pin It For Later!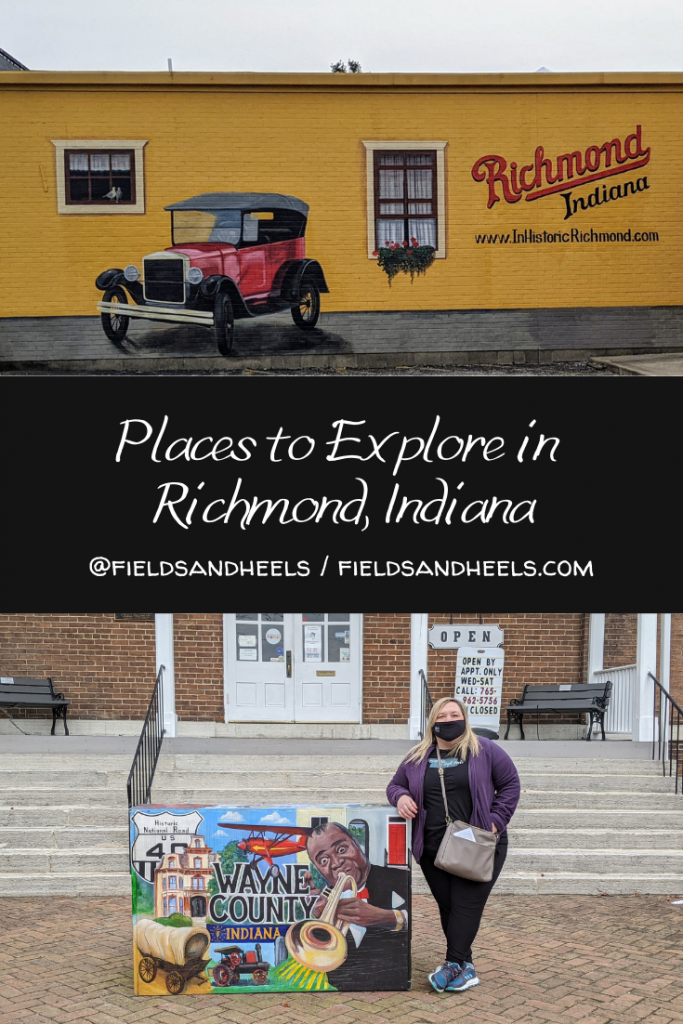 Other articles you may enjoy:
Spend a day in Greenfield, Indiana
Natural Springs Resort – An Ohio Camping Destination
8 East Central Indiana Pumpkin Patches