Garfield Park's Sunken Gardens
Have you visited the Sunken Gardens in Garfield Park?  If you haven't yet, I definitely suggest you check it out before the winter sets in!  It's a beautiful landmark in Indianapolis that is filled with gorgeous landscapes, water fountains, and places to sit and relax.  It is also attached to the Garfield Park Conservatory – another Indianapolis must-see attraction!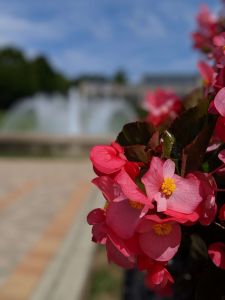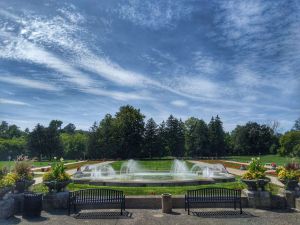 ---
Disclaimer: Blog posts contain affiliate links. When you click on these links I earn a small commission that helps keep this blog running and support my family. If you have any questions, feel free to read my disclaimer and privacy policy. Thank you!
COVID disclaimer: When traveling and visiting businesses, as always, please check state and business guidelines and hours before arriving. As always, be safe for yourself and others!
---
About the Sunken Gardens
The Sunken Gardens were open in 1916 and contain over 3 acres of beautiful European display gardens (although there are 136 acres total in Garfield Park).  Designed by German landscape architect George Kessler, who is known for many Indianapolis designs and for whom Kessler Boulevard is named. Admission to the gardens is FREE.  The fountains are seasonal and operate from mid-spring to mid-fall.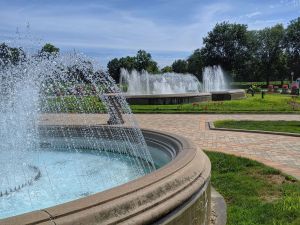 I visited on a beautiful Sunday afternoon and it wasn't terribly busy.  There were others there enjoying a game of checkers on a patio table, some taking photos, and couples strolling through the park.  Both family-friendly and romantic, the garden will make a great outing for any occasion.
Strollers are permitted; but skates, skateboards, and scooters are not.  The gardens are handicap accessible.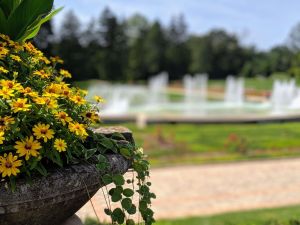 Hours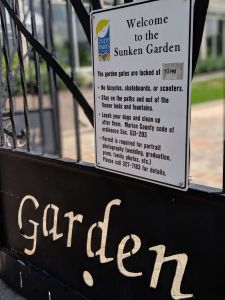 The Sunken Gardens are open Monday-Saturday 10 am-10 pm and Sundays 1-10 pm from May 18th – September 14th.  From September 15 – October 15 they are open Monday-Saturday 10 am-9 pm and Sunday 1-9 pm.  And from October 16 – May 17 they are open Monday-Saturday 10 am -5 pm and Sunday 1-5 pm.
Photography
A perfect place to take photos!  However, professional photographers must obtain a permit here for photography.  All others are free to take photos as they please.  Don't forget to snag a selfie!
The Conservatory
In addition to the Sunken Gardens is the Conservatory, located directly next to the gardens.  It is over 10,000 square feet of plants and exotic topics (including vanilla, banana, and coffee plants!).  The Conservatory is open Monday – Saturday: 10 am – 5 pm and Sunday: 1 pm – 5 pm with an admission fee of $2 per person (children 2 and under free) and cash, check or card is accepted. *Special event pricing may differ. Please purchase tickets online in advance per COVID-19 guidelines.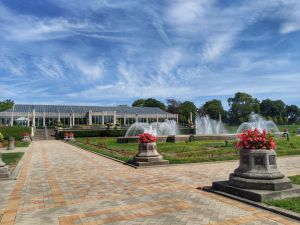 ---
Pin It!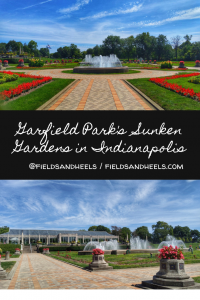 ---
Other articles you might enjoy:
Guide to Visiting Brown County State Park
9 Unique Places to Visit in Fort Wayne