16-Bit Arcade
Calling all original Teenage Mutant Ninja Turtle, Donkey Kong, Super Mario Bros, and Starcraft fans!  If you remember growing up to any of those originals, you'll want to read this. Actually, this place will interest anyone, ages 21+ (because you'll need to be that to get in the door).  Stay tuned though because there could be a kid-friendly afternoon available in the future, something they already have available at other locations.
---
Disclaimer: Blog posts contain affiliate links. When you click on these links I earn a small commission that helps keep this blog running and support my family. If you have any questions, feel free to read my disclaimer and privacy policy. Thank you!
COVID disclaimer: When traveling and visiting businesses, as always, please check state and business guidelines and hours before arriving. As always, be safe for yourself and others!
---
16-Bit, located near Mass Avenue on 110 E New York St in Indianapolis, is an arcade+bar.  Admission and games are free to play as long as you've purchased a drink.  Don't drink? No problem! They have sodas, Slush Puppies, and several mocktails to choose from!  Many of them come with your favorite retro candies. I enjoyed a Raspberry Slush Puppie while making my way through 16-bit and checking out my childhood favorites.  As far as food, they only have a few snack options available BUT you can bring in food from any of the local nearby restaurants! There is plenty of seating and lots of tables and chairs available for large parties and weekend crowds.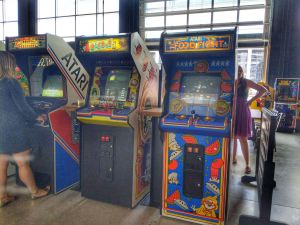 The Games
16-Bit has over 35 vintage arcades, Nintendo gaming areas, and 90s movies constantly playing on their big screen, you'll feel like you step back in time. While all games are free, with the exception of the Pinball machines which will cost you $0.50 (a steal!). There is something for everyone from Star Wars, to Skeeball, Duckhunt, Burger Hunt, Kung-Fu Master, Popeye,  Ms. Pac Man, Punch-Out, Stargate, and Rampage.  Just to name a few. Personally, I enjoyed Teenage Mutant Ninja Turtles, Duck Hunt, and Burger Hunt. Beyond the arcades, they have outdoor games and board games available too.
Parking
My husband and I found ourselves here for a date on a Friday afternoon while waiting to check-in at the Crowne Plaza hotel. We had most of the place to ourselves. There were a few other customers there, but the afternoon was the perfect time to beat the evening crowd and we didn't have to wait for any of the games.  Parking wasn't a problem, it's near Mass Avenue so we found metered parking without difficulty.
16-Bit Theme
16-Bit is retro and hip, from the Mario themed walls, to the neon signs in the bathrooms and the VHS towers surrounding the big-screen tv. Couches are adorned with remote control pillows and turf covers the sidewalks for life-sized Jenga and Connect 4 games. Windowed garage doors face the sidewalk and open up to their outdoor areas (whether permitting).  Upstairs is another bar area, additional seating, Skeeball, and more arcades – all overlooking the downstairs.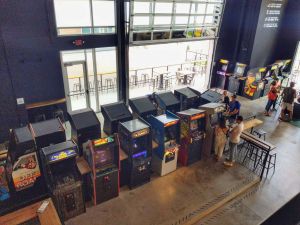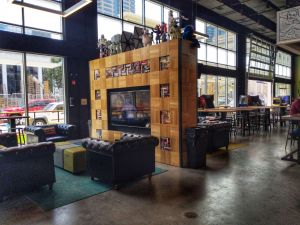 Hours
Monday-Wednesday 4 pm-1 am, Thursday-Friday 4 pm-2:30 am, Saturday 12 pm-2:30 am, and Sunday 12 pm-1 am
---
Pin It!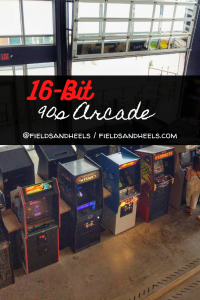 ---
Other articles you might enjoy:
Spend a Day in Madison, Indiana
Sleep in a Train Car in Downtown Indianapolis
The Sports Legends Experience at Indianapolis Children's Museum is great for older kids!