Beaufort, North Carolina is full of nautical, small-town charm and history. Lots and LOTs of history. It is North Carolina's third oldest town in the state! And not to be confused with the Beaufort in South Carolina, this is North Carolina's very own, they even pronounce it differently (so I've learned). The city dates back to the 1600s and was originally a fishing village.
Travel & Leisure named Beaufort "American's Favorite Town" and it's easy to see why. It's for sunset lovers, horse enthusiasts, history seekers, fishers, foodies, and everyone in between. Beaufort is located on North Carolina's Crystal Coast, the Southern Outer banks along the Atlantic Coast. I knew I had to visit when we were in North Carolina, and seeing the wild horses was on the top of my list.
---
Disclaimer: Blog posts may contain affiliate links and/or ads. When you click on these links I may earn a small commission that helps keep this blog running and support my family. This is at no cost to you. If you have any questions, feel free to read my disclaimer and privacy policy. Thank you!
---
Tips for visiting Beaufort, NC
Parking is tricky. There isn't much of it, it's best to park walk into downtown. Metered parking is free before Memorial Day. Golf cart rentals are also available.
Wear comfortable walking shoes and sunscreen.
Visit the historic General Store downtown for snacks and ice cream.
Public restrooms are available downtown and in the Welcome Center.
If you are visiting for just the day, arrive earlier in the day (morning) so that you can make the most out of your visit.
Check hours in advance. Being a beach town, hours vary per season.
---
Things to do
Fort Macon State Park
2303 E Fort Macon Rd, Atlantic Beach, NC
The Fort Macon State Park is a MUST-see on your Crystal Coast itinerary, and it is just around the corner from Beaufort. Located on the eastern tip of Bogue Banks in Atlantic City, the undisturbed shorelines surrounding the restored, 26-vaulted room fort is open to visitors year-round. The Fort was constructed in 1826 and took 8 years and 2,379,546 bricks to build, to provide coastal defense for the United States. It is free to visit. During the summer months, there are ranger-guided tours, a protected swim area, a refreshment stand, and a bathhouse available. (The fort is also said to be haunted. But fear not, we didn't encounter anything out of the ordinary)
Wild Horses on Shackleford Banks
Water Bug Tours, 610 Front St, Beaufort, NC
Shackleford Banks is home to free-roaming wild horses, the only occupants on the island. The horses are believed to be descendants of Spanish Mustangs from the 1500s that survived European shipwrecks. This isolated herd still roams the island today, having survived centuries of hurricanes. They are quite a sight to see! Visitors are invited to take a ferry or boat to the Shackleford Banks to see the horses but to not approach or disrupt them in their natural habitat.
We used Water Bug Tours for our ride and tour guide to the island. Our guide said that he sees the horses for 90% of his tours and sure enough, we got a nice glimpse of them (including a new baby horse!). The tours are 45 minutes in length and shaded and $18 per adult. For this type of tour, we remained in the boat and did not roam the island.
---
Old Burying Grounds
400 block of Ann Street, Beaufort, NC
The Old Burying Grounds were established in the early 1700s and offer a unique and fascinating addition to your visit. If you talk to the locals, you may hear stories of paranormal activity and ghost tales that involve the Old Burying Grounds and Hammock House. In fact, there is a Ghost Tour you can take at night. But, if you're like me and prefer to stick to the historical tours, you can visit the Old Burying Ground during the day for a self-guided tour. Maps are available inside the gate or through the Uniguide Tours app.
For guided tours, visit the Welcome Center to purchase tickets.
---
Beaufort Historical Sites
150 Turner Street, Beaufort, NC
The Beaufort Welcome Center is located downtown and is home to nine historical buildings. Throughout the town, there are over 150 restored historical homes with plaques with names of the earliest known owners and dates the home was originally built. The Historic Sites Buildings Tour is $12/adult and $6/children, it includes three of the buildings given by experienced docents in period dress. (Note: The Old Jail was under construction when we visited).
You can also purchase tickets for the Double-Deck Historic Tour at the Welcome Center too, for a ride on their 1967 English double-decker bus!
---
North Carolina Maritime Museum
315 Front Street, Beaufort, NC
The Maritime Museum is a smaller museum with artifacts from English pirate Blackbeard's wrecked flagship, Queen Anne's Revenge. It also has displays of marine and coastal life, science, and ecology. Across the street, at the former museum location, the Harvey W. Smith Watercraft Center is open to visitors interested in boatbuilding. Both locations are open year-round, are FREE to visit, and great for all ages.
---
Where to eat
Beaufort Grocery Co.
A French cuisine bistro, the Beaufort Grocery Co is located in the historic district and offers what I refer to as "fancy food." Don't let my idea of fancy fool you, the prices here are pretty reasonable and I refer to anything above a burger or pizza as "fancy." It's unique to Beaufort and makes a great brunch, lunch, or dinner date spot. Bonus: they serve coffee and cappuccinos!
The Beaufort Coffee Shop
120 Turner St, Beaufort, NC
We stopped by The Beaufort Coffee Shop (also referred to as Cru) for some coffee, pizza, and ice cream before our tour. It's downtown, so within walking distance of everything. They have a large menu with offerings of coffee, teas, sandwiches, pizzas, ice cream, and dessert. Next door they have a wine bar. Seating is limited inside, but there is outdoor seating as well. They are open early and late! If you're lucky, you can catch some live music here on occasional evenings.
34° North Restaurant
2440 Lennoxville Road, Beaufort, NC
34° North is located inside the Beaufort Hotel. If you want open-aired, ocean-breeze, waterfront dining, this is the place to go! They are open from breakfast, lunch, and dinner seven days a week, and brunch on the weekends. Voted Diners Choice 2020!
Moonrakers
326 Front St, Beaufort, NC
Moonrakers is a popular spot in Beaufort, also located right on the water. They have three floors of waterfront dining, the top floor is a rooftop bar. A lunch and dinner menu is available, along with a "tacking menu" for those dining between lunch and dinner.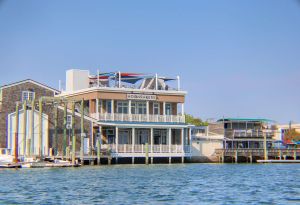 ---
Where to stay
Beaufort Hotel NC
2440 Lennoxville Rd, Beaufort, NC
The Beaufort Hotel NC is the hotel of my North Carolina dream stays. It's a resort-style hotel on Taylor's Creek with modern, nautical-sleek rooms and amenities. Bathrobes, fine linen sheets, and in-room dining are a few of the luxurious perks at the Beaufort Hotel.
Inlet Inn
601 Front St, Beaufort, NC
The Inlet Inn is a cozy bed and breakfast located next to the Maritime Museum, it's also one of the historic buildings. In my opinion, it the most "unique" lodging experience in Beaufort. It was built in the 1850s as a dry-goods store and over the years has switched between being a private residence and inn. The front balcony, complete with rockers, offers visitors the "best views on the east coast." Free parking, breakfast, drinks, and wi-fi are a few of the perks!
Beaufort Waterway RV Park
333 Core Creek Rd, Beaufort, NC
Got an RV or camper? The Beaufort Waterway RV Park is right along Adams Creek with free access to the marina and fishing pier. Amenities include a full hook-up, cable, a new bathhouse, firepits, laundry, wifi, and free boat storage.
---
Check out nearby
---
Check out my Beaufort YouTube Video!
---
Pin It!
---
Other articles you might enjoy:
Visit Metropolis, Illinois: A Superman-themed town
Ozark's Buffalo River Trails in Northern Arkansas