Jacksonville, North Carolina, located in Onslow County, is just twenty miles away from the popular Emerald Isle, on the Atlantic coast. Onslow County is a community of military heritage and patriotism. Camp Lejeune, the largest Marine Corps base in the East of the United State, is located in Jacksonville. Active military and Veterans are honored throughout the city through memorials, parks, and a museum. Additionally, many of the local small businesses are owned and operated by veterans and military families.
For those headed to the beach, it's worth a stop in Jacksonville on the way through. Overnight accommodations in Jacksonville are a smart way to save money on lodging as well. We found a reasonable stay in Jacksonville, it's the perfect home base for daily excursions to the beaches on both sides of the city.
---
Disclaimer: Blog posts may contain affiliate links and/or ads. When you click on these links I may earn a small commission that helps keep this blog running and support my family. This is at no cost to you. If you have any questions, feel free to read my disclaimer and privacy policy. Thank you!
---
1. Celebrate the military heritage
Lejeune Memorial Gardens
Named after Camp Lejeune, located in Jacksonville, the Lejeune Memorial Gardens will be the entryway to the future Carolina Museum of the Marine. The Celebration Park features a reflection pool and large Eagle, Globe, and Anchor Sculpture. The sculpture weighs over 2500 pounds and is an impression 13 feet in height, and 11 feet in diameter.
Vietnam Veterans Memorial
It's the second-largest Vietnam Veterans Memorial in the world and includes a glass wall inscribed with the names of the fallen, including POW and those unaccounted for. It is located in the Lejeune Memorial Gardens, surrounded by the Beirut Memorial, 911 Memorial, and Montford Point Marine Memorial. The glass wall surrounds a pavilion and fountain, at night the glass wall is lit up and the fountain jet each lights up in a different color. We visited during the day, but I've heard it's a spectacular view at night!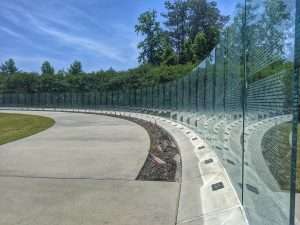 Beirut, Montford Point Marine, and 911 Memorials
The Beirut Memorial is also located in the Lejeune Memorial Gardens, next to the Vietnam Veterans Memorial. In 1983, two bombs stuck building in Beirut, Lebanon killing 273 Marines of a multinational peacekeeping force. Those Marines are honored at the Bierut Memorial, their names engraved on the granite wall.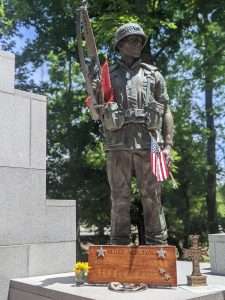 Beside the Beirut Memorial, is a 911 Memorial. A beam from the Twin Towers is on display, the beam was presented by New York firefighters and police after the terrorist bombing on September 11, 2001.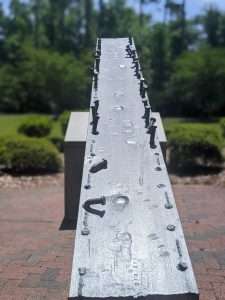 The Montford Point Marine Memorial is located next to the Vietnam Veterans Memorial and is the newest edition to Lejeune Memorial Gardens. It pays tribute to the US Marine Corps the Montford Pointers, during WWII. These were the first African Americans to serve in the US Marine Corps. A wall contains 20,000 gold stars, one for each Monford Pointer who served during WWII.
The Monford Point Marines were from all over the USA and each is deserving of the Congressional Medal, the highest award given to a civilian in this country. Only 4,000 of them have been located – the search continues for the remaining! If you know a Monford Point Marine, please contact nationalsecretary@montfordpointmarines.org (click here for more info)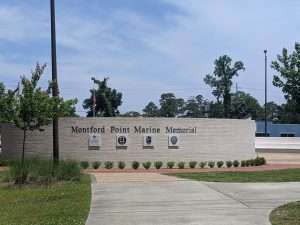 Freedom Fountain
895 New Bridge Street, Jacksonville
The Freedom Fountain honors all individuals who have served in any branch of the military. This was one of our first stops in Jacksonville and is easy to find on the corner of Bridge Street. Red, white, and blue lights glow in the fountain, which is surrounded by a plaza with gardens and black marble kiosks that tell the story of the fountain. The fountain has 5 jets representing each branch of the Armed Forces, and a flag garden is just across the street.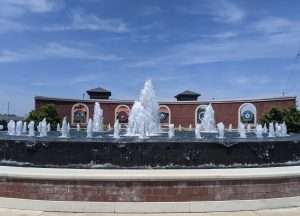 ---
2. Grab a bite to eat
Angry Ginger Irish Pub
The locals rave about the Angry Ginger Irish Pub if their authentic Irish pub fares. Such as Fish 'n Chips, Scottish Eggs, Irish Nachos, Corned Beef and Cabbage, Guinness Stew, and Bangers and Mash. They also have a Garden pavilion, which offers customers open-air dining and heated outdoor space.
Carolina Ale House
The Carolina Ale House is a chain located within the Carolinas and Georgia. We discovered them through a Doordash ordering night. The Pimento Burger I order is worth noting. Pimento cheese is a big deal in North Carolina and this burger was smoothed in it, and bacon. It was glorious.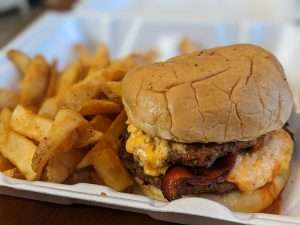 Jeff's Burgers, Dogs & Shakes
Jeff's is a no-frills burger joint serving up hand-cut fries (that's a winner in my book). Although casual and no-fuss, Jeff's place was featured in Southern Living's "50 Undiscovered Places You'll Love in the South." Pretty cool, eh? Here in Indiana, we pride ourselves in the pork tenderloin, but Jeff's Paul Park tenderloin shows us Hoosier's up with grilled "cheese lacing" and bacon.
---
  3. Visit a coffee shop
The Milk Road
A cool, hipster, Veteran-owned coffee shop serving up great coffee and unique Liege waffles. The Milk Road won our coffee-snob hearts over with their Skarato (a shaken espresso drink) and pour-overs. They roast their own beans in small batches and offer a variety of teas and drinks.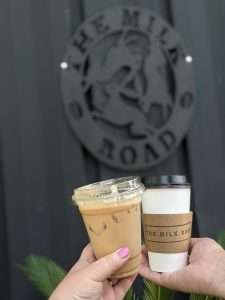 Port City Java
Port City Java reminds me of the Starbucks of the Carolinas. They have locations through North and South Carolina and originally made their start in Wilmington, NC. They roast their own beans and have drinks such as Slush 'n Joe (iced coffee & ice cream), Mochaccino (espresso with chocolate & milk), and Caramello Leches.
---
4. Visit Swansboro
Swansboro is the "Friendly City by the Sea." It is a cute historic town with its own State Park and located within minutes of the Atlantic Ocean.
Downtown Swansboro
The Downtown Swansboro area is quaint and, as a Midwesterner, reminds me of the small Lake Michigan towns. With cute shops, eateries, and boating and fishing there is plenty to do. We enjoyed grabbing coffee at Bake Bottle & Brew and drinking it on their 2nd-floor patio overlooking the water.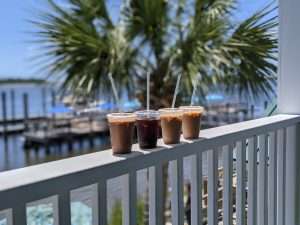 Hammocks Beach State Park 
Hammocks Beach State Park is a secluded and tranquil park, full of history and includes an amazing visitor's center. It's a great state park for hiking and kayaking. And you can take a ferry to Bear Island to hang out at the beach for the day! Bear Island is only accessible by ferry or kayak, so you'll be guaranteed a day void of crowds and opportunities to see wildlife and collect seashells. There are restrooms and a concession stand available on the island.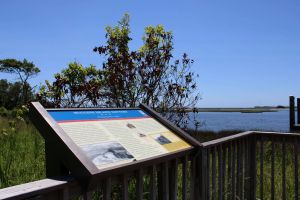 ---
Where to stay
We rented a cozy, clean, and modern 2-bedroom duplex on Airbnb called Robin's Place. It's was a great value and a perfect location for our needs. However, there are several options in Jacksonville for lodging.
---
---
Check out my Jacksonville YouTube video!
---
Pin It!
---
Other articles you might enjoy: