A Stay at Old Oak Inn in Marion
Tucked away off on 38th Street in Marion, Indiana is the Old Oak Inn – a quaint, modern, and charming bed and breakfast. Owners, Karen and Dan, have beautifully transformed this 1903 farmhouse into a four-bedroom guesthouse. We had the opportunity to stay here this year – it was my first experience staying at a bed-and-breakfast and I couldn't have asked for a better one!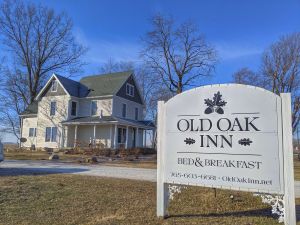 ---
Disclaimer: Blog posts may contain affiliate links and/or ads. When you click on these links I may earn a small commission that helps keep this blog running and support my family. This is no cost to you. If you have any questions, feel free to read my disclaimer and privacy policy. Thank you!
---
Old Oak Inn
The Old Oak Inn is housed on 3-acres of land surrounded by farming fields, fresh air, and small-town charm. After spending decades of their life in ministry and serving others, Dan and Karen retired and felt called to open Old Oak Inn. I'd say their ministry continues on, as they serve those entering their bed-and-breakfast with warm hospitality and service to those who visit.
One of the first observations I made when we arrived was how clean the Old Oak Inn and property are. The inn has a touch of modern class, mixed with respect towards the original structure. All the windows offer a bright and inviting feel, and glimpses of the sunrise rising and setting. The dining room has a huge window looking out unto fields, it is a great setting for breakfast in the mornings.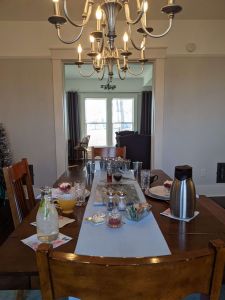 ---
Reservations at Old Oak Inn
Reservations can be made online or over the phone (payment is collected upon your arrival). Karen was great at communicating and checking in to see what time we would arrive. When we arrived, we were immediately greeted, given a tour of the inn, and shown our room. Because we arrived later in the evening, we settled in for the night but the inn's main floor is available for guest use as well. The owners live at the inn and are available via text messaging even when they are not in one of the public spaces.
Old Oak Inn is located at 2213 W 38th Street, Marion, Indiana
765-603-6681
oldoakinn2017@gmail.com
---
Old Oak Inn rooms
There are four guest rooms available for reservation, the North, South, East, and West Rooms. All rooms sleep two and contain a queen-sized bed, except the West Room which has two double beds and sleeps up to four. All the guest rooms are on the 2nd level, so please be advised of this if you have physical limitations. Each room has a private bathroom and a separate temperature control unit. You won't find televisions in the guest rooms, but there is a living room downstairs with a television and comfy seating available for guest use. I believe one of the benefits of staying at a bed & breakfast is to disconnect from our everyday distractions!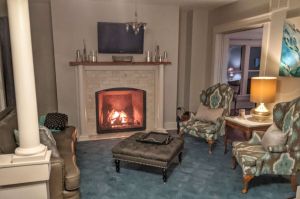 ---
The North Room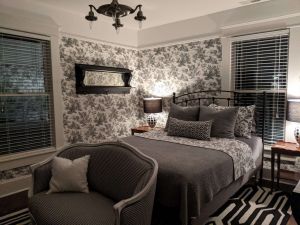 We stayed in the North Room, a queen room with a private bathroom featuring a soaker tub/shower. I affectionately refer to this room as the "black and white" room because the walls are adorned with this beautiful black and white wallpaper. And the bathroom is lined with white subway tile, a very clean and crisp look. You can tell that Karen and Dan have put a great deal of work, detail, and love into creating each space.
The North Room is also the first room you come across when you ascend the stairs. We were the only guests staying on the night we visited, our visit was very quiet and peaceful. Other amenities in our room included complimentary bottled waters, snacks, a settee bench, an antique wardrobe to hang clothing, and a bath bomb for use in the soaker tub.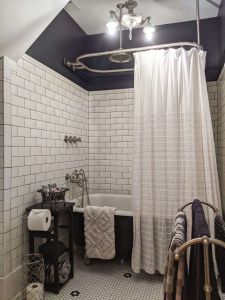 ---
Old Oak Inn breakfast
Before we settled in for the evening, Karen arranged a time to serve us breakfast. I'll tell you what, I'm not used to someone making ME breakfast so this was quite the treat! Due to Covid-19, breakfast was served separately by room on a rotating schedule or offered for in-room dining. Since we were the only guests that morning, we had the entire dining room to ourselves.
We had a feast of fruit, french toast, bacon, scrambled eggs, orange juice, and coffee. I must note that the inn serves coffee brewed with beans from one of our favorite Hoosier roasters – a bonus for coffee lovers! A hearty breakfast was a great way to start jump-start our morning.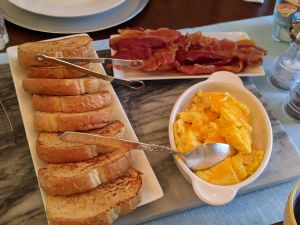 We had such a wonderful time staying at the Old Oak Inn, I just had to share this experience with you!
---
Nearby things-to-do
I've spent a lot of time in Marion, Indiana and over the years my list of favorites has grown. These are a few of the things we like to do when visiting.
---
Our YouTube video (don't forget to subscribe!)
---
Pin Old Oak Inn!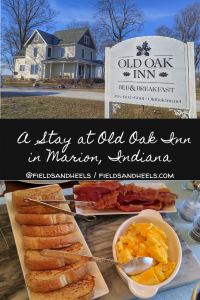 ---
Other articles you may enjoy:
45+ Religious Sites to visit in Indiana
Why East Central Indiana is a Great Place to Live
Road Trip Through Indiana