The Best Lake Michigan Beaches
Updated May 15, 2021
I love visiting Lake Michigan, especially for the sunsets in the summer. Some of the most beautiful sunsets I've witnessed have been on the beaches of Lake Michigan.  As much as I love the ocean and traveling south, I can't deny that the Midwest offers they own version through the Great Lakes. As an added bonus, Lake Michigan is void of saltwater, sharks, and hurricanes!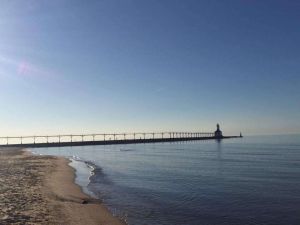 My favorite summer weekend hobby is jumping in the car with the kids and heading to the lake. Sometimes we pack a picnic and have dinner on the beach. It's simple, satisfying, and comforting. I've made a collection of my favorite spots, and the details you'll want to know before planning your trip to the lake. These are my favorites spots along Michigan's west coast.
---
Disclaimer: Blog posts may contain affiliate links and/or ads. When you click on these links I may earn a small commission that helps keep this blog running and support my family. This is no cost to you. If you have any questions, feel free to read my disclaimer and privacy policy. Thank you!
COVID disclaimer: When traveling and visiting businesses, please check state and business guidelines and hours before arriving. As always, be safe for yourself and others!
---
200 Marquette Dr, New Buffalo, MI 
New Buffalo is Lake Michigan's furthest south beach, just minutes from Indiana.  In the summer and early Fall months, it's a busy place with visitors coming from Chicago and surrounding cities. New Buffalo is a cute, busy town with a beach and boat launch available to the public.
The easiest way to access the public beach is parking in the beach public parking lot. Parking is $15-20 per day (or $7.50 for 3 hours). Parking is free for sunrise to sunset hours (before 8 am and after 8 pm), this works for summer sunsets that don't happen until after 9 pm or so.  You can also park for free in town, it is about a 1/2-mile walk to the beach.
The city beach offers restrooms (no showers), kayak and paddleboard rentals, and a boat launch.  Lifeguards are on site between 8 am and 8 pm. No animals are allowed on the beach.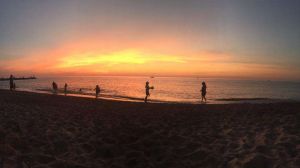 ---
7337 Thornton Dr, Stevensville, MI
Grand Mere is located in Berrin County, Michigan. It is a beautiful, secluded, densely wooded state park that offers free parking, dunes, restrooms (rustic), and hiking trails. Corrosion had affected the Grand Mere beaches so there is not much of a sandy beach left (perhaps this makes it even more unique!). You'll want to leave before the lake tides come in to avoid getting your belongings wet. Speaking of belongs, unless you're ready to carry everything up the dunes and on a hike, you'll want to leave as much behind as you can.
The hike to and from the beach requires some physical effort, so keep this in mind. Once you arrive, it is a gorgeous area! The dunes are worth seeing as well. There is no cell phone service available in this area and bathrooms are only available at the entrance of the park. No lifeguards on-site and parking is free. This beach is recommended for the adventurous!
Pro tip: Bring bug spray.
---
2064 Lakeshore Rd, Manistee, MI
I little farther north on the west coast lakeshore, you'll find the Orchard Beach State Park. It's not as far north as the Traverse City area, it's still a reasonable driving distance from Indiana and southern Michigan. We once camped overnight at this state park and we were lucky to have scored a perfect camping spot on the bluff overlooking the lake I suggest going off-season and obtaining a camp spot for $22-42 a night. If you want to camp here, please note that it's a smaller campground and you'll want to make reservations months in advance.
Like Grand Mere, the corrosion has limited the amount of beach space left on the shoreline but it's a fantastic view off the bluff! I don't suggest this beach for smaller children, it is rocky and the stairs to get there are steep and there are no lifeguards on site. It is a great spot for hiking along the shore and exploring. You can see the endless miles of beautiful Lake Michigan shores, the view itself is worth a visit!
There is a public beach down the road in Manistee if you are looking for a beach to spend the day with kids. There is a $9 daily rate to get into Orchard Beach State Park, or you can purchase an annual Recreation Passport that is good at all Michigan state parks for $12 (residents) or $34 (non-residents).
---
M-22, Arcadia, MI
Inspiration Point is located about an hour north of Orchard Beach State Park in Arcadia, Michigan. It is an overlook just off of M-22 and a spot on the Nature Wonders Self-Guided Tour.  The 370′ stair climb (120 steps) is worth the most breathtaking views!
The overlook is right over the water at a zero elevation, and I'll admit it took some coaxing to get me over my fear of heights to climb to the top of it. I was bound and determined to get a glimpse of this view and I'm so glad I did. At the top, you'll be able to see both the southern and northern Michigan shores.
Parking is free but limited as it is just a small lot off of the highway. Picnic tables and restrooms are available.
---
101 Broad St, St Joseph, MI
Located in Berrin County, Michigan, Silver Beach is a very popular spot for families.  Featuring the famous beach Carousel, water playground (Whirlpool Compass Fountain), lighthouses (for viewing from a distance), and Curious Children's Museum – all popular spots and great for the kids.
Additionally, Lion's Beach and Toscornia Park are within just a few miles of Silver Beach. Because of its popularity, it is often a pretty busy place and parking can be hard to come by if it's a nice day. You can park in the public beach lot for $8 (for residents) or $15 (for non-residents), the lot is open from dusk to 11 pm on a first-come, first-serve basis.
The park is open year-round however I have found that the gates for parking are open and free from October-April.  I've spotted some of the most gorgeous sunsets here in the Fall. Alcohol is not permitted and pets must be leashed and are not allowed in the sanded areas.
Restrooms with showers, volleyball courts, a playground, and concession stands are all available (a port-a-potty is available during the winter months).  Lifeguards are on duty during the summer. You won't be able to access the pier to the lighthouses from Silver Beach, but you can access them at the Harbor just down the road.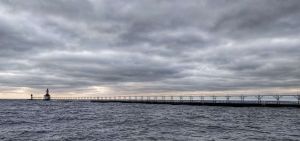 ---
80 Ridgeway Street, St. Joseph, MI
St. Joseph Harbor and Toscornia Park are located just a few miles north of Silver Beach in St. Joseph, Michigan, so close you can visit both locations on the same day. Here you'll find dunes for climbing (bring shoes), a pavilion for picnicking, and access to the pier and lighthouse. The pier is a great spot for watching the boats entering and leaving the harbor.
Unlike Silver Beach, Toscornia Park is less crowded due to a trek across the sand and dunes to access the beach (I wouldn't recommend this beach to those with little ones or strollers). Parking is limited and you may have to wait for a spot, but is affordable at only $5 during the summer months. Restrooms, picnic areas, and a pavilion are available. Animals and alcohol are not allowed. Open all year from 6 am to 10 pm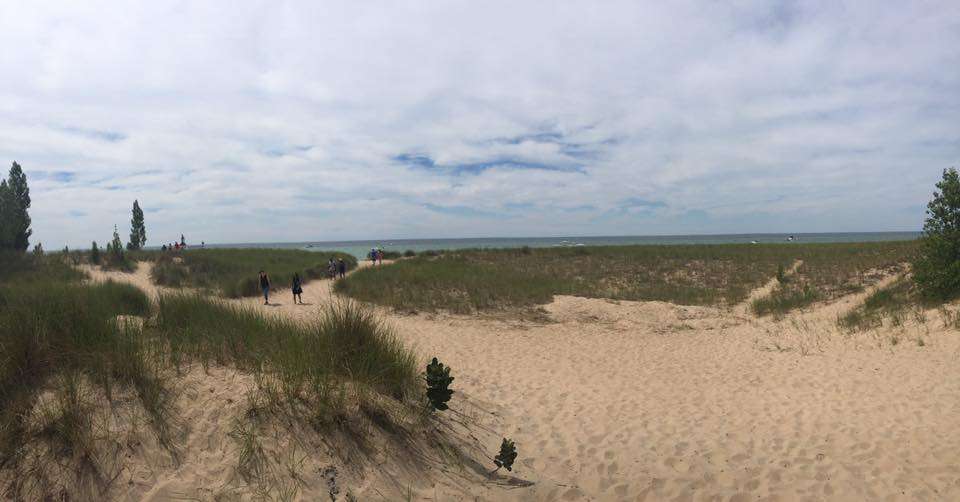 ---
1100 Rocky Gap Road, Benton Harbor, MI
Rocky Gap is one of my favorite Lake Michigan beach sites. When I was first introduced to Rocky Gap, it was a secluded beach that was vacant the majority of the time. At the time, parking did not exist and you had to park on the side of the road.  But in recent years, Rocky Gap has had a facelift and now has a paved parking lot, a small picnic pavilion, and even a handicap-accessible path to get to the beach. These much-needed adjustments are fabulous, however, keep in mind that it is no longer as secluded as it used to be.
It's a smaller beach with a large frontage and it a popular spot for collecting glass rocks. Vault restrooms are open late Spring to early Fall.  The bluff that overlooks the beach offers a panoramic view of Lake Michigan, and often boaters will park along the shoreline. There are no lifeguards, and no pets or alcohol allowed. Parking is free.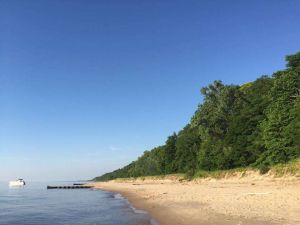 ---
North Beach: 45 Lakeshore Drive, South Haven, MI
South Beach: 60 Water Street, South Haven, MI
South Haven is a quaint beach town with clear beach waters and cute shops and known for its red lighthouse. There are two beaches in South Haven, the North and South Beaches.  The South Beach offers amenities such as bathrooms, several concession stands, paved sidewalks, and access to the lighthouse and pier.
The North Beach is less crowded (except for holidays) and is usually colder and has larger waves than South Beach.   There are bathrooms, kayak rentals, and a shaved ice stand.  No lifeguards are on-site, so swimming is at your own risk. The North Beach is popular for the teen/college crowd, because of this (and having no lifeguards), I suggest South Beach for families with children.
Parking is available at both beaches for $10 a vehicle during the summer or $30 for a weekly pass (it's free to park during the off-season). Metered parking is also available at the South Beach by the hour at a farther walking distance from the beach (and might be the only parking available on busy days).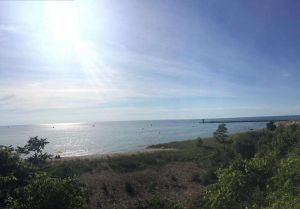 ---
12032 Red Arrow Hwy, Sawyer, MI
If you are looking for a hiking + beach adventure, Warren Dunes is the place for you!  Located in Sawyer, Michigan, this state park offers 3-miles of beachfront, 6 miles of trails, and over 200 campsites.  You can get your workout in climbing the rugged dunes that stand tall at over 240 feet above the lake. Trust me, it quite that workout!  From the top, you will have a spectacular view of the park and lake.
Leashed pets are allowed at Warren Dunes. Offseason access to the beach is free and one of my most favorite times to visit. I've been here in November during the week and it looks like an abandoned ghost town. The sand flows over the parking lots, concessions, and bathrooms and there are very few people in sight. It's the most amazing location to just sit, watch, and listen to the waves without distraction.
During the busy season, there are concessions, bathrooms, rentals, and outdoor showers available.  The chance of seeing wildlife and monarch butterflies is pretty high. Plenty of parking is available and the entrance fee is $9 unless you have a Michigan Recreational Pass (which is totally worth getting).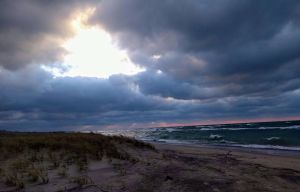 ---
For more Michigan road trip ideas and itineraries, check out our new book – Midwest Road Trip Adventures! Amy Piper shares four Michigan road trips, including the West Michigan Pike (US 31) which includes several of these beaches!
---
Pin Lake Michigan Beaches!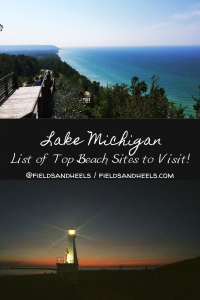 ---
Other articles you might enjoy:
15 Midwest Spring Break Road Trip Ideas