Challenge yourself to the Butler County Donut Trail
The Butler County Donut Trail is the ultimate donut trail. It's the most extensive donut trail I have ever come across, and I'll shamelessly admit that I tried (and almost conquered) completing the entire thing! There are 13 stops. T-h-i-r-t-e-e-n. You might be asking yourself, "how did Jamie possibly eat 13 doughnuts in one day?" I didn't. Although, that would be quite ambitious!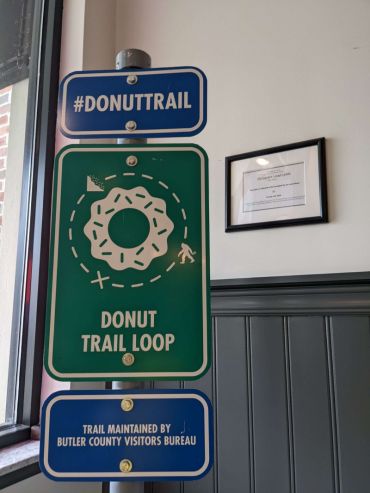 I did the trail over the span of three days and split doughnuts with my husband. That doesn't sound as noble now, right? But, this is the way most donut trailblazers do it. More than 30,000 people from all 50 states (and over 22 countries) have challenged themselves to the Donut Trail. What are you waiting for? Dare to donut. 
How to do the trail:
Grab a Donut Passport, visit the shops and get a stamp at each location. Once complete, mail your Passport or visit the Butler County Visitor Bureau to redeem for a free t-shirt.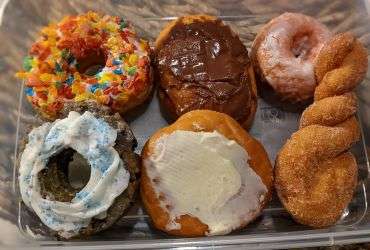 How to Plan For the Butler County Donut Trail:
Obtain a Donut Trail Passport:  Pick one up at Butler County Visitor's Bureau (8756 Union Centre Blvd., West Chester, OH 45069) or any participating Donut Trail shop. You can also download the passport at home.
Make a plan before you go. Check out the trail map and all the donut shop hours. Make sure the shops are open on the day and times you are visiting and plan your route around this (many of the shops close early). You don't need to complete your Passport on the same day, you can do this over time. If you need help planning, the Travel Butler County office is happy to assist you with planning your trail route. You can give them a call at 513-860-4194.
Bring the essentials. These are items I brought with me that made for a much easier experience.

Large, airtight storage container for extra donuts. Too full? No problem, just bring an extra container to store your donuts for the next day or a later snack.
A plastic knife (for cutting donuts and sharing with others).
Napkins and wet wipes. Many of the shops don't have dine-in seating, so you'll appreciate having these on hand while eating on the go and in the car.
Cash. Several of the shops appreciate cash payment over a credit card or for totals under a certain amount. Bring cash for those small purchases and for leaving tips.
A road-trip playlist. The donut trail is over 80-miles in length, have a fun playlist for the road!

Don't forget to have your Passport stamped at each stop. Once your Donut Passport is completely filled in, you can redeem it for a free t-shirt!
Rain or shine, the donut trail is always open!
Introducing the Donut Shops…
Central Pastry Shop
Donuts pictured: "Ugly" and Cinnamon Square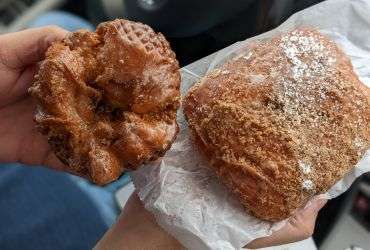 Comments: We loved the Cinnamon Square donut, it tasted like a thicker, more doughy, elephant ear. It was buttery with a cinnamon-sugar topping (I think I preferred this over frosting). This was actually one of my favorites on the trail. The Ugly is a very dense cake-like crueler, it's great with coffee. These were a bit pricey at $2.50 each, but note they are giant in size. Central Pastry Shop is the only shop with its very own donut trail mural inside! They prefer cash for payment but do take cards. No inside seating or public bathrooms. They are open later on the weekends. 
Milton's Donuts
Donut pictured: Boston Cream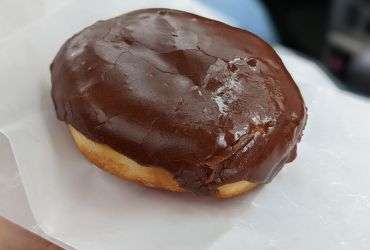 Comments: I had hopes of trying their Oreo donut, but we arrived just before closing and they were sold out. We opted for one of our favorites, a Boston Cream. You can't go wrong with a traditional donut such as this. Their filling had a slightly different flavor than standard bavarian. No inside seating or public bathrooms available.
Kelly's Bakery
Donuts pictured: Caked & Glazed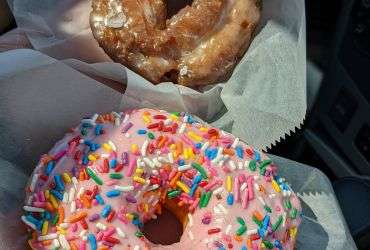 Comments: I picked out a classic Homer Simpson glazed donut with sprinkles, except this was a cherry glaze instead of strawberry. It was even better! I noticed a theme on the Butler County Donut Trail: cherry glazes are popular. No indoor seating. The shop closes early.
Mimi's Donuts & Bakery
2267 Millville Ave., Hamilton, OH 45013
Comments: This is another location that sells out fast! We weren't able to visit this location because they sold out, so make sure you arrive early. Our donut choice would have been the Peanut Butter Reese Cup. The shop closes early.
Ross Bakery
Donut pictured: Banana Cream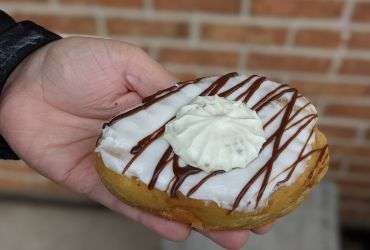 Comments: We went for the Klunker, Dunker, and Glazed donuts but they were sold out by 10 am. These are their specialty donuts. No worries though, because we spotted this delicious-looking Banana Cream donut and it was heavenly. They filled it from the top rather than the side (interesting and less messy!). No inside seating is available. The shop closes early.
Martin's Donuts
4 W. State St., Trenton, OH 45067
Comments: I attempted to go here twice on my three-day excursion and they were sold out both times. This tells me how good and on-demand they are! They open and close early. The donuts I want to try here are the Cherry Cheesecake and Banana Pudding.
Oxford Doughnut Shoppe (this is an optional stop)
120 S. Locust St., Oxford, OH 45056
Holtman's Donuts
Donut pictured: Doughsant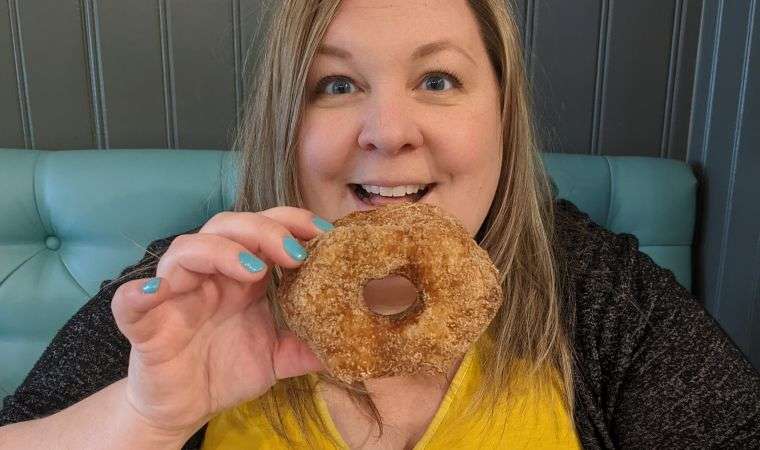 Comments: Holtman's is an Ohio favorite, you can find their shops throughout the region. They are also open late (until 7 pm on weekends). The shop is trendy and sleek with a huge viewing window into their donut-making kitchen. The display cases will tempt you into buying a dozen! Prices are standard, but if you want a specialty donut or Doughsant it's a bit more. Lots of indoor seating and public bathrooms are available. 
Stan the Donut Man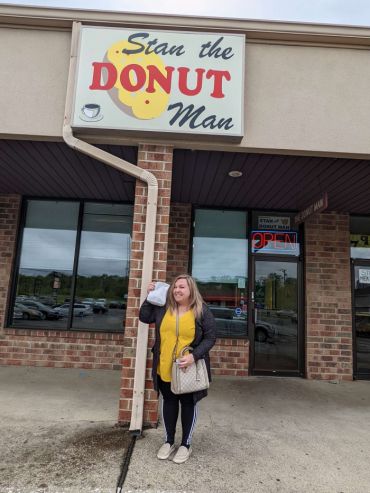 Comments: A great selection of donuts and indoor seating is available. We choose a Cinnamon Twist and Glazed Cake donut. The shop closes early.
The Donut Hole by Milton's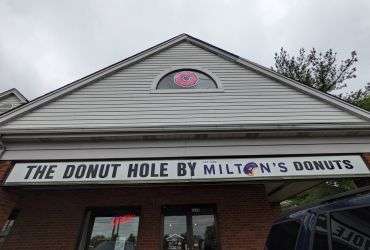 Comments: Go for the glazed donuts or a dozen (or two) donut holes. These are their signature donuts. Prices are affordable. No indoor seating or public bathrooms, and the shop closes early.
The Donut Dude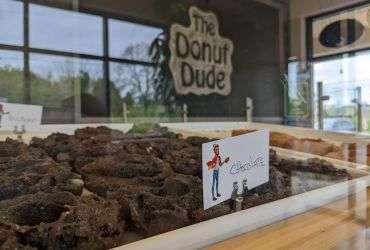 Comments: We arrive at the Donut Dude just in the knick of time. This shop is a bit trendier and you can watch them making donuts in the back. They have a smaller, but unique selection of flavors. We tried the Fruity Pebbles and Blueberry Cake donuts, both would be great for breakfast or a snack. Their cake donuts are delicious, affordable, and handmade. Shop closes early, also make sure you check out their donut photo backdrops. 
Jupiter Coffee & Donuts
Donuts pictured: Miami Maple Merger and Buckeye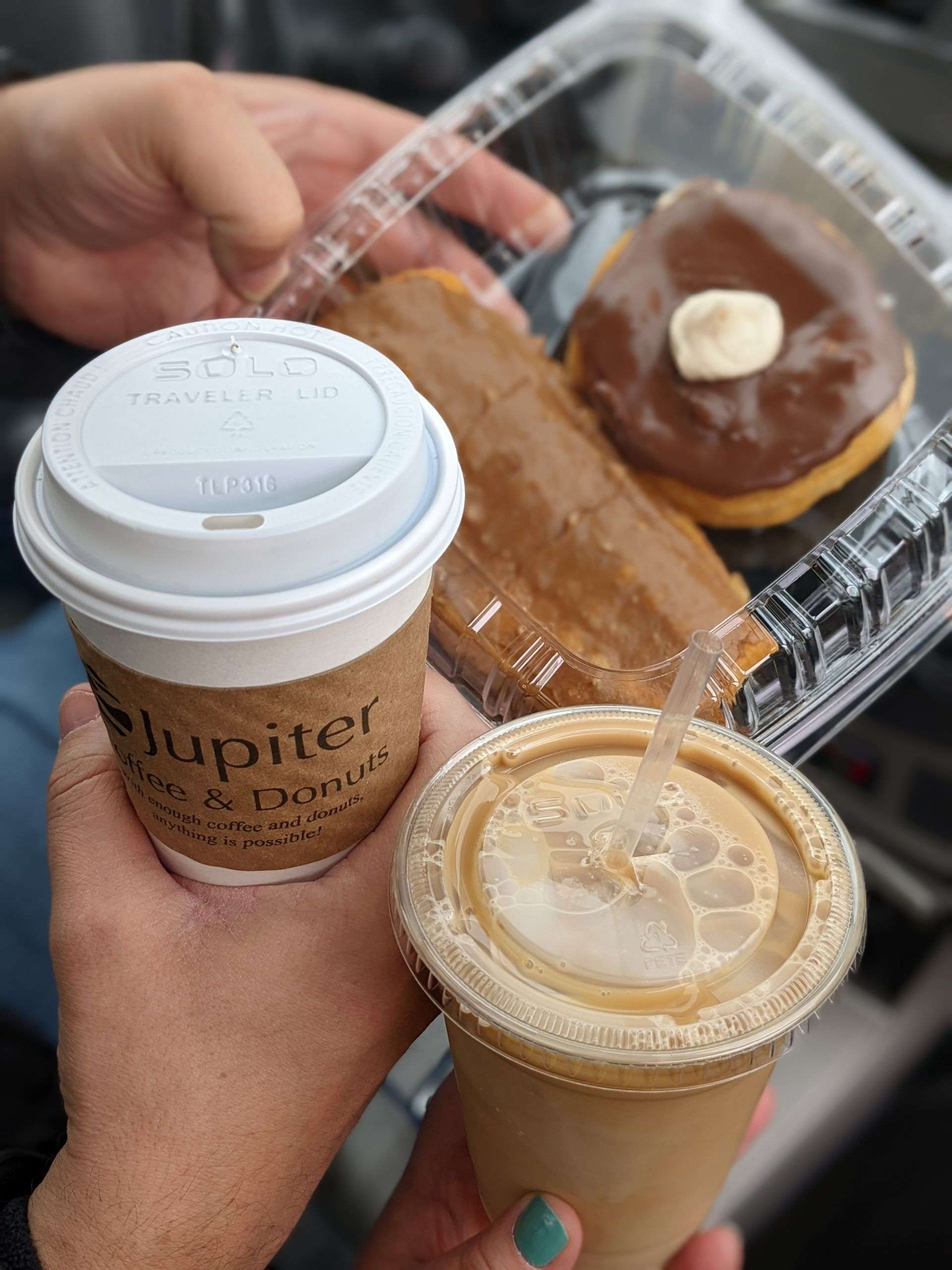 Comments: A great trail stop for both donuts and coffee! Jupiter roasts their own coffee beans and has a full espresso bar, so plan accordingly if you'd like coffee at some point during your trail hopping. As for the donuts, they land on my top favorite three shops for the trail. The shop uses real maple syrup from their family farm for their donuts. Get the Maple City Merger donut, it's a no-brainer. No indoor seating is available.
The Donut Spot
Donuts pictured: Bavarian & Cheesecake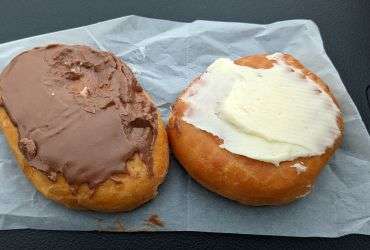 Comments: This is a popular spot, we waited in line for about 20 minutes to order donuts on a Saturday. But it was worth it for the Cheesecake donut (the mister got a Bavarian donut). The prices are great, the shop is small, and the donuts are fresh. There are few tables and bar seating inside. The shop closes early.
Pin for Later!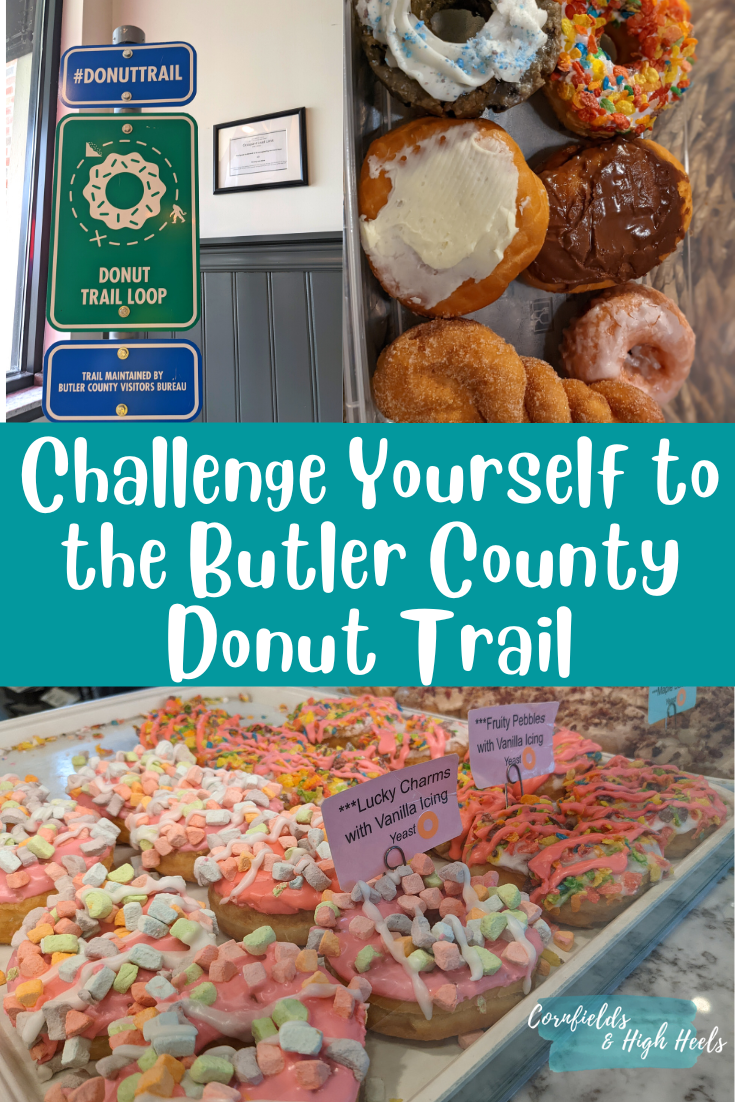 Nearby things to do:
Cincinnati Weekend Getaway – Airbnb, Art, Coffee Roasting, Sotto & More!
The World's Largest Aviation Museum in Dayton, Ohio
Natural Springs Resort – An Ohio Camping Destination
Disclaimer: Blog posts may contain affiliate links and/or ads. If you click on these links I may earn a small commission. This helps keep the blog running and supports my family – at no cost to you. If you have any questions, feel free to read my disclaimer and privacy policy. Thank you!