Natural Springs Resort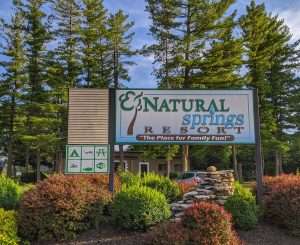 Located near the border of Indiana and Ohio in New Paris, Ohio is a family-friendly camping resort and a natural where you can also carry rifle scopes, freshwater lake! I had no idea that such a place was so close to home – I'm excited to share all the details of my visit to Natural Springs Resort so that you can visit too! Natural Springs is located less than two hours from Indianapolis and just down the road from Richmond, Indiana. It's easy to access, being quite close to Interstate 70 and US Route 40.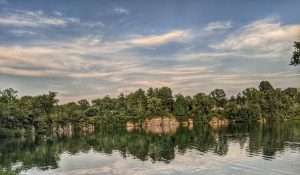 It's a great place to relax and enjoy the great outdoors while social-distancing. I visited during the week with my husband and was an invited guest of Natural Springs Resort. As always, all opinions in this article are my own.
Disclaimer: Blog posts contain affiliate links. When you click on these links I earn a small commission that helps keep this blog running and support my family. If you have any questions, feel free to read my disclaimer and privacy policy. Thank you!
Let me start by telling you the story of this unique, family-friendly destination.
Lake and pool
The lake is a former rock quarry! Now, a freshwater, spring-fed lake that offers visitors clear water views, swimming, fishing, scuba diving, kayaking, and so much more. Beautiful rock walls around the lake offer a scenic view and the sunsets are gorgeous. The water is so clear that we were able to watch the fish swimming right beside us! It's a very cool experience for both adults and children.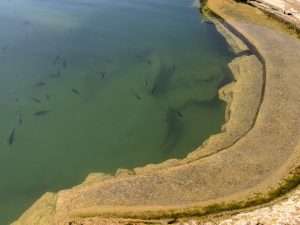 Side note: did you know watching fish swim can lower your blood pressure? So indeed, visiting Natural Spring Resort is good for your health!
The sandy beach is open and free to guests staying at the campground, day visitors are allowed to visit on certain days with the purchase of a day pass (overnight guests have additional hours available to them). A shallow beach area is blocked off for the younger kids, and a deeper swim section is available for those who wish to swim, snorkel, or dive in!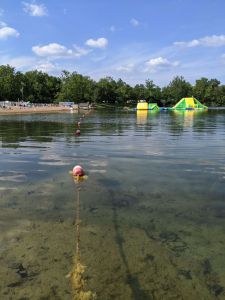 The Wibit Water Play area is an inflatable obstacle course over the water. If you want to test out your ninja-warrior skills, you can get a good workout here. The Wibit is available to guests and day-pass visitors ages 7 and up (life jackets are required).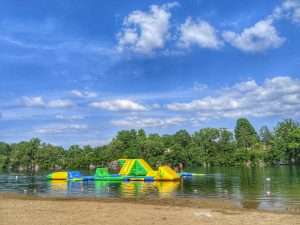 If you prefer a more relaxed mode of entertainment (or want to take a ninja break), the pool is located adjacent to the beach. This is more my kinda hang-out, the type where I float around on a gigantic floatie in a heated pool or flop down in a lounging chair to rest and relax. All of these options are available!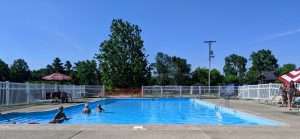 Amenities
The restrooms and shower rooms attached to the pool are newly remodeled and much nicer than any I've ever used before. Showers, restrooms, and changing areas are available, as well as outdoor showers to rinse off. Additionally, the Natural Springs Resort's Camp Store is located in the same area. They offer snacks, drinks, and other essentials (if you forget sunscreen or other lake and camping accessories, you'll be able to find it here!).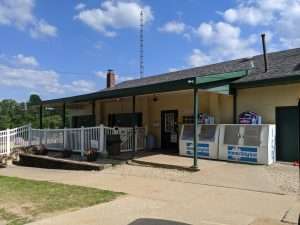 If you get hungry, the Beachside Grill sells, pizza, burgers, drinks, doughnuts, and ice cream. The pizza is affordable and some of the best pizza I've had, with a thick crust and lots of cheese!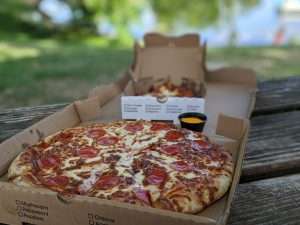 Natural Springs Resort activities
There are so many activity options available at Natural Springs, you'll never run out of things to do! Below is a list of all they have to offer, for all ages.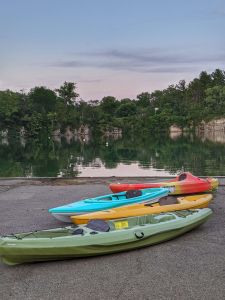 Scuba diving (an all-day diving pass is only $20, which includes one free air fill or $15 without air-fill)
Fishing (bait and tackle available for purchase at the Natural Springs Resort's Camp Store)
Canoe/Kayaks/Paddleboats rentals ($7.50 for a 30-minute rental)
Playgrounds (several playgrounds on the resort, including a basketball court, shuffleboard, and horseshoes)
WiBit obstacle course (as noted above)
Coming soon: splash pad and laser tag!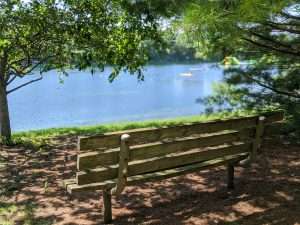 Did I mention that golf cart rentals are available? I recommend renting one of these to use around the resort, driving around the lake at sunset was one of my favorite things to do (golf carts cannot be used after dark). Or you can bring your own golf cart for $5/day.
Accommodations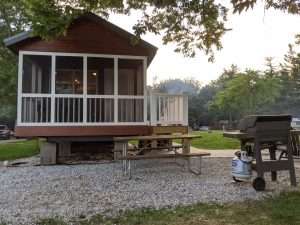 We had the luxury of staying in the Premium 1-bedroom Cabin (it sleeps 6) during our stay. It included a bedroom with a queen bed, a hall bunk bed, a private bathroom, kitchen/dining, living room with sofa bed, enclosed porch with rockers, and a firepit and picnic area.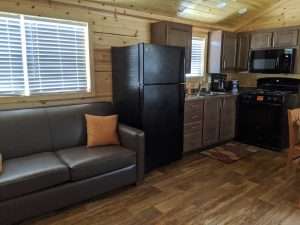 The cabin was equipped with dinnerware and cooking accessories, as well as a grill, coffee maker, and toaster. The bedroom had an overhead fan, it's own air conditioning unit, USB switches, a bench, and a clothes hanger bar. This cabin is modern and still smells new! It's open, offers lots of natural light, and is air-conditioned!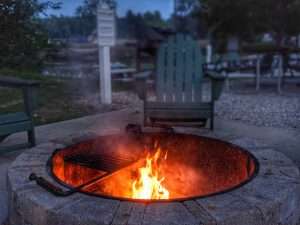 You have the option to bring your own bed linens and towels or purchase a Cozy Convenience Package (linens and towels are left in your cabin before your arrival).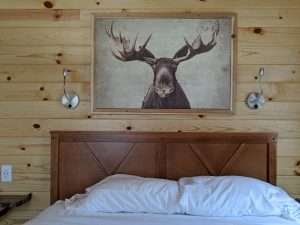 Additional cabin options are available, as well as other accommodations. You can rent an RV, or spot for an RV, and tent camping spots are available as well. RV & tent site rates range from $29-64/night and cabins rates range from $73-$175/night (rates are based on a 2 person occupancy and vary based on the type of site/cabin and dates).
Tips for staying at Natural Springs Resort
A few tips you'll want to keep in mind before arrival and upon arrival!
Check-in time is 3 pm, although you can use the resort amenities as early at 1 pm. Check-out time is 12 pm.
No smoking or pets allowed in cabins.
Book early! Spots fill up fast, especially during the busy months and holidays.
Visitors are welcome to visit cabin guests until 10:30 pm.
You must be 21 and up to rent a cabin and/or RV or tent site.
Quiet time is 11 pm to 8 am, the park is closed during this time to inbound campers.
Firewood is not allowed to be brought into the park, it can be purchased at the Natural Springs Resort's Camp Store.
Remember to bring hand towels, dishcloths/towels, and a bathmat. These are not included in the cabins or the Cozy Convenience Package.
Other items you'll want to consider bringing: paper goods/products, coffee filters, roasting sticks for marshmallows, a lighter for the firepit, ice, soap, beach towels, tablecloth for the picnic table, bug spray, and water shoes.
Before arriving, sign the online waiver (required by all guests) to save time checking-in.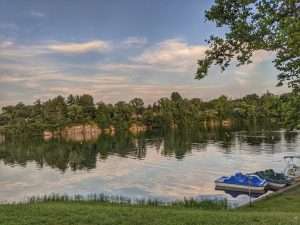 Safety at Natural Springs Resort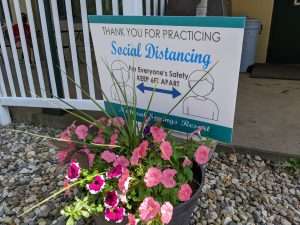 Natural Springs Resort is committed to providing safety to their guests and employees. They are taking the following precautions during COVID-19:
Employees wear masks and guests are encouraged to wear masks inside buildings or when social distancing is not possible.
Restrooms and shower houses are open but will be closed throughout the day for cleaning with EPA registered disinfectants. Social distancing in these areas is recommended.
Each cabin and rental site is cleaned and sanitized after the departure of each guest.
Staff is monitoring the number of people entering the beach and pool areas to ensure proper social distancing.
Watercraft rentals are sanitized between use.
Social distancing signs and markers are in buildings and high-traffic areas.
Natural Springs Resort Info:
Address:  500 S Washington St, New Paris, OH 45347
Phone: (888) 330-5771
---
Nearby activities
Because I'm a coffee lover, I have to mention that a brand-new coffee house is going in right beside the entrance of Natural Springs Resort! The shop, The Cedar Coffee, is set to open in the near future and will be using coffee beans from Roscoe's in Richmond, and pastry treats from Sugar Mama's Bakery & Chocolate. This will be a great opportunity for campers to grab craft coffee while visiting the resort.
Visit Thistlethwaite Falls in Richmond, Indiana 
The World's Largest Aviation Museum in Dayton, Ohio 
---
Pin It!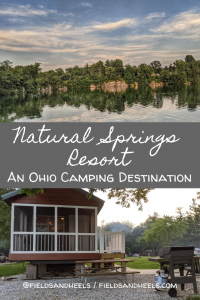 ---
Other articles you might enjoy:
Luxury Lofts on Main in Cambridge City, Indiana
My Favorite Creek Stomping Essentials!