Jazz, Art, and Urban Adventures in Elkhart County
Get ready to emerge yourself into the culturally diverse and artisan-powered Elkhart County, Indiana. I'm about to take you on a tour of my trip through north-central Indiana's historic, yet funky and cool side. If jazz, motorcycles, breweries, art, and urban outdoor adventures spark an interest, bookmark this article for your next trip!
I grew up in Elkhart County and lived here for the majority of my life. However, I've missed out on many of the transformations that have been made here over the last several years. I was excited to explore the area from a different perspective, as a visitor. 
A short drive from major cities
Elkhart County consists of seven cities and towns and is a short drive from major cities like Chicago, Grand Rapids, Fort Wayne, Indianapolis, and Dayton. This is an excellent alternative for those looking for a modish adventure from the typical big-city trips. 
Fort Wayne to Elkhart = 65 miles
Chicago to Elkhart = 112 miles
Grand Rapids to Elkhart = 100 miles
Indianapolis to Elkhart = 163 miles
Detroit to Elkhart = 190 miles
Dayton to Elkhart = 202 miles
Elkhart County is surrounded by Amish country, and for those seeking a quieter, more casual, and contemporary country adventure you will want to stay tuned to Part II of my Elkhart County series.
Disclaimer: Blog posts may contain affiliate links and/or ads. If you click on these links I may earn a small commission. This helps keep the blog running and supports my family – at no cost to you. If you have any questions, feel free to read my disclaimer and privacy policy. A special thanks to Experience Elkhart County for hosting the Midwest Travel Network FAM trip. All opinions in this article are my own.
Arts and Jazz
The Lerner Theater is a landmark legendary to downtown Elkhart. This historic theater was built in 1924, underwent an $18-million-dollar restoration in 2011, seats 1700, and hosts concerts, shows, and events throughout the year. The Lerner is best admired during a show, but guided tours are available by reservation.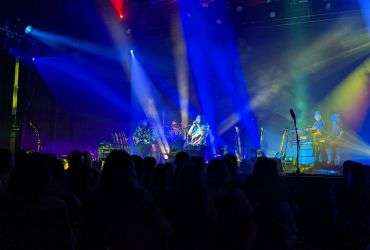 For thirty-four seasons, the Elkhart Jazz Festival has been held in downtown Elkhart every summer. Because of its musical instrument manufacturing history, Elkhart is the Band Instrument Capital of the World. The Jazz Festival brings in more than 100 performers,  entertainment, and food vendors – over 20,000 people show up! The Lerner opens its stage to headliners and free stages are set up around downtown. 
Original works by Grant Wood and Norman Rockwell can be found at the Midwest Museum of American Art. The museum is located inside a renovated bank building, the original vault is still inside and houses exhibits. Remarkedly, there are more than 900 items on display at any time. 
Travel saver tip: Admission to the Midwest Museum of American Art is ½ off on Thursdays during Noontime Talks from noon-1 pm.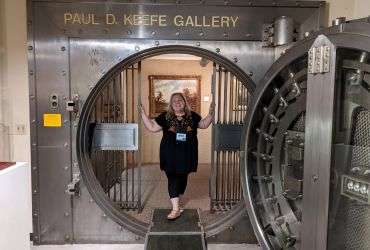 Across the street from the museum, the historic and restored Hotel Elkhart is also preserving the jazz culture. The walls are adorned with loaned pieces for the museums, and the original terrazzo and marble floors still remain. I love that local artwork, Amish furnishings, and even local coffee are used in the guest rooms and suites.
The Ruthmere Mansion is a grand historical home museum that was built for the Alka Seltzer creator, Albert Beardsley (yep, Elkhart is home to the acid relief tablet!). It's also one of the performing-arts venues in Elkhart and the location for one of the Quilt Gardens. 
The Old Order Mennonite faith is intriguing to those outside of their community. It often gets confused with the Amish faith – the two are different but have some similarities. The Emma Schrock Quilt Exhibit at the Nappanee Center displays the work of Emma Schrock, an Old Order Mennonite folk artist. Curious visitors can see Emma's life on display through her art, among other local Nappanee displays from cartoonists, an Air Force One pilot, a NASA engineer, and Coppes Cabinets.
Downtown Goshen is a one-stop spot for local arts, music, and eclectic shopping. Upon entering the Soapy Gnome, I was greeted with the wonderful aroma of natural scents. Colorful handcrafted soaps, bath products, and gifts line the shop. 
Ignition Music Garage, Fables Books, Found, Electric Brew, Shirley's Gourmet Popcorn Company, and South Side Soda Shops are just a few of my other favorite Downtown Goshen shops
Cool Eateries and Breweries
Inside Hotel Elkhart, the Corner Bar's scratch-made kitchen serves a unique Pecan Chicken Salad. The Relish Cafe & Confections, also inside the hotel, is a coffee bar and cafe serving espresso drinks, breakfast, lunch, and dinner. The lattes, anything from the breakfast menu, and Bourbon & BBQ Burger are highly recommended! 
The family-friendly Goshen Brewing Company is a remarkable renovation of an electric utility building, sustainable business, and farm-to-table brewpub. They are a 100% solar and wind-powered facility and offer guests open-space seating that overlooks the Millrace bike path and their outdoor concert area. All their dishes (including their Pad Thai Tuesdays) are made with local products from local farmers and vendors.
In Nappanee, Ruhe152 offers a three-in-one tasting experience: a bistro, brewery, and distillery. And I can guarantee you'll get the best dishes from Ruhe's made-from-scratch kitchen because Chef Zachary Lucchese is in the kitchen, and he's one of the best in Indiana! I could eat the Burnt Brussels and Bison Meatballs for days.
Urban Rides and Outdoor Adventures
One of my favorite spots in Elkhart County is Wellfield Botanic Gardens. Under the gardens sits the wellfield where 70% of Elkhart's drinking water comes from, hence the name. A ½-mile paved trail contains themed gardens to acres of water displays, plants, and nature. Also, it is a location for one of the Quilt Gardens.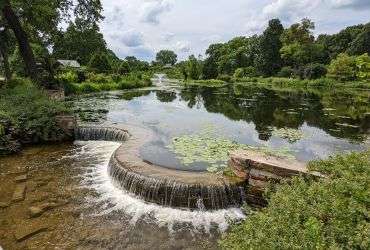 If you are looking for a ride on the wild side, Janus Motorcycles was named the Coolest Thing Made in Indiana." And they are pretty cool. Janus is located in downtown Goshen, their motorcycles are built to order and made simple, solid, beautiful, reliable, affordable, and easy to repair.
For those looking for a more physical adventure, Elkhart County is a great place to bike. The Millrace Canal Trail and the Friends of the Pumpkinvine Nature Trail are both great trails for biking. Bring your own bikes, or rent a bike from Lincoln Avenue Cycling (like we did!). 
Elkhart is known as the "RV Capital" of the world, so naturally, the most luxurious of all rides is the RV. What better way to travel in style? The RV/MH Hall of Fame Museum is an 80,000-square foot museum in Elkhart with RV exhibits from 1885 to current. The museum is an interactive experience as you can look inside and even enter some of the RVs, camping care, house trailers, and motor homes on display.
Take a tour of Hotel Elkhart:
Nearby things to do:
Spend a Weekend in Fort Wayne, Indiana
8 Things You Must Do in South Bend!
A Stay at Old Oak Inn in Marion, Indiana
Pin it for later!