8 Things You Must Do in South Bend!
South Bend is located directly in the middle of northern Indiana, and just a few miles from the Michigan border. It is within just a few hours' driving distance from several major cities, which makes it a great weekend getaway! I am originally from northern Indiana and I never tire of visiting the area. There is so much to do! There are attractions to keep you busy each season, whether you are visiting in the summer, fall, winter, or spring. Let me introduce you to some top eight South Bend activities for your next family, couples, or solo getaway!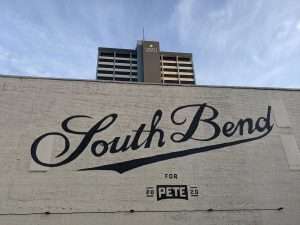 ---
A special thanks to Visit South Bend for hosting my trip. All opinions in this article are my own.
Disclaimer: Blog posts may contain affiliate links and/or ads. If you click on these links I may earn a small commission. This helps keep the blog running and supports my family – at no cost to you. If you have any questions, feel free to read my disclaimer and privacy policy. Thank you!
---
South Bend, Indiana is a short driving distance from these major cities:
Kalamazoo, Michigan – 1.4 hours
Chicago, Illinois – 1.5 hours
Fort Wayne, Indiana – 1.6 hours
Indianapolis, Indiana – 2.5 hours
Milwaukee, Wisconsin – 3.2 hours
---
1. Discover the museums
Visiting the Studebaker National Museum is a museum for anyone interested in automobiles, but it's also for history lovers as well. You'll learn about South Bend's automotive and industrial history and its roots. You might be intrigued to discover that the invention of the wheelbarrow is part of the Studebaker story. The "National Treasures" exhibit includes the carriage Abraham Lincoln was riding in on the evening of his assassination. It's one of many exhibits among the different levels.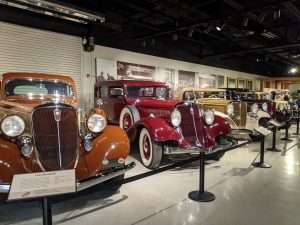 After visiting the Studebaker, you can explore The History Museum and The Oliver Mansion. Both and are adjacent to the Studebaker National Museum and can be included for a discounted admission rate.
The History Museum & Oliver Mansion
The History Museum includes permanent exhibits like the Unseen Treasures of the Oliver Mansion. This exhibit includes items from the Oliver Mansion that are not on display in the home. My favorite exhibit is the All-American Girls Professional Baseball League! It includes stories and collections from the League of Their Own movie. I would plan a few hours to fully experience both museums.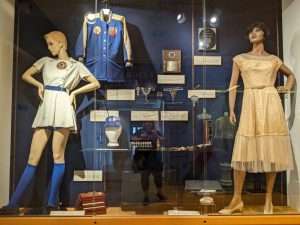 The Oliver Mansion is a 38-room historical mansion in South Bend. It was built in 1895 by the 19th-century industrialist J.D. Oliver. It is quite a beautiful sight to see in person! It is available for tours at 1 pm and 2 pm, Monday-Saturday (Sunday at 1 p.m. and 2:30 p.m.), the tour is included with admission to The History Museum. Plan for 90 minutes to tour the Oliver Mansion and the outdoor gardens.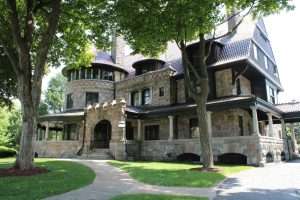 ---
2. Tour the University of Notre Dame Campus
Did you know you can visit the University of the Notre Dame campus? You can download a map of the campus here, or visit the Eck Visitors Center for a campus map and take a self-guided tour. The most popular and historic spots on campus include the Grotto, Basilica of the Sacred Heart, Main Building (the Golden Dome), and the Hesburgh Library ("Touchdown Jesus").
Visitor Tip: Notre Dame recently announced that admission will be free to all of its athletic events (except basketball, football, and hockey) starting this year (2021-2022). Check their athletic schedule in advance to see if there is a game you'd like to attend while visiting South Bend!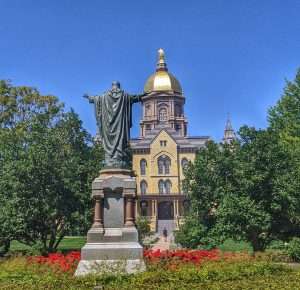 ---
3. Enjoy a sweet tour of the chocolate factory.
The South Bend Chocolate Factory offers tours to the public six days a week! The 45-minute tours are available at the top of every hour and give visitors a sneak peek of the chocolate factory. Everyone sports a fancy hair net (check out mine in the photo below) and a glimpse of what goes on behind the scenes. As well as a few chocolate samples and an opportunity to dip your own chocolate spoon and wander through the chocolate museum. Tours are $5.00 for ages 12 and up and $2.00 for children ages 2-11.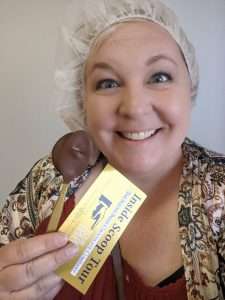 ---
4. Try the river rafting challenge.
Are you up for a challenge? The East Race Waterway is a manmade whitewater rafting course that allows individuals to experience whitewater rafting right here in Indiana! I have known people to come from all over Indiana to practice their kayaking and rafting skills here. Currently, the East Race is open seasonally on Saturdays and Sundays from June through September. Prices are affordable, you can choose options from a $6 single-ride pass to a $20 unlimited ride-all-day pass (the required height for rafting is 54″).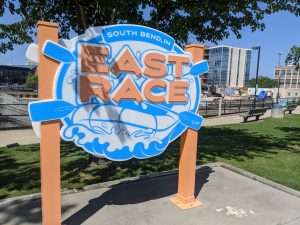 ---
5. Enjoy the sights, sounds, and activities at Howard Park.
Howard Park is South Bend's first and oldest park and it's FULL of activities for everyone!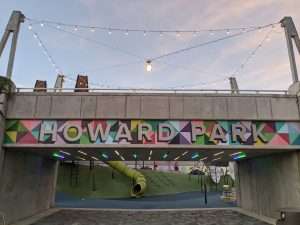 Features:
ADA accessible playground for ages 2-12
Event center and Inovateus Solar Event Lawn + Festival Lawn
The Rask Family Fountains (splash pad for kids)
Memorials (including the Vietnam Memorial and Workers Memorial)
Riverwalk Trail
The Howard Park Public House and the Chocolate Café Express
Fire Pits, there are three of them to enjoy and they are available to use from 6:00 AM to 11:00 PM
Ice Skating – a 16,000-square-foot ice trail and pond is available for ice skating in the winter month, in the warm month this is transformed into patio space.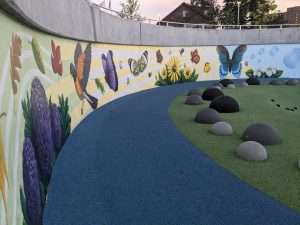 ---
6. Check out the murals.
I spied several amazing murals in downtown and throughout South Bend. Check out Kelly's South Bend Mural Guide for mural locations.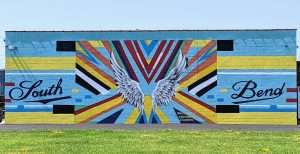 ---
7. Indulge in the food and coffee scene. 
I'm pretty sure I'd need weeks to complete my bucket list of places I want to eat at in South Bend, but I did manage to get in a few spots checked off of my list. Fiddler's Hearth in downtown South Bend is an old-world Irish pub serving authentic Irish food. I tried the Steak Boxty and White Chocolate Bread Pudding (in sweet whiskey cream) – it is HIGHLY RECOMMENDED!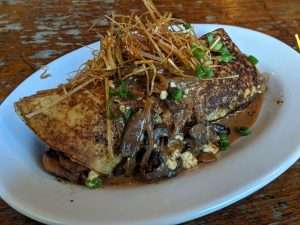 Cinco 5 International offers a truly unique menu, you can choose from either Mexican or Thai cuisines and they are open for lunch or dinner. Outdoor seating is available at both Fiddlers and Cinco 5!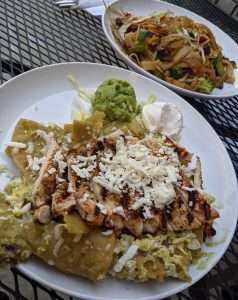 If you've followed me for long enough, you'll know that every trip involves coffee. I managed to get into some great South Bend coffee shops while visiting. There are several coffee shops and roasteries in "the Bend," and two of them happen to be side-by-side. Sway Coffee is a hip coffee shop (and roastery) offering artisan coffee drinks and breakfast fare. Their signature Bourbon Caramel Latte is heavenly, I paired mine with a Burrito Bowl for a filling and healthy start to my day. Check out their upper level for balcony seating and a view of downtown South Bend!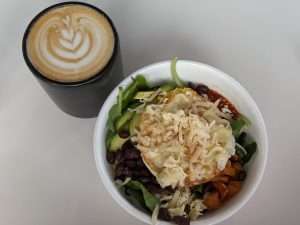 Next door, Zen Cafe is also roasting beans and foaming lattes. I suggest the Elderberry Latte. You won't be able to miss their mural, done by artist @alex_ann_allen. Inside I felt a bit like I was visiting grandma's house – the retro plaid couches and mustard yellow high-back chairs made me feel right at home.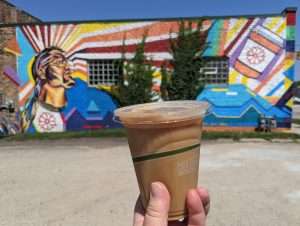 Also, check out some of my favorite ice cream spots here:
---
8. Go to a South Bend Cubs baseball game!
We love going to the South Bend Cubs baseball games when we are passing through South Bend. If you are visiting the region during the season, make sure you check the schedule to see if there is a home game. It's a great and affordable outing for family and friends, and one of my favorite Minor League Baseball teams. They have fantastic weekday promotions as well, like Triple Play Tuesday ($12 ticket, hot dog, and drink combo), $2 drinks on Thursdays, and fireworks on Friday nights.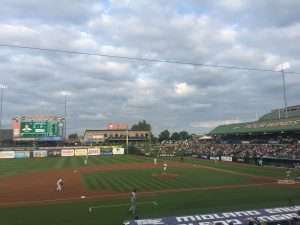 ---
Other things to do in South Bend: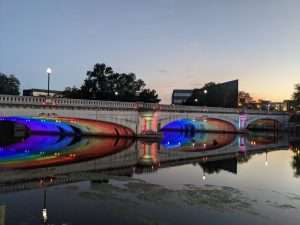 ---
Where to stay in South Bend
The Aloft is conveniently located and only a few miles from the University of Notre Dame. It is a trendy and hip (as a true Millennial would say) Marriott hotel with great views of downtown South Bend. It's located in Liberty Tower, South Bend's tallest building. A parking garage is available to guests and amenities include free parking, an indoor pool, a fitness center, and a 24/7 cafe. It's also right next door to Fiddler's Hearth (the Irish pub I talk about just above this).
Visitor Tip: Request a room on a higher floor if you'd like a better view. I stayed on the 10th floor. You can catch a glimpse of my room view in the YouTube video below!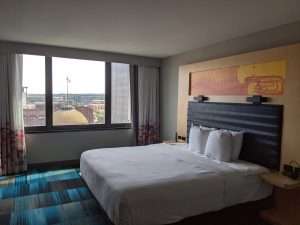 ---
Watch my South Bend, Indiana YouTube Video!
Click here to go to YouTube video: https://youtu.be/zT_uPhHvaX4
---
What's Nearby?
---
Pin It For Later!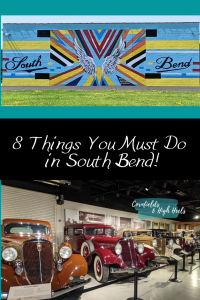 ---
Other articles you may enjoy: