Fort Wayne, Indiana
With being the 2nd largest city in the state, there is ample to do in Fort Wayne, Indiana! I've spent plenty of days in "the Fort" (aka, Fort Wayne) visiting the parks, enjoying the restaurant scene, or taking in a concert or convention at one of their many event centers.
You can easily spend a day in Fort Wayne, or make a weekend trip out of visiting! I'm going to highlight some of my favorite things to do when I visit. Many of my trips are family or couple focused, however, all of them can be easily done solo as well.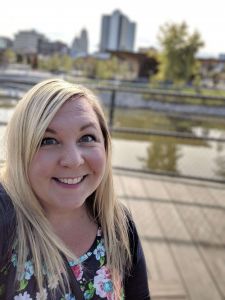 ---
Disclaimer: Blog posts contain affiliate links. When you click on these links I earn a small commission that helps keep this blog running and support my family. If you have any questions, feel free to read my disclaimer and privacy policy. Thank you!
---
Let's get started with some fun facts about Fort Wayne!
The first professional baseball game took place in Fort Wayne, Indiana, in 1871.

Fort Wayne boasts of over 80 parks, which include pools, soccer fields, baseball diamonds, basketball courts, over 60 playgrounds, golf courses, an ice skating rink, a zoo, and botanical gardens.
Fort Wayne is nicked the "City of the Churches," having almost 400 churches!
Fort Wayne and John Wayne are both named after the famous General "Mad" Anthony Wayne.
Johnny Appleseed (whose real name was John Chapman), the folk hero, is buried in Fort Wayne (there is even an annual Johnny Appleseed festival).
Men in Fort Wayne are prohibited from standing in a bar. Seriously, it's one of those old laws.
COVID disclaimer: When traveling and visiting businesses, as always, please check state and business guidelines and hours before arriving. As always, be safe for yourself and others! 
---
The History Center is in Fort Wayne's old City Hall and home to Allen County-Fort Wayne Historical Society. The historical society was formed in 1921 and serves to preserve the history and heritage of Allen County. There are more than 32,000 artifacts, 20,000 photos, and eight jail cells in the basement. Pretty interesting, huh?
Hours: Monday-Friday 10 am-5 pm, Saturday 12 pm-5 pm, and first Sundays from 12 pm-5 pm. Admission: Adults (18–64) $6.00, Seniors (65+) $4.00, Youth (3–17) $4.00, and Children 2 & Under FREE.
The Salomon Farm Park is a historical farm with a 1930s theme, operated by the Fort Wayne Parks and Rec department. Visitors are welcome to tour the historical buildings, walk through the trails and wetlands, greet the animals, or pick flowers in the sunflower fields (during the appropriate months). Also, be sure to check out the covered bridge and take a hayride while you are there!
Hours: Daily 6 am – 11 pm. Admission: FREE (there are additional fees for picking flowers, hayrides, and other various activities)
Named "7th Best Zoo in the US" and "20th Best Zoo in the World" by Trip Advisor! You can feed giraffes and glide above the treetops in the African Journey. Or pet a stingray and take a canoe ride in the Australian Adventure. How cool is that! But there is a TON more to do here than just that. The Indonesian Rainforest and Central Zoo offer hands-on exhibits, shows, and zoo ride. This is our favorite zoo in Indiana!
Hours: Daily 12 pm-5 pm (check here for updated hours). Admission: Adults (ages 19-61) $15.00, Child (ages 2-18) $10.00, Seniors (ages 62+)$12.00, and Babies (ages 1 and under) are free. Rentals:  Single Stroller $5.00, Double Stroller $7.00, Wagon $8.00, and wheelchairs are free. Parking is free.
---
Need a place to stay in Fort Wayne?
---
This Fort Wayne park is recognized as having one of the largest rose gardens in the country with more than 2,000 roses on display! Over 150 varieties can be found here. The park features a lake, sunken garden, walking paths, playground, basketball and tennis courts, fishing, and ice skating (in the winter). Visit in the Spring to see the roses in bloom!
Hours: Daily 6 am – 11 pm. Admission: FREE
The original fort was constructed by an American troop in 1815 to defend against Indian attacks and reconstructed in the 1970s. The fort is open for walk-throughs, but the interiors are closed to visitors. Through the year they offer special events and reenactments! It's a pretty cool place to take explore, learn a great history lesson, and photo opportunities. 
Hours: the grounds are always open for walk-through, check their website for special event hours. Admission: FREE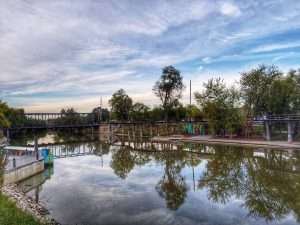 Promenade Park is part of the Riverfront Fort Wayne Project and is one of Fort Wayne's newest and most interactive parks. The park features a cafe, a kid's canal, riverboat rides, an amphitheater, swings, a fully accessible playground, walking trails, and kayak rentals. The kids love the Rhapsody® Outdoor Instruments, interactive water features, and climbing structures. The park is handicap accessible and has restrooms with baby changing tables. You can also jump on the Sweetbreezer Riverboat Tour here. 
The Parkview Tree Canopy Trail has a walking path over the river and in the treetops!
Hours: Daily 6 am – 11 pm (check here for updated hours). Admission: FREE. Rentals:  Single Stroller $5.00, Double Stroller $7.00, Wagon $8.00, and wheelchairs are free. Parking is free.
Science Central a great stop that enables kids to explore, learn, and have hands-on experiences. There are over 200 experiences and the museum attracts millions of visitors every year! The Department of Tourism voted it the "4th Best Museum in Indiana!" and has Indiana's first NOAA's Science On a Sphere exhibit.
Hours: check here for updated hours. Admission: $10.00 ages 3 and up, Children 2 and under are free.
The courthouse is a beautiful sight to see! It was built in 1902 and has original murals and sculptures, marbling, and stained glass, and consists of a rotunda and four courtrooms.
Hours: Tours only by appointment Mon-Fri 8 am-4:30 pm, call (260) 449-4246 to schedule. Admission: Suggested $2.00 donation per person.
The DeBrand Chocolate Headquarters are gorgeous! And their chocolate factory offers tours, you can see artisans making gourmet chocolates and get a glimpse of the chocolatier kitchen. You'll also get to sample some of the chocolate (the best part, right!?).
Hours: Tuesdays at 10:00 am and Thursdays at 1:00 pm. Admission: $5.00 per person (each person will receive a rebate of $5 off a $10 or more purchase)
---
Pin It!
---
Other articles you might enjoy:
Visit Thistlethwaite Falls in Richmond, Indiana 
Spend a day in Greenfield, Indiana