Visiting Brown County, Indiana
Updated 10/11/21
Most people think of Brown County State Park when they hear of Brown County or Nashville, Indiana. It's a popular spot, especially in the Fall. A beauty to visit and must-see park in Indiana, Brown County's rolling hills, yellowwood trees, and scenic views are breathtaking.
There are many great spots in this county – Nashville, Beanblossom, Yellow State Forest, and the popular Story Inn. With so much to do, you won't have to travel far to get an entire weekend (or week) of activities in!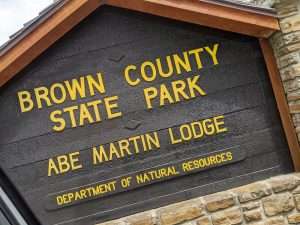 Blog posts contain affiliate links. When you click on these links I earn a small commission that helps keep this blog running and support my family. If you have any questions, feel free to read my disclaimer and privacy policy. Thank you!
---
Brown County is the largest state park in Indiana and it boasts some of the best Fall views you'll find in the Midwest. It's a popular destination during the month of October, but don't let that stop you from visiting all year – the views are always there! It is nicknamed the "Little Smokies" because of its resemblance to the Smoky Mountain views.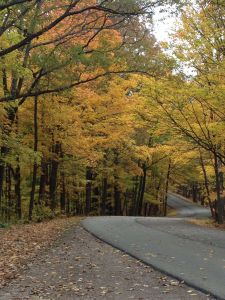 Plan for at least a full day at Brown County State Park. Remember, it's the largest Indiana state park so it has over 16,000 acres and 18 miles of hiking trails! If you are visiting in October, you'll have 20 miles of Fall foliage driving to enjoy.
Admission
Admission is $7.00 for in-state residents and $9.00 for out of state (admission per vehicle), but I HIGHLY suggest purchasing the annual Indiana State Park Pass for only $50.00. The annual pass is good for January-December and gives you access to all the state parks in Indiana. This is an investment our family makes annually, we usually exceed its value within a month!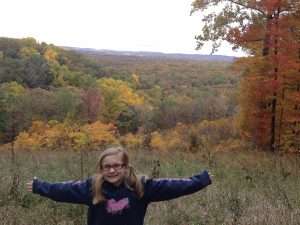 Abe Martin Lodge or Camp
The Abe Martin Lodge was originally built in 1932 and offers newly renovated rooms, cabin suites, family and rustic cabins, and patio rooms all year. Each overnight guest receives a wristband to their aquatics center. The 12,000 square foot indoor aquatic center features a newer zero-entry pool, slide, a lazy river, fountains, and a hot tub. Day passes are available at $15.00 per person for non-overnight guests. During the winter, also enjoy the lodge's huge fireplace and rustic winter views. Year-round families can use the game room and arcade.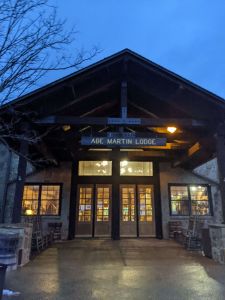 The family cabins at Brown County State Park are great and sleep up to eight people. They include a king bedroom and a queen bedroom upstairs and two sofa sleepers downstairs. A huge deck overlooks the woods and reservations include wristbands to the aquatics center. It's the best deal for a family!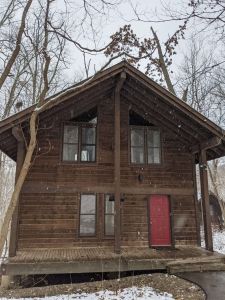 What to do at the Brown County State Park
This part is my favorite – all the activities! And the sights to see! Where to even begin? I'll start by narrowing it down to our most favorite areas to visit in the park (the "must-sees").
90-foot fire tower – climb it to get excellent views of the rolling midwest hills!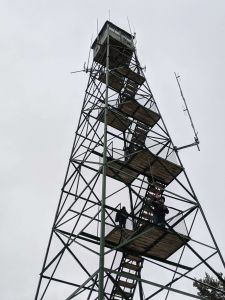 Check out the Nature Center – inside you can get a glimpse of the rare timber rattlesnake. Also, the outdoor Interpretive Gardens can be found at the Nature Center. Don't miss the gorgeous view behind the Nature Center.
Take the 7 Vista Challenge – visit all of the seven scenic vistas in the park and snap a photo in the picture frames they've created. Post your photos using the hashtag #7VistaChallenge and stop by the Brown County Visitors Bureau for a 7 Vista Challenge Sticker once you've completed all seven photos.
Pack a picnic! There are a TON of sheltered picnic areas and spots to have a scenic lunch. Some of the shelters have fireplaces and are near restrooms and playgrounds. The Hoosier's Nest Shelter is a replica of a cabin with an upstairs.
Hike one of the 8 trails. Trail 5 is a short, rugged trail where you'll see the rare yellowwood trees and the Ogle Hollow Nature Preserve.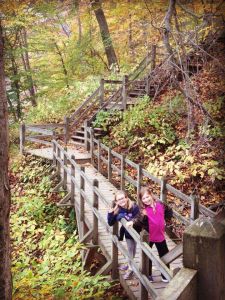 Visit Strahl Lake (Trail 6) and Ogle Lake (Trail 7) – both trails are 1.5 miles in length.
Take in the views at Hesitation Point – some say this is the best view in the park! You'll take the more rugged Hesitation Point Trail to get this point.
Drive through the Ramp Creek Covered Bridge -enter the north entrance to see the covered bridge.
Dine at the Little Gem Restaurant – located in the Abe Martin Lodge and known for their breakfast and country-plate menus. Dine with a view of their outdoor patio.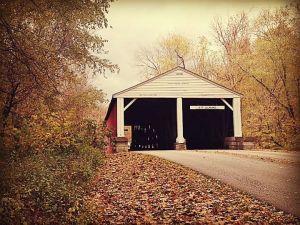 Other activities at Brown County State Park
Mountain biking trails are a popular activity in the park – don't forget to bring your bikes. Additionally, there are trails for horseback riding and a saddle barn (open from mid-March to mid-November). At the saddle barn, you can go on guided trail rides, pony rides, and hayrides.
---
Where to stay in Brown County, Indiana
Plan for at least a weekend in Brown County. There are plenty of options for lodging, including options at the state park. If you are interested in other options, here are some of my favorites:
The Abe Martin Lodge and cabins – newly renovated rooms in the Abe Martin Lodge or enjoy the family cabins or rustic cabins. All guests receive free passes to the aquatics center and pool.
The Story Inn – Indiana's oldest country inn. The Blue Lady Room is rumored to be "haunted" and books up in advance, however, there are 18 unique lodging options to choose from.
Cornerstone Inn – a locally owned and operated inn in Nashville, Indiana. In addition to their 38 rooms, they also have a lodge with three guestrooms, a studio apartment, and a log cabin available for guests.
Airbnb rentals in Brown County – there are so many options to choose from and some unique cabins.
---
Nearby Things To Do:
Spend time in Nashville, Indiana – there are tons of shops, cafes, shows, and antiques to be found in the cute downtown district of Nashville.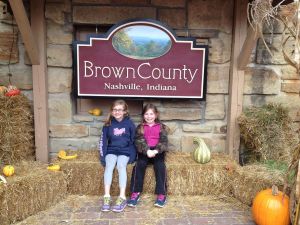 ---
Pin It!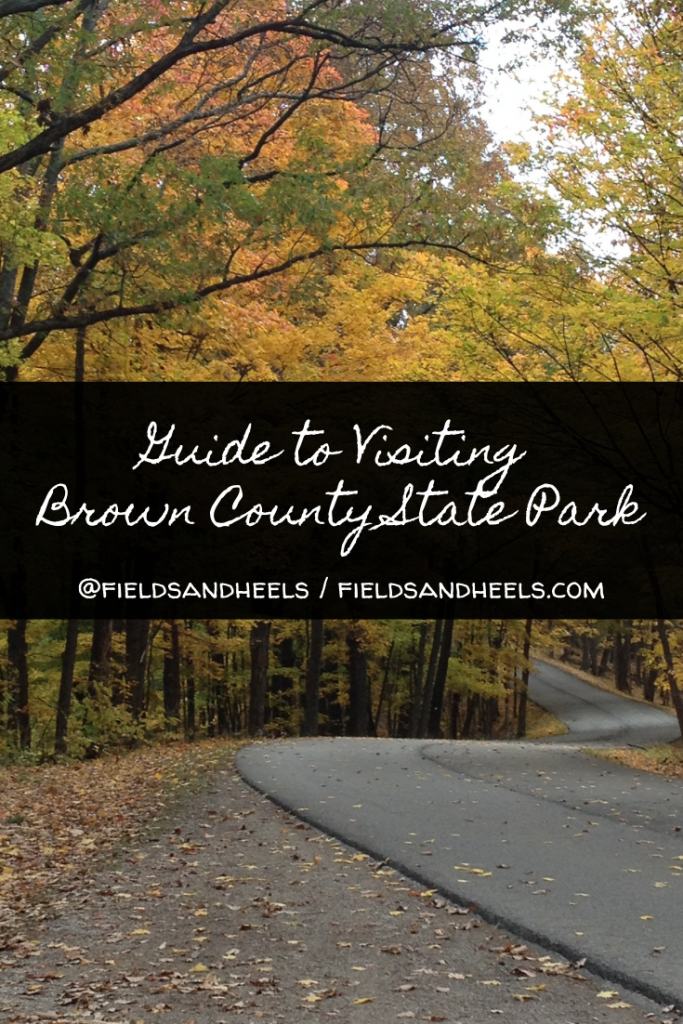 ---
Other articles you may enjoy:
Visit Thistlethwaite Falls in Richmond, Indiana
My Favorite Creek Stomping Essentials!