SPEND A DAY IN MADISON, INDIANA
I recently had the chance to visit Madison, Indiana for the first time!  Madison is only about a 1-1/2 to 2-hour drive from the Indianapolis area and is located right along the Ohio River. Known for being a historic riverfront, Madison is full of beautiful homes and history.
Disclaimer: Blog posts contain affiliate links. When you click on these links I earn a small commission that helps keep this blog running and support my family. If you have any questions, feel free to read my disclaimer and privacy policy. Thank you!
We spent the day searching for waterfalls at Clifty Falls State Park, exploring the cute shops downtown, sipping on coffee made by local roasters, and driving through the historic district. I can't wait to go back and see the park during the summer so we can spend a night in one of their boutique inns, and do some shopping!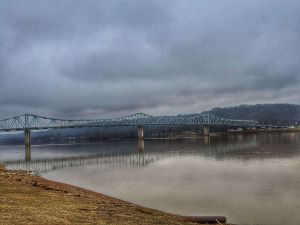 FUN MADISON FACTS
Home to the first railroad in Indiana!
Has the largest contiguous National Historic Landmark District in the country.
Madison has a powerboat racing tradition, which includes a race and a week-long riverfront festival in July.
The 1958 film Some Came Running with Frank Sinatra and Dean Martin was filmed in Madison, Indiana.
WHAT TO DO IN MADISON
Visit downtown!  Downtown Madison is full of shops, boutiques, restaurants, and coffee shops.  While there check out the 1876 cast iron, ornate Broadway Fountain (on North Broadway and Main St.)
Hike and see the waterfalls at Clifty Falls State Park.  There are four waterfalls in this Indiana State Park and lots of hiking trails!
Visit the Lanier Mansion Historic Site, an 1844 Greek Revival home, and National Historic Landmark (there are a total of eight house museums in Madison!)
Drive through the historic neighborhoods of Madison.  I especially loved looking at all the homes surrounding the downtown area.
Go on a tour!  There are several tours available, including self-guided tours of the Underground Railroad and the Georgetown Walking Tour. Several guided tours include riverfront tours, historic, and cultural tours.
Wander through Big Oaks Wildlife Refuge. With over 50,000 acres of land and more than 200 bird species, 46 mammal species, and 32 caves, there is so much to see! They are open to the public specific days and times of the week (check in advance) for fishing (Timber Lake is a popular spot), hunting, photography, and wildlife viewing.
VISITING CLIFTY FALLS STATE PARK
Clifty Falls State Park brings in millions of visitors each year!  Known for its waterfalls and hiking trails, this Indiana State Park is one of my favorites.  There are a total of four waterfalls: Tunnel Falls, Hoffman Falls, Little Clifty, and Big Clifty.  And with 12 miles of trails, Clifty Falls is known for having the most rugged trails in Indiana – please note this before going (grab a park map upon arrival, it states the level of difficulty for each trail).
We visited in January, it's pretty bare and desolate during the winter season (but also gives you access to all the trails without crowds!). Some of the trails were slick from a recent snowfall, followed by rain, so we were unable to hike any of the moderate-to-rugged trails. I can't wait to go back in the Spring!
And if you don't want to hike, you can still get a good glimpse at Big Clifty Falls. You can park your vehicle at the north end of the park and take the short, paved walkway to the viewing point for the Big Clifty waterfall.  From there you can access more rugged trails that lead to the Little Clifty waterfall, ravines, rock formations, creeks, and rock stairs.  If you climb the canyon, it's 400 feet tall and the hike back is brutal but beautiful (great for those looking for a workout!).
A 600-foot tunnel called Brough's Folly can be accessed through Trail 5. This tunnel is the remnant of a railroad project of the 1850s.  Bring a flashlight for the tunnel and watch out for the bats! The tunnel is closed Nov. 1 to April 31 for bat hibernation.
The Clifty Inn, located inside the park, is a great stop for dining or staying overnight. A swimming pool and tennis courts are also located on the property.
Tips for visiting Clifty Falls:
Wear good shoes, specifically hiking boots because you will need them!
Bring a flashlight and bug spray!
Avoid strollers on most of the trails (most are too rugged for a stroller)
Dogs on a leash are allowed in the park.
There is a $7.00 entrance fee.  If you are an Indiana resident, I highly suggest paying the $50 for an Indiana State Park pass that will get you into all the state parks for the year.
Pack a picnic, there is a nice picnic and playground area on the north end, right beside Big Clifty Falls!
The restaurant at Clifty Inn is open to the public for breakfast, lunch, and dinner.
WHERE TO EAT IN MADISON
With lots of places to dine, it's hard to choose just one!  Madison has several cafes, coffeehouses, and restaurants (featuring pizzas, sandwiches, steaks, and seafood).  While in Madison, we visited two specific locations, G.H. Coffee Company for coffee and Red Pepper Deli for lunch.
G.H. Coffee Company has a huge menu!  They offer everything from coffee and handcrafted espresso drinks to gelato, sandwiches, pastries, and artisan pizzas.  I enjoyed a Chai Latte and my husband had a Mocha.  It's a cozy downtown atmosphere with very affordable prices. 329 W. Main Street, Madison
Red Pepper Deli Cafe is located in a 150+-year-old building in downtown Madison.  It is family run and offers a wide array of sandwiches, paninis, salads, soups, and wraps.  And sandwiches are made to order and served fresh, either hot or cold.  It's a great lunch spot!  We stopped in here for some warm paninis after hiking through Clifty Falls State Park. 902 W. Main Street, Madison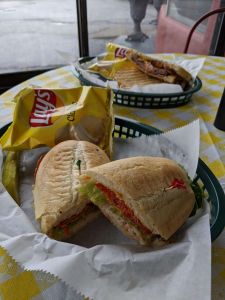 ---
There is so much to explore in Madison, we'll be back during the warmer months because there is more shopping, eating, and exploring we have yet to do!
What are your favorite things to do in Madison?
---
Pin It!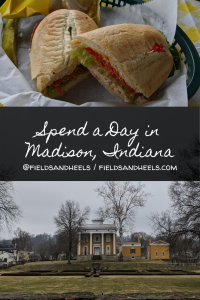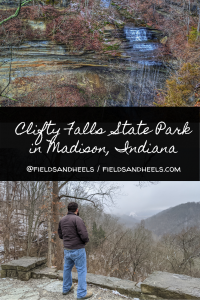 ---
Other posts you might enjoy:
Garfield Park's Sunken Gardens in Indianapolis
Sleep in a Train Car in Downtown Indianapolis