Franklin, Indiana is located in Johnson County, also known as "Festival Country." You might ask, why Festival Country? Well, because of all their festivals! That's right, they have quite a few of them. Scroll through their event calendar and you won't find a month (or week!) left void of an event. You can easily spend more than a day just in the town of Franklin. I spent a weekend here and it's a quaint college town full of history, art, and community.
---
Disclaimer:  This is NOT a sponsored post. However, blog posts may contain affiliate links and/or ads. When you click on these links I may earn a small commission that helps keep this blog running and support my family. This is at no cost to you. If you have any questions, feel free to read my disclaimer and privacy policy. Thank you!
---
There is something for everyone here! I took part in their Summer Bucket list challenge and although I didn't nearly complete even half of the challenge, it was fun to knock a few of the items off of the list. The brick-lined roads and historic homes make me want to live here, and the downtown shops, unique restaurants, and cool visitor's center will bring me back to visit! Stop by the Festival Country Visitors Center to check out the fun photo booths and an indoor slide for the kids.
Festival Country Visitors Center
66 S. Water St., Franklin, IN
Open Tuesday – Saturday, 11 am – 5 pm
---
If you are planning to visit the museums in Franklin, please note that many of the locations are not open on Sunday (or Mondays), so please always check the hours prior to your visit.
Start your visit to Franklin with some history!
Head to the Camp Atterbury Military Museum. It is located inside the Camp Atterbury Welcome Center and tells the story of this military base from start to present, it includes artifacts, uniforms, military vehicles, and more. It's a nice-sized museum for those interested in military history. It's free to visit and open to the public.
Across the street from the museum is the Camp Atterbury Outdoor Museum with a wide array of equipment and a Veterans' Memorial Wall, reflecting pool, and walk. Afterward, head down the road to see the POW Chapel. This chapel was built by artisan Italian Prisoners of War during World War II. Did you even know Indiana had a POW Chapel?
Camp Atterbury Museum & POW Chapel (enter into Google maps for location)
2949 E North St, Franklin, IN
Open Monday-Saturday, Free admission
The Johnson County Museum of History is an awesome little (not really, it's BIG!) gem in Franklin. Wow! What a fantastic county museum for Franklin. It's located in an old Masonic Temple building – you can't miss it! The building is HUGE and has been serving as the museum since 1988. A free visit will give you a glimpse of Johnson County life from as early as the pioneer days and into the 1950s. A cool '50s soda shop in the back of the museum was one of my favorite exhibits!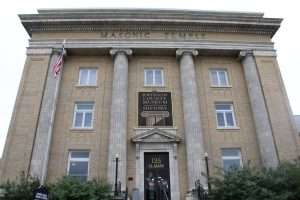 Johnson County Museum of History
135 N Main St, Franklin, IN
Open Tuesday – Saturday, Free admission
---
Grab some lunch and coffee
Just across the street from the Johnson County Museum is Main & Madison Market Café, a charming downtown market serving breakfast, lunch, pastries, and coffee. You can choose from salads, sandwiches, lattes, and teas. If their  Seven Sinful Layer Bars are available, grab one up! It's the best $4.00 you'll spend and one bar can easily feed 2-3 people.
Coffeehouse Five is another great coffee option, they have a location in downtown Franklin (and in Greenwood, as well). They roast their own beans and are a non-profit organization, all of their profits go back into the community to provide recovering and training programs, and counseling services to individuals and couples. They offer a variety of coffee and espresso options, pastries, scones, biscuits, and sandwiches. Their parmesan chive biscuits won Grand Champion at the local state fair – just sayin'. The Franklin location has plenty of cozy seating options and a pretty amazing plant wall.
Main & Madison Market Café
100 N Main St, Franklin, IN
Open 6:30 AM – 4:30 PM Daily
Coffeehouse Five
41 W Monroe St, Franklin, IN
Open Monday – Saturday (Worship on Sundays at 11 am)
Dinner options:
The Willard, 99 N. Main St. – historic building built in 1860 and known as "one of the best restaurants in Franklin."
RFD Franklin, 55 W. Madison St. – located in a former historic post office containing original tiles, hardware, and woodwork. Serves fresh food from local farmers.
---
Take in an afternoon matinee
A film at the historic Artcraft Theatre is a MUST when visiting Franklin. The theatre originally opened in 1922 as a silent film theatre – how cool is that!? It is on the Indiana State Register of Historic Places and although it has had renovations over the year, it is one of the most intact Art Deco movie houses in Indiana. You can catch a matinee or evening film on a weekend for only $6.00.  Before each show, there will be a short curtain speech, a National Anthem reel, and a classic cartoon. Oh, and popcorn refills are FREE (made with local popcorn kernels)!
Artcraft Theatre
57 N Main St, Franklin, IN
---
Grab some ice cream
The Hoosier Cupboard Candy, Snacks, and Ice Cream is located in the Franklin Historic Depot. You'll be sure to find a treat here – they have over 600 items and 22 flavors of ice cream to choose from. If you're thirsty, they've got coolers of cold beverages to choose from, including classic local-made sodas.
Hoosier Cupboard Candy, Snacks, and Ice Cream
370. E. Jefferson St., Franklin, IN
Another option for ice cream is the Festie's Frozen Favorite's Ice Cream Trail! The trail includes a stop to The Suds in Greenwood, a classic drive-in (on the weekends they have a classic car cruise-in!).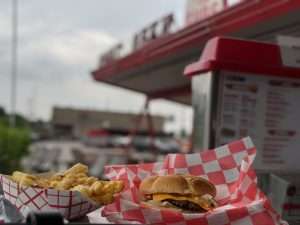 Check out Franklin's unique shopping options
Unique is one word to describe the shops and boutiques I found in Franklin – they were cool, vintage, and clean! I had to resist the urge to spend at Madison Street Salvage, one of the cleanest salvage stores I've ever come across. As someone who has been in the process of restoring a 130+-year-old home (for several years now), I've visited many salvage stores – this is a good one, with great prices! I will be back (they have online shopping available as well!).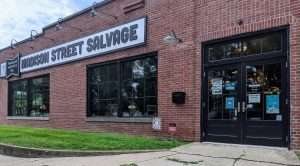 Wild Geese Bookshop is an independently owned local bookstore in Franklin with great collections for adults and children. They also offer teachers and students a 10% discount. It's charming and whimsical, with gifts for everyone – and a supporter of local authors.
Madison Street Salvage
350 E Madison St, Franklin, IN
Wild Geese Bookshop
107 S Water St, Franklin, IN
Roadside oddities and murals
"Big John" is a 32-foot tall wooden rocking chair located at Long's Furniture World in Franklin. Although not the World's Largest Rocking Chair, it appears to come in 3rd to the largest (next to Casey, IL, and Cuba, MO's rockers), it is certainly photo and roadside-stop-worthy! Stop by and say hello to the folks at Long's and grab a picture with Big John.
Perhaps one of Indiana's strangest graves is Nancy Kerlin Barnett's grave in Franklin. Known as the "Grave-in-the-middle-of-the-road", the 190+-year-old grave remains in the middle of a road out of respect for the family who wished to have her remain undisturbed when a road was put in. The grave, located on a busier country road on the outskirts of Franklin, does not have a place to stop or park if you want to see the grave. It's a challenge and safety risk if you want to do so. It's best to drive by, but if you are able to stop you'll notice coins left by others as a marker of those who have visited.
You'll find several murals throughout Festival Country, in Franklin I spotted the Ben Franklin & Kites mural and the Sloth mural downtown. There are a few other murals as well, you can find a list of them at the Festival County website here.
Big John
4108 US 31 S., Franklin IN
"Grave-in-the-middle-of-the-road"
6844 E 400 S, Franklin, IN
---
Pick some flowers to take home
Don't leave Franklin without picking some flowers to take home. Visiting Dollie's Farm is an experience, from seeing the beautiful farm to picking your own flowers, visiting the flower shed, and smelling the aroma of lavender and mint. You'll leave like I did, with a Blooms Reward Card – enticing you to come back for more bouquets regardless of the distance! If that isn't enough to lure you to Dollies, you'll want to hear the story of how Dollie's Farm started. It's a charming story of how Dollie stashed away egg sales money to eventually surprise her husband with the purchase of 46+ acres of land known today as Dollie's Farm.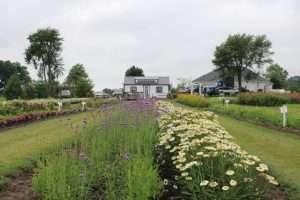 Dollie's Farm
3961 N 425 E, Franklin, IN
Open Wednesday – Sunday
---
Tips for visiting:
Check hours in advance. Also, check to see if you'll need to schedule a time slot or tour for any museums.
Please always sign the guest books at the museums, sometimes this information is used towards funding decisions for non-profit organizations.
If planning activities for outdoors, take extra shoes or boots just in case of rain (flower fields can get muddy).
Take cash if you plan to leave a donation at the free attractions that accept donations.
Save your itineraries and "bucket lists" to your phone or print them off in advance.
Map out your trip stops or save in Google Maps in advance for easier travel.
---
Places to stay in Franklin
Fairfield Inn & Suites by Marriott Franklin
Hampton Inn & Suites Franklin
---
Nearby attractions:
---
Pin It!
---
Other travel articles you might enjoy:
10 Unique Hiking Trails in Indiana
A Stay at Old Oak Inn in Marion, Indiana