Cedar Point's Halloweekends Tips
Updated August 15, 2021
Every September and October, Cedar Point in Sandusky, Ohio hosts its annual Halloweekends. I'm not into superstitions or creepy things (I actually avoid tend to avoid anything scary) but I've had the opportunity to visit on Halloweekends Opening Day!  It usually happens to fall on the same weekend as BloggyCon, an annual blogger's conference in Ohio.
Blog posts contain affiliate links. When you click on these links I earn a small commission that helps keep this blog running and support my family. If you have any questions, feel free to read my disclaimer and privacy policy. Thank you!
---
Is Halloweekends Scary?
Let's talk about the "scare factor" at Halloweekends. Halloweekends can be enjoyed by all – anyone who WANTS to go for the scare factor AND families of younger children (or older wimpy adults like myself) who prefer to avoid it.
There are Halloween displays up throughout the park, and costumed characters walking around. However, visiting during the day makes these things appear much less scary than at night. It is true that the scarier parts of Halloweekends and the characters are displayed and out during the evenings, but you can choose whether to walk into the designated scarier areas.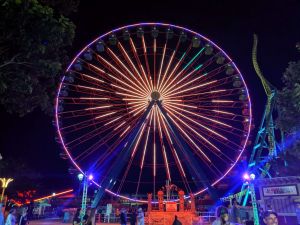 Fun by Day. Haunt by night.
The evenings are scheduled to be scarier and called "Haunt at night." Although, we did go in the evenings and had no problem staying away from the characters and haunted houses. There were a few of the characters in the medians of the park, but they did not try to scare or bother us. The park is decorated to fit their Halloween theme and eerie music plays in the background. Cedar Point has fun, non-scary hours during the Tricks and Treats Fall Fest (Friday-Sunday daylight hours) and the super scary stuff on select evenings during the Haunt at Halloweekends.
I wouldn't suggest taking younger children for the nighttime hours, however, I saw others with little ones at night so this is up to the discretion of each family.  The kid's area and rides are closed in the evenings, as well as the children's Halloweekends area.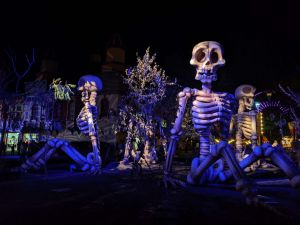 Tricks and Treats Fall Fest
During the daytime hours, there is a ton of kid-friendly activities!  Tricks and Treats Fall Fest is included with park admission and includes activities for the family and kids, Trick-or-Treat with the PEANUTS, themed games, rides, and indoor mazes without all the scary stuff!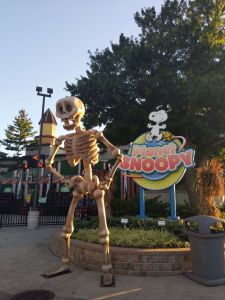 ---
Where to Stay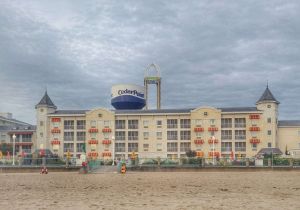 Hotel Breakers is a super convenient stay, it is located on the Cedar Point campus. You can literally walk into the park from the hotel and you'll have all the extra amenities including free parking, access to the pools, the beach (since it's directly on Lake Erie), restaurants, and early access to the park.
To Book: Cedar Point's Hotel Breakers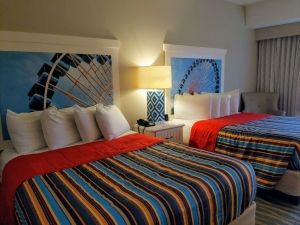 Tru by Hilton
Tru by Hilton in Sandusky is located 8 miles from Cedar Point and offers affordable suites for the family, free parking, and free wifi.
To Book: Tru by Hilton Sandusky, OH
---
Tips for Visiting Cedar Point's Halloweekends:
If you'd like to completely avoid being bothered by characters during the nighttime hours, there's an option to purchase a $10 glow necklace that can be worn while at the park. This necklace alerts characters not to bother or try to scare you.  We did not need these because we avoided the haunted areas, however, if you still want to walk through those areas and not be bothered, you will want to purchase one.
Take advantage of the late nights! The Saturday we visited, the park was open until midnight and we stayed until they closed.  After 10 pm we didn't experience any waits so the kids got onto the roller coasters that were too busy earlier in the day.
To get the best parking, you'll want to arrive early in the day (as the park opens).  The parking continues to fill up into the evening as guests arrive for Haunt at Halloweekends.
Bring a hoodie or jacket.  It gets cooler in the evenings around the lake, especially in the Fall.
You can't bring in food or drinks, BUT you can bring in unopened water bottles.  This will save you some serious bucks if you don't want to fork out $4 for bottled water.
Pull out that fanny pack!  Seriously, if you are riding the coasters you'll want to bring a fanny pack. They are great for storing a cell phone, wallet, glasses, etc.  There are only paid lockers available to store your items while you are on the rides, but you can ride with a fanny pack on. For guys, shorts or pants with cargo pockets that button is also allowed for storing items when on the roller coasters.
Wear closed-toed shoes. Not only for the rides, but the bathrooms at theme parks can get gross (especially by the end of the day). Trust me, you'll thank me for that tip!
Plan to spend more than average on food and beverages. For example, four of us split two entrees at Panada Express it was $30, drinks not included. Carrying food and beverages into the park is not allowed. You can, however, pack a cooler and go back out to your car to eat (get there early to get a front parking space!).

Pro Tip: I actually found that the Starbucks at Cedar Point was not too terribly more expensive than usual. I got a frappucino and added a banana to it to create more of a filling "smoothie." And, you can use your Starbucks Rewards app in the park.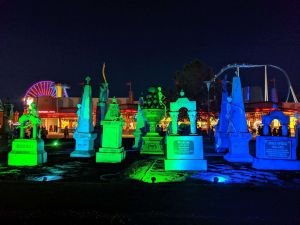 ---
Other nearby activities:
Take a Miller Ferry ride to Put-In-Bay for the day! 30 minutes from Sandusky 
Fort Wayne, Indiana is one of Indiana's larger cities and offers several unique attractions, including one of the nation's best zoos! – 2.5 hours west of Sandusky 
---
Pin It!

---
Other articles you might enjoy: