Lincoln Boyhood National Memorial 
The Lincoln Boyhood National Memorial is a historic Indiana park and one of America's National Parks. It is located in Lincoln City, Indiana, and just down the road from the popular Santa Claus, Indiana, and the Holiday World Amusement Park.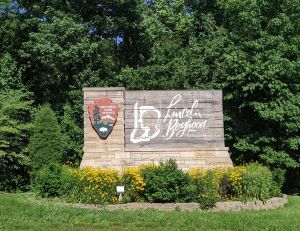 Disclaimer: Blog posts contain affiliate links. When you click on these links I earn a small commission that helps keep this blog running and support my family. If you have any questions, feel free to read my disclaimer and privacy policy. Thank you!
The Lincoln Boyhood National Memorial is located on the land where the Lincoln family lived and Abraham himself grew up. Upon visiting, you'll get to experience life as it was in the early 1800s for young Lincoln. You'll learn about the 160-acre farm he grew up on with his parents and sister, the death of his mother, and how Lincoln spent his teenage years.
---
When traveling and visiting businesses, as always, please check state and business guidelines and hours before arriving. As always, be safe for yourself and others!
---
The history of Lincoln's boyhood home
Abraham Lincoln was born in Kentucky but in 1816, at the age of 7, his family moved to Indiana. Lincoln lived in Indiana from boyhood to adulthood.  His father, Thomas, built a cabin on the 160-acres, grew crops, and was a carpenter in the community. Lincoln grew up helping his father plow fields and was a hard worker.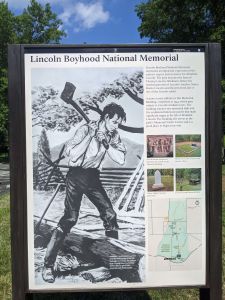 Sadly at the age of only 9, his mother passed away from an illness referred to as "milk sickness." She was buried just south of the cabin, in a small cemetery at the National Memorial. After only three years, Thomas remarried Lincoln's stepmother, Sarah, who continued to help raise Lincoln and his sister on the Indiana farm.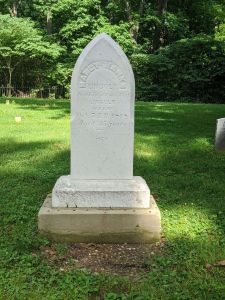 Lincoln loved to read and be adventurous. His schooling totaled less than a year but he kept himself well-educated through books and became known in the community for his strength and height (by 19 he was 6'4).
At 19, Lincoln was hired by the richest man in the community to help him in his store (and on a ferryboat). Through this job, his interest in politics and opinions about slavery were formed. The Lincolns were doing very well in Indiana, but after 14 years on the farm, they moved to Illinois in search of richer soil and to escape the milk sickness that was threatening the area.
What to do?
The Memorial Visitor Center is open seasonally from 8 am – 5 pm (please check hours before visiting – it is currently closed due to COVID). The court area consists of five sculpted panels that mark important periods in Abraham Lincoln's life. In the Visitor's Center, an orientation film shows every 1/2 hour and you can also discover artifacts and learn more about Lincoln's life and family.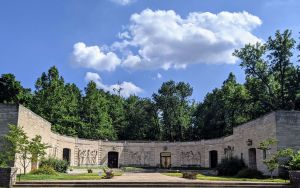 The cabin site memorial still stands for visitors to get a small glimpse of where the family cabin was located. Although the cabin itself is no longer standing, a monument marks the site where the original cabin once stood. The Lincoln Living Historical Farm is the most popular exhibit at the National Park. A replica of the farm is located here and allows visitors to experience early life on the Lincoln farm.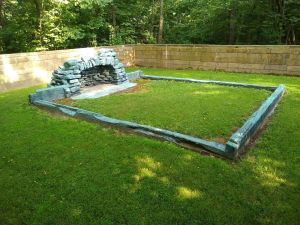 Replicas of the Lincoln cabin, smokehouse, chicken coop, and barn were all built using original material from existing homes in the area from the original period. They were been built using traditional hand tools and original materials.  Actors are dressed in period clothing, portraying life in 1816 on the farm. Live animals roam the area and crops can be seen, re-creating a sense of that it was like to live or visit the Lincoln farm when he was just a boy.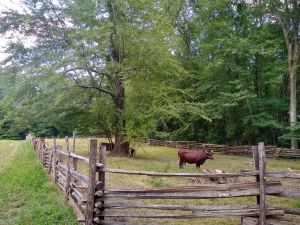 The Boyhood Trail connects all of the sites, walking along the same grounds that Lincoln did as a boy. The Trail of 12 Stones is a 10-20 minute walk around 12 historical stones that explains an event in Lincoln's life at the site of each stone. In total, there are 2-miles of trails for walking or biking.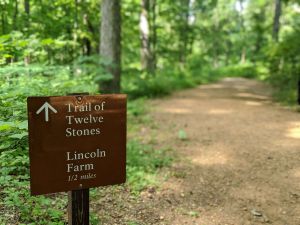 Where to stay
I am a fan of using Airbnbs!  Check out this list of Lincoln City Airbnbs!
I spotted the Lincoln Pines Lakefront Resort just down the road from the National Park and we drove through the area to check out their luxury cabins. Accommodations include stocked lakes, a swimming pool, a splash pad, a game room, recreational areas, and a shelter house. All cabins are fully furnished and accommodations are available for up to 10 guests.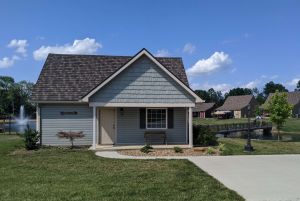 The Lincoln State Park is located just across the street from the National Park and has camping and RV spots available.
If you are looking for a hotel, just down the road from Lincoln City is Santa Claus, Indiana, where many hotels and resorts can be found.
Tips for visiting:
Wear comfortable shoes and dress appropriately for the weather. Trails are up to a mile+ in length, please be prepared to walk.
Bring bug spray! A majority of the trails are wooded.
Pets are allowed on the trails with a lease of 6′ or less.
When the Visitor's Center is closed, you can still enjoy the Courtyard area and sculpted panels.
Bathrooms are located in the Visitor's Center (limited times due to COVID).
There are a limited number of picnic areas available for picnicking, the Lincoln State Park across the street is also a great picnic area.
Basic information:
Address: 3027 East South Street, Lincoln City, IN 47552
Phone: (812) 937-4541
Hours: (please check before visiting, hours are seasonal). Open daily sunset to sunrise.
Admission: free! 
Website: https://www.nps.gov/libo/index.htm
Other activities in the area:
Santa Claus, Indiana is FULL of everything Christmas related, including an amusement park (Holiday World), waterpark, shopping, candy stores, and more.
Lincoln State Park is great for camping, hiking, swimming, and fishing. Canoe and kayak rentals are available on the beach.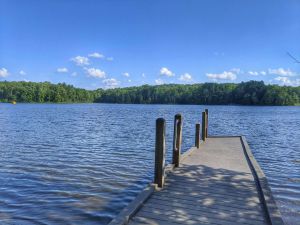 ---
Pin It!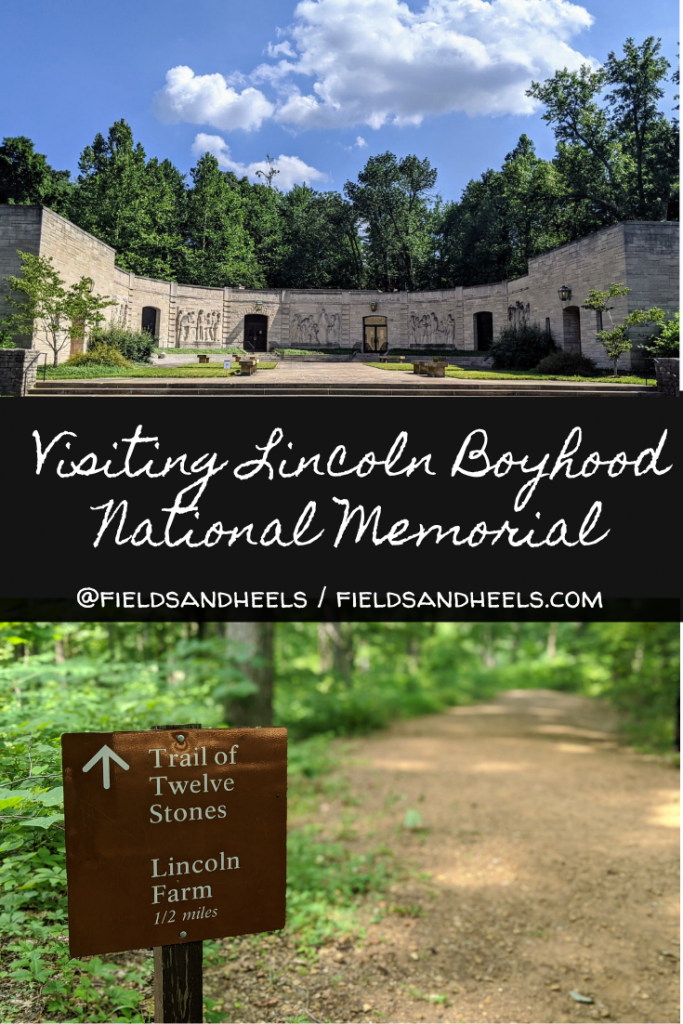 ---
Other articles you might enjoy:
Spend a day in Greenfield, Indiana