CINCINNATI WEEKEND GETAWAY
Life has been crazy busy for us and if there is an opportunity to take a little break we usually take advantage of it! I was super excited about this Cincinnati weekend getaway with my husband. After receiving recommendations, an opportunity came up that allowed us to take the weekend to drive over to the state of Ohio. I planned this two months in advance, and you'll see why as I talk about going to one of Cincinnati's most romantic restaurants (a need for reservations and planning).
Blog posts contain affiliate links. When you click on these links I earn a small commission that helps keep this blog running and support my family. If you have any questions, feel free to read my disclaimer and privacy policy. Thank you!
Explore the fascinating reasons to visit Cincinnati as I give you a browse through our two days there! This includes renting an Airbnb, eating in an underground restaurant, visiting a few must-see spots, drinkings lots of coffee and even got to roast our own coffee at a local roastery!
---
A virtual tour of Cincinnati!
---
We started off our weekend visiting the Contemporary Arts Center (CAC) in downtown Cincinnati. The UnMuseum if just a block from where we had lunch reservations, so it made perfect sense to add this stop to the itinerary. The Unmuseum is located on the top floor of CAC and is an interactive exhibit that is great for families – you can see, touch, and hear everything hear (unlike most museum settings!). Both the UnMuseum and CAC have free admission! We took a glance around a few of the CAC floors, and going on a Friday morning it felt like we had the place to ourselves! For more info and pictures, check out more of my Yelp review here.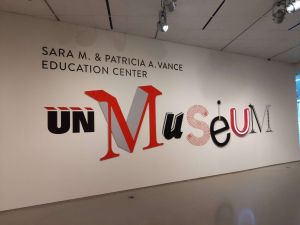 I had numerous recommendations for this place! Not to mention all the bragging on Yelp about it being one of the most romantic restaurants in Cincinnati. It's an underground Italian restaurant and they make their own pasta in house, you can even watch it being made in their viewing area! I was warned I should make reservations in advance, and at almost two months ahead of time I was unable to obtain dinner reservations (it was also around Valentines), but I did easily get a late lunch reservation. They do have a lunch menu and if you are on a budget, this is a bonus!
Upon entering you'll descend down a few candle-lit stairs to get to the restaurant (an elevator is also available). Sotto reminds me of a speakeasy with its brick walls, exposed ceilings, and dimly lit rooms. And candles everywhere – so romantic! The servers wear jeans and plaid so don't be afraid to dress in business casual attire, something I appreciate. For more on Sotto, check out the rest of my Yelp review & photos here.
Tips
Park downtown for the day, parking is around $10 and you can get to Sotto and the UnMuseum (next door to each other).
Make reservations in advance.
Do not wear jeans or t-shirts (stick to business casual).
Go for a late lunch, just as great a setting with fewer crowds.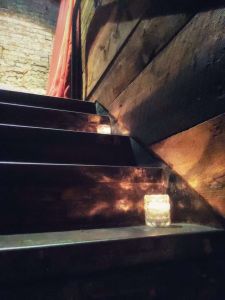 We found that the Airbnbs in Cincinnati were much more numerous, available, and affordable than the hotels! So we booked a small, private place for ourselves that overlooked Eden Park. We really just needed a place to sleep for the night since our days were packed with activities, and this was the affordable way to go! Each place will vary in cost by the date you are traveling, our place was around $70 for the night. When booking an Airbnb, use this link and receive up to $40 off your first booking!
Coffee, coffee, and more coffee!
We visited three different coffee shops in the area: Coffee Emporium, 1215 Wine Bar & Coffee Lab, and La Terza Coffee Roastery. Coffee is an important part of our lives so we did even more than just grab a few lattes, we spent an afternoon learning to roast beans and having a tour at La Terza (I'll talk more about that below)!
Coffee Emporium is a loud, busy spot but has a huge variety of drinks available and is a great place to grab an afternoon cup of java. 1215 Wine Bar & Coffee Lab was our after-dinner spot for a late-night latte. It's a fantastic date night spot, and just take a look at that gorgeous latte pictured below!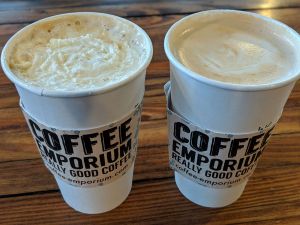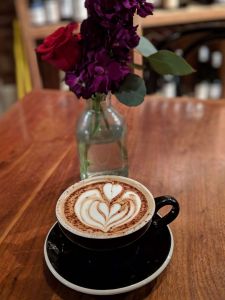 We ended our weekend with a roastery class and tour – this was the best part of our trip! Volunteer & tour guide, Aaron, led the class and is super knowledgeable about his craft. I went away from this tour learning more about the process of using and roasting beans than I've ever known. It was fun! We had the opportunity to be the first class to use their shiny, new, roasting machine and Aaron made us feel as involved in the process of roasting beans as he was.
We each got an opportunity to have hands-on experience with the roasting process and try coffee from the beans we roasted. Before roasting, Aaron sat down with us and gave us a lesson of where beans come from and we tried several types (including"washed" and "natural" beans). It's easy to find a cupping class, but hard to find a roasting class which is what makes La Terza unique! For more info and pictures, check out the rest of my Yelp review here.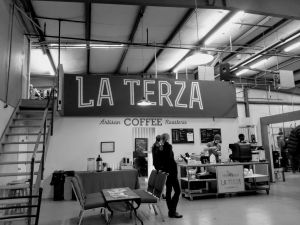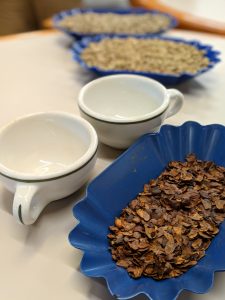 Other Fun Spots
We made a stop at Jungle Jim's International Market because it's an international supermarket, you can find just about anything here. And it's huge, at one point I thought we made it all the way through after an hour only to discover we didn't even get through 1/2 of it! It's like the IKEA of grocery stores!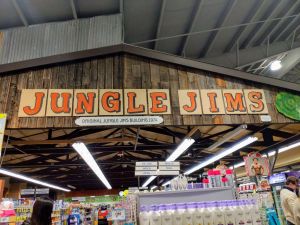 We also visited Eden Park since it was right beside our Airbnb. We did more of a drive-through but there is a great overlook of the Ohio River with lots of scenic running and walking trails. The Krohn Conservatory is also located here and if we would have had more time it would have been on our itinerary. Next time!
The Mushroom House is a cute little drive-by spot if you are in the Hyde Park area. It's the most unique and colorful home, it looks like a mushroom and someone actually resides here! This means you can't go in but you can drive by or stop for a look of the outside. This fairy-tale looking home is a Cincinnati landmark.
The World Peace Bell also made its mark on our itinerary. Just over on the Kentucky side in Newport, the world's oldest swinging bell can be found. Attached to the swinging bell is a museum as well. The museum was closed when we visited but our main sight was set on the bell, it was a great photo opportunity (and free site to see)! The bell rings every day at noon and you can take a guided tour for $1 during the weekdays.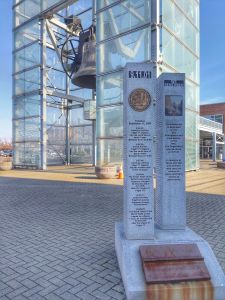 Check out the YouTube video here:
---
Pin It!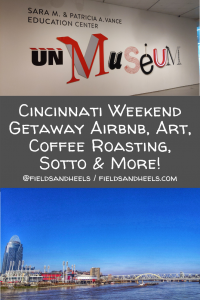 ---
Other posts you might enjoy:
The World's Largest Aviation Museum in Dayton, Ohio