Carmel Christkindlmarkt
Updated 11/6/2022
The Carmel Christkindlmarkt, a traditional European holiday market, is happening just north of Indianapolis. According to the website, Chriskindlmarkt is German for the "Christ child market" or Christmas market. It's a tradition you'll want to add to your holiday bucket list.
The Carmel Chistkindlemarkt has brought in over half a million people since it opened in 2017. And it's one of the best German Christmas markets in the nation. They were voted the 'Best Holiday Market' by the USA TODAY 10 Best Readers' Choice travel award contest for 2022, 2021, and 2019, and the 'Top Christmas market in the state of Indiana' by Taste of Home Magazine in 2017.
Disclaimer: Blog posts may contain affiliate links and/or ads. If you click on these links, I may earn a small commission. This helps keep the blog running and supports my family – at no cost to you. If you have any questions, please read my disclaimer and privacy policy. Thank you!
The market is filled with vendors of all kinds, from food to handicrafts and decorations. While I'm typically food-focused, I love browsing all the hand-painted German ornaments and art; the talent put into these little treasures is amazing!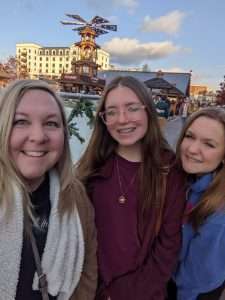 Whether having a date night or taking the whole family, the Carmel Christkindlmarkt is romantic and family-fun. While filled with kid's activities, ice skating, and a Kid's Club, it also makes a great evening under the lights, ice skating, and drinking hot cider with my husband. Or, in my case, attempting to ice skate and not burn myself by spilling hot beverages.
Know before you go:
All details can be found on their website here.
Location: 10 Center Green – Carmel, IN (Between The Palladium and The Tarkington Theater)
The hours are (November 19th  – December 30th), Monday-Wednesday: CLOSED. Thursday: 4-9 pm. Friday-Sunday: 11 am -9 pm.
They will be closed on Thanksgiving and Christmas Day. Check the website for special hours of operation.
Parking is free in Carmel, and there are two parking garages nearby (Booth Tarkington Garage and Veterans Way Garage). Expect full parking lots and street parking on the weekends.
Admission is FREE!
No pets are allowed at the market.
Complimentary transport wheelchairs for guests who find themselves in need of mobility assistance. A limited number of wheelchairs are available on a first-come, first-serve basis.
Christkindlmarkt Food Vendors

 
There are a ton of food vendors at Christkindlmarkt! Want a crepe? Bavarian pretzel? Some delicious beverages? Schnitzel and sauerkraut (yum!)? All here.
My favorites for 2021 included the Raclette Chalet Traditional Swiss-German raclette sandwich, Rose & Lois' Nutella latte, the Farmhouse Flammkuchen Napoleon flatbreads, and Silkelicious' Eggnog Hot Chocolate.
New foods for 2022:
Baumstriezel, or chimney cakes: A pastry roasted to a golden crisp and dressed in sugar, cinnamon, or nuts
Lángos, also known as Hungarian fried bread: Is a common street food featuring deep-fried dough adorned with savory or sweet toppings, such as garlic butter, cheese, cinnamon sugar, or Nutella
Käsespätzle: A dish featuring egg noodles and melted cheese, often garnished with crispy fried onions
Tartiflette: A potato casserole-like dish cooked in a paella pan and topped with meats and cheese
Soups will also be offered this year, such as potato, lentil, and others.
Also featured are the Carmel Christkindlemarkt holiday mugs! Each year there is a new mug design; grab a mug while you are there. You can purchase a hot alcoholic or non-alcoholic drink at the Gluhwein Pyramid or throughout the market to enjoy in the mug.
2022 activities include:
Photo Opt with Midwest Alphorn Retreat players and their alphorns at the Glühwein Pyramid
Woodworking demonstrations
Live music
Visit Santa for a chat and family photos on Sundays from 1 – 7 pm.
Enjoy a free Holiday Trolley ride with stops at the Christkindlmarkt, City Center, Indiana Design Center, Agave & Bub's Burgers.
The Ice at Center Green
It wouldn't be a Christmas market without ice skating! If you are like me, this might seem like a challenge, but have no fear – The Ice at Center Green is for all ages and skill levels! The rink at the center of Christkindlemarkt will open through February 26, 2023.
If you don't have skates, skate rental is $4 each. Admission to the rink is $10 for adults and children ages 11 and up or $8 for children under ten for one 90-minute session on Friday-Sunday and two 90-minute sessions on Wednesdays and Thursdays. Check out the seasonal calendar here for daily hours of operation.
Arts and Handicrafts
Over 20 vendors here will sell artwork, crafts, ornaments, and other handcrafted items and gifts. A specific Carmel Christkindlmarkt ornament is available for purchase; a new one is available each year!
Kinder Kid's Club
The Kinderecke is a club for kids and families offering crafts, coloring, and activities. Stop by any market huts that display the "Passport Kinder Club" and pick up a Passport. Collect five stamps from different participating huts around the market and turn your Passport in to Guest Services for a prize! Check out the market schedule for special appearances by Christkind, Sankt Nikolaus, Grimm's fairy tale princesses, Santa, Mr. Daniel, and Stevens Puppets.
Other holiday activities:
---
Pin It For Later!
---
Other posts you might like: