It's a Merry Prairie Holiday in Fishers, Indiana! Conner Prairie has pulled out all holiday fun and cheer with their first annual Merry Prairie Holiday. And it's got quite the catchy phrase, don't you think? It sure did catch our attention! So we hopped in our car and drove to Conner Prairie to join theCityMoms for a night of sparkling lights and Christmas joy.
Blog posts contain affiliate links. When you click on these links I earn a small commission that helps keep this blog running and support my family. If you have any questions, feel free to read my disclaimer and privacy policy. Thank you!
We had a blast, spending an entire evening at Merry Prairie Holiday, with activities, rides, lights, and performances for all ages: little ones and big kids alike (even us big kids adults). We started our evening off with a family photo under one of their many Instagramable displays that can be found throughout Merry Prairie. (The photo below was taken in the Conner Prairie lobby)
While there is no specific way to navigate through Merry Prairie Holiday, we decided to go clockwise starting with the Winter Wonderland Ride and ending with the Reynolds Christmas Lights. Whichever way you choose to explore, you'll have fun!
WINTER WONDERLAND RIDE
Next, we set off for the Winter Wonderland Wagon Ride, which took us through the Civil War Journey and under the covered bridge. If you've ever been to the Headless Horseman at Conner Prairie, it's a similar ride except with Christmas lights and music rather than the Headless Horseman. We only waited about 15 minutes for this ride, once onboard the ride was about 10 minutes long with an easy on and off from the wagon.
---
You can check out our visit to Conner Prairie's Headless Horseman here!
---
HOLIDAYS PAST
We then headed to Holidays Past, the entrance for this is connected to the exit of the wagon ride (check out the Merry Prairie map for details). Visiting Prairietown is always one of my favorite places to go at Conner Prairie, it was no different for our visit to the Holidays Past exhibit (located in Prairietown).
We talked with Union Soldiers who were celebrating Christmas away from home and around a campfire, one of the kids helped a soldier hang a homemade ornament on their tree. The Curtis family was preparing for Christmas and Dr. Campbell was having a Soiree! Carolers were caroling and the Charles Dickens, A Christmas Carol was being read aloud. It's a magical time to visit Conner Prairie by Candlelight!
NORTH POLE VILLAGE
Around the corner from Holidays Past was the North Pole Village, a fun place for both kids and adults (but the kids may like it just a bit more!). The Reindeer Games Midway has games like the Gingerbread Chimney Toss, Northpole Mini Golf, and Flying Flurries. You can also take a plunge down the Polar Bear Plunge, a 150-foot tubing slide (please note that you must be at least 42″ tall in order to slide).
Also in the North Pole Village is Mrs. Claus's cabin, where you can deliver a letter to Santa and meet Mrs. Claus. The North Pole workshop is right next door, where the kids can make crafts or gifts to take home. There is a small fee of $5 for kids to make and take a craft, however, there are also free craft stations set up for kids to draw and make snowflakes. It's a great place to rest and warm up before heading out to the next stop – Reynold's Christmas Lights!
REYNOLD'S CHRISTMAS LIGHTS
Before hearing about Merry Prairie Holiday, I was unaware that Reynolds Farm Equipment had donated their Christmas lights to Conner Praire. Hearing this was all the more reason I was excited to get over to Conner Prairie and check them out! And let me tell you, it's even more awesome to see in person! Instead of driving through, you will be walking through all those magnificent Christmas displays so many locals have made a tradition of seeing every year. Don't forget to stop by Kringle's Carousel for a ride (it's nestled in the Reynolds lights)!
BLITZEN'S BANDWAGON & TREATS
The Bayt Pavilion has been converted to Blitzen's Bandwagon, a warm place to sit by the fireplace or listen to live music. A vending area, bathrooms, and picnic tables are available for snacking and resting. The Merry Marketplace is set up to sell holiday treats and eats from local food trucks and artisans.
TIPS FOR VISITING
I suggest visiting the Winterwonderland Wagon Ride first, there is usually a line for this and if you are arriving as soon as Merry Prairie Holiday opens (6 pm) then there will less of a chance for waiting.
Dress warm! Although the weather in Indiana varies day-to-day, you'll definitely want to make sure you don't forget those hats, gloves, and extra layers. Also wearing boots is suggested because you are outside and some of the paths were a bit muddy.
You can purchase 3-D glasses for $3 each at the stand inside the store before heading out. They aren't necessary to see the lights, but if you are interested in these this is a heads up for parents of begging children (you are welcome, ha!)
There is a warming station and a fire pit/seating area in the Holidays Past area for a break. A food truck is situated right beside it as well.
The live music at Blitzen's Bandstand appeared to be finished by 9 pm the night we visited, so make sure to head that way earlier in the night if you'd like to get this in!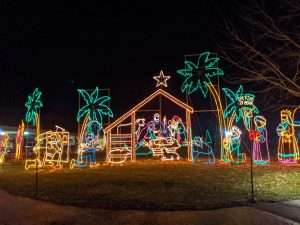 HOURS AND INFORMATION:
Open Fridays, Saturdays, and Sundays from 6-10 pm through December 29th. And on New Year's Eve, December 31, with a special firework display at 9:30 p.m Advanced tickets are $8/member and $16/guests. Tickets at the door are $10/member and $20/guests.
---
Pin It!
---
Other posts you might enjoy: