A Merry Prairie Holiday at Conner Prairie
Updated 11/2022
It's A Merry Prairie Holiday in Fishers, Indiana! Conner Prairie pulls out all the fun for its annual A Merry Prairie Holiday. And it's got quite the catchy phrase. It sure did catch our attention! So we hopped in our car and drove to Conner Prairie for a night of sparkling lights and Christmas joy.
Disclaimer: Blog posts may contain affiliate links and/or ads. If you click on these links, I may earn a small commission. This helps keep the blog running and supports my family – at no cost to you. If you have any questions, please read my disclaimer and privacy policy. A special thanks to Conner Prairie for inviting us to A Merry Prairie Holiday. All opinions in this article are my own. Thank you!
We had a blast, spending an entire evening at A Merry Prairie Holiday, with activities, rides, lights, and performances for all ages: little ones and big kids alike (even us big kids and adults). We started our evening with a family photo under one of their many Instagramable displays throughout Merry Prairie. (The photo below was taken in the Conner Prairie lobby)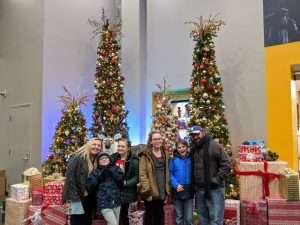 While there is no specific way to navigate through A Merry Prairie Holiday, either direction you go will loop around Conner Prairie. A tram is available on the north and south sides to provide rides for guests. We ventured on foot and then took the tram back to the front entrance. Whichever way you choose to explore, you'll have fun!
Winter Wonderland Stroll
Next, we set off for the Winter Wonderland Stoll, which took us through the Civil War Journey and under the covered bridge. If you've ever been to the Headless Horseman at Conner Prairie, it's a similar path except with Christmas lights and music rather than the Headless Horseman. There are Christmas lights and displays along the way, through the bridge, and it ends with a ride on the Kringle Carousel.
New for 2022: a new set of holiday lights from 1836 Prairietown to 1863 Civil War Journey.
Historic Holidays in Prairietown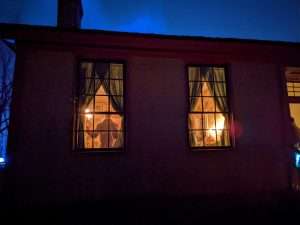 We then headed to Historic Holidays in the 1800s Prairietown. Visiting Prairietown is always one of my favorite places at Conner Prairie, just as it is for visiting during A Merry Prairie Holiday!
It's a magical time, as residents of Prairietown are sharing their Christmas Eve traditions. We talked with Union Soldiers who were celebrating Christmas away from home and around a campfire; one of the kids helped a soldier hang a homemade ornament on their tree. Carolers were caroling, and Charles Dickens, A Christmas Carol was being read aloud.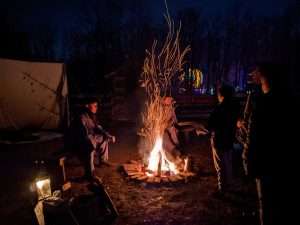 North Pole Village
Around the corner from Historic Holidays was the North Pole Village. Santa, Mrs. Claus, and their elves were waiting to take selfies in the village. And Trinket Puddingmoon, the official naughty or nice list keeper, was keeping an eye on everyone!
Across from the North Pole Village, Blitzen's Bandwagon was set up in the Stop by Café on the Common. Warm drinks for both kids and adults were available. As well as snacks and treats. Local performers take turns on the bandwagon stage, entertaining guests in the evenings.
Reynold's Christmas Lights & the Polar Bear Plunge
If you grew up in the central Indiana area, you might be familiar with Reynold's Christmas Lights. They used to have a huge, popular light display at their farm equipment location in Indianapolis before they donated their Christmas lights to Conner Praire. Instead of driving, you will be walking through all those magnificent Christmas displays, so many locals have made a tradition of seeing every year. It's amazing to see it in person! Get your camera ready to snap a few photos.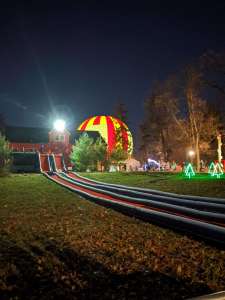 Also among the Reynold's Christmas Lights is the Polar Bear Plunge. The plunge is a 150-foot snowless tubing hill. Participants walk to the bottom of a hill, grab a tube, and choose from two slides (the long or short slide). Our kids thought this was the best part of A Merry Prairie Holiday!
New for 2022: a light tunnel to help guide guests to Tubing Hill and new photo opportunities!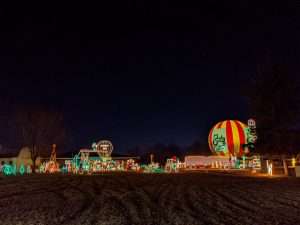 The William Conner House
A 3D projector on the William Conner House plays "'Twas the Night Before Christmas," bringing it alive inside and out. Benches are set outside the home for seating, and a 3-minute clip plays every few minutes, taking you back to the story 198 years ago.
Tips for visiting:
Dress warm! Although Indiana's weather varies daily, you'll want to ensure you don't forget those hats, gloves, and extra layers. Also, wearing boots is suggested because you are outside and some paths might be muddy.
There are warming stations and fire pits throughout Conner Prairie, especially in the Historic Holidays area.
Hot drinks are available near the Kringle Carousel, Reynold's Christmas Lights, and Blitzen's Bandstand. Restrooms are available near these areas as well.
The live music at Blitzen's Bandstand appeared to be finished by 9 pm the night we visited, so make sure to head earlier if you'd like to get this in!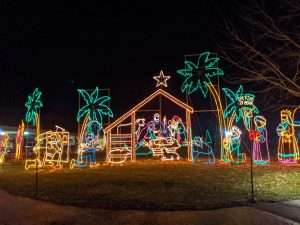 Hours and information:
Open 5:30 – 9:30 pm on Friday through Sunday, November 25–December 18, and Wednesday & Thursday, December 21 & 22.
American Sign Language Tours of A Merry Prairie Holiday are available on December 2 and 17 for those deaf or hear of hearing. An ASL interpreter will guide each tour.
Tickets are $11 for members and $22 for non-members. Access Pass members can purchase tickets for $2 each.
Other Indianapolis holiday traditions:
Pin It for later!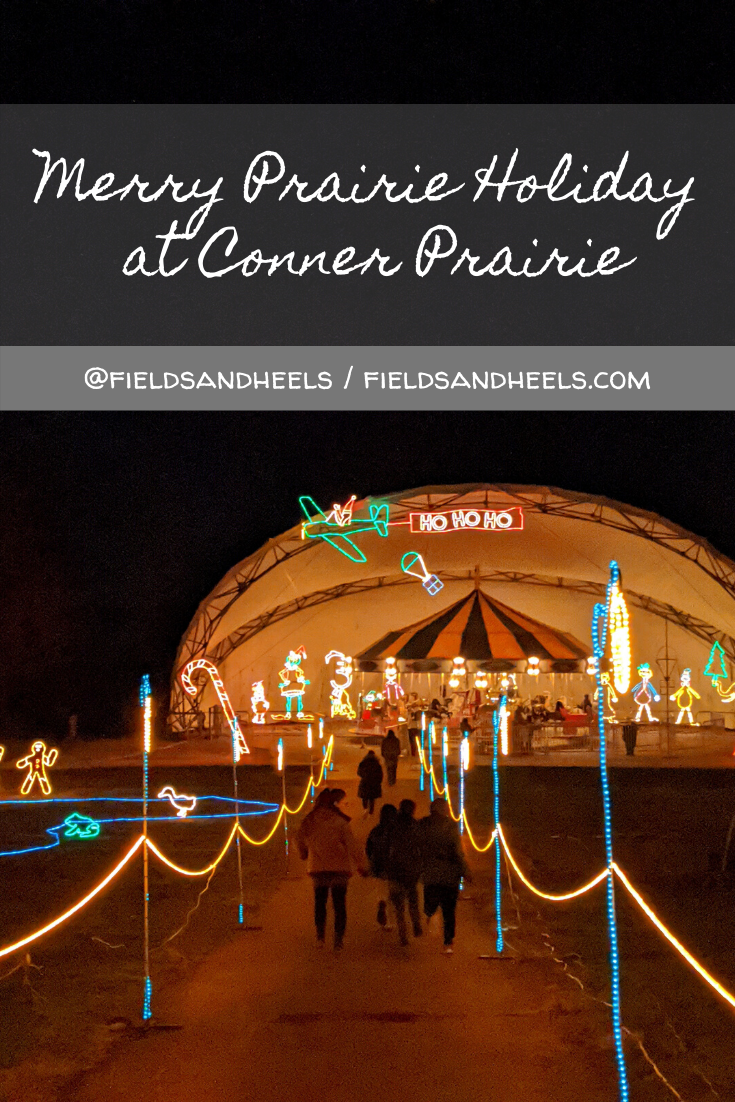 Other posts you might enjoy: