10 Free Places to Play in Richmond
Updated 01/02/2023
Discovering all the places to PLAY in Richmond is the last article to my 3-part Richmond, Indiana/Wayne County series! It sure is a fun one, and best of all, all of these activities are free. I couldn't believe how much there is to do, without cost, in Richmond! This is a bonus for a larger family, of six, like mine. Free activities allow us to explore as a family and still be able to support small businesses with eating out and other activities.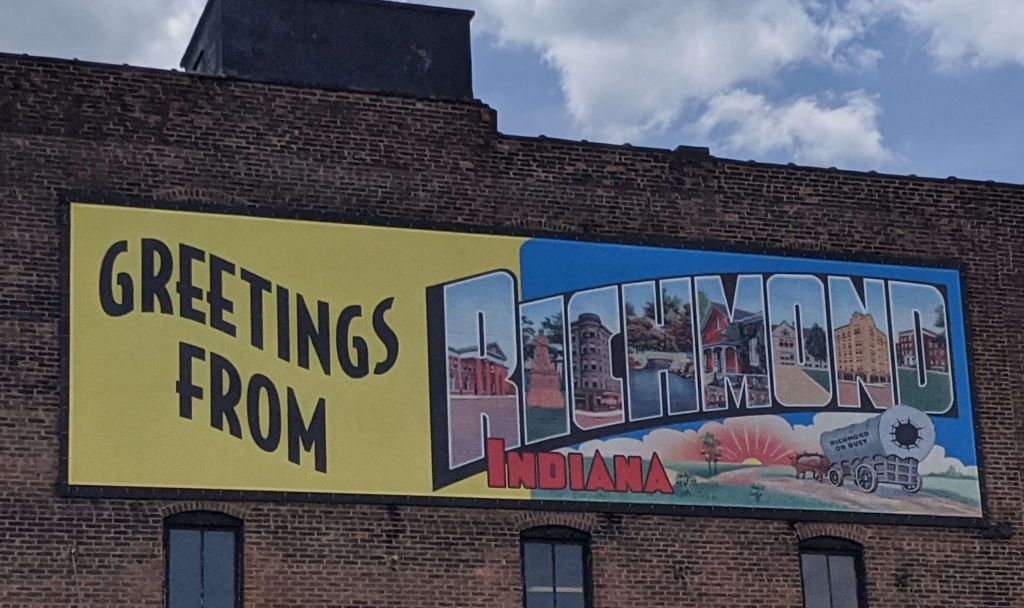 You'll find many "trails" in Wayne County – one includes free chocolate! Yes, you heard that correctly. The painted pianos, antique, and mural trails are fun activities that provide socially-distanced and safe ways to explore for the entire family. Additionally, Richmond is right along the Historic National Road (and featured in Midwest Road Trip Adventures!).
Plan an entire weekend in Wayne County! Check out these articles:
Disclaimer: Blog posts may contain affiliate links and/or ads. When you click on these links I may earn a small commission that helps keep this blog running and support my family. If you have any questions, please read my disclaimer and privacy policy. Thank you!
 There are twelve stops along the Wayne County Chocolate Trail. Participating businesses offer Chocolate Trail visitors a free Chocolate-inspired sample. These samples include candies, candles, tea, ice cream, milk, doughnuts, and wine. And the ultimate chocolate experience! This is a delicious outing for anyone! The trail covers six different Wayne County towns, and one passport is available per person. Passports can be picked up at the Richmond-Wayne County Visitors Center (the vestibule is open 24/7).
 There are over eighty murals in Wayne county – lots to see. Some of my favorites include the "Abraham Lincoln Funeral Train" mural in Cambridge City, the "Freedom is Found" mural in Fountain City, and the Model T and "Hoagy Carmichael" murals in Richmond. Several murals have been created by Hoosier muralist Pamela Bills, who grew up in Cambridge City and graduated from Indiana University East in Richmond.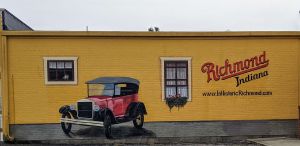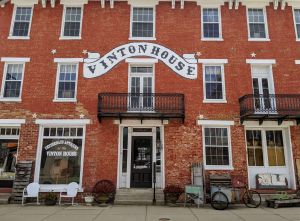 The Wayne County Antique Alley Trails are HUGE and were named in the Top 10 "Choice Antiquing Destinations" by Midwest Living. With over 1,200 antique dealers, it's an antiquer's paradise. The Antique Alley Trails will take you all year along the Old National Highway and through Cambridge City (the antique alley hub) to malls, dealers, and shops. I've picked up quite a few deals along these trails, including porch decor and vintage goods.
 In collaboration with the Starr Piano Company Festival, six Wayne County artists were invited to compete in a painted piano contest. As a result, six painted pianos (that are used now used as public benches and displays) were created and placed throughout Wayne County. You can use your cell phone to scan the QC code on each piano to find out more information!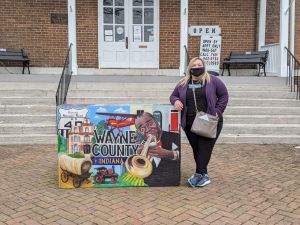 The Wayne County Veterans Memorial Park is a beautiful, well-kept park off the Whitewater Gorge walking/biking trail. The park honors veterans of Wayne County. It started with a Vietnam memorial monument and now features memorials for every major war in which Wayne County veterans have served. Commemorative bricks honor veterans and those who worked in the park, a Huey helicopter can be seen from afar, and two World War II tanks, an M60 tank, and two naval guns are placed near the entrance.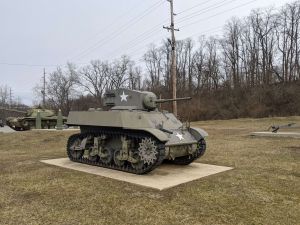 Every January, Richmond comes alive with ice sculptures and winter activities. For one weekend, downtown Richmond and the historic Depot District are filled with dozens of ice sculptures and several days of winter fun. Activities include drive-in movies, a scavenger hunt, coloring contests, and more. Check out the schedule here for a list of events during the Meltdown, such as:
Outdoor drive-in movies
Snowflake scavenger hunt
Fire performances
Chili competition
Winter hikes and hot chocolate
 Did you know there is a waterfall in Wayne County? Thistlethwaite Falls is a man-made waterfall off of the Whitewater Gorge Park trail. You can read all about it in my blog post here: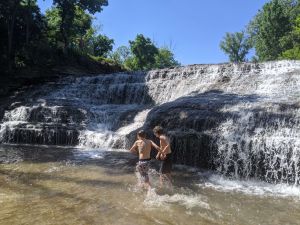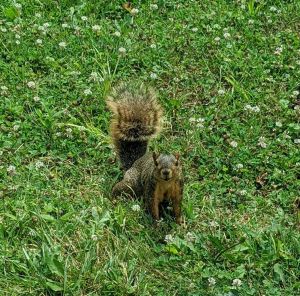 Hayes Arboretum contains 466 acres of woods, trails, wetlands, and even an Indian Mound. It's great for families, joggers, mountain bikers, and anyone who loves nature. There is a Nature Center that once used to be an 1833 dairy barn and a museum. There are 16 miles of trails, and if you don't want to hike alone there is a and even a hiking club you can join.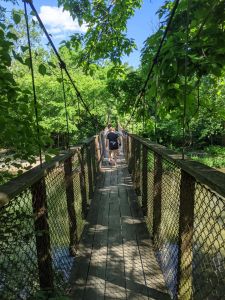 If you are into the unusual, local tales of the 185-foot Whitewater River Swinging Pedestrian Bridge might entice you. The bridge itself is not scary to cross, it's not too high above the Whitewater River, and even a wimp like myself was able to cross it. However, there are some stories of paranormal activity, like deaths under the bridge and eerie sightings, if you are into that kind of thing. I'm all about the view it offers of the Weir Dam, the fun of crossing it, and the Veteran's Memorial Park on the other side.
 Although the Richmond Rose Garden is open 365 days of the year from 6 am to 11 pm, it is best to visit during the spring and summer (to see the roses in full bloom). The garden was started in 1987 and offers visitors a beautiful view of over 100 varieties of American blooms. It's certainly a tranquil and peaceful garden to visit, with gazebos, benches, and places to relax, surrounded by gorgeous flowers.
Nearby things to do:
Check out our YouTube video! 
Pin It!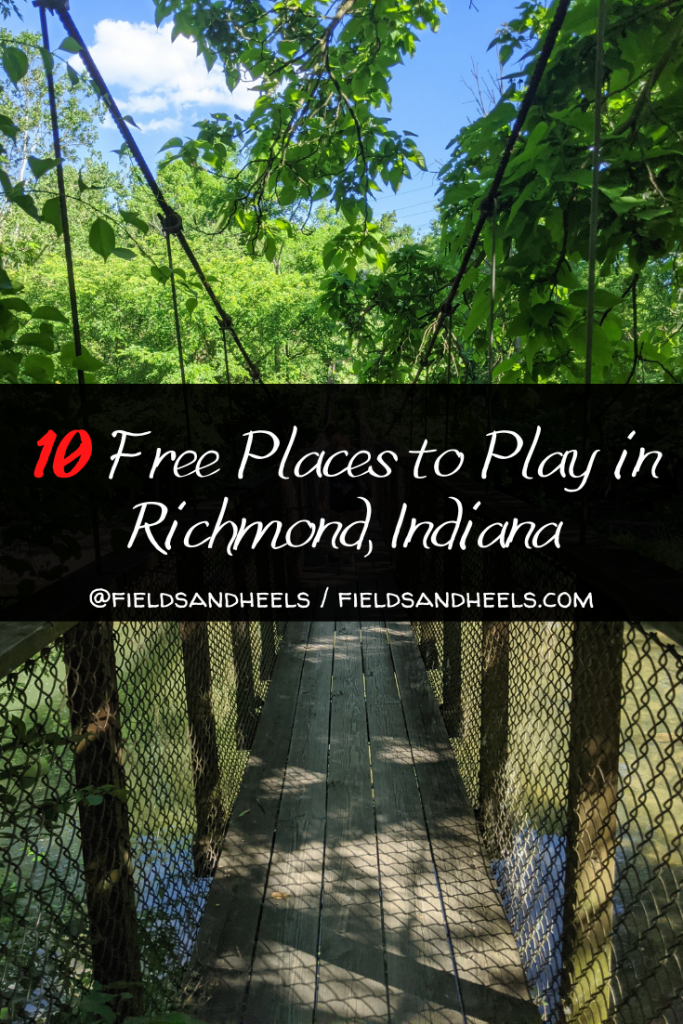 Other articles you may enjoy:
Natural Springs Resort – An Ohio Camping Destination