Where to Eat in Richmond, Indiana
I've compiled a 3-article series on places to EXPLORE, EAT, and PLAY in Richmond and surrounding Wayne County towns. This is part two of my Richmond, Indiana, and Wayne County series and we are talking about where to eat! If you read my Places to Explore in Richmond, Indiana you'll know that Richmond has several great museums, along with the Gennett Records Walk of Fame and the Wayne County Veterans Memorial Park. They also have some delicious eats and treats!
During my weekend in Richmond, my belly was kept full of good food. There is an ample amount of local restaurant favorites in Wayne County, including some historic dining options and desserts. Additionally, Richmond is right along the Historic National Road (and featured in Midwest Road Trip Adventures!).
---
Plan an entire weekend in Wayne County! Check out these articles:
---
My trip was hosted by Visit Richmond Wayne Co. Visitors Bureau, but as always, my opinions are my own.
Disclaimer: Blog posts may contain affiliate links and/or ads. When you click on these links I may earn a small commission that helps keep this blog running and support my family. If you have any questions, feel free to read my disclaimer and privacy policy. Thank you
COVID disclaimer: When traveling and visiting businesses, please check state and business guidelines and hours before arriving. As always, be safe for yourself and others!
---
Dining in Richmond
Tin Lizzie Cafe
"a quirky little restaurant with a lot of class!" – The Tin Lizzie Cafe, Richmond
A visit to The Tin Lizzie Cafe for breakfast or lunch will lead you to comfort foods, murals, and Richmond history. The cafe's name originates from the Model T (nicknamed "Tin Lizzie") and was opened soon after owners, Ron and Rachel, became owners of a 1924 Model T Roadster. The building was originally a boot shop in the mid-1800s and is one of the oldest remaining buildings in Richmond!  And the Tin Lizzie Tea Shop next door was originally a silent movie theatre. Remodeling the building has been a "labor of love" – the ornate ceiling tiles being painted by Ron himself.
Inside you'll find murals of Humphrey Bogart and Marilyn Monroe, and pieces of Wayne County history decorating the walls of the cafe. Before grabbing a seat, order your food at the deli counter and it will be delivered to your table. Their breakfast menu features favorites like Bagel Sandwiches and Breakfast Burritos. For lunch, we highly recommend the Reuben – it's honestly the best we've had in Indiana. I also suggest the Catalina wrap, it's loaded with chicken salad, bacon, and cheese (all great ingredients!).
---
Legends Southside Tavern
Wanna go where everyone knows your name (in Richmond, at least)? That would at Legends Southside Tavern, the oldest tavern in Wayne County! It reminds me of the sitcom, Cheers. Even as first-time visitors we were greeted by friendly regulars at the bar.
Legends opened in 1858; it's the oldest continually operating bar in the state. It welcomes guests aged 21+ to a large menu of burgers, pizza, and tavern fare. Hot menu items include their Legends Burger and Pengiun Tenderloin. Personally, I recommend the Parmesan Fries with any item – perfectly crispy fries topped with a parmesan garlic rub and served with a side of ranch. You won't go wrong with any of the burgers and even their hot dog is worth bragging about (it's deep-fried and comes with unlimited toppings!).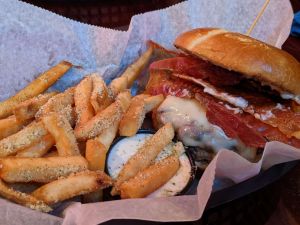 ---
Firehouse BBQ & Blues
You'll find the best BBQ in Wayne County at Firehouse BBQ & Blues, located in Richmond's Historic Depot District. It's a story that started with two firefighters who purchased the very first firehouse in Richmond (built in the 1880s). Over the course of two years, they renovated the old firehouse into the Firehouse BBQ & Blues restaurant. Inside you'll find most of the original structure intact, a firehouse pole, wood flooring, and an exposed brick interior. Firehouse memorabilia and murals line the walls, as well a historical blues items and photos. The dining room used to be the same room that served as a stable for the horses that pulled in the fire "trucks" before modern-day trucks existed.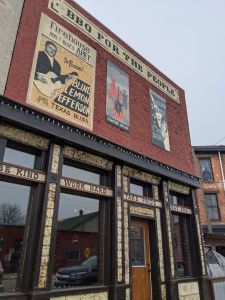 A stage offers for performers offer customers live blues music on the weekends. When the weather is warm, outdoor seating is available on "the back porch of the firehouse." Currently, they have igloos available for rent in the cooler weathered months.
Now, let's talk about the bbq – it's hickory smoked and perfectly tender. Who doesn't love a good barbeque? I highly recommend Tom's Mojo (named after the owner, Tom) and the BBQ Nachos. Tom's Mojo is like a grilled cheese filled with pulled pork AND mac 'n cheese and the nachos are piled high with pulled pork, beans, cheese, and bbq. Additionally, choose from one of their sweet, mild, or spicy barbeque sauces that are conveniently located on every table. You'll leave with a full belly!
---
Ullery's Homemade Ice Cream
Dessert is covered at Ullery's Homemade Ice Cream! Stop in for a treat, such as a sundae, shake, affogato, or scoop (or two) in a homemade waffle cone. You'll be served with a smile and friendly service! The Ullery's story is heart-warming and began in 1993 when Jim Ullery began selling his homemade ice cream at fairs and festivals. Today the Ullery children, grandchildren, and great-grandchildren operate four concession trailers and the Richmond store (opened in 2013).
Their store, located in Richmond's Historic Depot District, is open year-round and offers customers an authentic ice cream experience. Ice cream is served in glass dishes, just like you'd see at an old-fashion soda shop. I recommend an affogato, my personal favorite, with the sea salt caramel ice cream (heavenly!).
Note: due to covid, items may be served in disposable dishes, and indoor seating unavailable. Ullery's has a safe, outdoor, walk-up window for ordering.
---
A.J.'s Main Street Diner
For another great breakfast or lunch option, check out A.J.'s Main Street Diner. If you are in the mood for no-frills, good food, and fast service, this is the place for you.  A.J.'s is named after the owners,  Amanda and Josh, and is opened six days a week (Tuesday-Sunday).
For breakfast, I recommend the biscuits and gravy or an omelet. Maybe both! For lunch, diner options like tenderloins, burgers, grilled cheese, and egg salad sandwiches are available. Accompany them with onion rings, fries, coleslaw, or potato salad. Daily lunch specials and carry-out are available.
Stops such as Ullery's are mentioned in the Midwest Road Trip Adventures, along the Historic National Road road trip! You can purchase a copy of Midwest Road Trip Adventures here or on Amazon.
---
Check out other great Wayne County favorites like King's Cafe & Bakery, Lumpys, the No. 9 Grill, and Hilltop Drive-In here!
---
Pin It!
---
Other articles you might enjoy:
Places to Explore in Richmond, Indiana
8 Reasons You Should Visit Evansville, Indiana