150 Years of Lakeside Chautauqua: A Place to Chill and Recharge
I just spent my second year in Lakeside Chautauqua, Ohio, celebrating their 150th anniversary. I can't emphasize enough how much I love this charming community. It has won my heart quickly, and I was thrilled to spend a second season here. They told me that once I experienced Lakeside, I'd be back – and they were right!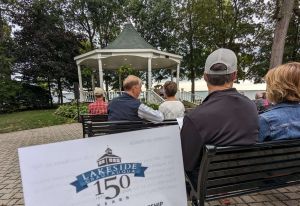 This year, I embarked on a solo trip, stayed at the Fountain Inn, enjoyed new foods, and embraced several of Lakeside's cultural experiences. It was just what my soul needed.
Disclaimer: Blog posts may contain affiliate links and ads. If you click on these links, I may earn a small commission. This helps keep the blog running and supports my family – at no cost to you. If you have any questions, please read my disclaimer and privacy policy. A special thanks to Lakeside Chautauqua for hosting my trip. All opinions in this article are my own.
About Lakeside Chautauqua
Lakeside Chautauqua (also called "Lakeside") is a beautiful and historic destination on the Lake Erie shore in northwest Ohio. It was one of the first Chautauquas and has been a popular destination for families and individuals ever since.
The word "Chautauqua" refers to a type of educational program that originated in the United States in the 19th century. It typically features lectures, concerts, and other cultural events. The Chautauqua movement began in the 1870s to provide education and culture to rural communities.
The grounds of Lakeside Chautauqua are stunning, with views of Lake Erie, gardens, and charming "Hallmark movie" streets. Many historic buildings are also on the grounds, including the auditorium, church, and historical museum. During my first visit, I described feeling like I was walking around the movie set of a Hallmark movie, and this year, I said I couldn't wait to get back to my "Hallmark community!" After all, I'm officially a "Lakesider" now.
Programs and Events
Lakeside offers a variety of programs and events throughout the year. In the summer, there are concerts, plays, and other performances. And several educational programs, lectures, workshops, and art classes. 
On my first evening at Lakeside, I attended the Lakeside Symphony Orchestra, accompanied by Verb, the Ohio Contemporary Ballet. Soprano Megan DeWald also performed, and it was magnificent. I felt like a real adult, enjoying an orchestra, opera, and ballet all in one evening under the roof of the Hoover Auditorium. I was enthralled. 
The second evening, I was delighted to see Sons of Serendip in concert at the Hoover Auditorium. As Billboard artists and America's Got Talent Champions, seeing them in person was impressive and enjoyable. I had seats in the front! 
Events and programs at Lakeside are included in the cost of a Chautauqua Pass to enter the community between Memorial Day and Labor Day (admission is free before and after those dates). See my Escape to the Charming Lakeside Chautauqua blog post for more information about passes.
Activities and Recreation
The Lakeside 700-foot dock stretching out to Lake Erie is a popular spot for swimming, sunbathing, and fishing. Boating, kayaking, paddle boarding, fishing, and sailing are enjoyed along the shore. Children and families enjoy a splash pad and kiddie pool on the beach throughout the summer.
The Grindley Aquatic & Wellness Campus is open from Memorial Day weekend to Labor Day. Certified instructors offer summer free swim lessons to children 12 and under. The Wellness Center includes a Fitness Room with cardio equipment and weights and fitness classes like Yoga, Pilates, and Zumba.
A 10-court outdoor tennis and pickleball faculty is host to world-class professionals. The William Tennis Campus, Hubbard Pickleball Center, and Perry Park are open to the community. Hotel guests can borrow pickleball equipment at the Fountain Inn front desk – it's a wildly popular sport these days!
26-court outdoor Shuffleboard Courts is surrounded by recreation such as basketball courts, bocce ball, volleyball, and mini-golf. 
Religion and Ministry
Lakeside is built on four pillars: religion, education, cultural arts, and recreation. I love going to the summer Sunday Lakeside services for the lakefront morning worship or the Sunset Worship service. There is something beautiful about worship in nature, in front of the beautiful Lake Erie.
Summer season programs include Sunday Worship Services, Faith for Living Hour, Wednesday Family Picnics, Vespers by the Lake, children, youth, teen ministries, and a Preacher of the Week series.
Year-round local churches offer various services on the grounds of Lakeside. The Faith Walk Devotional is a free guide available to guests with inspiring stories and devotionals written about Lakeside spots and places to draw near to God. I picked mine up inside the hotel lobby.
Lakeside Restaurants and Eateries
On this visit, I spent time exploring more Lakeside food options. There were a few new restaurant establishments and options I had wanted to try. Lakeside Coffee & Cream was a regular visit of mine; I was a frequent guest here for my daily coffee and tea needs. I recommend trying their signature "Coffee & Cream" – it's an affogato! 
Lakeside Table & Tearoom is in Hotel Lakeside, and it's the perfect spot for a waterfront view! They serve breakfast, lunch, dinner, and afternoon teas. On Sundays, they serve a brunch. Fountain Inn and Hotel Lakeside guests eat continental breakfast here Monday through Saturday, in season. It is also open to non-hotel guests, and reservations are required for the afternoon teas.
One evening, I was looking for a lighter meal option and grabbed a protein smoothie from SmoothieSide. It was the perfect on-the-go supplement before my evening activities. After the concert, it also gave me room for the Dole Whip twist cone from Whistle Stop Ice Cream I'd been craving. You haven't officially become a Lakesider until you've grabbed ice cream after a performance at the Hoover Auditorium (all the ice cream shops stay open later those summer performance nights).
The Patio Restaurant is a Lakeside classic known for its famous homemade, fresh donuts, Toft's ice cream, and fried chicken. The donuts are amazing and made fresh daily in the summer. The Patio only accepts cash, so be sure to bring some or use their ATM.
For lunch, the Bluebird is a great option. They are a sandwich shop and make a mean panini. They also sell salads, smoothies, and frozen yogurt by the lake!
Check out my Charming Lakeside Chautauqua blog for additional restaurant details. 
The Fountain Inn
Last year, I had the privilege of staying at Hotel Lakeside; this year, I stayed at the Fountain Inn, in room 203. I loved the inn's proximity to the Hoover Auditorium (located directly caddy-corner to each other) since I was going to multiple performances. It is a cozy stay that reminded me of a lake cottage. It's no-frills (and carries its age and part in Lakeside's history), but it is a clean, comfortable stay and a great deal for a summer lake weekend. 
I had a queen room on the second floor, accessible by elevator or stairs. My check-in was seamless, and the staff was always friendly. I was given vouchers for my complimentary continental breakfast at the Lakeside Table & Tearoom and a Wi-Fi passcode. Fresh ice water was available daily in the lobby – a perk I appreciated. 
I didn't use a vehicle during my entire 3-day visit; driving was unnecessary between Lakeside's free shuttle service and walking. One of the shuttle stops is located directly in front of the hotel.
If you are looking for a beautiful and historic destination, Lakeside Chautauqua is the perfect place. It's lovely for a weekend getaway or a more extended vacation. I took a solo siesta, but it is a family destination and is also recommended for couples.
For a list of additional activities and tips for visiting, see the Escape to the Charming Lakeside blog post.
Nearby things to do:
Pin it for later!