Escape to the Charming Lakeside Chautauqua
"Welcome to Lakeside!" 
That's the warm greeting you can expect to hear often while visiting Lakeside Chautauqua in Northwest Ohio. The charming year-round destination is located along the Lake Erie shore and has been a family-friendly vacation spot for almost 150 years.  
My daughters and I had the opportunity to visit Lakeside over a weekend and it felt as though we had taken a step back in time. The grounds of Lakeside are beautiful, the people friendly, and the community is charming. We felt like we were walking around the movie set of a Hallmark film. Ironically, a few movies have been filmed at Lakeside (check out "Beyond the Lake" and "Christmas at Maxwell's").
Disclaimer: Blog posts may contain affiliate links and/or ads. If you click on these links I may earn a small commission. This helps keep the blog running and supports my family – at no cost to you. If you have any questions, feel free to read my disclaimer and privacy policy. A special thanks to Lakeside Chautauqua for hosting my trip. All opinions in this article are my own.
Talking to other visitors and locals was one of the highlights of our stay. The stories we heard, friendly faces, and constant "welcome to Lakeside" never grew old. We were told by multiple people, "once you've experienced Lakeside, you'll be back!" And they are correct, I want to visit again.
I spent one morning chatting and walking around Lakeside with a new friend, Judy. We met on the porch of Hotel Lakeside. She has been visiting Lakeside for decades and I enjoyed hearing her stories, pro tips, and being introduced to some of the historic buildings and other lodging options in town. This was just another delightful memory made during my visit. (Thank you Judy for blessing me with your time!)
Admission to Lakeside Chautauqua
Lakeside Chautauqua is a non-profit, secure, gated community that is open to the public. Guests and residents will need to purchase a Chautauqua Pass and auto pass during the summer months. After Labor Day, a Chautauqua Pass is not required to enter the community. It's highly recommended that you purchase your passes online for a smoother experience. 
Note: The number of Lakeside's shopping and dining options, and amenities is closed between Labor Day and Memorial Day (with the exception of events like the Lakeside-Marblehead Lighthouse Festival in October)
The Chautauqua Pass (daily) is valid until 7 p.m. the following day and gives you access to all of the amenities at Lakeside; including the Hoover Auditorium and the Grindley Aquatic & Wellness Campus Pool and Wellness Center. For visitors attending a church service, or events, or are visiting to shop and dine, complimentary and partial day passes are available.
Hotel Lakeside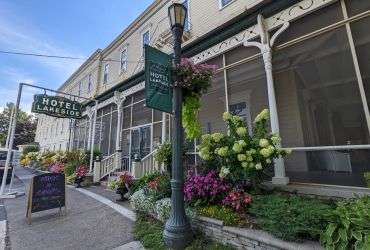 Guests get the truest sense of Lakeside when they stay at the historic Hotel Lakeside. The hotel was built in 1875 and, to this day, it's the oldest hotel I've ever stayed at. A written description of staying here will never replace an in-person experience, so you will need to trust me when I say this is genuinely a step back in time. Over the years, additions have been made; such as electricity, plumbing, elevator access, rewiring, a new kitchen, and air conditioning. However, there is no heating which is one of the reasons the hotel closes in the winter season.
There is a large front porch for sitting, rocking, and gathering. As you enter, you'll notice the lobby, registration desk area, and Dining Room. The original structure, woodwork, details, and antiques throughout the hotel offer a glimpse of life in the late 19th and early 20th centuries. The rooms are snug and cozy, furnished with donated antiques from local residents, a remembrance of yesteryear.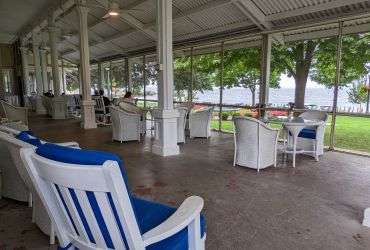 Hotel Lakeside is not the Hilton, it's a local historic hotel meant as a place to unwind, unplug, and rest. So prepare to sit back, leave your work at home, and enjoy lake life. There is WiFi, but no TVs, mini-fridges, or other modern amenities. Frank Sinatra was playing in the lobby, rockers swaying, books were being read, and families walking through Lakeside at 10 o'clock at night eating ice cream. This was exactly the kind of weekend I needed!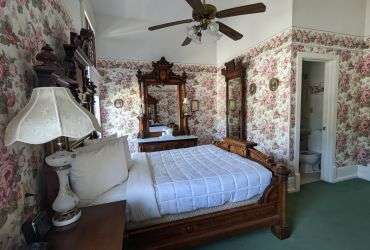 The Tales of Hotel Lakeside
We must have had at least five people ask us if we knew about the "haunted" stories of the hotel. The locals and regulars have a fun time telling the tales to the new visitors, and they are told often enough that the front desk has printouts of the tales for those who ask.
I'm not one for believing in ghosts, but I did have fun teasing my teenagers about Susan, the rumored hotel ghost on the second floor.
Dining options at Lakeside Chautauqua
The Hotel Lakeside Dining Room serves a hearty continental breakfast with waterfront views to hotel guests every day, except Sunday when a Brunch is available to the public. It serves lunch and dinner daily, front-porch service, and afternoon tea. 
We enjoyed daily iced lattes and ice cream from Coffee & Cream. They offer a full espresso bar and serve Velvet ice cream, smoothies, milkshakes, pastries, and light lunch items (available in deli case). Ooh La La! is another cafe serving up sweets like gelato, specialty drinks, pastries, and lunch items. And because Lakeside mimics a Hallmark movie, there are not one, or even two ice cream shops, but THREE! The Whistle Stop is an old-fashioned ice cream parlor serving hand-dipped Toft's ice cream and freshly made popcorn. A dream come true.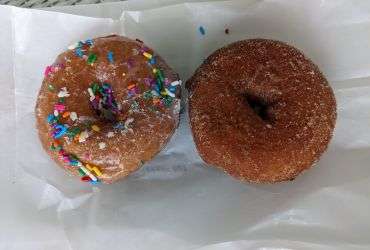 Picking up donuts at The Patio is a must when you are visiting Lakeside. Their donuts are made fresh daily with cake batter. I was told people line up to get these in the morning! The Patio is also known for its burgers, fried chicken, family meals, and desserts. They have a pretty extensive menu. And no destination is complete without a pizza parlor – that's where Sloppy's Sports Cafe comes in. Sloppy's has even won an award for their pizza! If you want something unique, try their Chicken & Waffle Fry, Korean Beef, or Crab Rangoon pizzas. 
We frequented the Slack House Historic Café regularly for their burgers, shakes, and fries. I recommend the Slack House Burger – the onion fig jam and garlic mayo are a "chef's kiss." The café is located in the same spot that where a building stood that was originally built by Lakeside's first physician. The slack house was named after it. It served as a doctor's office, boarding house, and cafeteria for residents. Today its history as a gathering place is preserved, as a portion of the Slack House's revenue goes into initiatives for the community. 
Things to do at Lakeside Chautauqua
The list is vast, there is something for every age and interest. I found it easy, and safe, to allow my teenagers to explore on their own while I spent extra time resting, reflecting, and doing things I enjoyed. Our favorite activities included swimming at the lake, using the Wellness Center, miniature golf, and enjoying the live music.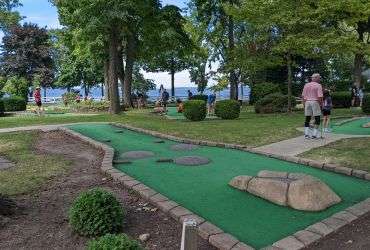 The four Chautauqua pillars are recreation, education, arts and entertainment, and religion. During the summer months, you will find something offered daily in all of these categories.
Here is a list of the activities available:
Family and youth programs

Orchestra Hall movie nights

Live concerts and performances at Hoover Auditorium, Orchestra Hall, the Steele Memorial Bandstand, and the waterfront Pavilion

Sunday Worship Services, Faith for Living Hour, Wednesday Family Picnics and Vespers by the Lake, as well as children, youth, and teen ministries

Annual events, exhibits, and special events

C. Kirk Rhein, Jr., Center For The Living Arts classes

Sailing, kayaking, swimming, paddle boarding, and fishing

Beach, dock swimming, splash pad, and kiddie pool

Grindley Aquatic & Wellness Campus Pool

Wooden boat rides and cruises

Shuffleboard, tennis, and pickleball

Basketball courts, sand volleyball court, gaga ball court, 

18-Hole Miniature golf course

Grills, picnic tables, and green space

Wellness center, equipment room, and yoga room

2-Mile nature/walking trail, guided tree/bird walks, and gardening walks/talks

Chautauqua Lecture Series, seminars, dialogues, and documentaries

The Chautauqua Literary & Scientific Circle, Gardening Programs, The Lakeside Heritage Society, Lakeside Environmental Stewardship Society, and Lakeside Women's Club
Tips for Visiting:
Parking is limited. If you are staying at the hotel, drop off your luggage and then park. Plan to stay parked during your stay and use the complimentary shuttle service, rent a golf cart, bike, or walk to where you need to go. Everything is within walking distance at Lakeside.

Handy things to bring: cash, bottled water, your own cooler, beach towels, sunscreen, sunglasses, and comfortable shoes for walking.

Unless you rent a place that allows pets or use the campground, you'll want to leave pets at home. The hotels do not allow pets.

Lakeside Chautauqua is a dry community, you won't find alcohol in restaurants or hotels.

In addition to Hotel Lakeside, other lodgings can be found at the Fountain Inn, Lakeside Campground, inns and suites, cottage rentals, and BnBs.
Lakeside is open from Memorial Day to Labor Day but there are still some activities in September and October, especially on the weekends. The annual Lakeside-Marblehead Lighthouse Festival is held in October, this event draws in visitors and reopens some of the dining and shopping.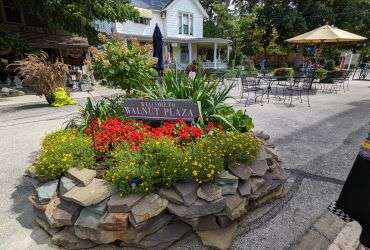 Nearby things to do:
An Ohio island & Lake Erie getaway in the Midwest!
Spend a Weekend in Fort Wayne, Indiana
9 Unique Places to Visit in Fort Wayne
Cedar Point's Halloweekends Tips
Pin It For Later!