Columbus, Indiana – the city of architecture and art!
Updated 07/20/2023
Columbus, Indiana, is a city full of architecture, arts, parks, and charm. It is located in Bartholomew County and neighbors surrounding cities such as Edinburgh, Nashville, and Seymour. You can easily spend a day or two in Columbus sightseeing and enjoying the nearby attractions. I fell in love with their downtown charm and the artwork displayed throughout the city, parks, and beautiful buildings.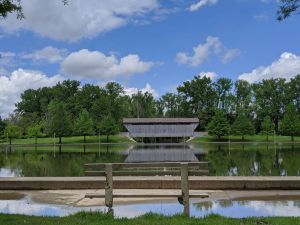 Although the population of Columbus is just under 10,000 residents, it is one of six ranked American Institute of Architects cities in the nation for architectural innovation and design – right alongside Chicago, San Franciso, Boston, Washington D.C. Whoa. Right here in Indiana! So obviously, I will talk about some sights you should see here.
Disclaimer: Blog posts contain affiliate links. When you click on these links, I earn a small commission that helps keep this blog running and support my family. If you have any questions, please read my disclaimer and privacy policy. Thank you!
Art in Columbus
With all the free public art in Columbus, it's possible to be the ultimate art enthusiast and tourist on a budget. Tuck that money away for a tour of the Miller House –  a famous mid-century modern home designed by Eero Saarinen, Alexander Girard, and Dan Kiley. The 90-minute Miller House tour can be arranged through the Columbus Visitor's Center for $25.00 per person.
Check out my Google Map for free public artwork and architecture locations throughout Columbus. You can also stop by the Columbus Visitors Center for a $3 printed map or online for several self-guided map options.
28 FREE Columbus public art displays:
411 – A gallery project of the Arts and Entertainment District. Hours: Thursday-Saturday, 12:00 – 4:00 pm, 411 6th Street
Ancestral Way ceramic sculptures – located on 3rd Street, between Jackson and Lindsey Streets
Bartholomew County Memorial for Veterans pillars – located at Courthouse Square, 234 Washington St
Celebration sculpture – located at Inside Foundation for Youth, 405 Hope Avenue
The Commons artwork (located inside and outside) – Chaos I (inside),  Bernar Venet's 2 Arcs de 212.5° (outside) — also known as the "Red C", and Art Cases (inside), 300 Washington Street (inside sculptures may be closed due to COVID-19)
Columbus Bike Racks – the colorful "C" located throughout the city
Columbus Learning Center artwork – Self Made Man bronze statue, Sun Garden Panels, and art gallery, 4555 Central Avenue
Columbus Visitors Center artwork – Persian glass plates, Yellow Neon Chandelier, and Gallery 506, 506 5th Street
Crack the Whip bronze sculpture – located at Brown and Second Bridge
Daquqi sculpture by Peter Lundberg – located in the Garton Plaza, 2nd Street
Eos sculpture – located in the median on 5th Street and Lindsey Street
Exploded Engine art display – located in the Cummins Museum at the Cummins Corporate Headquarters, 500 Jackson St (may be closed due to COVID-19)
Flamenco sculpture– located at the corner of Washington and 4th Street
Friendshipway Alley – a part of the Columbus Walkway Project, located at 416 Washington Street
Gallery at Indiana University J.Irwin Miller Architecture Project, Hours: Monday – Friday, 9 am – 5 pm 333 2nd Street
Gallery of Media, Art, & Design – Ivy Tech Community College of Indiana. Open whenever classes are in session, 4475 Central Avenue
Halcyon limestone sculpture – located outside of the Columbus Regional Hospital, 2400 17th Street
History and Mystery Mural – located in the City Council Chambers inside City Hall, 123 Washington Street
IUPUC artwork – Transformation structure and Discovery fountain sculpture – located on the campus, 4601 Central Ave
Jolie Crider Memorial limestone sculpture – located on the Columbus People Trail across from the hospital, near 18th Street
Large Arch sculpture – located outside of the Bartholomew County Public Library Plaza, 536 5th Street
Mill Race Park artwork – Structural Follies and Skopos sculpture (and covered bridge!), 50 Carl Miske Drive
Modern Totem – located in the Library Plaza, between the Visitors Center and library, 536 5th Street
North Christian Church – the church, the landscaping, and the artwork outside of the church, 850 Tipton Lane
Phi Gallery at Hotel Indigo – 400 Brown Street, Columbus
The Sermon on the Mount tapestry – located inside the First Christian Church, 531 5th St
When I Was Your Age display – located behind the Bartholomew County School Headquarters on Central Avenue, at 1526 13th Street
Yellowwood Coral – located in the Bartholomew County Recycling Center, 720 S Mapleton Street
Free Columbus Public Art Checklist 
Keep track of your art tour with this Columbus, Indiana, Free Public Art Bucket List. If you are taking children, letting them check off each stop is a great way to include them in your tour!
Click here for printable: Columbus Art Checklist printable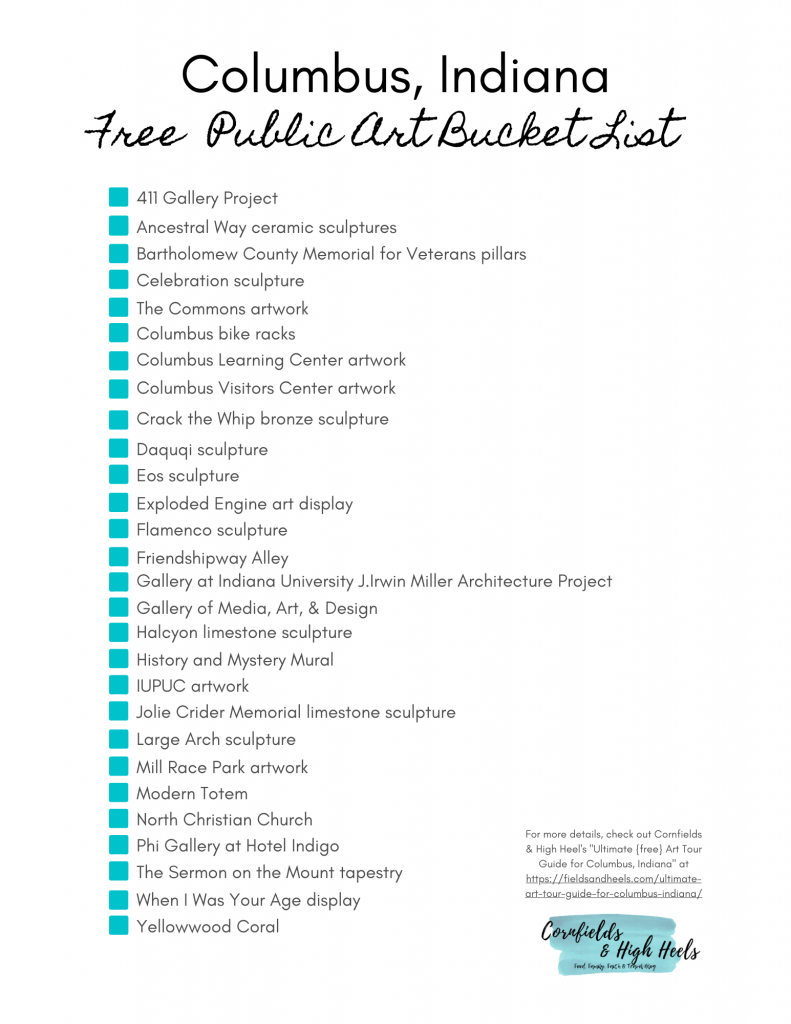 Overnight accommodations
Looking for a unique place to stay in Columbus? The Le Petite Maison bungalow is an open and airy artistic getaway. It is within walking distance of many public art displays and in the heart of the Downtown Columbus Arts District. It's perfect for two people and has a private entrance, a hip patio, a full glass garage door that opens, and a comfortable bed.
Hotel Indigo is also a fun boutique hotel located in the hub of downtown Columbus. It's an IHG brand hotel embracing the local uniqueness of the architectural neighborhood and its surroundings. They even have their gallery showcasing regional artists in the lobby and a Pet Ambassador, Miles, who greets you when you check-in.
Nearby things to do:
Pin it for later!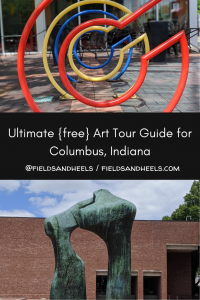 Other articles you may enjoy:
Visit Thistlethwaite Falls in Richmond, Indiana
Sleep in a Train Car in Downtown Indianapolis
Tour a famous basketball filming location right in the heart of Hoosier country!