Colts Training Camp
The Indianapolis Colts Training Camp is back for 2021! I'm doing a little happy dance because I had such a blast at the training camp in 2019, but with the happenings of 2020 (we can't mention it here because of, ahem, algorithms or something techy like that), it was canceled last year. It's time to celebrate, a new year of freedom and football! Whaddaya say?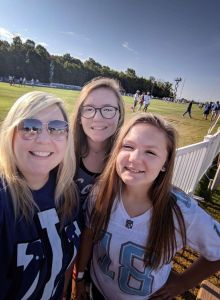 Disclaimer: Blog posts may contain affiliate links and/or ads. When you click on these links I may earn a small commission that helps keep this blog running and support my family. This is at no cost to you. If you have any questions, feel free to read my disclaimer and privacy policy. Thank you!
---
What is Colt's Training Camp?
Every year, the Indianapolis Colts spend a few weeks practicing for the season, and the public is invited to come and watch them. This is FREE to the community! It's family-friendly, affordable, and a fun way to see the Colts in action. The Colts players will kick off their first practice on Wednesday, July 28, 2021, at the Grand Park Sports Campus in Westfield, Indiana. Each day there will be a different theme (please see the schedule below for a list of the theme days).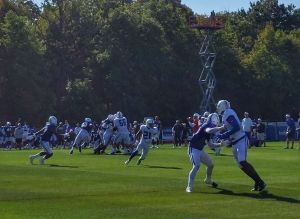 Tickets are FREE to Colts Training Camp, but you'll need to reserve them ahead of time online. There will be no capacity restrictions or COVID-19 screenings but social distancing and masks are encouraged (not required).
Indianapolis Colts Training Camp
July 28th – August 15th, 2021
Grand Park Sports Campus
Westfield, Indiana
Colts City
Colts City is an interactive, family-friendly area featuring activities, concessions, a pro shop, inflatables, photo opportunities, a new picnic area, a Mom Mobile (a clean, air-conditioned RV for moms to nurse or pump), and more!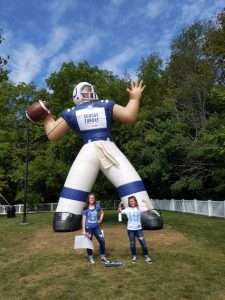 The activities in the Colts Play 60 Field include football drills, a 40-yard dash, and punt returns. The Colts in Motion unit will be there – this is a 40-foot-long mobile unit featuring interactive exhibits of the Colts' history and memorabilia.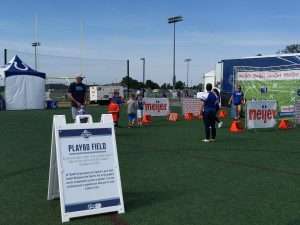 2021 Theme Days
Camp Kickoff – Wednesday, July 28
Youth Sports Day – Thursday, July 29
"Out Of Office" Day – Friday, July 30
Kid's Day, presented by Riley Children's Health and "Back Together Saturday" – Saturday, July 31
Back to School Day – Monday, August 2
Sunrise Fitness Day, presented by Planet Fitness – Tuesday, August 3
Colts Community Day – Wednesday, August 4
Hall of Fame Day, powered by Kerauno – Saturday, August 7
Bike to Camp Day, presented by Meijer – Sunday, August 8
Armed Forces Day – Wednesday, August 11
"Thirsty Thursday," presented by Bud Light – Thursday, August 12
Fan Appreciation Day, presented by CenterPoint Energy – Friday, August 13
Frontline Worker Appreciation Day – Tuesday, August 17
Grandparents Day – Wednesday, August 18
"Mom & Tots Day Out" – Thursday, August 19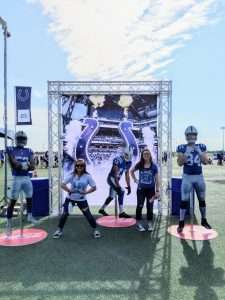 Know Before You Go:
Tickets are FREE, however you will need to reserve your tickets online before you arrive. Please reserve your tickets here.
Parking is $5.00 You can reserve a space ahead of time here, or pay when you arrive.
There is an NFL clear bag policy, please be prepared for this.
No water bottles or food will be allowed inside the training camp. Food vendors will be on-site.
Players will not be available for autographs this year due to COVID-19.
Masks are not required, however, a "masks required" section will be reserved in the grandstands for those who are more comfortable using this area.
No pets allowed.
---
Pin It!
---
Other articles you might enjoy:
Indianapolis Date Ideas for Under $30!
Garfield Park's Sunken Gardens in Indianapolis