Coca-Cola and Terre Haute, Indiana
The Coca-Cola bottle design was originally patented in Terre Haute, the county seat of Vigo County. Terre Haute is known for being the birthplace of the Coca-Cola bottle, but very few people know this. Most Hoosiers (those are what we call Indiana residents) know this. The Hoosier state is known for some pretty cool things, and this is another.
Disclaimer: Blog posts may contain affiliate links and/or ads. If you click on these links, I may earn a small commission. This helps keep the blog running and supports my family – at no cost to you. If you have any questions, please read my disclaimer and privacy policy.
In 1915, a man named Chapman Root entered a Coca-Cola bottle design contest and won. He patented his champion contoured glass bottle design and founded the Root Glass Company. We are familiar with this iconic design, a Coca-Cola symbol for over one hundred years.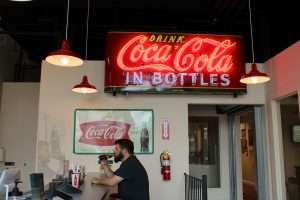 The Root family left Indiana and sold its buildings in 1949, but the Coca-Cola history remains in Terre Haute. When I visited, there were Coca-Cola bottle sculptures throughout the city. Everywhere I went, it seemed there was mention of the popular soda and American beverage – on murals, signs, museums, and made into sculptures. As a Hoosier, I didn't know the correlation until I visited the Vigo County Historical Museum.
Visit the Vigo County Historical Museum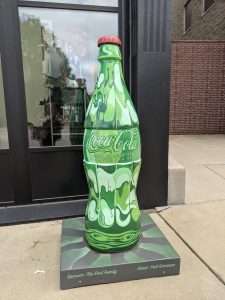 The Vigo County Historical Museum is a must-see for anyone visiting Terre Haute. And I highly recommend visiting BEFORE you go on the Coca-Cola Bottle Trail. It's a 34,000-square-foot museum located downtown, and you can't miss it; there is a Coke bottle sculpture in front of the building. The museum's Apgar Soda Shop can also be seen in the front window. The soda shop features ice cream treats and, of course, Coke for purchase – a surprising feature to find in a history museum. You'll love visiting!
Check out the Coca-Cola history exhibit while you are there, but don't forget to check the other levels. You'll need a few hours to wander the entire museum, but it's well worth the time. Honestly, it's a great county history museum.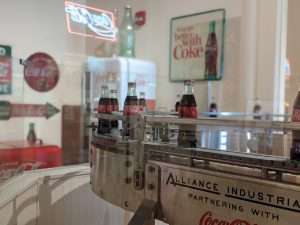 Tip: the views from the second and third-level windows and pretty cool! 
Admission is $7 for adults and $4 for youth. Open Tuesday – Saturday. 929 Wabash Ave, Terre Haute, IN
Take a photo with the Coca-Cola mural 
While at the Vigo County Historical Museum, don't forget to snag a photo with the huge Coca-Cola mural! It's located on the side of the building, beside Square Donuts.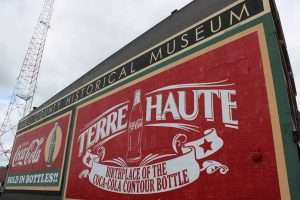 Can you find all of the Coke Bottle Sculptures?
It's 2021, and there are 39 Coke bottle sculptures throughout Terre Haute. These sculptures are 6 feet in height, each eccentrically designed to represent a local business or organization that is an important part of Terre Haute's history.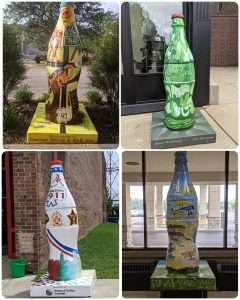 Can you find all 39 of them?
You can also pick up a physical map at the Vigo County Historical Museum or the Terre Haute Visitors Center (5353 E Margaret Dr, Terre Haute, IN).
Other Things to Do in Terre Haute
There are a surprising number of places to explore in Vigo County! Check out my guide, "A Day Trip Itinerary to Terre Haute," for places to stay, eat, and explore. Including the Candles Holocaust Museum, a plane theme coffee shop, and a Monastery.
Nearby things to do:
Pin It For Later!
Other articles you might enjoy: