Day Trip to Terre Haute, Indiana
Terre Haute, Indiana makes a great Indiana road trip – it's located just off of the Historic National Road (or US Route 40). You can easily make a day trip out of it from Indianapolis or Illinois, as it sits close to the Indiana/Illinois border. Terre Haute is the county seat for Vigo County and is known as the "Queen City of the Wabash" since it is one of the largest cities along the Wabash River.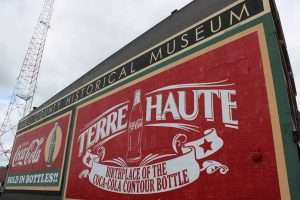 I was able to pack six amazing stops + one partial "trail" into my day trip to Terre Haute. This is one unique, eclectic itinerary mixed with stops for a variety of interests.
Driving distance from these nearby locations:
---
Disclaimer: Blog posts may contain affiliate links and/or ads. If you click on these links I may earn a small commission. This helps keep the blog running and supports my family – at no cost to you. If you have any questions, feel free to read my disclaimer and privacy policy. Thank you!
---
1. First stop: a flight at Corsair Café & Coffee
581 S Airport St, Terre Haute, IN
Our day in Terre Haute started at the Terre Haute Regional Airport. We were seeking a flight and brunch, but not the type of flight one usually goes to an airport for. We were here for the Corsair Café coffee flights! This pilot and plane-themed cafe is located in the terminal and open to the public. It makes perfect sense that Corsair serves coffee flights, but they are also known for their hearty breakfast and lunch items.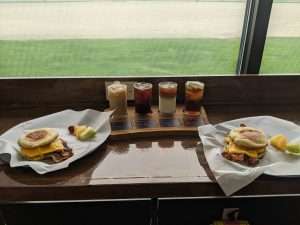 While you sit on chairs with propellors for legs, you can watch planes flying in and out from the large windows of the cafe, or outside to dine on their patio. Inside the cafe is an aviation shop where you can purchase pilot and aircraft supplies, headsets, toys, apparel, and more.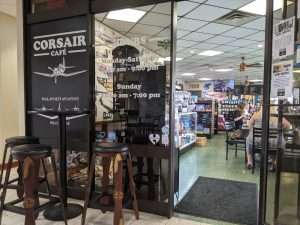 ---
2. Go on the Terre Haute Coke Bottle Trail
The Terre Haute Regional Airport is also one of the stops for the Coke Bottle Scavenger Trail. Check out my article, "The Coca-Cola Bottle Trail in Terre Haute, Indiana" and find a trail map and locate all 39 Coke bottle sculptures.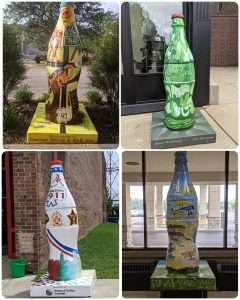 ---
3. Candles Holocaust Museum & Education Center
1532 S 3rd St, Terre Haute, IN
The Candles Holocaust Museum is one of two amazing museums we visited in Terre Haute. It had been on my bucket list for a while, after hearing Holocaust survivor Eva Mozes Kor's story. After the Holocaust, Eva married and moved to Terre Haute. She founded the Candles Holocaust Museum and Education Center to prevent prejudice and educate others about the Holocaust.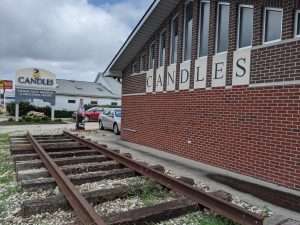 In 2003, as the result of a hate crime, the museum was lost to a fire. Eva rebuilt Candles and reopened it in 2005. Admission is $7 for adults, $5 for students, and free for ages 6 and under and veterans. The museum is not recommended for those under age 6. Open Fridays and Saturdays.
---
4. Vigo County Historical Museum
929 Wabash Ave, Terre Haute, IN
The Vigo County Historical Museum is a 34,000 square-foot museum located downtown and is highly recommended. It has three levels of historical artifacts and local history. It is also one of the stops on the Coke Bottle Trail, there is a  bottle sculpture located in front of the building.
The first level has exhibits of Terre Haute's Coca-Cola bottling history, a replica of downtown Terre Haute from the good ole days, a gift shop, and the Apgar Soda Shop. The soda shop features ice cream treats and, of course, Cokes for purchase – a surprising feature to find in a history museum.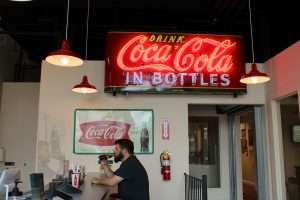 Don't skip the second level because it's a gold mine! It's full of local Vigo County artifacts and history. The third level is dedicated to event space, archives, and the Education and Research Center. There are some great views of downtown from this floor, including the old Clabber Girl building across the street (which is now closed and under new ownership).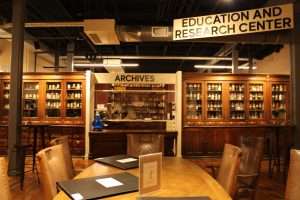 ---
5. Refuel with some coffee from Federal Coffee
683 Wabash Ave, Terre Haute, IN
After visiting the history museum, we headed just a few blocks downtown to Federal Coffee + Fine Foods. We were on a caffeine boost mission before our next exploration. Federal is locally owned and they make hand-crafted coffee and espresso drinks. Two bonuses in my book. Third bonus – they are located in a historic building, the former Federal bakery (hence, the name). They are also known for their fine food and non-coffee drinks as well.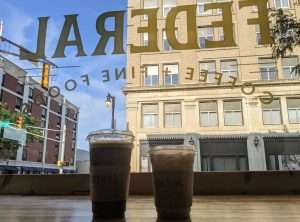 ---
6. Tour Saint Mary-of-the-Woods
1 Sisters of Providence, Saint Mary-of-the-Woods, IN
Our last stop before dinner was a visit to "The Woods," also known as Saint Mary-of-the-Woods. It's a community of Roman Catholic women dedicated to serving their community through prayer, education, service, and advocacy. The Woods is listed on the National Register of Historic Places and open to the public for self-guided tours (download the tour guide here).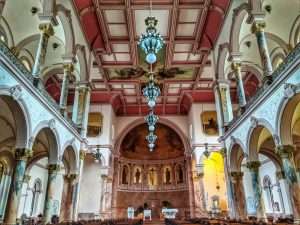 The self-guided tour includes The Shrine of Saint Mother Theodore Guerin, Church of the Immaculate Conception, National Shrine of Our Lady of Providence, Blessed Sacrament Chapel, Log Cabin Chapel, Saint Anne Shell Chapel, Our Lady of Lourdes Grotto, and more. Some of these places are magnificent to see in person!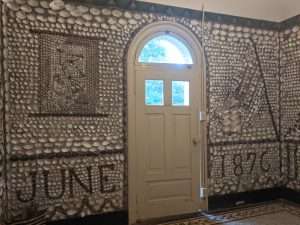 It is free to visit The Woods. The White Violet Center for Eco-Justice is the only site that requires admission for a tour. The alpaca farm provides a private 45-minute tour for $10 per person (needs to be scheduled in advance). Throughout the property, trails are available to walk and bike.
---
7. Dinner at an authentic Irish pub
1366 Wabash Ave, Terre Haute, IN
My husband loves Irish cuisine, so when I eyed Sonka Irish Pub in Terre Haute I knew I had to add this to our itinerary. I could eat plates of their sea salt Irish chips and famous onion dip! It's served with each of their entrees. And you can't go wrong with any type of "fish" or "chips" from an Irish pub. Am I right?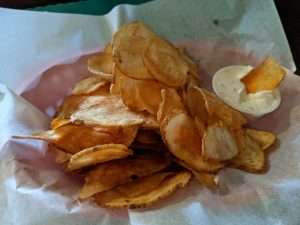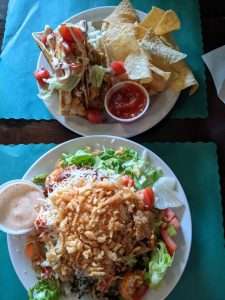 ---
Places to stay in Terre Haute
Need a place to stay overnight while visiting Terre Haute? Check out these affordable suggestions!
SpringHills Suites – 3304 S Us Highway 41, Terre Haute, IN
Free parking/wifi, indoor pool, suites, 3-floors.
Drury Inn – 3040 HWY 41 S, Terre Haute, IN
Indoor pool, free park/wifi, free breakfast/dinner/drinks, Veteran's discount, suites, pet-friendly,
---
Nearby things to do:
---
Pin It For Later!
---
Other articles you might enjoy: