The Best of Decatur County, Indiana
Decatur County is a beautiful and historic county in southeastern Indiana. It is home to Greensburg, the country seat, and several small towns. It is a great place to visit for various reasons; I spent a weekend here and had a blast listening to local music, eating my way through the fried chicken trail, and hunting down the best Decatur County things to do.
Disclaimer: Blog posts may contain affiliate links and/or ads. If you click on these links, I may earn a small commission. This helps keep the blog running and supports me – at no cost to you. If you have any questions, please read my disclaimer and privacy policy. A special thanks to Visit Greensburg for hosting my trip. All opinions in this article are my own.
Here is a detailed itinerary of my trip. We stayed in Greensburg for the most part, but we also visited surrounding towns like Millhousen.
⇒ Day #1
Downtown Greensburg for strolling, murals, checking out the Tree in the Courthouse, and Goose Chase in DecCo missions.

Lunch at Stories Restaurant

Check-in to the

Hampton Inn & Suites, Greensburg

DecCo County Summer Concert Series at Rebekah Park and dinner at food trucks
⇒ Day #2
Breakfast at Hampton Inn & Suites

Coffee at

The Branch Gathering Place + Coffee House

, shopping in Downtown Greenburg, and conquering more Goose Chase in DecCo missions

Lunch at Stone's Family Restaurant and exploring the area

Dinner at Mayasari Indonesian Grill
⇒ Day #3
Breakfast at Hampton Inn & Suites

Goose Chase in DecCo missions

Lunch at Fry's A&W
Summers in Decatur County
The DecCo Summer Concert Series is a free, family-friendly concert series at the Rebekah Park Amphitheater in Greensburg. The series features a variety of musical genres, including rock, pop, country, and jazz, and are on weekend evenings throughout the summer from June to September.
The concerts are a great way to relax and enjoy the outdoors with friends and family. They are also an excellent opportunity to see talented local and regional musicians. Food trucks served us a great dinner. I had a fried Philly Cheese wrap from That's A Wrap, similar to a handheld chimichanga. So good!
This summer, Visit Greensburg challenges visitors and residents to Goose Chase in DecCo. Like a scavenger hunt, you register for free on the Goose Chase app and complete missions by taking pictures at Decatur County locations and earning points. It's an enjoyable way to get to know the area and create memories!
A bustling Farmer's Market on the Courthouse Square occurs every Friday afternoon from May through October. When we strolled through, vendors had fresh produce, sweet corn, jams, flower bouquets, honey, plants, and meats for sale.
5 Things To Do In Greensburg This Summer:
Indiana's only Indonesian restaurant
Mayasari Indonesian Grill is a family-owned and operated restaurant serving authentic Indonesian cuisine in Greensburg. It's the only Indonesian restaurant in Indiana, and when I say it's road trip worthy, I don't take this lightly. Mayasari may have been my favorite place to visit in Decatur County.
The menu at Mayasari features a variety of traditional Indonesian dishes and desserts. They even have a kid's menu for the little ones, with non-traditional options available. Perhaps most fascinating is their Award-Winning Tenderloin, a contribution to the Hoosier state with an Indonesian touch. We devoured our choices of Mie Goreng and Kebabs; both came with soup, and we ordered an extra side of their peanut sauce. 
On Saturdays, they offer sushi! Non-raw sushi options are available, and I couldn't resist the Greensburg Roll, a pulled pork and nori roll set ablaze when served. We were too full for their tempting desserts, but I wasn't going to pass up on an opportunity to try Indonesian coffee – the Kopiko Blanca coffee is sweet, delicious, and a dessert by itself!
The Fried Chicken Trail
There are thirty-one restaurants on the "Winner, Winner Chicken Dinner Trail" through Indiana Culinary Trails, three of which are in Decatur County. The trail highlights Indiana's best chicken restaurants and gives a chance to try the best-fried chicken in the state.
Stone's Family Restaurant

is where everyone knows everyone else, and people drive from all over to enjoy their famous fried chicken and country hospitality. They are also known for their buffet and pies. In addition to the buffet, they have family-style and dinner-style dining options.

Storie's Restaurant

has been serving the community since 1977 and is open six days a week. They are located in the heart of downtown Greensburg and have various chicken options (including grilled) in sandwiches, wraps, and sandwiches. They are famously known for their Big Tenderloin and homemade pies.

Pro tip: on Sundays, just before closing, they offer their pies whole or by the slice for ½ off.

Fry's A&W

is family owned and operated and has been for over forty years. This drive-up root beer stand serves (voted my best) fried chicken pieces and tenders. Plan for twenty minutes on your chicken orders because they are made fresh per order! You can grab a homemade root beer and coney dog while you are here. 
Decatur County Historic Charm
Greensburg, Indiana, has a tree growing on its courthouse tower roof. It all started in the 1870s, when trees started growing in it, and officials were concerned about the damage it could cause. Shrubs were removed from the building, and one tree survived many years and was moved to the Decatur County Historical Society Museum. However, another tree grew on the tower's southeast corner, then another on the southwest corner. These trees maintained the fame of the county courthouse.
The Tower Tree still stands and puts forth foliage in spring and summer, a sight worth seeing. People drive from all over to get a glimpse of it, and it was even featured in "Ripley's Believe It or Not."
Downtown Greensburg's shopping scene is vibrant and diverse for a small town. You'll find everything you need, from antique shops and boutiques to studios and galleries full of creative expression. Dr. Ashburn's Pepper Emporium, Magnolia Mercantile, Pickers Paradise, Rainbow Books, Gifts, and Flowers are a few downtown shops. 
There are numerous murals throughout Greensburg, especially downtown. Several hand-painted murals showcase the incredible artistic talents of local students and professionals. We had a lot of fun snapping photos next to #WhatLiftsYou, a winged mural featuring Decatur County spots.
Other places to visit in Decatur County:
Decatur County Historical Society Museum

Art on the Square Gallery

WildFlour Artisan Bakery

White Rock Park

Westport Covered Bridge

Parkside Sweet Shoppe
Pin it for later!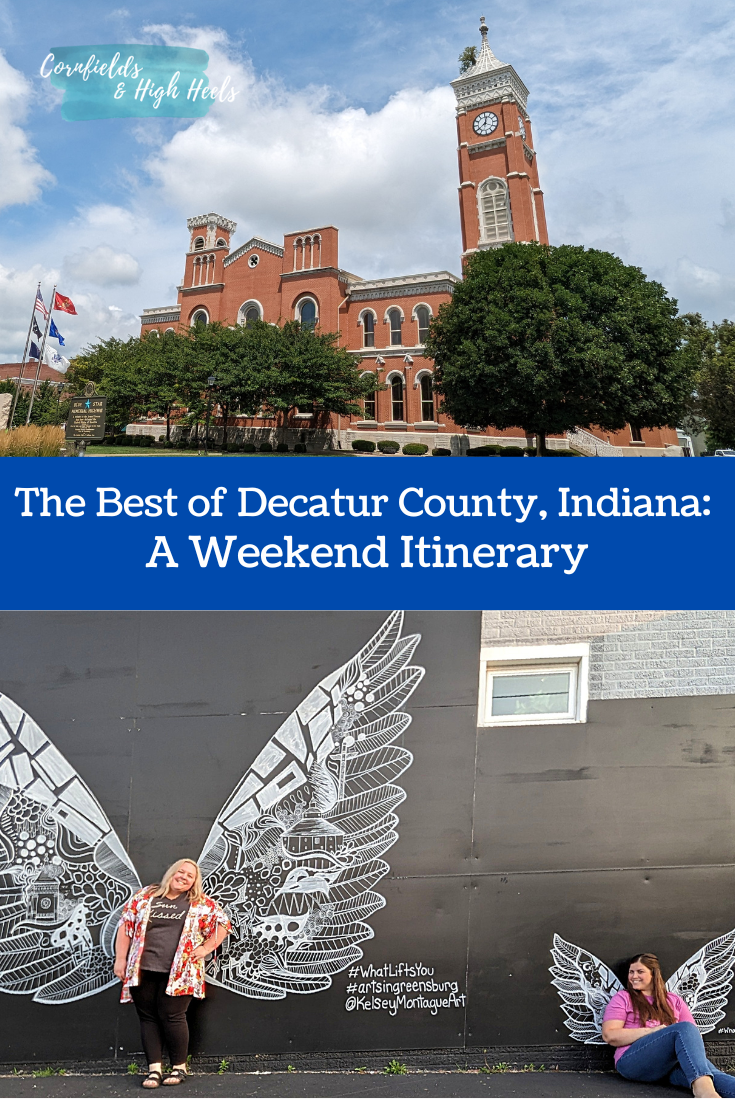 Nearby places to visit: