Enjoy a Cozy Visit to Kosciusko County
Try saying Kosciusko five times fast. Don't worry; it's a bit of a challenge to those unfamiliar with its pronunciation! It is pronounced "Kaa-see-aa-skow" and is located south of the Indiana/Michigan border. This beautiful county is filled with popular lake towns like Warsaw, Winona Lake, and Syracuse. The dining and shopping scene is pretty spectacular too. And while the summer is a popular place for lakers, the winter months are also beautiful; such as Winona Lake, a village that lights up like a Hallmark movie scene.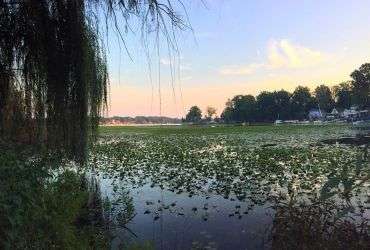 I grew up not too far from Kosciusko County and got to take advantage of some of its activities during all the seasons. Now that I am a visitor, I adore its offerings and have my favorite spots. It's a cozy place to spend a weekend. Ideally, I enjoy the ample opportunities to brunch, have coffee, dine, tour the history of Kosciusko County, and enjoy the scenic and cozy spots.
Disclaimer: Blog posts may contain affiliate links and/or ads. If you click on these links, I may earn a small commission. This helps keep the blog running and supports my family – at no cost to you. If you have any questions, please read my disclaimer and privacy policy. A special thanks to The Dwelling Nest for hosting my trip. All opinions in this article are my own.
Where to Stay
The Dwelling Nest in Warsaw provides a cozy resting place for overnight accommodations. Hosted by Jennifer, the sweet 925-square-foot Airbnb is located in a quiet neighborhood just minutes from Winona Lake and downtown Warsaw. This 1-bedroom private guest apartment sleeps four and has a private entrance. It's the perfect accommodation for a couple, but it would also be ideal for two couples or a small family. A high-quality air mattress can be set up upon request to sleep four. There is plenty of room available with a living room, sitting room, fully equipped kitchen, and huge bathroom.
Jennifer does an excellent job of making her guests as comfortable as possible. She provides snacks and coffee in The Dwelling Nest, and the cabinets are stocked with games, books, and guides to local area attractions. Cozy blankets and pillows are abundant, and once you sink into the plush sofa you won't want to leave. It's incredibly comfortable and inviting, and several times I thought I might be unable to will myself out of it. Knowing my competitive nature, my husband tried to challenge me to a game of foosball multiple times. But, I seem to have made my place on that cozy couch – feet propped up, coffee in hand, snacks beside me, and a movie playing in front of me.
Yes, there is also a foosball table!
The fully stocked kitchen has everything you need: full-sized, stainless-steel appliances, a toaster, a coffee maker, dishes, and cookware. Coffee is provided, and the cabinets are stocked with spices for cooking.
I loved the extra amenities, such as a white noise machine, fan, and extra pillows for a comfortable stay and restful night. Jennifer has thought of everything to make The Dwelling Nest feel like your home away from home!
Take a tour of The Dwelling Nest here:
Where to Dine
There are ample places to eat in Kosciusko County, so I'm going to narrow the descriptions down to a few of my favorites, starting with brunch at Creighton's Crazy Egg Cafe & Coffee Bar in Warsaw. Creighton's is one of my top 100 Things To Do In Indiana for breakfast or lunch. It's as farm-to-fresh as you can get it! The Creightons have been in the agribusiness since 1925, and since 2015 they have been successfully running one of the best cafes to enjoy brunch dishes in the county, directly on their farm. As a bonus, they have a full espresso bar (you can order drinks with your meal or to-go).
The Ledgeview Brewing Company is a great spot for lunch. They are a family-owned smokehouse and brewery with a full menu. The Sweet Potato "Nachos" is a favorite of mine! Be prepared to get full fast, the portions are generous, and the service is fast and friendly.
The BoatHouse Restaurant in Winona Village is the place to go for beautiful lakeside dining! I've enjoyed several meals at the BoatHouse, and it is a real Kosciusko classic. Their hearty fish, chicken, and steak entrees are succulent and give me supper-club vibes. But don't bypass their salads because they are huge, and the BoatHouse has the best salad options in town.
Other note-worthy dining spots: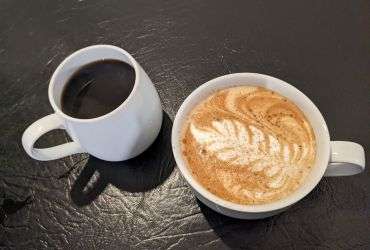 What to do 
Stroll through the historic Village at Winona and visit the shops, trails, restaurants, cafes, and parks. The Village is an entire community for residents and visitors to eat, rest, stay, and play. It's also home to Grace College and historical attractions such as the Winona History Museum and the Billy Sunday Home Museum. Admission to the museums is free. Throughout the year, the Village at Winona has festivities and events, such as Canal Days and Village Jazz Festival – two of the year's most popular events.
The Old Jail Museum is said to be haunted, but don't worry, we didn't find anything spooky when we visited! The history nerd in me was enthralled by the exhibits and information packed into the Old Kosciusko County Jail (housed by the County Historical Society and Genealogy Library). John Dillinger made his mark in Kosciusko County when he raided the old jail in 1934, forever leaving a historic piece of the Dillinger story in Warsaw. Admission to the museum is free, and donations are welcomed.
Take in a musical or theatrical performance at the Wagon Wheel Theatre. The round theatre is unique, as the house has no bad seats. You are never more than ten rows from the stage – or Broadway performance!
Other things to do in Kosciusko County: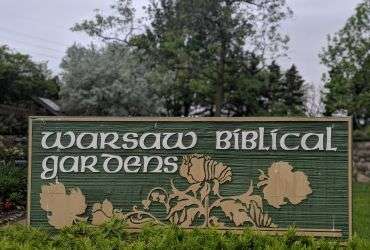 Pin it for later!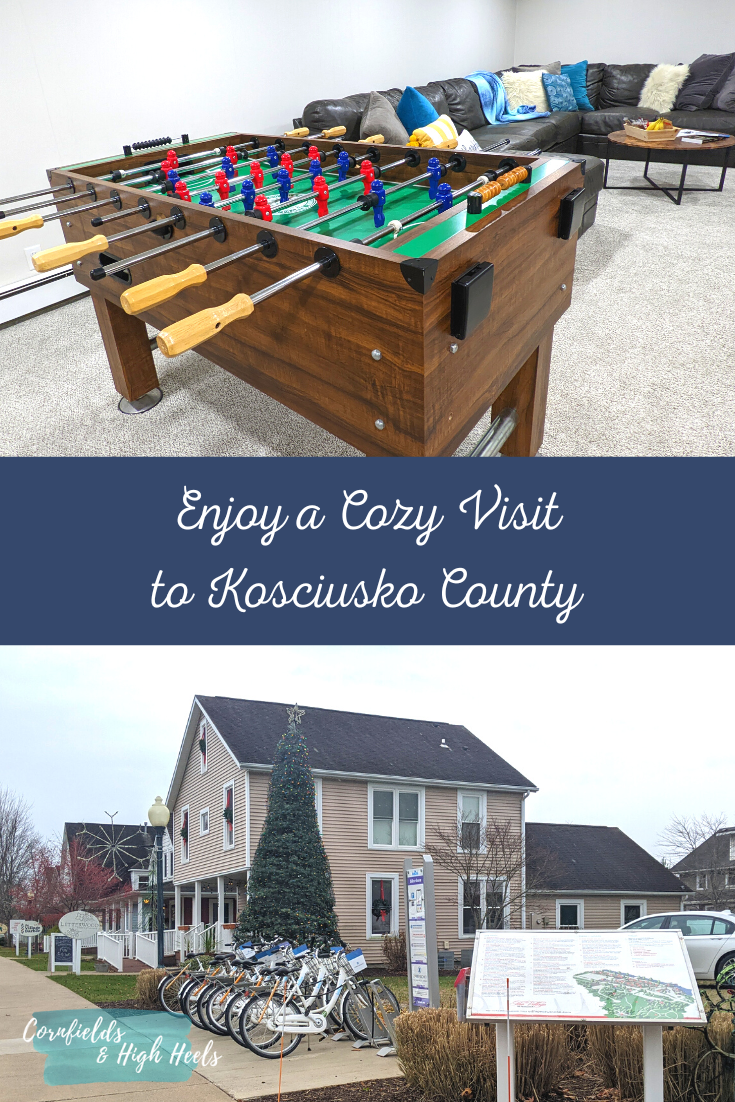 Other articles you might enjoy:
8 Things You Must Do in South Bend!
Jazz, Art, and Urban Adventures in Elkhart County
Ice Cream Hot Spots in Michiana