Getaway Guide to Hocking Hills
A getaway to Hocking Hills should be on everyone's bucket list. You don't need a plane ticket to experience dreamy nature scapes and luxurious stays tucked into peaceful locations. The Midwest has them. Hocking Hills is located in the foothills of the Appalachian Mountains of Hocking County, Ohio, surrounded by breathtaking forests, cliffs, waterfalls, gorges, caves, rims, sandstone, caverns, preserves, and trails.
It's an easy drive for those in the central Midwest states or on the east side of the US. Especially those living in central and eastern Indiana (as well as Kentucky, Michigan, Pennsylvania, and West Virginia).
Distance to Hocking County, Ohio from…
Indianapolis, Indiana – 3.5 hours
Fort Wayne, Indiana – 3.5 hours
Louisville, Kentucky – 4.25 hours
Detroit, Michigan – 4.25 hours
Pittsburgh, Pennsylvania – 3.5 hours
Morgantown, West Virginia – 3 hours
Lexington, Kentucky – 3.45 hours
Disclaimer: Blog posts may contain affiliate links and/or ads. If you click on these links, I may earn a small commission. This helps keep the blog running and supports my family – at no cost to you. If you have any questions, please read my disclaimer and privacy policy. A special thanks to Eco Luxe Vacations for hosting my trip. All opinions in this article are my own.
Eco-Luxe Vacation Rentals
Laurelville, Ohio | Hocking Hills Ohio 
staythehockinghills.com
@ecoluxevacations | @carpenterscabinoh | @twelve34house | @glocabin
As much as I love nature and hiking, I'm more of a "sleep inside" kind of gal regarding lodging. You won't find me in a tent or rustic cabin by choice, but I love a cozy cabin or secluded vacation stay. Eco-Luxe Vacation Rentals in Laurelville, Ohio, is located in Hocking County, less than 20 minutes from Hocking Hills State Park. Eco-Luxe rentals are the very first sustainable vacation properties in Hocking Hills!
Owners Scott and Jami made their dream come true by creating unique vacation spaces where their family can meet to relax, visit, and enjoy time together in a rural setting and atmosphere. They built three vacation properties, the Twelve34 House, Carpenter's Cabin, and GloCabin. These are located on 32 acres of land in Hocking Hills, all within walking distance of each other. Each property is luxurious, sustainable, and organic; each has a story with a reason behind their names.
Twelve34 House
My husband and I were the first guests at the Twelve34 House, and it was a fantastic experience. I want to emphasize "experience" because staying at one of these properties is truly a vacation experience, not just a place to lay your head at night. However, the views from the beds at the Twelve34 House are worth mentioning and swooning over!
The name Twelve34 is a personal testimony of God's promise and faithfulness. During the complex and early years of building the Eco-Luxe rentals, Jami more than often noticed 12:34 on clocks everywhere. This resonated and stuck with her as a remembrance of how God carried them through the process of the first projects. The Twelve34 House is the newest addition to the Eco-Luxe properties and a "stone of remembrance" to that process. When you walk in the front door, a vintage MCM clock is always set to 12:34.
The Twelve34 House is a Mid-Century-Inspired home. It is ADA-friendly and perfect for two couples or a small family. It sleeps up to four people and has two bedrooms, two bathrooms, a chef's kitchen, a large deck with an outdoor kitchen and pizza oven (built by RTA Outdoor Living), a fireplace patio, and a hot tub deck. One of the bedrooms is ADA-capable with an attached gigantic walk-in shower and bathroom, and the other has an attached bathroom with a custom-designed soaker tub. Each bedroom has a slider door that opens to the deck overlooking the ravine. A 16′ glass accordion door opens to the deck from the open-concept living room and kitchen.
Twelve34 House perks:
ADA-accessible with parking next to the front door and an open floor plan
Record player
MCM electric fireplace
Chef's kitchen and outdoor kitchen with a pizza oven
Fireplace patio and hot tub deck
The Carpenter's Cabin was the first built of the three Eco-Luxe properties and is the largest. The three-story cabin (plus a loft) is dedicated to Jami's father, a carpenter. A display of her father's old tools lines the walls in one of the halls, a personal and unique touch to a hand-crafted and uniquely built vacation cabin. A total of four bedrooms, a loft, and three bathrooms make up the Carpenter's Cabin, which can sleep up to eight adults and 12 guests. The cabin is ideal for families and friends; it consists of two suites, two media rooms, a conversation pit, a full kitchen and dining, a workspace, covered decks, a patio, a fire pit, and a hot tub.
Carpenter's Cabin perks: Pack-n-Play, high chair, custom steel staircase and railings, and private screened deck off the loft master.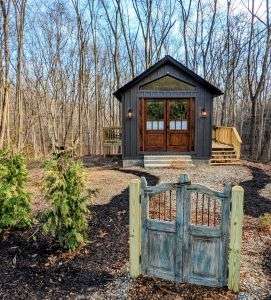 The sweetest and most romantic of the three properties is the cozy GloCabin. It's perfect for a solo or couples getaway! Within the 450 square feet of space, five French doors and three large windows illuminate the most beautiful sunlight during the day and starry moonlit sky at night. The cabin sits on a peninsula in a ravine, surrounded by nature and woods. The cabin features a four-poster bed, a Japanese cedar spa for two, decks, a kitchen, and a fire pit.
Exo-Luxe Vacation Rental amenities:
Simply Organic Bamboo sustainable bedding that helps regulate body temperature is used on all the beds.
EV Charging Station available
Trails, a ravine, and creeks on the property
Wifi, smart televisions, and DVD players
Zero VOC, organic, and sustainable products
Hot tub at each property
Things to do in Hocking Hills
Visit Hocking Hills State Park
Hocking Hills is one of the best state parks, nationally and internationally! It is known for its ravines, waterfalls, caves, and rock formations. It's beautiful to visit year-round. Hocking Hills State Park and Natural Area complex consist of seven areas: Ash Cave, Cedar Falls, Old Man's Cave, Whispering Cave, Conkle's Hollow, Cantwell Cliffs, and Rock House. A visitor's center is located at Old Man's Cave. This state park has been on my bucket list for years! I finally had the opportunity to visit and enjoy Ash Cave and Old Man's Cave. Activities at the state park and Hocking State Forest include hiking, archery, boating, bridle trails, fishing, hunting, picnicking, and mountain biking.
If you are interested in science, the wonders of the sky, or want to take in a gorgeous view, the John Glenn Astronomy Park is a great place for star gazing. It's also one of the few places left in Ohio where you can see the night sky in a nearly pristine state. The park is always open to the public for star gazing. You can drive in and bring chairs and binoculars or a telescope. They have programs on Friday and Saturday nights at sunset during the summer.
Visit the surrounding historic cities.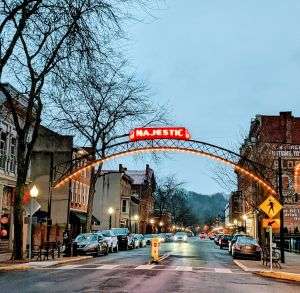 Surrounding Hocking County, several historic downtown areas offer shopping, dining, and things to do. Downtown Lancaster is a charming destination about 25 minutes from Hocking Hills. Lancaster has plenty of dining options and things to do, like museums, an excellent used bookstore called Epilogue Bookery, and shopping galore.
Downtown Chillicothe is the first district in Ohio to be registered on the National Register of Historic Places and is Ohio's First Capital City. Unique Chillicothe dining and shopping experiences can be found at Chillicothe Antique Emporium, The Pour House at Machinery Hall, and Grandpa Joe's Candy Shop. Just to name a few. If you enjoy coffee, we appreciate visiting Rōst coffee (I highly recommend the Brown Butter drink).
Hopewell Culture National Historical Park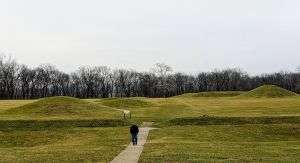 In Chillicothe, the Hopewell National Historical Park is an integral part of the preserved earthworks throughout the nation. The park consists of earthwork complexes and burial grounds built by American Indians from the Hopewell culture almost 2,000 years ago. Start your tour at the Visitor's Center with a ranger and a short movie, and see the park museum before exploring the mounds and earthworks.
Where to eat in Hocking Hills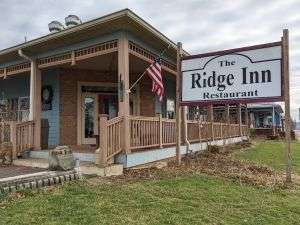 The Ridge Inn Restaurant is located in Laurelville, just minutes from the Eco-Luxe properties. This restaurant was recommended, particularly for its homemade donuts. We dined inside for an early lunch; my husband had the Reuben, and I enjoyed the Cusbani Chicken Salad Sandwich. Of course, we had a donut too. We even ordered some donut holes for the road! It's a local diner with an eclectic atmosphere, everything you would expect from a small-town dive – including the friendly service. The donuts ARE everything the locals hype them up to be; definitely worth the stop.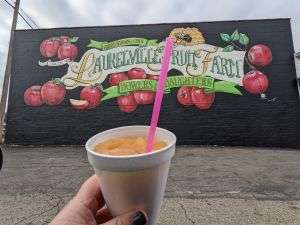 Just across the street from The Ridge Inn, the Laurelville Fruit Farm sells delicious apple cider slushies, apple cider, and bags of apples. Grab a slush for just a buck or two! It's so worth the sweet, cool treat. Note: check hours in advance; they are open seasonally.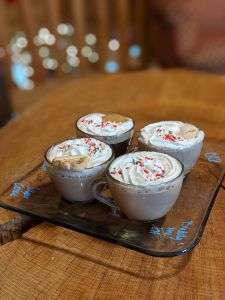 The Oasis Coffee Shop in Rockville is famous for its coffee flights and sweet treats. For our flight, we got to choose four options from the expansive menu and flavors. The cheesecake flight is another flight they offer that brings in people from states away. People, as in me. I'm the people.
---
Pin it for later!
Other travel articles you might enjoy:
An Ohio island & Lake Erie getaway in the Midwest!
The World's Largest Aviation Museum in Dayton, Ohio
The Ultimate Owensboro Weekend Getaway